Are Converse Skate Shoes Good? (It Depends!)
Many people assume Converse sneakers as the classic basketball shoes of the 1960's or '70s. Now, they are famous among people as fashion sneakers that people like to wear as a street style. Converse has also introduced a line of shoes specifically designed for skateboarding.
So, are converse skate shoes good? Yes, Converse skate shoes are good for skateboarding if you're thinking of their dedicated series of shoes with a strong suede upper i.e., Converse CONS. I'd not recommend you to wear Converse with a canvas upper for skateboarding, as you would end up blowing through them pretty fast due to abrupt kicks. Unlike Vans, Converse don't have a strong Canvas as it is really brittle compared to their suede leather.
Related: Is Running in Converse Possible
Keep This in Mind If You Want to Use Chuck Taylors for Skating
Chuck Taylors have a thin canvas upper that will rip to shreds fast if you're thinking of doing some stunts like ollies or flip-tricks in skateboarding.  
You can learn more about the difference between suede and canvas from here.            
If you're just thinking of skating transition or cruising around the streets while skateboarding, you don't have to buy a dedicated pair of Converse skate shoes. You can use your existing pair of Chuck Taylors. But if you have not previously owned any pair of Converse sneakers, then it'd be better to straight away jump to the Converse skateboarding shoes.
Also Read: How Long Do Skate Shoes Last
4 Qualities of a Good Skate Shoe
There are many factors that go into making a shoe great. It should be designed to help you perform tricks and to boost your speed on the board. Different qualities for a good skate shoe such as: lightweight, does not wear out quickly, can be taken on and off easily, meet the needs of different types of skating.
Here're are the four main qualities good skate shoes should feature.
Comfort and Support
It is very important for a good skate shoe to be able to keep your feet stable and protected. Most skaters agree that some of the most important factors in wearing a decent pair of shoes are comfort and support.
Skating should not feel tight or binding on the foot, although it should have enough support–when you stand up from a dip, your foot will not simply drop off but instead lightly land on the board.
Moreover, they should be supportive enough to help prevent injuries by keeping your ankles stable. A good skating shoe should also have enough padding to absorb impact from skating.
Also Read: What socks to wear in Converse High tops
Durability
Durability is essential because if your shoes wear down too quickly, they will not last long enough to be worth purchasing. If you buy cheap skate shoes, then you may find yourself replacing them every few months. This can get expensive over time.
A good skating shoe should be made of good quality material such as suede or a combination of leather and canvas.
Fit
A skate shoe should be snug, so it stays on your feet while skating; however, it shouldn't fit too closely because that will lead to blisters. The skate shoe should provide enough space for your toes to move–you shouldn't have to over-stretch or bend your toes just to get them somewhere down by the tip of the skate shoes. Feel free to look for a size that fits snugly without being too tight, but make sure you can easily keep them on your feet.
Flexibility and Grip
Flexibility should also be considered, along with the durability of a good skate shoe. To get both features, the sole of skateboarding shoes is made of a vulcanized gum rubber that is soft enough to provide flexibility for quick cuts and durable enough to resist wear and tear. Furthermore, these soles have a sturdy grip on the skateboard.
How are Converse CONS Different from the Classic Converse Sneakers?
Here are the following features Converse CONS possess that set them different from classic Chuck Taylors.
They have a strong rubber toe cap.
They allow more room than Chuck Taylors, which offers a good fit to spread and flex your toes.
They have a relatively higher cushioned footbed
Their front is relatively thicker
Here's what a real user says about his experience of skateboarding in Converse CONS:
I'm wearing those Converse CTA Pros right now. They are very lightweight, and they have a really good board feel. They are also really durable shoes (I perform a lot of kickflips and some reflips). I have been using them for skating for about a month, and their toecap is still fine, and I didn't observe any holes in the suede either.

Real User Review
The only problem is that they don't have too much protection being a really slim shoe, but that won't be a problem if you don't skate huge gaps (I have skated some 4 stairs without a problem).
Converse named this series of shoes "CONS, " a classic or timeless design with a tech twist. Apart from making these shoes from strong suede leather, Converse has also introduced a high-cushioned insole, made of a CX foam.  
As the Converse brand has been under NIKE since 2002, all the modifications in the Converse shoes with respect to the performance have been introduced by NIKE. CX foam technology is also introduced by NIKE in Converse CONS.
CX foam insole is made of polyurethane foam that not only provides cushioning, but also offers a great support underneath and protect them from high impact due to its compression-resistant property. There's also extra heel padding in the form of a sealed air unit to enhance the support and impact protection feature.
The other difference between Converse CONS and Classic Converse Originals is that Converse CONS are made of strong suede material.
According to the users, the suede of Converse CONS is fuzzy looking and feels pretty nice to their feet. However, they tend to get dirty fast, specially after skateboarding. So, you need to take care of them and clean them regularly if you want them to last their purchasing price. You can check out this suede cleaner kit on Amazon to keep your Converse CONS new.
Another difference between CONS CTA PRO and Classic Converse is that Converse CONS are entirely flat, which is an essential requirement for the skate shoes for an efficient grip on the skateboard. On the other hand, Classic Converse lift up slightly in the front area, as you can see in the below picture.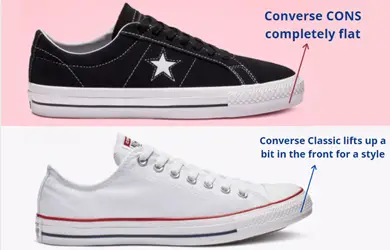 Also, the Converse CONS has a relatively thicker sole than the classic chucks, as you can see in the picture below.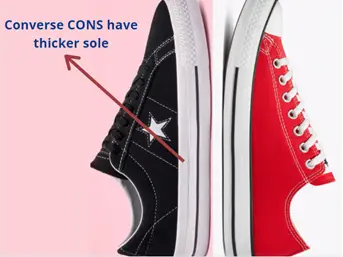 Furthermore, Converse PROS's tongue has internal elastic that keep the tongue in its place and prevent it from sliding to the sides.
If you want to know more about the experience of Converse CONS for skateboarding, you can check out this video.
Styles of Converse CONS Skateboarding Shoes
The three different styles that these skateboarding shoes come in. These are: hi, mid and low top. Based on the type of skateboarding you do, you will want to be sure to buy the right style for your abilities and level of skating.
The hi-top consists of a suede shank wrapped around your calf muscles. The shank provides support, and the air-cushioning insole makes the shoe ideal for skateboarding.
The mid-top has a leather padded collar, elastic tongue strap, and soft leather lining to make these shoes comfortable for all-day skateboarding. They are still supportive but are more suited to lighter weight skateboarding because they do not have the extra support of the Hi-top style.
The low top has an extra firm streamlined sole with minimal padding. This style is great for casual street skating or lightweight professional skateboarding. It's more minimal look allows you more freedom of movement so you can concentrate on your tricks while looking good at the same time.
What Size of Converse CONS Do I Need for Skateboarding?
Generally, for Classic Converse, we have to run half a size down from regular shoe size. However, due to a change of insole in Converse CONS, it has tightened them a bit. So, half a size down from your regular shoe size like Adidas or Nike would be fine for you.