Scoliosis shoes recommendations? Need support & comfort for long days on feet
For work, Fila Memory Workshift are comfortable shoes for scoliosis for women. Women can also consider Ryka Devotion sneakers for scoliosis if they want a sporty style. For men, I would rate Brooks Levitate 4 as top pick for scoliosis shoes.
Scoliosis, an abnormal curvature of the spine, affects over 6 million people in the US alone. If you're one of them, finding the right shoes is crucial for supporting your feet, ankles, and back. The wrong footwear can exacerbate pain, while the right shoes provide comfort and support.
After consulting with numerous podiatrists about the unique footwear needs scoliosis patients face, I wanted to share what I've learned.
In this post, I'll review the comfortable and supportive shoes for scoliosis, considering factors like arch support, cushioning, and flexibility. My goal is to help you find shoes that reduce pain so you can live life to the fullest. Whether you're looking for walking, running or everyday shoes, I've got you covered.
What is Scoliosis?
Scoliosis is the abnormal curvature of the spine, usually as a result of a spinal deformity. A curved spine may start as a curve in just one part of your back. As the disease progresses, it can cause your spine to bend in an S-shape or other unusual shape. The spine and ribcage grow unevenly.
Scoliosis is a progressive condition that tends to get worse over time. It can affect your feet because it changes the way you walk and puts uneven pressure on them. Scoliosis makes it difficult to walk and do certain activities.
Features of the Best Shoes for Scoliosis – Buying Guide
There are certain features based on which I have filtered the best shoes to stand and run with scoliosis. Here is a list of them:
Support and Stability – Shoes need to be supportive to prevent injury from twisting or bending inwards of the ankle. The best shoes for scoliosis have firm midsole like PU or a softer midsole material like EVA combined with reinforcement to enhance the support and stability.
Higher Heel Drop – Research shows that heel lift helps avoid imbalance resulting from leg and hips level discrepancies. Moreover, heel lift also possesses cushioning to deliver higher shock absorption to your feet.
Arch Support – To improve arch support of the shoes, you can use custom shoe inserts for scoliosis that reduce the leg length discrepancy and relieve the painful side effects of this condition by reducing muscle balances around the spinal area. These orthopedic inserts provide extra support to the legs and encourage balanced spinal growth. Furthermore, the stability provided by the arch support helps prevent the compression of your lower spine.
Reviews of the Lightweight Running Shoes for Scoliosis
Here are the reviews of the best running shoes for scoliosis.
New Balance Fresh Foam Crag Trail V2 – Running Shoes for Someone with Scoliosis
These are some of the best trail running shoes for scoliosis that are made to reduce the stress on the back using a Fresh Foam midsole, which absorbs shock and allows for a smooth transition from heel to toe. They are characterized by being lightweight, yet still having a very supportive feel to them.
Also Read: New Balance Sizing
This lightweight, low-profile running shoe is redesigned with a breathable textile mesh upper with synthetic leather overlays that deliver superior comfort and flexibility. Additionally, a unique lace-up design of the shoes provides a secure fit around the foot so that you don't have to face any difficulty while running on rugged terrains. There is a pull tab at the tongue that provides an easy on and off.
The Fresh Foam midsole (EVA – based) of the shoes adapts to the shape of your foot with exceptional comfort and cushioning – an essential consideration as the transition begins to move forward. The iconic 3D mapping on the sides of the midsole adds springiness at each step while running. Moreover, it disperses impact forces to protect your feet over long distances and helps protect you from nerve compression while decreasing hip rotation that may lead to foot drop.
Furthermore, the shoes have an 8mm heel drop that represents that they have more cushioning in the rearfoot, which is suitable for heel strikers as their heels first make contact with the ground while running. Additionally, this higher heel drop delivers a heel lift that helps to reduce the mild lateral bend of the lumbar spine, according to the research.
Also, the shoes feature a removable anatomical ortholite footbed that provides great arch support and aids in realigning the feet and ankles to help correct the posture problems.
Lastly, the shoes feature AT tread outsole that is made for running on roads and on uneven surfaces or off-road tracks. The aggressive outsole pattern and asymmetrical lugs provide traction while maintaining the balance of the foot at all times and reducing pressure on your lower back.
What I Liked
Great responsiveness due to springy 3D structure around the midsole
Excellent cushioning due to Eva foam in the midsole
Great traction on all surfaces
Good ankle and arch support
What I didn't Like
Mesh is not properly glued to the toe rubber cap
Toe box is a bit tight for some people; you may have to go for a half size up
Ryka Devotion XT Sneakers – Best Women's Running and Workout Shoes for Scoliosis
These shoes are perfect for women with moderate to severe scoliosis. You can wear them for walking, jogging, sports, and other athletic activities as well. The shoes feature a unique design that provides better control and increased propulsion to help runners and athletes prevent injuries. The wide base and higher medial post allow feet and legs to move naturally, reducing stress and strain on the body.
The shoes are made with a mesh fabric that is breathable, anti-microbial, and moisture-wicking. This fabric helps to keep the foot dry and comfortable. The synthetic leather overlays provide support and a secure fit to your foot. Moreover, the padded tongue collar helps evenly spread the pressure exerted by the lacing closure to prevent discomfort and rubbing at the instep.
The shoes come in a wider width and extra EVA foam cushioning in the heel and forefoot areas, all designed to tackle scoliosis pain at its source. Also, the shoes feature a full-length layer of RE-ZORB cushioning under the EVA foam that has high responsive and provides maximum support to help ease pain, stabilize joints, minimize stress on the spine and reduce fatigue to improve overall wellbeing when exercising.
Paired with OrthoLite® PU sockliner technology, this running shoe allows you to enjoy your workout without any foot discomfort.
Lastly, the shoes feature an eight-piece skeletal rubber outsole that is designed to improve foot mobility. It has grooves to increase the surface area for enhanced traction. Furthermore, in the ball of foot region, there is a smooth disc that makes turns much easier without sticking to the surface.
If you closely look at the outsole, you will also observe that it is split into the forefoot and rearfoot regions. This improves the flexibility of the shoes and allows a greater range of movements.
What I didn't Like
Custom orthopedic inserts for scoliosis is needed to improve arch support
Toe box is a bit narrow
The tongue keeps sliding and moving out of the place
Brooks Levitate 4 – Lightweight Running Shoes for Scoliosis
These shoes by Brooks brand can be the best running shoes for someone with scoliosis other similar curvature problems that give the right amount of support and cushioning for the runner's foot. The difference between Levitate 4 and previous versions is that its midsole is 20% lighter and significantly springier.
These shoes have a highly engineered knit upper that is breathable as well as anti-microbial. It has great flexibility, provides a more snug fit, and hugs your feet like a glove. This allows the shoe's structure to conform to the contours of your feet and move with their natural motion on the run.
The shoes feature a rigid heel counter that provides a snug fit and helps to keep your feet securely in place, and prevents them from sliding and rubbing against the shoes. The heel-to-toe drop of these shoes is 8mm, which offers a nice heel lift to adjust the balance of your body and maintains posture. Scoliosis makes the hips uneven and also causes legs discrepancy. To overcome this issue, heel lift plays the role there.
The midsole of shoes is made of DNA AMP material midsole that addresses your specific gait from heel to toe. DNA AMP material is encased in a PU material that excellent compression-resistant properties and provides more energy to the runner due to its superior springy characteristics. Moreover, it also provides support, stability, and naturally aligned strides.
You can check out this video to understand how DNA AMP technology works.
Lastly, the outsole of these shoes is a one-piece, unlike the previous version with a segmented design and offers more flexibility in the forefoot. The advantage of a one-piece rubber outsole design is that it provides great heel-to-toe transition, better traction, and adds to the shoes' stability.
What I Liked
Fast heel-to-toe transition due to a one-piece outsole design
Glove-like fit
Nice springy feel
Great durability
High arch support
What I didn't Like
Outsole is a bit stiffer as compared to the previous version due to a single-piece design
Bit heavy due DNA AMP cushioning
Breathability is not so good
Supportive Walking Shoes for Scoliosis
Skechers Go Walk Joy – Shoes for Walking and Standing with Scoliosis
If you want to go for long-distance walking or have to stand with scoliosis for long hours during your job, this pair of shoes is the perfect solution to ease back pain caused by the distortion of the spine. These shoes are specifically designed to promote natural alignment, decrease pressure points on the feet and legs. Not only are they stylish, but they work for what they are supposed to wear.
The shoes feature a lightweight upper with breathable mesh fabric, lining and insole, raised heel cap to provide stability and protect the Achilles tendon while walking. The shoes have slip-on construction that allows you to easily wear on/off your shoes.
The midsole of shoes is made of 5gen technology that is responsive, diminishes the effect of shock, and prevents foot fatigue. 5gen is a full-length compression-molded EVA foam that is extremely lightweight and has great springy characteristics. It distributes the weight evenly across the entire foot for continuous support through the walking gait.
Moreover, the shoes have Goga max insole that provides orthotic support and shock absorption. It also prevents sweating and keeps your feet moisture-free. The insole offers a plush feeling underneath your feet and provides long-lasting comfort while walking or long hours standing.
Lastly, the shoes feature a sturdy ripple outsole that lets you stay on the move throughout the day. It has excellent grip and traction to allow you to walk on rough surfaces.
What I Liked
Great breathability
Very lightweight
Great responsiveness due to GOGA MAX insole
Sturdy bottom
Available in a wide range of colors
What I didn't Like
Insole is not removable
Size is a bit large for some people
Arch support is not good
New Balance 813 V1 Lace-up Walking Shoes for Scoliosis and Posture
These walking shoes by New Balance are back with a natural weight distribution that supports the spine. They are specially designed to help stabilize the foot and ankle, reduce the risk of injury, and give you the confidence you need to walk with comfort and ease.
Firstly, the shoes are made of highly durable and high-quality natural leather that provides a secure fit to your feet. It is stiff enough to securely lock your feet in their place and avoiding excessive rolling or uncontrolled movements while walking.
There is a flexible and soft lining on the tongue and heel collar that enhances breathability and provides comfort to your feet by preventing rubbing against the shoes. Moreover, the shoes feature a dual-density collar foam and extra cushioning in the front.
Also, the shoes feature a Roll BAR technology in the rearfoot region that is rigid enough to give you plenty of support while you're on your feet. It is a stability structure that is made of TPU posts that are joined by composite plates. It supports the natural alignment of the feet to produce a straight and even stride.
Furthermore, this structural system is stiff enough to avoid rolling and putting strain on the ankles while walking. In this way, this technology possesses a motion control feature that prevents overpronation, which is also one of the causes of posture scoliosis.
Lastly, the shoes feature a durable full-length rubber outsole with a flexed grooves in the forefoot region to enhance foot flexion and smooth transition of walking stride from heel to toe. If you closely look at the outsole, you will observe a walking stride path that runs from the rearfoot to the forefoot in the center of the base. This path will provide stability and guide your foot throughout your walking gait cycle by reducing the imbalance as weight is transitioned from heel to toe while walking.
What I Liked
Excellent stability and support due to Rollbar technology
Nice cushioning due to foam midsole
Fully padded tongue and collar
Highly durable leather
Great fit
What I didn't Like
Suitable for people with low arches; you have to replace your custom inserts for scoliosis to improve support
Durable Work Shoes for Scoliosis
Skechers Soft Stride-Softie Lace-Up – Durable Work and Nursing Shoes for Scoliosis
These are the perfect nursing and work shoes for men and women who have scoliosis. These shoes by Skechers are just what you need to make you feel comfortable while looking trendy at the same time. If you have to stand all day on hard concrete floors, you can wear these shoes due to their sturdy design, excellent cushioning and support.
The shoes are made of a polyurethane leather upper that is highly durable and incredibly supportive in a work environment. The lace-up design makes it easy to wear these shoes with your favorite casual or office outfits. They have a deep heel cup for an added shock absorption and avoiding uncontrolled movements and strains on the ankles.
The shoes also come with a removable PU insert, which provides additional support to the foot's arch. Polyurethane (PU) is stiffer and compression-resistant as compared to EVA foam. It is commonly used in walking and working shoes as it provides excellent support and cushioning to your feet that helps in long hours of standing.
Lastly, the rubber outsole has an aggressive tread pattern that makes them highly slip-resistant and suitable to wear in the work environment. Moreover, the outsole features a curved design that is meant to flex with the curves of the foot, which will prevent stress points from causing pain and discomfort.
What I Liked
Durable leather
Slip-resistant
Easier to clean
Great support due to PU footbed
Good ankle support
What I didn't Like
Upper is a bit stiff; requires to break in to fit properly
Not suitable for high arches
Some users have complained that after some months, the outsole got separated from the upper
Fila Memory Workshift Slip Resistant – Orthopedic Work Shoes for Scoliosis
The Memory Workshift slip-resistant work shoes by Fila are designed to help you perform even on the hardest of surfaces. They allow the foot to move through the full range of motion that it needs to without causing any pain or discomfort. Whether you're rushing to an important meeting in the morning or running around the warehouse when you get there, the shoes cushioning system keeps you comfortable and on your feet.
The upper of the shoes is made of durable leather with PU overlays to provide support and comfort for all-day wear. They have a padded tongue and collar with a moisture-wicking lining to keep your feet dry and make you feel comfortable.
The shoes feature a memory foam footbed designed to cushion your feet and absorb shock to make walking a lot easier on your back and spine. The primary component of memory foam is polyurethane foam. Some additional materials are added that change the density and stiffness of the material. The advantage of memory foam is that it supplies your feet with the best-molded fit and provides relief from pain that can be caused by long-term foot placement in the shoes.
The midsole of these shoes is also made of memory foam technology that has been tested by people who stand in them for hours at a time on hard surfaces like concrete floors.
This technology allows you to feel the contouring and support of the shoe while being able to move around easily in them without having sore feet or joints from standing too long in one spot. The supportive memory foam cushioning in the heel absorbs shock upon impact – allowing you to maintain your flexibility and comfort throughout the day.
Lastly, the outsole of the shoes is made of durable rubber. It has excellent slip resistance and is tested by ASTM to meet the demand of industrial standards. It will also help you maintain control of your feet and balance while you are on your feet for long periods.
What I Liked
Great durability
Nice cushioning and support due to memory foam technology
Great comfort due to padded tongue and collar
Good arch support
What I didn't Like
Insole is not removable
Requires break-in to fit perfectly
Dansko Men's Wynn Casual Work Shoes for Scoliosis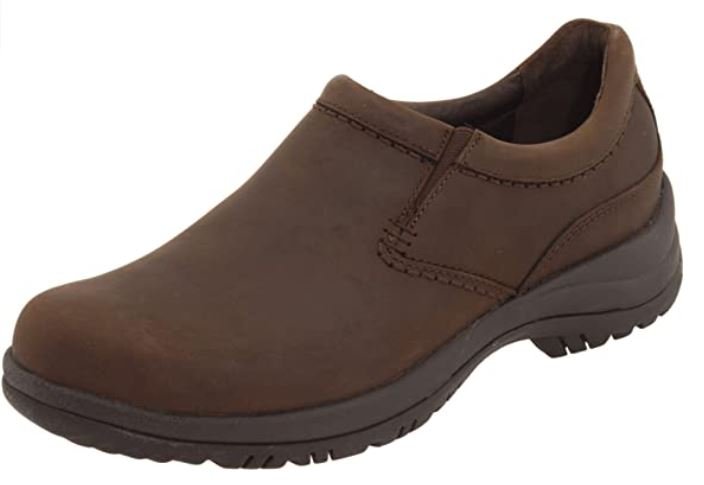 The shoes are meant to be comfortable and durable, with a touch of style thanks to their leather upper. It features dual elastic goring that is stretchy and provides a glove-like fit to your feet that is a source of great comfort during long hours of standing.
The shoes have a high heel with a deep cup for extra cushioning and helping with the body's overall posture that is disturbed by scoliosis. The firmness of the Danskos supports your arches and every other part of the foot. And after breaking them in, they're so comfortable on your feet; you never want to take them off. 
The shoes are anatomically designed to provide relief from foot pain while promoting high levels of comfort and efficiency. They feature a polyurethane midsole that has a sturdy design and offers excellent support and cushioning while standing on uneven hard surfaces without losing standing posture.
There is a riveted metal shank in the midsole that acts as the backbone of these shoes. It is responsible for providing excellent arch support and stability while maintaining your standing gait.
Moreover, the shoes have a triple-density EVA footbed that has an excellent shock absorption tendency to absorb the impact of hard floor. The triple-density feature of insole possesses extra firmness to provide support and stability to your feet during long hours standing.
Lastly, the shoes feature full rubber outsole for improved traction and delivering long-lasting durability.
What I Liked
Roomy toe box
Sturdy design
Great stability due to steel shank in the midsole
Good arch support
Slip-on design for easy on/off
Good ankle support due to padded collar
What I didn't Like
Bit heavy
Needs to break-in
Final Thoughts
Scoliosis is a deformity of the spine. It can badly affect your body posture and cause several painful problems to your feet if you don't pay attention to buying the best shoes to wear with scoliosis. There are many shoes available in the market that can confuse you a lot and distract you from buying the right pair.
So, the shoes I have reviewed above would suffice for all your needs as they will provide you the support and stability you need to relieve pressure on your back, legs, and spine while standing, walking, or running.
Best Shoes for Scoliosis: FAQs
Are high heels bad for scoliosis?
Yes, high heels are bad for scoliosis. A lot of women wear high heels without knowing that they can actually cause serious damage to their backs. High heels force you to stand on your toes. As a result, your back becomes curved and you start to lean forward.
Will a shoe lift help scoliosis?
It depends on the severity of scoliosis. Shoe lift helps in some cases. There are several factors that contribute to scoliosis. Leg length discrepancy is the only factor. It is the curve of the spine that decides whether we should add heel lift or not. You can check out this article for more info regarding this. I would also suggest you do some stretching exercises, as it is the most suitable non-surgical way to treat scoliosis.