10 Best Walking Shoes for Lower Back Pain in 2023: Get Orthopedic Shoes
After researching 20 plus top pairs of shoes to relieve lower back pain, Rockport Eureka Walking Shoe (Men) and Ryka Devotion Plus 2 (Women) are the best walking shoes for lower back pain. These shoes for back pain will protect your lower body from feeling the impact of a surface that can exert strain on your back.
Looking for the best walking shoes for lower back pain? After tons of research on relevant forums and asking from hundreds of users, I've put together a list of the 12 best walking shoes that can relieve your lower back pain.
Also Read: Best Shoes for Sciatica Problems
The lower back pain can make you feel worse daily by increasing your lower body's irritation and severe aches.
Do you know that if you do not treat your back pain issue well on time it can exceed a certain limit where you are prevented from doing common everyday activities?
So, take action and get to the solution by changing your uncomfortable shoes with some best walking shoes that are specially designed to alleviate lower back pain issues.
Short on time? Consider our top picks for the best walking shoes to get rid of the lower back pain:
For people suffering from lower back pain, it's always crucial to have extremely comfortable, smooth, great cushioning support, and classy-looking walking shoes for back pain as they greatly help reduce the problem. 
This guide includes all the best shoes that are greatly recommended for lower back pain relief, and each one is explained with detailed features, pros, and cons to help you make the best and most reliable decision. 
Let's get started with the reviews to get a deeper look into the shoes that are good for your lower back.
How Proper Walking Shoes Interact with the Back?
Walking shoes offer a mechanical structure to stabilize your gait and prevent excessive strain on your lower back.
In walking shoes, feet must be able to move freely through all planes of motion without restriction or pain. The foot should not feel like it's being squeezed by tight shoes that don't allow enough room for movement. If you have flat feet, your shoes will need to provide more support than those who have normal arches.
A good pair of walking shoes can help prevent lower back problems such as sciatica. When wearing high-heeled shoes or unstable shoes, the weight on the ball and heel of the foot is transferred directly into the spine. This puts a lot of pressure on the discs between the vertebrae in the lumbar region.
Over time this may cause damage to these discs which could lead to low back pain. It's important to wear comfortable but supportive footwear when exercising so that the load isn't placed too heavily on any one area of the body.
If you're experiencing symptoms associated with excessive pain or strain in your lower back, then you'll want to look at how well your shoes fit and if they are providing adequate comfort and stability. Walking shoes should be worn while doing exercise routines because they offer protection from injury and keep the feet healthy. They shouldn't restrict the natural movements of the joints.
Do you have severe pain in the plantar fascia or suffer from a heel spur? Check out my guide on the comfortable walking shoes for plantar fasciitis.
Features for the Best Walking Shoes for Lower Back Pain
Lower back pain is not a minor that you should ignore treating. It can cause severe irritation and aches while you do any movement: walking or running, and even while you are standing. Thus, this pain can severely disturb your life and make you do something in this regard. 
Seeing a doctor might help you a lot, but there may be many reasons that might award you with this pain, and you can solve them without ever seeing a doctor anymore. Frequently, foot apparel is the only reason for your lower back pain issues. 
The greater your shoes are uncomfortable, the chances you have this pain as they disturb your feet and the whole lower body parts and increase the irritation. 
So, buying the best comfortable and durable shoes is important if you want to instantly get rid of this pain. You should consider the following things while you are out to buy the best walking shoes for lower back pain.
Arch Support 
Ensure that the shoe you have decided to buy should have the arch support working naturally with your feet arch. Your feet arch might be high, neutral, or low. So, make sure to know your type and buy the shoes. 
Note: What you can do to figure out your feet arch is to dip your feet in the water and step out onto a piece of cardboard. The print on the cardboard will help you in knowing the type of your feet arch.
There are three different kinds of arches: neutral, high and low. A neutral arch is when your arch's middle is halfway filled in the footprint, a high arch is when very little of your arch footprint is made, and a low arch is when you get a complete footprint. people with low arches are called flat-footed people.
Nevertheless, after determining your feet' arch type, consider buying shoes that completely go with your arch type. It will keep your feet more comfortable and will relieve your back pain issues.
Cushioning support 
When choosing the right shoe for yourself, you have to take great care in looking for whether it provides enough cushioning support to your feet which can help reduce the painful impact.
The pressure applied to the feet is directly transmitted to our hips and then on to the lower back when you are standing or sitting with good posture for prolonged periods. Better cushioning of the shoes can greatly help in shock absorption and also in reducing the stress on your back most effectively no matter your activity level.
Selection of the right shoes regarding cushioning also depends upon the type of foot arch you have. If you have a low arch, you should consider buying shoes with firmer midsoles as they provide greater motion control.
If you have a high arch, we suggest you go for the softer midsole. 
Note: You can check the cushioning by determining the shoes' firmness by pushing your thumbnail into the midsole. 
Avoid High Heels 
Although high heels look elegant and attractive but can be the sole reason for your lower back pain issue. Adding to this, it can also lead to muscle overuse and several other back issues. 
 So, to reduce the pain that you already have in your back or might experience in the future, avoid buying shoes that have high heels. Choose shoes that have heels no higher than 2 inches. 
Avoid Flip-Flops
Just as high heels can be dangerous for you, too-flat shoes like Flip-Flops can also cause you severe back issues. The most obvious reason for this is that they do not provide you with enough arch support, and thus, it can lead to pains in the heels, ankles, feet, and even the knees.
You can think of buying them for short distances, but make sure that you avoid buying them for longer distances and heavy movements. 
Choose the Right Fit 
To buy the shoes on sale rather than keeping in view whether they perfectly fit your feet or not might be your biggest mistake ever in life. When you buy such shoes that are not fit for your feet, you can invite your body pains, including the knees, ankles, and the lower back. 
So, we suggest you buy shoes which perfectly fit the shape of your feet. This will prevent you from many pain-related issues.
Best Walking Shoes for Lower Back Pain–Top Products Reviews
Here are my recommendations for the best walking shoes that can relieve lower back pain.
1. New Balance 605V5 – Comfortable Walking Shoes for Lower Back Pain
Lower back pain issue most commonly arises through the discomfort that your lower body experiences while walking or standing. The apparent reason for this discomfort is the hard-sole shoe that you wear. 
Their hard sole makes your feet feel tired, stressed, and strained, so your lower body feels the strain. However, you can eliminate this pain by replacing your uncomfortable shoes with the more comfortable ones, like New Balance shoes, specifically designed for the purpose. 
Just like these shoes are classy from the exterior, they are super comfortable from the inside. They come with the EVA midsole for great cushioning and are designed with dual density collar foam with an internal shank that adds durability and stability to the shoes.
With this cushioning and support, your feet get extremely comfortable while standing or walking on concrete. Thus, your lower back pain is greatly reduced as your feet get suitable comfort and support with these New Balance walking shoes. 
Top Features
Following are some more features that are handy in eliminating your pain in the lower back: 
The shoes have an ABZORB heel crash pad that provides your feet with a combination of compression resistance and cushioning. 
A flexible outsole that covers your sole completely to help your feet and lower body get greater comfort. 
Upper soft leather keeps the upper part of your feet in contact with a smooth lining, thus further increasing the comfort with the wearing.
A synthetic rubber sole is best for keeping your shoes slip-resistant, flexible, and comfortable. 
Healthcare professionals greatly recommend people with back pain issues wear these New Balance shoes for herniated discs. 
The shoes are available in almost all sizes so that you can easily find the option that can perfectly fit your feet.
What I Liked
Extremely comfortable 
Affordable
Available in all sizes
Best shoes for back pain sufferers
2. Adidas Ultraboost – Best Shoes for Bad Back and Hip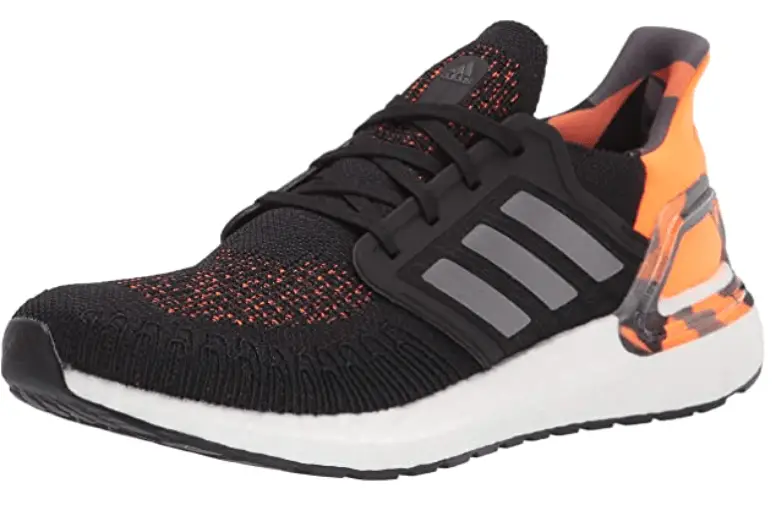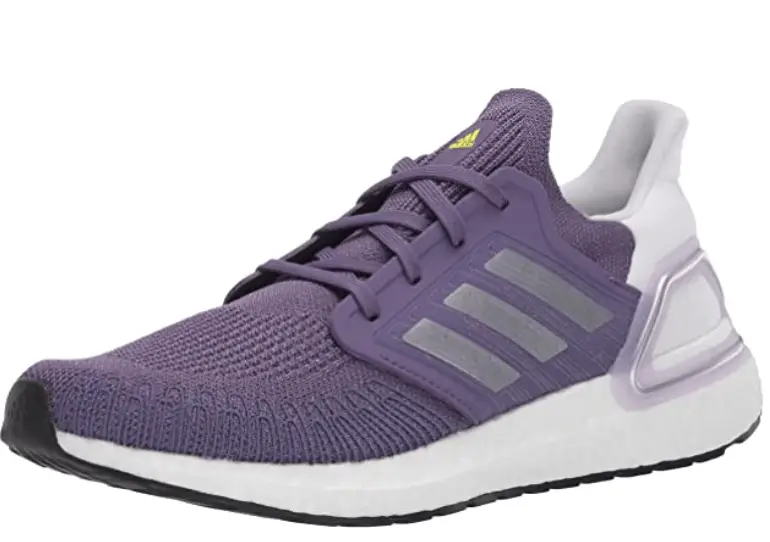 The second choice of walking shoes you can go for solving your back pain issue is Adidas Ultraboost. These shoes for back pain relief are well-known for keeping your feet at greater energy for the rides, yet keeping them safe from any jerks and stretches that can enhance your pain. 
Top Features
Primeknit wraps for the upper feet surface provide additional adaptive support to your feet.
They have a firmer, easier and stronger grip for comfortable walking, standing, and running
These shoes feature Boost midsole technology that delivers excellent responsiveness and offers great cushioning and support underneath your feet.
The rubber outsole of the shoes keeps your sole safer from wet and dry conditions and provides an excellent grip on the floors.
The supportive cage more conveniently wraps around your midfoot for firmer lockdown feet to keep the balance of your body
What I Liked
Comfortable for walking  
Synthetic 
Keep the pain away
Great look 
What I Didn't Like
Not best for rocky surfaces
3. ASICS Gel Nimbus – Best Orthopedic Shoes for Back Pain
Running can be one of the reasons why you often feel pain in your lower body. Your body gets subjected to a lot of jerks and heavy stretches that make the lower muscle get pulled easily, and hence the pain is induced in it. 
While you cannot leave running out of your passion for sports or need for fitness, you can still replace your existing shoes with ASICS running shoes. These shoes are manufactured with some great features that support your running activities even more responsibly and effectively. 
It is made with flyte foam midsole technology that efficiently provides greater responsiveness and exceptional bounce back for the greater distance and for the bumpy paths to support your feet in regular running. Its dual-density foam and softer feet cushioning technology maintain the comfort and support that is required to reduce the pain. 
Top Features
Fluid ride midsole that is added to provide effective bounce back to support heavy running smoothly. Fluidride is a combination of Solyte and SPEVA foam. Solyte material is developed exclusively by ASICS. It is half the weight of EVA foam and has a great shock-absorbing property.
Reduced weight to help your feet feel extremely light while running at longer distances 
These shoes are exceptionally durable to make you feel satisfied with the money you spent
The effective cushioning feature increases comfort in your feet and ultimately in your lower body parts
They have an imported rubber sole that provides a firmer grip and better floor support for better running posture to reduce pain further
What I Liked
Durable   
Better floor support 
Best bounce support feature 
Comfortable shoes for back pain
What I Didn't Like
The toe area is a bit narrow
4. Skechers GoWalk – Best Back Support Shoes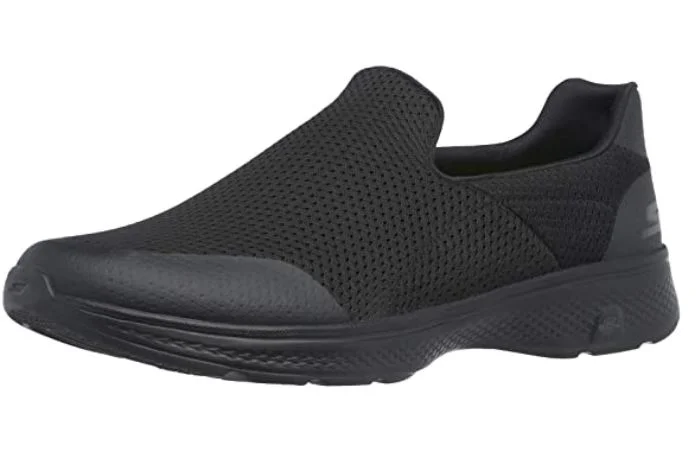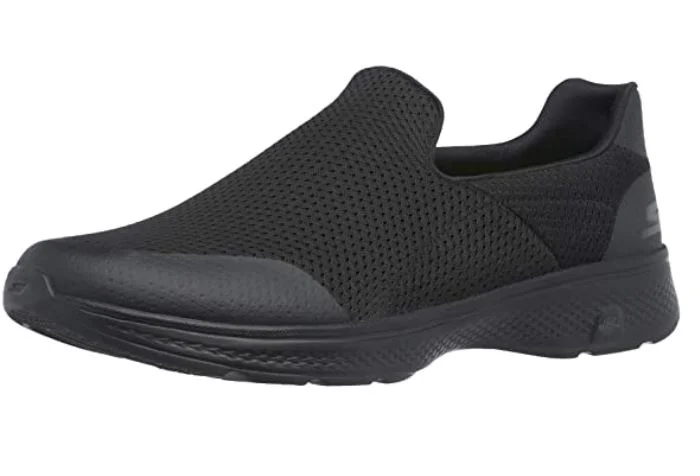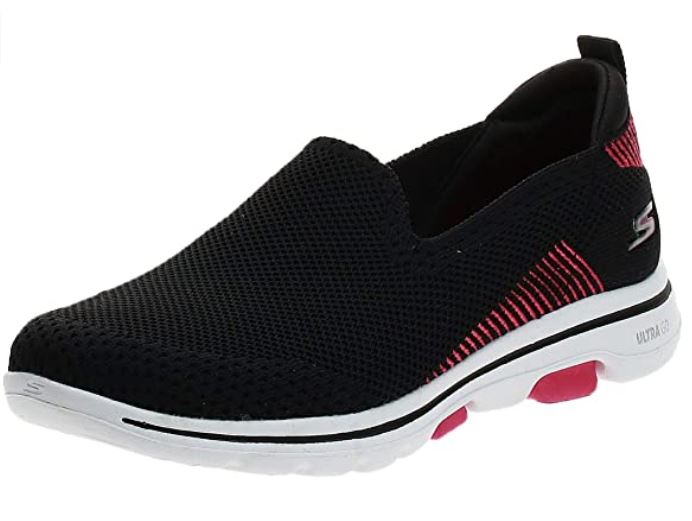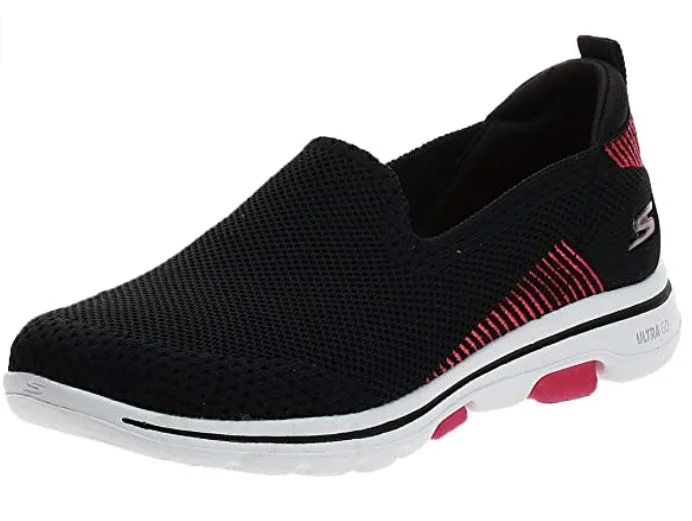 Travelling is something most people are passionate about. However, it is the same thing that can introduce to or even increase your existing pain in the lower back. 
Often you are not in the right apparel that can keep you from this pain: uncomfortable shoes are one of them. When you are in uncomfortable shoes with either the hard sole or even the irritating inner body, there are increased chances that your lower body parts, including the feet, get affected. 
So, the pain in your lower body is directly related to the irritation or discomfort in your feet area. To avoid the problem, you can step ahead and buy this sneaker from Skechers specifically designed to provide you with comfort and reduce pain. 
Top Features
Synthetic rubber sole provides better support and durability 
The lightweight shoes design reduces any pressure on your feet, thus keeping them comfortable 
Comfort pillar technology in the form of circle-shaped thick rubber pods takes care of the relaxation of your feet and lower body by absorbing the strong impact from the surface and providing a robust feel underneath your feet.
Mesh material of the shoes enhances relaxation while wearing so your feet may feel greater comfort
The shoes have great breathability to maintain the airflow so that your feet may feel fresh and hydrated and, in turn, keep your lower body relaxed 
What I Liked
Durable   
Lightweight
Reliable performance 
Breathable
Available in many colors
5. Classic Fit Skechers – Comfortable Sneaker for Back Pain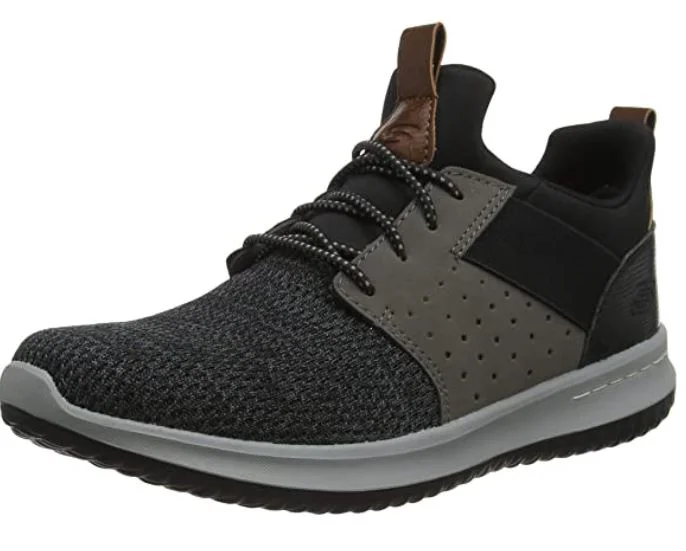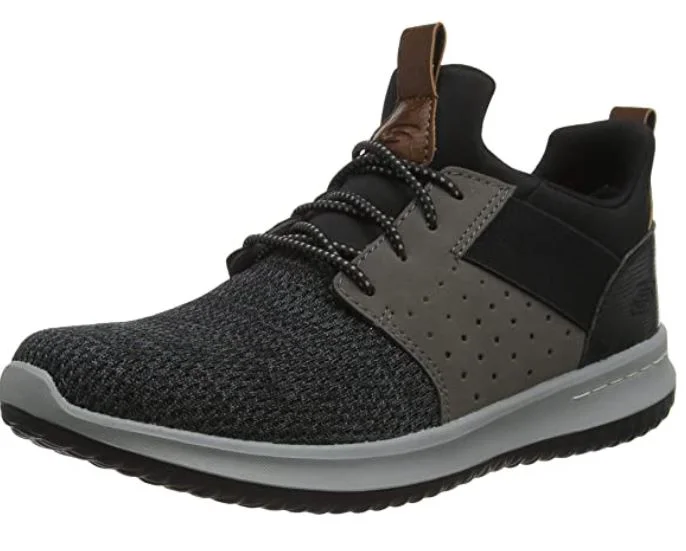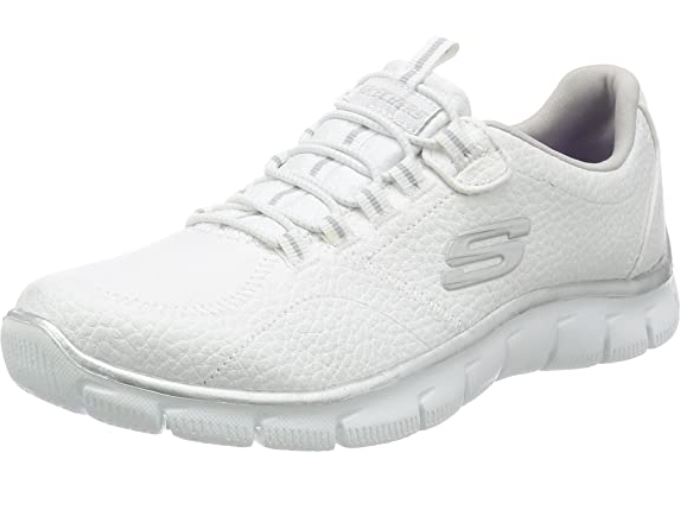 For heavy movements that might make your discs slip and cause pain in your lower body, Skechers' classic sports shoes are the most amazing choice. With their super-soft rubber sole and relaxed fit design for an enhanced comfortable fit, these are extraordinary in taking care of your health needs.
Top Features
Sports walking sneakers that bear the bumps and jerks in the movements
Stretched laced front that prevents your feet from slipping and getting hurt 
Soft shoe lining adds much greater comfort to your feet
Air-cooled memory foam helps your feet stay relaxed and, in turn makes your lower body parts be at ease and relaxed while running or doing other sports activities
The shoes are lightweight that do not put on extra weight and pressure on your feet to make you feel uncomfortable during the movements 
Their Shock-absorbing midsole bears the jerks and bumps easily without stressing your feet and lower body
What I Liked
Soft and smoother wearing  
Best for sports activities
Ease the lower back pain 
Breathable
Reliable, durable, and long-living
6. Rockport Eureka – Good Walking Shoes for Bad Back and Knees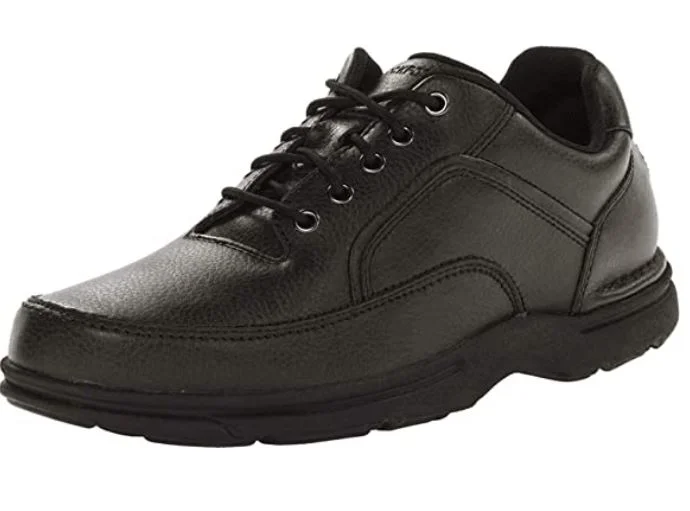 Rockport's walking sneakers are the most popular and trending on amazon as most people prefer to buy them to reduce their back pain issues. These are super-amazing in reducing the pain through their lightweight, comfortable system and an amazing open-cell foam footbed added to deal with the issue specifically. 
Often, when your footwear is not comfortable and easy-going, your lower back discs might get displaced and need some best solution that can help you out in reducing the issue. When such a situation comes, having these walking shoes by Rockport can help. 
Top Features
100% imported leather material for long life and durability 
Synthetic rubber sole that is completely comfortable for regular walking and jogging
Lightweight helps you carry them anywhere easily and thus doesn't negatively affect your lower body parts
EVA foam midsole offers extreme comfort and relaxation due to its excellent shock-absorbing capacity
An open-cell foam footbed is added to keep your back discs in place by maintaining your feet' delicate balance all the time
Breathable lining keeps your feet fresh even when you do a heavy exertion task. This lining helps add extra comfort to the feet
Long-living and durable, so you don't have to replace your shoes over and over again 
What I Liked
Breathable  
Durable 
Comfortable  
Keeps lower discs in place
What I Didn't Like
The leather is a bit thinner
7. HOKA ONE ONE – Shoes that are Good for your Back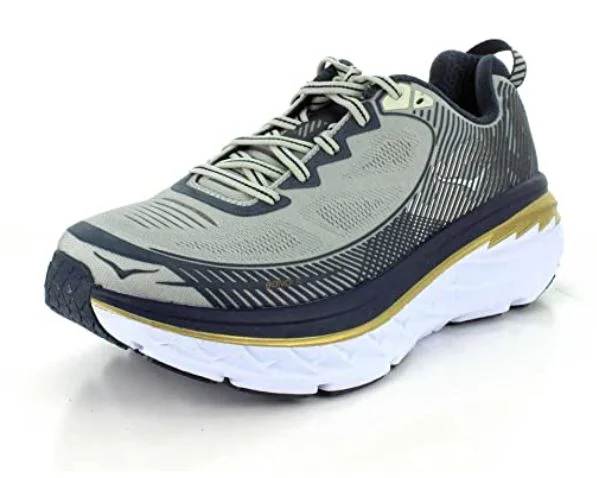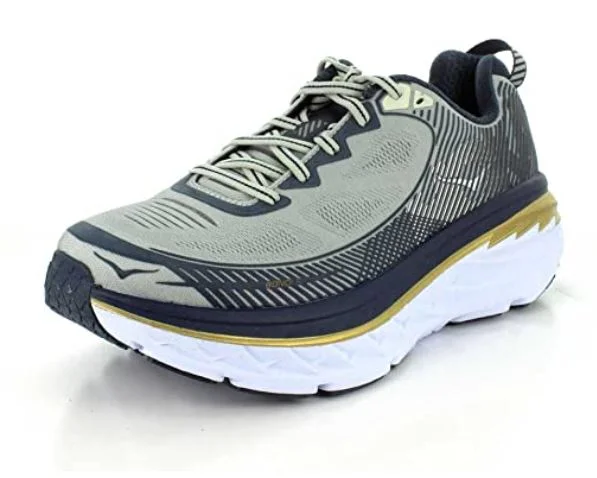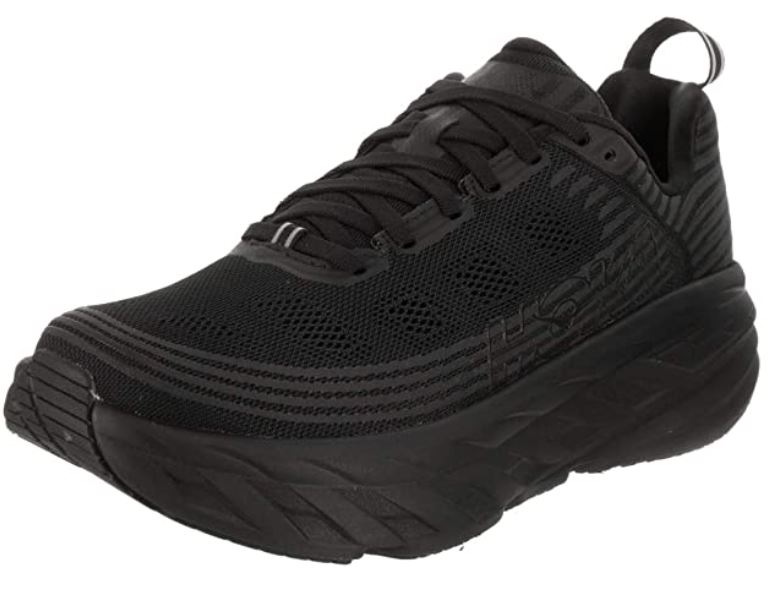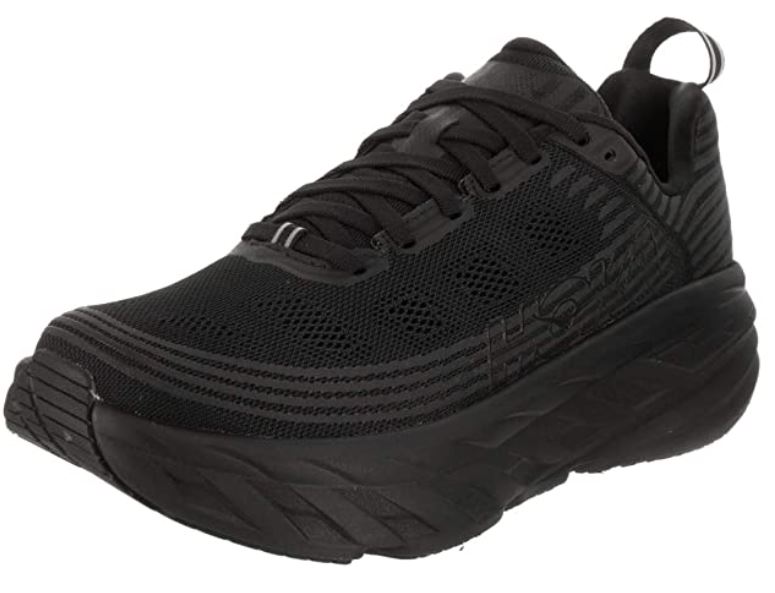 Running can be dangerous for you because of the sudden jerks and slips that can make your lower-body muscles get pulled and thus pain it severely so that you can even walk or stand properly. 
However, these shoes by HOKA ONE ONE can help you with the issue. Following are some great features for which they are greatly admired and liked among people with a similar back pain issue. 
Top Features
Whether you are walking on the roads or concrete, these shoes are best as they are made for this purpose, especially
100% synthetic that increases their life and reliability to keep you satisfied with your expenditure
Full-length EVA midsole keeps your feet covered and at extreme ease with the wearing. It provides you with better support and a footbed to place your feet and do the movements more conveniently
These are available in almost all colors and sizes so that you can choose according to your own choice
Breathable upper adds greater relaxation and comfort to your feet
Their impressive design looks cool on your feet and goes best with every apparel
What I Liked
Attractive design 
Available in many colors  
Comfortable and soft  
Better feet support
8. Brooks Addiction Walker – Durable Walking Shoes for Hip Pain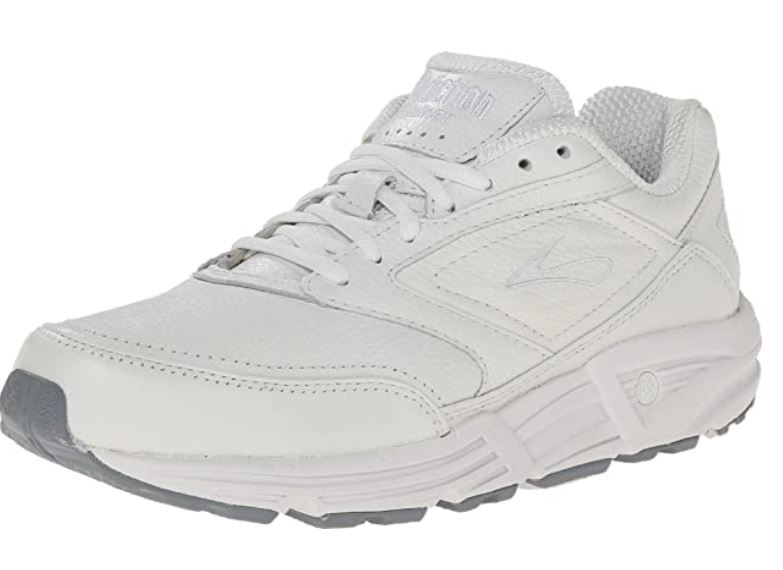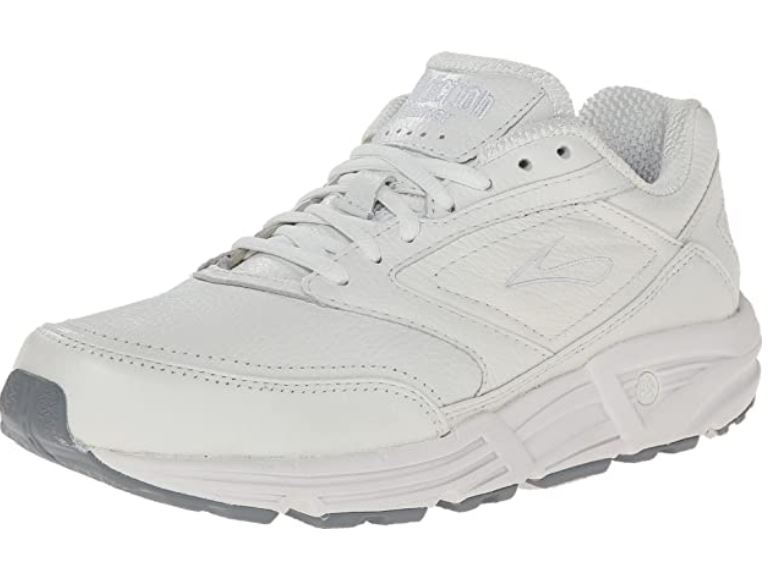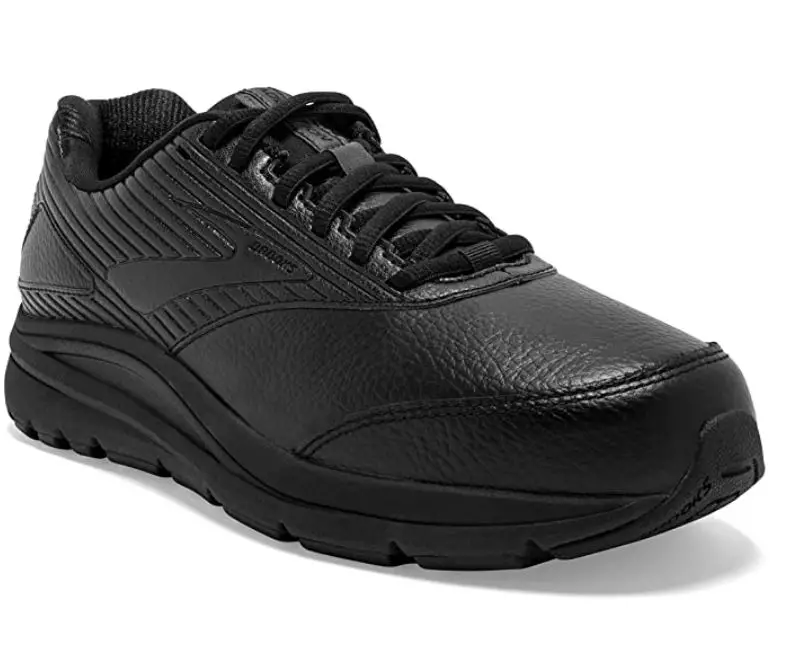 Your feet need greater cushioning for whatever movements you are doing in your regular working day. If the feet are not provided with greater cushioning support, you get to feel pain in the lower body due to extreme stretches and jerks. 
Brooks' walker shoes are made exclusively to provide your feet better cushioning support to eliminate the issue even better and reduce the pain greatly. 
Top Features
To adjust completely with your feet' arch, speed and weight, these shoes are specially made with BioMoGo DNA. It greatly reduces the impact on your joints and keeps you comfortable all the time of your exertion
To provide your feet and lower body with maximum support and balance, the shoes are made to include a Progressive Diagonal Roll Bar support system that consists of thermoplastic urethane posts connected by composite plates. It is best to maintain your entire body's support and balance and thus keep it in its natural posture and path of motion 
These shoes are made exceptionally slip resistant mainly because of their innovative outsole that is certified for slip resistance
To give your look a fresh and glam touch, the shoes are made with premium quality refreshed leather. It offers a classic style to your everyday outdoor look
Keeping all your pain needs in mind, these shoes are made exclusively in the USA and are imported to provide you with better results
For increased ease, these shoes come up with lace closure so that you can take them on/off with greater convenience
What I Liked
Increased cushioning 
Softer footbed  
Great support for movements 
Reliable and durable
Best sneakers for back support 
9. Brooks Adrenaline – Lightweight Shoes for Back Support
Over-pronation occurs when your feet excessively roll down when they hit the ground. It disturbs your body and greatly impacts it when running, walking, or even standing.
 To eliminate the over-pronation issues, all you need is a good pair of shoes that can prevent your feet from rolling down each time they hit the ground.
These best sneakers for bad back by Brooks might become a great choice for you as they are made to help reduce the issues of over-pronation. 
Top Features
The shoes are made with high-quality material and streamlined design to give you a runner the perfect blend of support, flexibility, and cushioning
Synthetic mesh material keeps your feet hydrated and fresh all the time
A soft and smooth rubber sole keeps the lower part of your feet at greater support and helps reduce the strain and stretches
It provides great stability and cushioning to your feet and helps you reduce the over-pronation issues
The midsole is made from the blended layers of BioMoGo DNA and a DNA crash pad. BioMoGo DNA delivers springiness and cushioning, while the DNA loft pad, which is made of EVA foam, rubber, and air, absorbs impact and provides you with powerful strides.
They are ideal for cross-training, road running, gym, or whatever sports you like to have in your daily routine
Its 3D fit print offers exclusive support and fits your feet to prevent them from slipping and stress
Impact guidance system in the outsole, that is extended from heel to toe, stabilizes your standing and walking gait, which in turn keeps your knees comfortable and help you move comfortably by keeping a balanced check on excessive movements.
What I Liked
3D print upper provides a comfortable and flexible fit
High arch support

Great stability due to the impact guidance feature in the outsole
10. Ryka Devotion Plus 2 Walking Shoes for Back Pain Strain Reduction 
These are some of the most comfortable walking and running shoes for lower back pain that have the best features and support systems to reduce strain in your lower body.
Top Features
The synthetic sole is extremely durable and strong that provides your feet with enough comfortable support for walking, running, or jogging
Mesh material makes them lightweight and helps you carry them easily across the roads or your walking tracks
Lace-up front is added to make it convenient for you to put them on and take them off instantly 
For extra arch and heel support, the shoes have a special anatomical cushioning sole that will conform to your foot's structure to reduce stress and strain issues in your lower body entirely
What I Liked
Stress relieving 
Greater heel support 
Best for all type of movements 
Reliable
What I Didn't Like
Soles are too soft for outdoor
Final Verdict
Best walking shoes for lower back pain mentioned in our list are highly recommended for one or the other purpose. In women's collections, we have recommended Ryka Devolution shoes to relieve lower back pain. For men, Rockport and Adidas Ultraboost shoes are highly recommended to get rid of lower back pain. So, we suggest you have a deeper look at each of them and consider buying the one that most closely relates to your problem. 
Shoes for Back Pain Issues (FAQs)
What are the best shoes to wear for lower back pain?
You can reduce lower back pain by wearing some best shoes that are specifically made for this purpose. The shoes that come up with more outstanding cushioning, flexible support for the movements, comfortable and smooth insole, and midsole are generally the best shoes for bad back and lower back pain issues.
Do good shoes help with back pain?
Yes, wearing good shoes can always help you with back pain issues. This is because shoes specifically made for this purpose are made with comfortable support and material; they provide better cushioning, flexibility, and a softer grip and bounce during the movements.
When your feet get better support for the movements, the slipping of the discs or stretching of the lower back muscles greatly reduces, and hence the issues of your lower back reduce to a great extent.
What shoes should I wear if I have painful feet?
The choice of your shoes entirely depends upon the type of pain you have. Like, if you have arthritis, high arches, plantar fasciitis, you will need footwear that provides your feet greater support and comfort.
However, running or walking shoes are considered best for the feet with arthritis as they have breathable fabric and have greater space for your feet to stretch. For plantar fasciitis, you should consider buying shoes that have high arch support.
Why does wearing flat shoes hurt my back?
Wearing flat shoes hurt your back because they lack arch support and cushioning. Your heels and plantar fascia will bear the pressure of the surface, which will be transferred to your lower back and spines.
That's why you should invest in a pair of running or comfortable walking shoes. These types of shoes have built-in shock absorption systems that give your calves and other lower limb muscles the relief needed during prolonged periods of standing. They also minimize impact forces to your legs and help reduce ankle sprains.