Are ASOS Shoes Good Quality? (Make the Right Decision)
Many people ask: are ASOS shoes good quality? And more importantly – are ASOS worth it? Well, here I will answer these questions for you! So, it depends on which style of ASOS shoes you're looking for. ASOS is a UK-based online fashion retailer that sells shoes from different brands. ASOS store also designs its own shoes that are the major focus of this article.
After researching from different relevant forums, where people have discussed the quality of ASOS shoes, and from my personal experience, I've found that the ASOS shoes are known for their comfort and style. The quality of ASOS shoes is not good as they use quite thin leather upper that deteriorates after few wears.
 Here's what a user of ASOS shoes says about them on Reddit.

ASOS designs shoes are like hit and miss. ASOS footwear is available at the best prices compared to its competitors, but we can't say much about its quality as it varies with their styles.
Here's what a user comments on a forum about ASOS shoes' style and quality.

Like Cole Haan shoes, the ASOS brand also focuses more on launching an extensive line-up of dress shoes with trending designs for men at reasonable prices.
According to the ASOS website, they currently offer 550 styles of footwear for men and 1777 styles for women. For such a huge number of styles, it's challenging to maintain the quality of the footwear. That's why ASOS design footwear is famous for its style and notorious for its quality.
The other reason for the low material quality of ASOS design shoes is that they primarily outsource their footwear manufacturing to China. Due to this reason, the price of ASOS design shoes is relatively less.
So, for ASOS shoes, you get what you pay for. ASOS shoes are pretty inexpensive, and you get trendy and stylish shoes at attractive prices. Most of the ASOS design shoes have prices under $60.
If you don't want to spend a huge amount of money and enjoy the fashion of comfort as well, I'd suggest you definitely buy ASOS. However, don't expect that your ASOS shoes will last longer. As for such a low price, ASOS brand is trying to make the best shoe designs to enhance your appearance.
Here's another review of ASOS shoes' wearer.

So, it's best if you spare out your fashionable ASOS shoes for everyday wear, and use only them for short events like concerts or parties.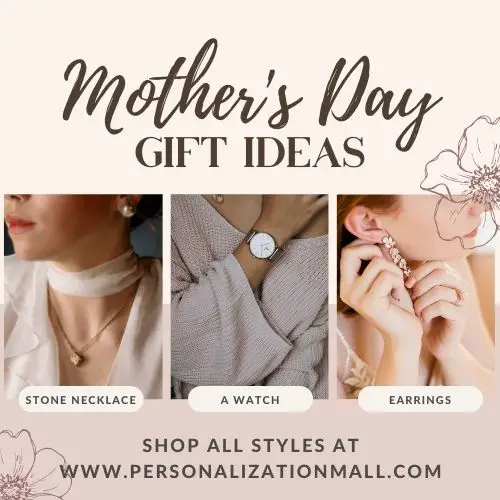 Are ASOS Boots Good? 
There are some boot styles of ASOS that have moderate quality and great comfort. Boots are generally expensive footwear for which you've to either break the bank or wait for a significant discount.
But that's not the case with ASOS Boots. The Chelsea design of ASOS boots is famous among people who are out of budget and looking for fashionable and trendy boots.
If you compare ASOS Chelsea boots with Tory Burch boots, you'll find a significant difference in them. Tory Burch boots are above $250, while the price of ASOS Chelsea boots is only under $60.
Of course, the leather quality of ASOS is not the same as that of expensive boots from different brands as the leather is pretty thin like a paper, but still, people like to buy them as ASOS boots leather is soft and offer a buttery feel. Furthermore, the soft leather is good to protect your ankles from rubbing.
Here's what a user of ASOS Chelsea boot says about them on their website.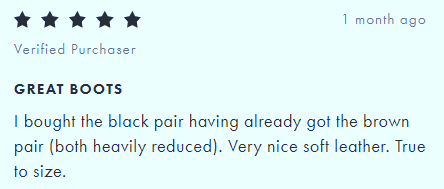 Here are couple of reviews by the users of ASOS Chelsea boots that I found on Reddit.

Here's another review of ASOS Chelsea boots with suede upper. You can pics posted by this person here.

So, I'd say ASOS boots are worth the price. That's not bad if they last for six months for you. You can take maximum advantage of their style and comfort.
You can also see more reviews about ASOS boots here by their users.
Are ASOS Shoes Comfortable?
ASOS shoes have a soft leather upper for a comfy fit, but their sole is not designed to give you enough cushioning. Due to this, you can't stand comfortably all day long in your ASOS shoes.
So, if you're a cashier, nurse or chef and have to stand for long hours, don't go for ASOS shoes. You can check my guide on the comfortable shoes for cashiers. Those shoes are expensive (generally above $100), but worth enough to give them a try.
If you don't have enough budget, there are some certain work shoes that ASOS has designed. One of them is ASOS Design Money Chunky Lace-up Shoes. The price of these ASOS shoes is only $38. These ASOS design shoes are designed to wear at work. They've got a thick sole that can protect you from feeling the impact of the surface. I can't confirm the material of the sole as they haven't mentioned the material on their site.
I also contacted with ASOS customer support team, and surprisingly they also don't know about it. That was really a disappointing situation. Here was their response.

However, based on customers' reviews, you can wear these ASOS shoes for long hours standing, but still, they won't give cushioning and comfort like other expensive brands. It depends on your feet' strength that for how long they can bear the pressure of the surface.
Here are some reviews of the customers regarding the comfort of these ASOS shoes.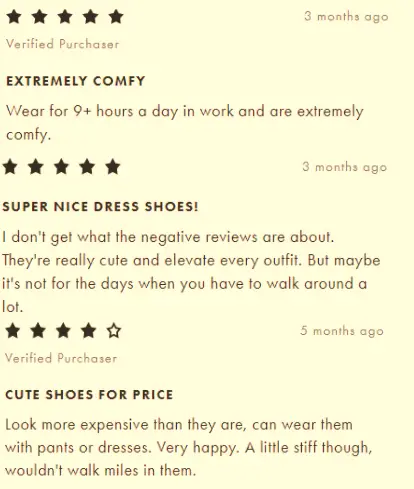 There are some great casual designs of ASOS shoes that you can wear comfortably while walking around the house as their ASOS shoes lining and upper is soft enough to provide great comfort to your feet.
Here are some styles of ASOS casual shoes that you can consider buying.
Are ASOS Heels Comfortable?
ASOS makes over 200 styles of heels and platforms for women. The most expensive pair of ASOS heels has a price of $83. I'd not suggest you buy ASOS heels in this price range because you can get better options from other brands for this price. So, as long as the price of ASOS heels is under $40, it's okay.
Most customers are satisfied with the comfort of ASOS design heels. The only problem they face is with their straps. Many users have found that the straps of ASOS heels are quite stretchy, and their feet slip inside the heels.
Here's a review by a user of ASOS DESIGN Wide Fit Wyatt.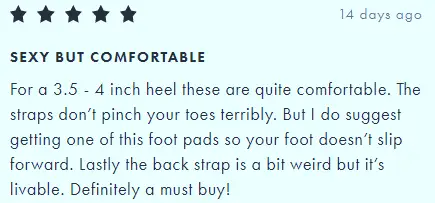 Here's another by a user of ASOS DESIGN Natasha platform barely there heeled sandals.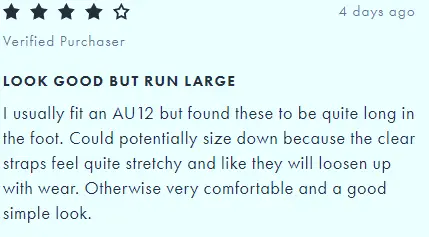 Final Thoughts about ASOS Shoes
So, you'd be thinking that should you buy ASOS shoes or not? Well, I'd suggest you give them a try. For the given price, they are not bad. Infact, you'd love their style and comfort.
can't say much about quality that for how long your ASOS shoes could last. But, as long as they are affordable to buy, you should enjoy their style.
Which model of ASOS shoes would you buy? Tell us in the comments section below.
---