Are Cole Haan Shoes Good? [Everything You Need Know about their Quality & Comfort]
Yes, Collan shoes are good only if you don't purchase them at a full price as many users have complained that their quality has gone down a bit after they got separated from the Nike brand. So, as long as you're buying them for under $150, they're good to go. I've personally experienced that retail prices of Cole Haan shoes are bit higher, and you don't get what you pay for. So, Cole Haan shoes would be the best fit for you if you buy them at discounted prices.
Currently, there's a good discount on Amazon at a time of writing this post for many styles of Cole Haan brand shoes. You can check them out when you reach out to this post.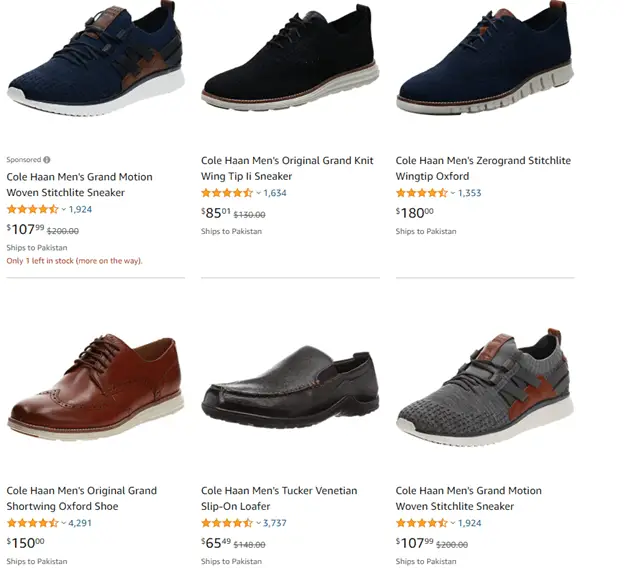 As you can see, currently, the price of Cole Haan Men's Grand shoes have been discounted from $200 to $107.
But, still, users admire their dress shoes that have supreme comfort technology to keep your feet feeling great all day long. However, the leather quality of Cole Haan dress shoes is not up to the mark. After using them for a few months, creasing starts appearing on their leather upper. That's why I've asked only to buy them if you're getting a good discount. Cole Haan brand shoes are more focused to provide great comfort that you can count on a perfect mix of style, optimal performance and moderate quality.
Some users have complained about their durability and quality of the material. It seems like Cole Haan brands' shoes are mainly famous for their comfort for most people.
Here's what a user says about Collan Haan shoes quality.

As far as the durability of Cole Haan shoes is concerned, it's all about how you use them and for what purpose you've bought a specific style. Like there're some driving loafers with weaker outsole. You can't wear them for continuously walking around. Otherwise, you'd observe a rapid distortion in their shape and quality. Cole Haan has also designed special shoes with wooden soles that have great durability. These shoes last longer even if you walk around with them for a long time.
Here's what a user says about Cole Haan shoes quality.

Are Cole Haan Shoes Goodyear Welted?
Unfortunately, the Cole Haan shoes don't feature Goodyear welt construction. A Goodyear Welt is an additional strip of material that is sewn onto the upper around the shoe's perimeter. This makes the shoes highly durable and flexible as the piece of leather (welt) is stitched with the upper from one side, and from the other side, it is stitched with the outsole.
Cole Haan shoes have designed stitching around the perimeter of the upper such that you'll observe as they're manufactured by applying the Goodyear welt technique. But that doesn't mean Cole Haan brand has been selling their dress shoes as a product of Goodyear welt construction. A new buyer can obviously think that Goodyear welt construction technique is embedded in their stitching by looking at their stitching.
To make your confusion clear, I searched some Cole Haan shoes models on their website. One of them is Williams Cap Toe Oxford. If you observe their stitching, it seems like it is Goodyear welt constructed. But actually, it features a decorative wheeled welt that shows like it is stitched to the upper and the sole. The purpose of it is just to add a style to the shoes.
According to Cole Haan's staff, these dress shoes feature a cement construction in which a leather upper is directly glued to the sole instead of stitching through welt. This is not a reliable method of constructing the dress shoes as, after some time, the sole starts getting separated from the upper. Due to this reason, several people question the durability of Cole Haan shoes.
To make your doubt clear, I also reached out to their customer support and confirmed whether they've any Cole Haan dress shoe manufactured through the Goodyear welt technique.
Here's their response.

That's why I'm telling you from the start that you should only buy Cole Haan shoes when there's a significant discount on them. You can sign up for Cole Haan's newsletter to get updates regarding the promotional offers.
Cole Haan Shoes vs Allen Edmonds
| Cole Haan | Allen Edmonds |
| --- | --- |
| Mre fashionable and stylish | Less fashionable and classic style |
| Corrected grain leather (low quality) | High quality german calf leather |
| Cement constructed | Goodyear Welt constructed |
| Great comfort at lesser price | Comfort is almost same, but price is higher due to high quality |
Allen Edmond makes high-class dress shoes that perfectly match your suits. As far as durability and quality of their leather is concerned, Allen Edmonds have the edge over Cole Haan shoes if you buy Cole Haan shoes at full prices.
That's my personal experience, and many other Cole Haan users agree with me; you can't get the desired quality of leather if you compare the original prices of Cole Haan shoes with Aleen Elmonds. Moreover, Allen Edmon shoes are made using Goodyear welt construction, while Cole Haan shoes feature cement construction, as I've explained in the above section.
The upper of Allen Elmond shoes are made of full-grain leather that is a strongest part of an animal hide, which comes after removing the top layer. No processing is done to change its appearance. That's why full-grain leather shoes have a premium look and are highly durable.
On the other hand, the leather of Cole Haan shoes is not of good quality, and it is finished with some artificial coating due to which Cole Haan shoes give a shiny plastic-like look. According to many users, Cole Haan shoes are made of corrected-grain leather, a type of top grain leather that has been corrected to have its properties improved.
Correcting grain refers to the process of removing scars and abrasions from the surface of the hide. Corrected-grain leather doesn't have a good finishing due to rigorous buffing. To make its appearance shiny, it is laminated with some artificial finishing.
Most of the Allen Elmond shoes have prices above $300. On the other hand, Cole Haan dress shoes have original prices around $150 to $200. Although lesser than those of Allen Elmond shoes, these prices still don't justify the durability of Cole Haan shoes. However, as previously said, they've discounts on different shoes throughout the year. So, you need to check them at their store regularly.
But that doesn't mean you shouldn't buy Cole Haan shoes. They are engineered with a supreme comfort technology in their sole that allows you to stand for long hours.
Here's what a user says about Cole Haan shoes comfort. You can get more details here.

Are Cole Haan Shoes Comfortable for Your Feet?
Yes, Cole Haan shoes are comfortable. Despite their moderate quality and durability, it's their extreme comfort that urges people to buy Cole Haan shoes. They're ergonomically designed to reduce your heel and arch pain, with a lightweight sole, cushioned and flexible sole that flexes with the foot as you walk. Some of their shoes have innovative comfort technologies that provides cushioning at the heel and forefoot. It absorbs shock and delivers a comfy feel while walking.
Cole Haan shoes have following three famous styles that most people like to buy due to their style and comfort.
Cole Haan OriginalGrand Shoes
This is the oldest technology of Cole Haan shoes that came out in 2008 after Cole Haan was sold by Nike. It's a kind of a blend of a style of dress shoes and comfort of the running shoes as it consists of a lightweight EVA foam midsole for providing excellent shock absorption. Moreover, there's a super hard rubber at the heel and toe region so that you're not going to wear them down too fast.
Cole Haan LunarGrand Shoes
This line of shoes features resilient cushioning to provide support and a bounce-back feel. It delivers a relaxed stroke each time you take a step. The shoes of this series feature Lunarlon midsole technology that is resilient yet soft for extraordinary comfort that is so responsive that you feel like you're walking on the moon. The material used to make this midsole is Phylon, which is made by compressing EVA foam pellets, and then expanded by heat and cooled in a mold. This process results in resilient cushioning.
Cole Haan ZeroGrand Shoes
The technology is an improved design over the LunarGrand that consists of a nicely cushioned platform feels great underfoot. You'll feel lighter on your feet and less fatigued from long days or long miles. In this technology, the midsole is made of a lightweight EVA foam that is soft enough to absorb the shock and impact. Moreover, there are grooves in the outsole to provide flexibility and enhance your foot mobility.
Final Thoughts about Cole Haan Shoes
I hope you found this guide on Cole Haan brand shoes helpful. As I said, if you talk about style and comfort, Cole Haan shoes are an excellent option for you. But when it comes to talking about their upper leather quality, it's not up to the mark, due to which I'd recommend you only buying them at discounted prices.
If you've any thoughts regarding Cole Haan shoes, please share them with us in the comments section below.
Related: Are Champion Shoes Good