Do Keen Shoes Run True to Size? [Get the Right Fit]
From going to work and standing on concrete floors to hiking through the woods, Keen has shoes and sandals for every occasion.
But, when it comes to talking about keens sizing, you might be thinking: "do keen shoes run true to size?" After spending 20+ hours on different relevant forums and going through reviews of hundreds of Keen' users, I'd say Yes, most of the time Keen shoes run true to size, specially for men. If you've extra wide feet, they can run a bit small. But it also depends on the type of KEEN shoe or boot you want to buy, as not all Keen shoes come in both wide and regular widths.
For Keen men's shoes and boots, most of the users were satisfied with the fit, while few complained about their big size due to plenty of room in a toe box. I hardly went through any review from men who complained about the small size of Keen shoes.
It also depends on which shoes you are comparing them to. If you usually wear sneakers, that are usually a size bigger, and you're going to buy Keen boots, you might have to go for half a size down with respect to your sneakers' size. On the other hand, if you usually wear work shoes or boots, you can buy the regular size you wear in your work boots.
Here's what Keen boots' wearer says about their sizing.

Keen Portlands are work boots with a composite toe. They're available in only men's sizing from US7 to 15. Keen Portland boots come in only regular and wide width. You can check them on amazon. If you've extra wide feet, you might have to go for a half size bigger.
Here's what a customer on amazon says about Keen Portland boots.

Keen Shoes Wide Widths
The largest width that Keen shoes and boots feature is E. Keen offers styles that can comfortably accommodate a foot up to ¾ E width. Unfortunately, Keen shoes and boots are not available for a wide range of widths from extra narrow to extra-wide. Moreover, for men and women, some Keen shoes and boots only come in standard widths.
 Here's a breakdown of the types of widths available in Keen's footwear.
For men, the standard width is D, and wide width is E
For women, the standard width is B, and wide width is D.
Keen women's shoes width was not expressed clearly on their website. So, I contacted their customer support, and this was their response: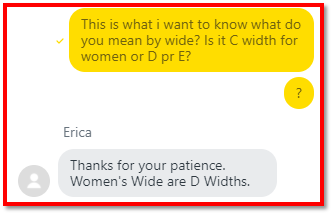 For women, Keen shoes that don't have wide widths in their collection, most women have found those Keen shoes narrow in their normal size. So, they prefer to go for a half size larger.
For instance, KEEN Women's Presidio Shoe is intended for women. It is made of a leather upper, and it only comes in a standard width. These are work shoes with a leather upper. After reading customers' reviews, I've found that they run a size smaller for most of the women since they only come in a regular width.
Here's what one of the women customers says about Keen shoes sizing and fit.

On the other hand, I tried to find different style of Keen shoe that comes in both regular and wide width. KEEN Utility Women's Flint 2 is a great example as it also comes in wide widths. Its upper is made of textile mesh.
After analyzing their review on Amazon, I found that these Keen shoes run true to size for women as they also have a wide width option.
Here's what a customer says about these Keen shoes for women.

Keen Newport H2 Sizing
Keen Newport H2   is an incredibly versatile sandal that works well for hiking, beachcombing, and just kicking around town. The lace-lock bungee system allows you to customize the fit of your sandals without bunching your feet.
Unlike Keen shoes and boots, Keen sandals are not available in a wide width. They've only standard width. Furthermore, Keen sandals don't have a range of half-sizing options—their half-sizing ranges from 7.5 to 11.5. After 11.5, they only offer whole sizes.
This is what a user says whose foot size is above 11.5.

So, while wearing Keen sandals, either you're a man or woman, I'd recommend you buy at least half a size up.
Final Thoughts about Keen Shoes Sizing
I hope that you've found this guide related to Keen shoes and boots sizing helpful. I've tried to explain Keens' sizing fit with the examples so that you can make your confusion clear.
After analyzing the reviews of Keens' customers, I've found that for most of the men, Keen shoes run true to size; but for women, Keen shoes run a bit narrow as they've limited editions for wide widths, so women may have to buy a size up.
As far as Keen sandals are concerned, they run small for both men and women as they only come in standard widths and limited half sizes. Moreover, Keen sandals don't stretch much. So, the Keen brand also recommends buying a size bigger while buying Keen sandals.
If you like this guide, please share your valuable thoughts in the comment section below and share it with your friends.
Related: Chacos sizing and fit