Are Champion Shoes Good? [Everything You Need to Know]
Inexpensive and comfortable…these are two words people search for when they are shopping for shoes. Hopefully, you'll find the tag of both words on the Champion shoes.
Champion brand is famous for shirts, hoodies and pants. But it comes to talk about their shoes; you might be wondering: "are Champions shoes good quality?" My answer would be Yes to some extent. Champion shoes are designed for moderate cushioning, fitness, walking, and performance due to their durable outsole, optimal cushioning and flexible upper.
Have you ever wanted to run in Nike, New Balance, Under Armour or Asics shoes but don't have the money to purchase the shoes of these expensive brands? You don't have to worry as you can enjoy some great features that Champion shoes possess at reasonable prices of less than $50.
Are Champion Shoes Good for Walking?
Walking is not a high-intense activity. Many people like going for casual walking to enjoy nature. So, yes, you can wear Champion sneakers casually for walking. They're so lightweight that you won't feel any burden on your feet when walking. You don't have to spend too much on walking shoes of expensive brands like New Balance or Brooks.
But, keep in mind one thing, if you're suffering from overpronation, I'd not recommend buying them even for walking because they're not so much supportive. The reason is the majority of the Champion shoes line is made with the soft mesh fabric that is comfortable to your feet, but it is not so supportive like leather for a secure fit.
However, some Champion shoes, which I've mentioned in the next section, are made of leather. Still, they're not so supportive as they don't have a rigid heel counter and support system in the midfoot to avoid overpronation. Instead, they're just casual-type sneakers that you can wear to walk around the house or on the streets with your friends.
I've just pinpointed some features that Champion shoes don't possess if we compare them to shoes from famous brands.
….but that doesn't mean I'm discouraging you not to buy them. Still, these shoes have got some great features like lightweight, modern look, excellent breathability, flexible and soft engineered mesh, and a soft rubber cushioned sole to walk on the roads at reasonable prices.
So, if you've normal walking gait or mild pronation issues, then it is acceptable to go with them. If you need a kind of secure fit with rigid heel counter that helps to keep your feet in their place, I'll not suggest you to even walk with them.
Comfortable Champion Shoes for Walking – My Recommendations
So, if your feet don't require any support, here is a list of some best champion shoes and sneakers that I've put together for you so that you can easily pick any of them for walking.
1. Champion Mens 93Eighteen
These Champion shoes are for those who like to wear sturdy and stylish designs. They have a nicely padded heel collar to avoid blisters on your heel. Some users felt them a bit tight. So, you can go for a size up.
2. C9 Champion Drive4 Sneaker
These are stylish sneakers with a breathable and stretchy canvas upper that provides a comfy feel while you go for long-distance walking.
The outsole is not so durable. So, make sure to walk on the flat and clean surfaces.
3. C9 Champion Storm Sneaker
This sneaker features a soft mesh fabric with a low-bootie construction to provide a comfy feel to your ankles. In addition, the outsole has good durability and offers a nice grip to walk on hard surfaces.
Here's what a reviewer on Amazon says about them.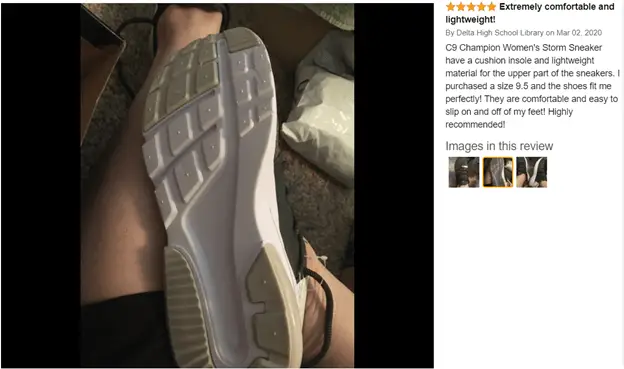 Are Champion Shoes Good for Running?
No, I'll not advise you to wear Champion shoes for running, even they've labeled them as running and athletic shoes. You can only use them for walking and lounging.
Running is a high-impact activity that can damage your feet if you don't wear suitable running shoes to absorb shock and impact. Unfortunately, you'll have to go for some expensive options from famous brands like New Balance, Brooks, and Saucony. They make proper running shoes that care for your feet.
Final Verdict about Champion Shoes
Are Champion shoes really good? I'll conclude that it depends on the activity for which you are using. Champion shoes are fine with low-impact activities like jogging, treadmills, or casual walking on roads. However, I would not recommend these shoes for running or workouts.
If you find this guide about Champion shoes helpful, please share it with your friends concerned about Champion sneakers.