Converse vs Adidas: What's the Difference?
Want to get an in-depth comparison of Converse vs Adidas in terms of sizing, performance and durability?
In this guide, we'll be taking at these two and comparing different Converse vs Adidas sneakers models and see which one is suitable for different situations.
There's a fair comparison between Converse sneakers and Adidas Originals, such as Stansmith and Superstars, which are iconic Adidas shoes styles. Adidas originals are low-top sneakers made of a leather upper, while Converse sneakers are made of durable cotton upper with a vulcanized rubber outsole with better durability than Adidas Originals.
Furthermore, over the years, the Converse brand mainly relied on its classic style of Chuck Taylors, and still, people consider their sneakers for street-style wear. On the other hand, Adidas kept on evolving its shoe performance by listening to the pain of athletes, sports players and runners. That's why the Adidas brand is renowned for athletic footwear as well as a street-style shoe.
There are zillion models of Adidas. So, it's unfair to compare Converse sneakers with Adidas in general. For instance, if you ask me about Adidas Ultraboost running shoes having Boost midsole, there would be no comparison between them. This is because Adidas shoes have much evolved. They're embedding the latest shoes technologies, such as primeknit upper, padded and supportive heel collar etc., for improving the performance.
On the other hand, Converse sneakers are still standing the test of time due to their classic mid-top and low top styles with highly durable cotton upper.
So, to proceed with the battle of Converse vs Adidas shoes, I'll divide this article into two sections:
Converse vs Adidas Originals (Classic Styles of 1960's&70's)
Converse vs Modern Adidas Shoes
A Brief Overview of Converse Shoes
In 1908, Marquis Mills opened a rubber shoe company in Massachusetts, USA.  There was a huge turning point for a Converse company when in 1917, the company designed All-Stars shoe pair made of a canvas upper and non-skid rubber sole, with no unnecessary weight. But this model lacked ankle support, which is essential in the basketball game.
So, later on, a Basketball player Chuck Taylor joined the Converse team as a salesman. After that, Converse made some improvements in the design. The company added the All-Star logo on a circular patch in the modified design, which was responsible for supporting your ankles and preventing them from twisting. The logo is also represented as a trademark of the brand.
Converse sneakers have been a hot-ticket item for decades. They were the preferred footwear of famous basketball players like Michael Jordan and James Dean.
Converse shoes are less expensive due to their simple and classic look with no embedded technologies and performance features.
If you want to go for the best-quality shoe, and you don't have that much money to spend on shoes, you should think to buy converse shoes – that way, you get high-quality at a lower price point. Over time, Converse brand focused on quality and classic style. They don't work on their cushioning performance and their midsole structure.  Because they're a more casual shoe, they're not as prestigious or professional, but that's what makes them more popular.
You can also check out this video to learn more about Converse sneakers.
A Brief Overview of Adidas
Adidas is a multinational corporation specializing in sports equipment, apparel and accessories with the official trademark of three parallel stripes.
Adidas History can be dated back to 1924 when a German cobbler named Adi (Adolf Dassler started creating athletic shoes with spikes that athletes could use during track & field events.
Adidas has led the way in sportswear design and technology. The brand is known for its sports-inspired designs, collaborations with renowned names in fashion and sports, and innovative technologies and materials.
Adidas is one of the few brands that can serve up excitement across Olympic sports, football, basketball, soccer all the way to urban and streetwear fashion as well.
To become a renowned shoe brand for athletes, Adi Dassler used to personally meet athletes, listen to their concerns, and constantly introduce new features into the shoes that could mold to the athletes' requirements.
In the 1960s and 70s, Adidas Originals (Superstar and Stansmith) hit the athletes market. These were low-top sneakers made of 100% natural leather and a strong rubber toe cap. Now, these shoes are still known for lifestyle and street.
Later on, when athletic games started evolving, Adidas continued to cope with the market. The company transformed their old era sneakers, i.e. Adidas Originals, into innovative Boost technology that revolutionized the modern running shoe.
Adidas vs Converse History Comparison
Converse All Stars dominated the market in the late 1960s when Adidas Originals were rolled out with their strong leather shell. The reason was that Converse technology remained outdated as basketball players had to face ankle injuries with these canvas-based Converse shoes. On the other hand, Adidas continued introducing innovative technologies in terms of performance, protection, support, and cushioning in their shoes.
In the 1980s, there was hardly any basketball player who would like to wear Converse high-top sneakers. Later on, due to their iconic silhouette, Converse started becoming popular among singers by revolutionizing their upper in different stylish patterns.
Converse didn't fully embrace these sub-cultures. That's because Converse foolishly still considered themselves an innovative, athletic, performance brand. The days of the All-Star being the shoe of choice for athletes was long gone, and the company couldn't accept its place in culture. While the All Stars had outlived their reign as a performance sneaker, the shoe got its second life as a casual lifestyle shoe.
In 2003, Nike brand bought Converse. It made a huge impression on the competitors. Under Nike Ownership, Converse finally upgraded the Sneaker to Chuck II in terms of improved cushioning. But still, it was not that much appreciated by the public. This is because they just tried to make a SLIGHT ITERATION in the existing classic design of old Chuck Taylors.
The popularity of Converse sneakers, despite their classic style and outdated technology, is due to their proper silhouette for collaborations.
Some of the most notable collaborations include the ever-popular high fashion Commes De Garcons playline. Even Virgil Abloh, an American designer, included Chuck Taylor in his showstopping, The Ten sneaker collaboration with Nike. Chuck Taylor All-Stars will forever be relevant. The silhouette of chuck Taylors has a massive influence on not only basketball but fashion as a whole is unmatched.
Converse vs Adidas Originals (Superstars and Stansmiths) Design and Upper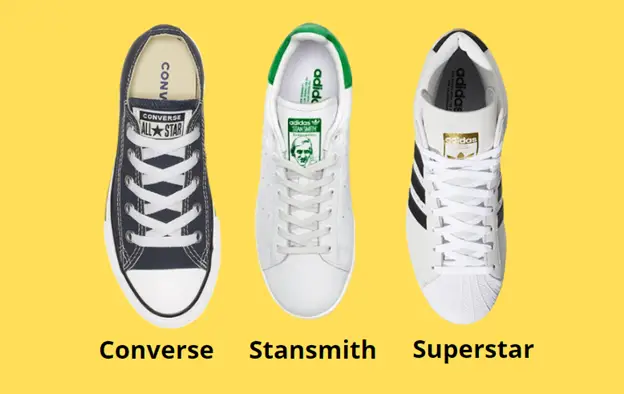 The main difference between the Converse sneakers and Adidas Superstars is the material of the upper.
Previously, Adidas Stansmith and Superstars were made of natural leather upper. But now, these Adidas Originals are made of synthetic leather. On the other hand, most Converse sneakers are made of a soft cotton upper.
There're also few styles of Converse shoes that are made of a leather upper. You can find them here. These are called Pro Converse sneakers. Pro Converse shoes are only available in black and white colors. So, I were you; I'd prefer Adidas Originals over Pro Converse as their pricing is almost the same, while you get better features and more colors with Adidas iconic shoes.
Converse sneakers cannot provide ankle support like Adidas shoes as they don't have strong heel collar with durable padding. On the other hand, Adidas Stansmith features a snug heel cup and a fully padded collar to prevent ankles from rolling.
Adidas Superstar features a strong rubber shell toe cap that protects your toe and prevents your shoes from wearing fast. You can also practise soccer or other sports in these Adidas shoes.
However, people still like Converse sneakers due to their sleek silhouette. You can wear them with shorts in summer. On the other hand, many people complain that Adidas Stansmiths and Superstars look slightly bulky compared to Converse sneakers. This restricts the selection of outfits with which you can wear Stansmiths. That's why Converse sneakers are still famous as fashion sneakers for walking around the streets.
This is what customers say about Adidas Stansmith vs Converse sneakers style.

Converse vs Adidas Originals Comfort
While Converse sneakers remained outdated in terms of performance and cushioning, Adidas has been continuously striving to introduce the latest technologies for providing maximum cushioning.
Converse sneakers are made of a stiffer vulcanized rubber sole that doesn't provide cushioning and support to your feet. You can't wear Converse sneakers for waking. You can check my article on Converse shoes comfortability to learn more about them.
Furthermore, Converse sneakers have flat bottom, due to which they can't provide arch support to your feet.
Adidas Originals are unmatchable in terms of comfort. Now, Adidas has also introduced Boost midsole technology in Stansmith and Superstars. Boost technology consists of closely packed thermoplastic urethane pellets that are expanded with air pockets. This provides a massive cushioning underneath your feet and makes you feel as you're standing on foam.
You can check out this video of Adidas Stansmith Boost midsole.
Converse vs Modern Adidas Upper
While Converse remained stuck with its simple and classic upper look, Adidas came up with many modifications in designing their shoes upper for the runners and athletes. Such Adidas shoes are entirely different from their classic models, i.e. Adidas Originals.
The first modification of Adidas is a primeknit upper. The difference between a simple mesh upper and primeknit upper is that primeknit is a one-piece upper made of a textile material. Moreover, in primeknit upper, there are specific zones that are woven tightly to provide additional support. Primeknit upper is stretchy, soft, durable and offers a comfy sock-like fit due to its flexibility.
Here's how the primeknit upper of Adidas shoes looks.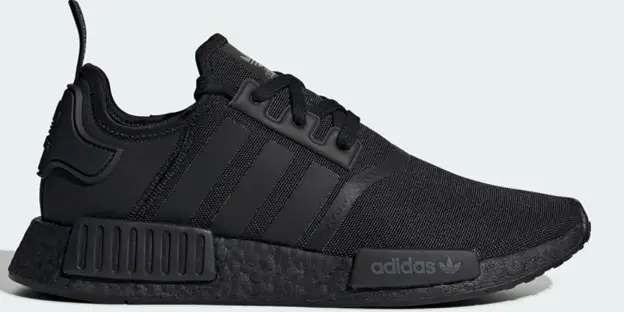 You can see it is a knitted nylon upper, having a seamless design. That's why it is stretchy compared to the simple mesh upper.
Converse vs Adidas Sizing and Fit
Adidas sneakers fit differently, depending on their style, as Adidas feature three different types of upper. If I talk about Adidas originals, i.e. Stansmith and Superstars, these are made of synthetic leather. These Adidas Originals need some time to break in. Moreover, they have thick padding that might give a snug fit.
Furthermore, Converse Chuck Taylors are also available in wide widths, while Adidas Stansmith is only available in standard widths.
So, if you've wide feet, you might have to buy a half size bigger for Adidas Stansmith than the size you wear in Converse sneakers. But if you've standard width fit, then both Converse sneakers and Adidas Stansmith run true to size.
On the other hand, Adidas Ultraboost running shoes have primeknit nylon upper, which is stretchy and gives a sock like fit. Adidas Ultraboost is only available in standard widths.
So if you check this thread on Reddit regarding Ultraboost sizing, there are some mixed reviews by people. Some people say that Adidas running shoes first give a snug fit, but later on, they fit like a glove. This is the same fit that you might feel when you wear your brand new socks for the first time. The same is the case with the primeknit upper of Adidas shoes.
Adidas Ultraboost are thickly padded inside as they are made for running. So, if you wear 8 size in Converse, you might have to get a full size bigger for Adidas Ultraboost.
Here's what a person says on Reddit about them.

Here's another thread on reddit regarding the sizing of Adidas Ultraboost and Converse. You can check it here. In this thread, the person also preferred to go a full size up in Adidas ultraboost running shoes. He had size 10 in Ultraboost and size 9 in Converse sneakers.