Dress Shoe Size vs Sneakers (What's the Difference?)
Are you confused between your dress shoe size vs sneakers? While dress shoe size and sneaker size are often close, they aren't actually interchangeable.
Dress shoe size is pretty much same, which you measure with Brannock device. But if you normally wear running shoes or athletic sneakers, and buy the same size for your dress shoes, then dress shoes will run bigger for you. The reason is that there is a thick padding inside those athletic sneakers and a thicker cupsole which makes the sneakers a bit tighter as compared to the dress shoes, provided that you're considering the same sizes.
Before proceeding with this guide further, I'd highly recommend you first read my guide on sneakers vs running shoes, as I'll frequently use these two terms in this article.
How is Dress Shoes Size Different from Sneakers Size?
The reason for the difference between the sizes of dress shoes and sneakers is that the size of dress shoes like Meermins and Allen Edmonds, Clarks and from all other respective brands depends heavily on their lasts. Their method of construction and material is different from running shoes and athletic sneakers.
Furthermore, many dress shoe lasts also fit relatively long, so you need to play with the different combinations of length and width to find the right fit for you.
Our foot is a three-dimensional structure. A part of width and length, other elements also matter, like the arch height of our foot, the shape of the foot, width of heel etc. The lasts of dress shoes are designed by keeping in view the structure of a human's foot.
Lasts are metal structures that are designed by averaging the 35 plus different feet sizes. Last provides the structural integrity to the dress shoes shape to prevent your heels and toes from getting crushed when you wear them.
Dress shoes from cheap brands don't meet the fitting standards that depend on the last. So, in this whole guide, I'll take dress shoes from Allen Edmonds as a reference.
You can check different varieties of lasts of one of the most famous dress shoes brads, i.e. Allen Edmonds, here.
There are different varieties of lasts for dress shoes to accommodate different types of fit such has relaxed fit, snug fit, etc. On the other hand, in sneakers manufacturing, lasts are also used. But their sole purpose is to provide a structure to the sneaker, not more than that.
Should Running Shoes or Athletic Sneakers be a Size Bigger than Dress Shoes?
Yes, running shoes or athletic sneakers size should be bigger than the size of dress shoes. The first reason is thick padding inside the athletic sneakers, and the second reason is you usually wear such sneakers and running shoes with thick socks. So, the size of the running shoes should be bigger.
I also created a poll in a forum related to running shoes and athletic sneakers vs dress shoes sizing. Around 40% of people preferred to buy half a size bigger than their dress shoes, and 30% of people voted to buy a full size bigger than the dress shoes. So, in total, 70% of people agreed that running and athletic sneakers size should be bigger than the size of dress shoes.

Dress shoes generally tend to run true to size. By true to size, I mean to say the size you measure using Brannock size.
Dress shoes don't have any padding inside. They only feature a soft and thin lining inside. Their lasts are designed to fit slimmer as you should wear dress shoes with a thin pair of socks. On the other hand, running shoes and athletic sneakers are thickly padded inside, which is necessary for running or athletic activity that involves quick side cuts.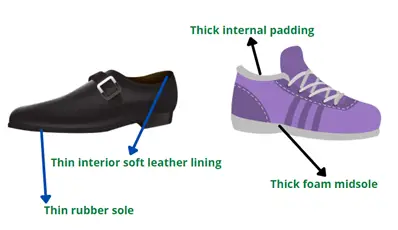 Your foot constantly rubs with the running shoes or sneakers lining during athletic activities. If they are not thickly padded as in the case of dress shoes, blisters will start appearing on your feet.
So, due to thick padding and high level cushioning in athletic sneakers and running shoes, such sneakers are half or full size bigger than that of dress shoes, i.e. the size you measure on Brannock device.
Here's what a user comments about sneakers vs dress shoes sizing on Reddit.

In the comment, the guy has compared the sizing of Puma sneakers with Allen Edmonds dress shoes. As you can see, he had to go for a whole size up in the sneakers, compared to his dress shoes size.
I found another comment on a forum in which a person is comparing his Puma sneakers size with his dress shoes.

You can also check out this great discussion on the subreddit to learn more about running shoes vs dress shoes sizing.
Dress Shoes vs Casual Sneakers Size and Fit
Sneakers fall into two categories. One is the category of causal sneakers like Vans, Converse, and the other category of athletic sneakers like Puma, as discussed above.
Casual sneakers like Vans shoes don't have thick padding or a midsole like athletic sneakers. In fact, they have thin rubber soles and a sleek canvas or leather upper.
Dress shoe sizing majorly depends on their last and the brand itself. Allen Edmonds brand is an example of manufacturing the highest standard dress shoes with the exact sizing.
With respect to width, there is not so much difference between the sizing of Allen Edmonds dress shoes and Vans casual sneakers. However, Allen Edmonds run a tad large compared to the Vans casual sneakers.
Here's what a user on Reddit says about them.

Here's another user that compares the sizing of AE dress shoes with Vans casual sneakers.

So, if you wear 10.5 in Vans, you can go for a smaller size, i.e. 10 in Allen Edmonds dress with the same width.
Important Points to Consider for the Proper Fit of Dress Shoes
The fitting of the dress shoes is mostly based on the hit and trial approach. They are a bit trickier to find the right fit. You have to select different combinations of length and width for a perfect width. It's good to always go to the physical store to get the fit of the dress shoes.
Here are the important points you can consider for a proper fitting of the dress shoes.
Make sure your heels do not slip in your dress shoes.
There should be a little space between the front of the shoe and the end of your toes.
Dress shoes should be fit snugly but not too tight on both sides of your foot
The space between your toes should be even when your foot is fully extended in the dress shoes.
There should be a little space between the front of your dress shoes and the end of your toes when you're standing.