Meermin vs Allen Edmonds Shoes (What's the Difference?)
Are you confused between Meermin vs Allen Edmonds? Do you need a detailed guide that compares Meermin and Allen Edmonds shoes in terms of their comfort, durability, and fit? Read this guide till the end to know about the exact differences between Meermin and Allen Edmonds.
Allen Edmonds and Meermin Shoes are both excellent. But there's a significant difference between the prices. Allen Edmonds shoes cost around $400 to $500, while a pair of Meermins goes for about $200. Moreover, Allen Edmonds shoes feature high-quality calfskin, which is relatively soft, and does not require break-in.
Due to this reason, Allen Edmonds are comfortable right out of the box. Meerim shoes, on the other hand, also have a thick French calfskin upper. Meermin shoes are a bit uncomfortable when you first-time step in them. After breaking in, they will mold well to your feet.
Furthermore, Allen Edmonds are worth their price if you need a good dress shoe in a wider than standard width as they're built in various lasts.
The last is the structural shape of the shoes. The human foot is a three-dimensional structure. The sizing of shoes is not only about width and length. Proper consideration is to be made for a comfy fit. This factor is specially emphasized while designing the dress shoes. Allen Edmonds shoes have the edge over Meermin dress shoes. I'll explain it more in the next section of this guide.
Meermin vs Allen Edmonds Dress Shoes Style
Meermin dress shoes have a sleek and slender-looking design and tend to be more stylish. On the other hand, Allen Edmonds are traditional stylish USA-made dress shoes, which have been more classic over the years. They have a different style compared to the European-styled shoes like Meermins. They don't have a sleek look and have been a bit boxy and chunkier around the arch.
I searched for different people in a Reddit community who had both Meermin and Allen Edmonds dress shoes. They also have the same thoughts about the styles of dress shoes from both brands. Here's a photo of both dress shoes, a person shared with me when I was asking him about the difference between the styles of Meermin and Allen Edmonds.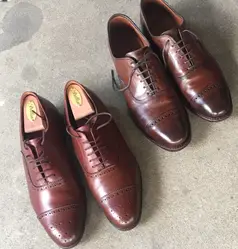 In the above picture, the left one is a Meermin shoe. You can see Meermin goes for a sleeker European style, while the Allen Edmonds pair (the right one) has a more rounded last and looks bulky around the arch.
With respect to the style, I personally find Meermin shoes more attractive due to their sleeker profile.
A Brief Overview of Meermin Shoes
In 2001, a small artisan shoemaker family founded Meermin, a shoe company in Mallorca, Spain. Meermin is one of the most popular and best shoe brands in the world. The company is a direct competitor with other shoe manufacturing companies such as Loake, Allen Edmonds, etc.
Meermin shoes are now made in China. Previously, the Meermin had a factory in Mallorca. But it stopped making shoes there due to lack of capacity, non-sustainability, and lack of interest of workers.
The brand doesn't outsource its shoe manufacturing to a third party. The family, who owns the Meermin brand, has also established a factory in China for large scale production of their footwear. They source different types of high-quality leather materials from Europe (Spain, France, Italy, UK) and Japan and ship them to China to manufacture their shoes.
Meermin is so affordable and high-quality shoes at the same time because they don't have retailers or wholesalers as an intermediate customer. This shoe manufacturer directly sells shoes to its potential customers. In this way, they cut down their distribution costs, which results in customers' savings.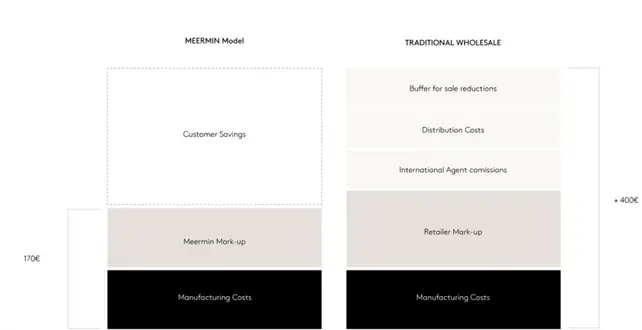 In the above picture, you can see how the business model of the Meermin brand works. That's one of the reasons for the significant price difference between Allen Edmonds and Meermin shoes.
However, this weakens the retail presence of the Meermin brand. Due to this reason, purchase support of Meermin shoes is minimal. You don't have the facility to go to their store and try out the shoes before buying them. Previously, there was only one store of Meermin in New York, USA. But, it is closed now for relocation. They have not yet announced their new expected location.
A Brief Overview of Allen Edmonds Shoes
Allen Edmonds was founded as a manufacturer of men's shoes in 1922 by W. Allen and is currently headquartered in Belgium, Wisconsin, USA.  Allen Edmonds offers a limited number of styles in dress shoes, but it provides an impressive number of widths and sizes due to their vast range of lasts.
Allen Edmonds shoes are made in the company's owned Wisconsin, USA factory. All Alen Edmonds shoes are handcrafted to go the extra mile to meet the expectations of the customers. The company also offers recrafting services to its customers to completely refurbish their old Allen Edmonds shoes to their brand new state. So, you don't have to search around professional cobblers to repair these expensive shoes.
Today Allen Edmonds shoes are sold at upscale department stores such as Nordstrom. You can also buy your favorite Allen Edmonds from Amazon.
One reason for the high price of Allen Edmonds shoes is because of their supply chain system. In contrast to the Meermin, Allen Edmonds has a network of distributors in 33 countries. Moreover, the company has its own 25 stores in the USA. So, higher distribution costs lead to a higher price.
Allen Edmonds provides you great customer support as you can quickly go to a nearby store and try the shoes before buying them. Moreover, if you order Allen Edmonds online and find any flaws, you can ship them back to AE without any question.
Moreover, if Allen Edmonds doesn't fit properly to your feet, you can easily return their shoes and they'll not ask any reason for returning from you.
Here's what a customer of Allen Edmonds says about their customer service.

Furthermore, Allen Edmonds gives you more flexibility to return their shoes. You can return them within 90 days after purchasing the shoes. Meermin only allows 15 days to test their shoes and return them if they don't fit you.
How Are Allen Edmonds Shoes Made?
Allen Edmonds shoes are made using the traditional handcrafted 360 Goodyear Welt technique. There is a total of 212-steps involved in making Allen Edmonds shoes. Each step is performed precisely to ensure good quality. Allen Edmonds doesn't use steel shanks for their boots because Allen Edmonds binds the whole shoe with the welt and the sole. That's why their shoes are lighter and look chunkier.
You can check out this video to enjoy the Allen Edmonds shoes factory tour and observe their manufacturing process.
Most of the Allen Edmonds shoes are available in Good year welted construction. However, Allen Edmonds has also some designs (lasts) in handsewn construction. But that's not their specialty and not worth the price. I'd recommend you only stick with their Goodyear welted shoes.
How Are Meermin Shoes Made?
Meermin shoes are also Goodyear welt constructed. The difference between Meermin and Allen Edmonds Goodyear welting is that Meermin is 270 degree Goodyear welted. Unlike Allen Edmonds, you'll find welt stitching from the forefoot to the midfoot of the Meermin shoes, as you can see in this picture.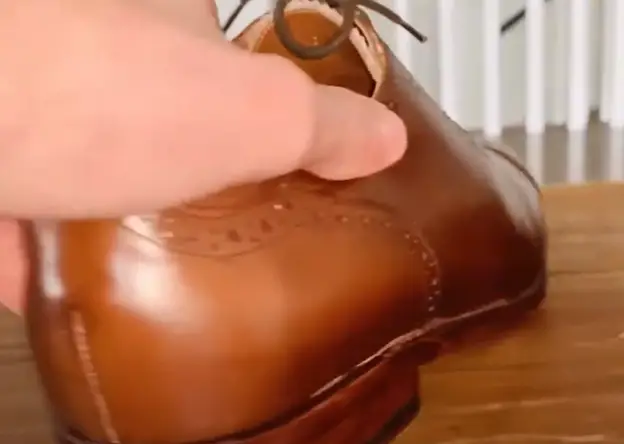 You can check out the review of Meermin shoes in this video and observe the welt line is only up to the midfoot rather than surrounding the entire perimeter of the shoes' upper.
This 270 degree Goodyear welted construction is the reason for the nice sleek look of Meermin shoes. The price of their Goodyear welted shoes is up to $200.
Moreover, the Meermin company is also specialized in making hand-welted shoes. Hand welted shoes hold better durability and robust construction compared to the Goodyear welted shoes. Thus, the technique of making shoes is something that adds value to the Meermin's brand as the owner specially trained workers in the company's factory, located in China.
Using the Hand-welted technique, only two pairs of shoes can be made in a whole day. That's why Meermin's hand-welted shoes are sold at the price of around $300.
Hand-welted shoe-making process is very much similar to the Goodyear welt technique. But it mostly requires manual work instead of a stitching machine to stitch the welt with the upper. This technique requires very high expertise as it's labor intensive work.
In the hand-welted shoe-making process, they have thicker soles in general. This is because a fully-packed layer of cork is not used in the hand-welted technique to fill the welt cavity. So, a thicker sole allows the shoe maker to create a channel for stitching. In the hand-welted process, a shoemaker sews the welt by his hands so that if one stitch breaks, the rest of the stitches will survive.
Meermin vs Allen Edmonds Quality and Durability
Quality-wise there is not so much difference between Meermin and Allen Edmonds shoes. Both brands use different types of high-quality leather material in their dress shoes.
There is a difference in number of stitches per inch on welt in Meermin and Allen Edmonds. After asking users, who own shoes from both brands, they say that Meermin shoes hold more stitches per inch than the Allen Edmonds.
……but I don't think the stitching density matters that much as Allen Edmonds deploy 360 degree Goodyear welted technique in which welt stitching covers the entire perimeter of the shoes, while Meermins sue 270 degree Goodyear welted technique. So, that might be the reason for the high stitching density in Meermin shoes.
Furthermore, welt stitching seems to be cleaner on Meermin shoes as compared to the Allen Edmonds.
If we compare the shoes with respect to quality/price ratio, Meermin shoes have the edge over Allen Edmonds. Meermins are killing the market with their affordable price points. They use different types of premium leathers like Cordovan, Boxcalf, etc., for their shoes, as shown in the picture below.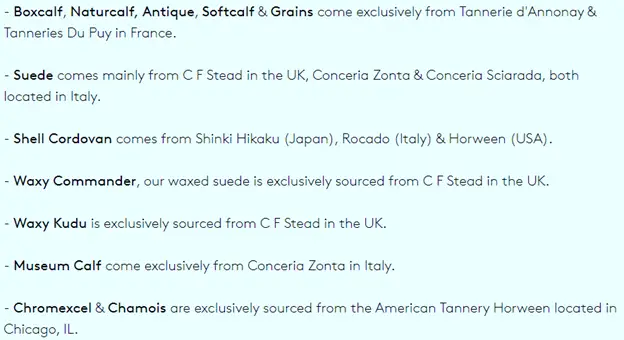 Shell Cordovan is the most premium leather material. Meermin sources Cordovan from Japan, Italy, and Horween (USA). Allen Edmonds also use Shell Cordovan leather in their shoes. The company sources Cordovan leather from horween tannery (USA). Allen Elmonds with Shell Cardoven material jump up to $700, while the price of Allen Edmonds with Cordovan leather is up to $350.
Since Meermin also uses Cordovan leather from Japan, it's relatively thinner than the Cordovan leather from Horween. So, if you buy Meermin shoes, I'd recommend you first ask them about the Cordovan leather source of their shoes.
Apart from Cordovan leather, there's a difference between the calf leather of shoes from both brands. Allen Edmonds uses calf leather from Germany, while Meermin uses French calfskin. French calf leather is a bit slender than German calves. Additionally, French calf leather tends to wrinkle faster than Allen Edmonds leather.
As far as sole material is concerned, the quality of Allen Edmonds shoe sole is better than the sole quality of Meermin shoes. Allen Edmonds uses a single oak leather sole, while Meermin uses a single leather sole.
The Oak leather sole is tanned using an oak-bark method. In this process, the leather is vegetable-tanned without increasing the temperature or adding any chemicals. This makes the sole more durable, hard wearing and water repellent.
This is how both single leather and single oak leather soles of new shoes look side by side.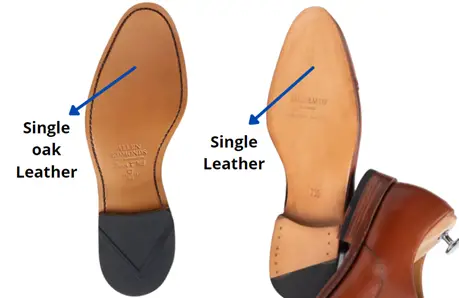 So, as you can see, the single oak leather sole is a bit shinier and gives a premium look than the single leather sole.
Since the oak leather sole is hard-wearing, to justify this, I tried to contact some people who had been using Meermin and Allen Edmonds shoes for a long time. They shared these pictures of the soles of theirs shoes with me.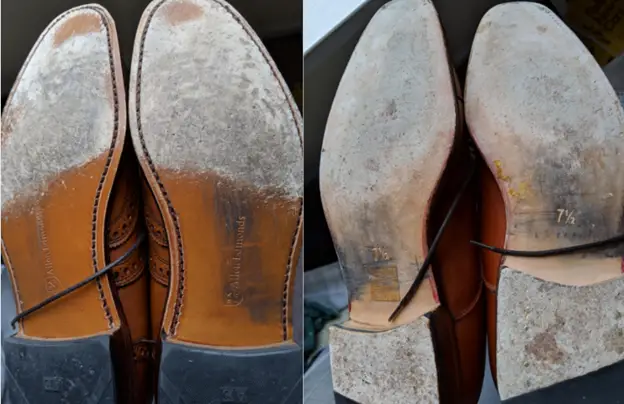 In the above picture, the shoes on the left are Allen Edmonds. So, you can see their sole still looks new and shiny, while on Meermin shoe sole (right side), you can see the signs of wear.
Meermin vs Allen Edmonds Comfort
Allen Edmonds are comfortable right out of the box. Their German calf leather is softer than the French calf leather of Meermin shoes. That's why Allen Edmonds doesn't require break-in and will conform to your feet easily.
Meermin shoes, on the other hand, have stiffer calf leather, due to which they require some time to break in. Initially, Meermin shoes will hurt your feet, but they will definitely stretch out and mold well to your feet.
Meermin vs Allen Edmonds Sizing
Meermin shoes are based on the UK sizing, while Allen Edmonds are based on US sizing. The sizing of Meermin and Allen Edmonds depends on their lasts. The last is what determines how comfortable and well-fitting a shoe will be. It's a reference to the shape that a piece of leather makes when it's wrapped around your foot. Some lasts are more curved than others, which can make for more comfortable shoes.
Lasts do not necessarily refer to "how well made" a shoe is, but rather how well it fits your foot. Therefore, last does not measure quality or construction.
Allen Edmonds is available in a vast range of lasts as compared to Meermin shoes. If you have wide feet, Meermin shoes are not suitable for you. Meermin shoes are only available in 11 different types of lasts, which you can check at here. Their all types of lasts are available in medium width (E).
Allen Edmonds offers 18 different types of lasts. You can check them here. This is the major reason of a significant difference between the prices of Allen Edmonds and Meermin shoes. Moreover, they're available in a vast range of widths i.e., from 4A to EEE.

So, if you've wide feet, Allen Edmonds are ideal shoes for you. Due to this reason, Allen Edmonds shoes are tough to beat when it comes to width and last variety.
Meermin vs Allen Edmonds (Quick Summary)
Here are some notable differences between Meermin and Allen Edmonds.
| Meermin | Allen Edmonds |
| --- | --- |
| Established in 2001 | Established in 1922 |
| 270 degree Goodyear welt constructed | 360 degree Goodyear welt constructed |
| Also deploys hand-welt construction technique | Focuses majorly on Goodyear welt construction |
| Sleek look | Chunky look |
| Uses French calfskin | Uses German calfskin |
| Meermin shoes calfskin is a bit stiffer | Allen Edmonds shoes calfskin is soft |
| Requires time to break in | Does not require break in |
| Available in UK sizing and in only E widths | Available in a vast range of widths from 4A to EEE |
| Customer support is not good | Customer support is great |