Vans vs Keds (What's the Difference?)
Are you confused between Vans vs Keds? Do you need a detailed guide that compares Vans and Keds shoes in terms of their comfort, durability, and fit? You're at the right place.
Keds are cheaper knockoffs of Vans shoes. But the difference between Vans and Keds exists because of quality and the sole design. Vans were typically made as skateboarding shoes, having thick waffled soles. While Keds shoes have a simple profile of their soles as they are made for casual or street-style wear. Unlike Vans, Keds shoes don't last longer as the soles are simply glued to the Keds shoes upper.
Concerning design, Keds almost look similar to Vans Authentic shoes as both have a sleek profile. The line of Keds shoes, named Champions, has the same upper as that of Vans shoes.
A Brief History of Keds Shoes
Keds is a classic American shoe brand founded in 1916. Keds brand has a rich history as it is established by a USA rubber company by consolidating up to 30 different footwear under the shed of Keds brand name.
Keds was originally a women's shoe company. They were the first brand to design the shoes with a canvas top and rubber sole for improved comfort. Due to this reason, initially "Peds" name was chosen for the brand. It is a Latin word that means "for foot".  But this name was already registered. So, after voting, the brand emerged under the name of "Keds".
Moreover, Keds was the first brand for making athletic-style sneakers for women when the women's athletic shoe market was non-existent.
The style of Keds shoes remained non-revolutionary for a long time. But still, women continued to fuel their popularity. The reason of Keds shoes popularity among females is that several celebrities, including Taylor Swift, gave the Keds shoes publicity by wearing them.
Their most popular shoes are the Keds Champions from the 1920s. The design of Keds Champion shoes is unique compared to the other Keds shoes designs. For this reason, it has stood the test of time. It has the same upper stitching as Vans, i.e. durable stitching across the toe cap.
A Brief History of Vans Shoes
Vans shoes were established in 1966 as Skateboarding and deck shoes. First, Vans shoes used to be made in California, USA. Later on, to expand their line of shoes, they contracted factories in China and Vietnam.  Due to their sticky waffled sole and cushioning, Vans shoes were popular among skateboarders. Not only that, the Vans brand coped with the latest technologies of shoes over time.
While Vans Authentics are still worn as street-style shoes due to their variety of colors and sleek design, the Vans brand has also introduced comfycush technology for enhanced arch support and comfort in its different series of shoes, including Authentics and Eras.
I'm not going to discuss all the details of Vans shoes. If you know more about them, you can check out my guide on the Vans shoes quality.
Styles of Vans and Keds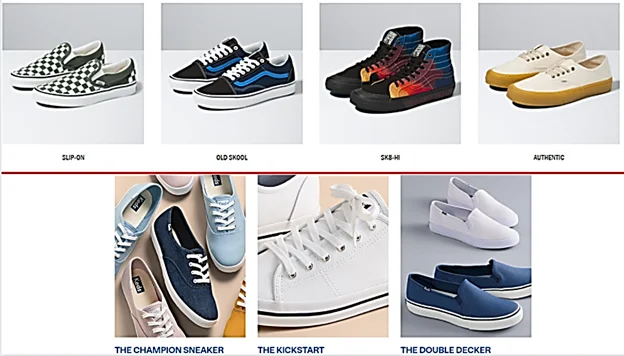 Vans make shoes in various styles, including Vans Era, Authentics, Old Skool and Ski-8. Vans Eras have a more distinct look as they have slightly more padded collar and sturdy construction. You can check my guide on Vans Authentic vs Era to learn more.
Old Skool is the Vans first skate shoe with leather panels attached to the canvas upper for a more supportive fit and improved stability while skateboarding. Like Vans Eras, it also has a padded collar.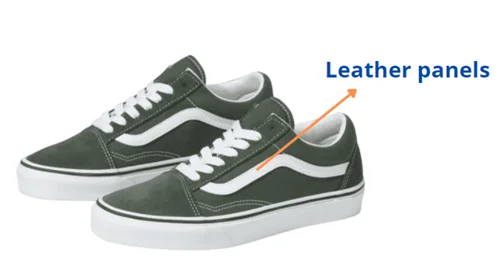 Ski-8s are high-top Vans sneakers with enforced toe caps, canvas upper and padded collars.
My favorite pick for Vans Era is C&L 59 as it has an additional feature of leather backing on the top of the heel collar to make it more rigid. This is how my Vans Eras shoes look.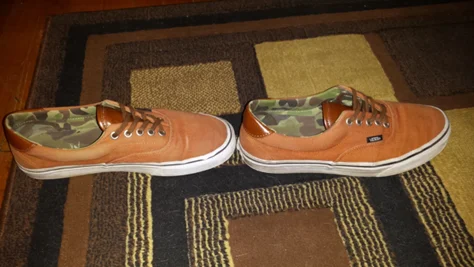 So, if you're comparing Vans Era and Keds, there's a significant difference between both design and construction. If you need ankle support, I'd neither recommend Vans Authentic nor Keds shoes due to their sleek profile.
Keds shoes also come in three different styles. The Champions line of Keds shoes features the same stitched closed Canvas upper as that of Vans Authentics. Keds Champion shoes feature four eyelets, while Vans Authentics feature five eyelets.
Keds Kickstarts have upper like Converse shoes. Keds Kickstarts are more breathable. They have six eyelets that extend to the mid of the toe-cap to have more customization of the fit of your shoes. You can pull the laces tight or keep them loose to find just the right tightness.  Several people don't like the toe-cap design of Keds Kickstarts. But for a more customized fit and breathability, you've to compromise the design.
This is how Vans Authentics and Keds Kickstarts look side by side in a picture.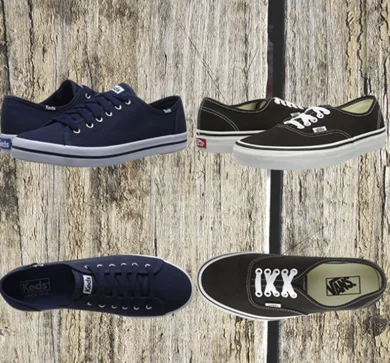 As you can see in the picture, there is stitching across the toe cap of Vans shoes that makes them more durable. Since those Keds in the above picture look like a generic canvas sneaker, I'd instead consider paying some extra bucks and go for Vans due to their unique style.
Keds brand also includes high-top shoes in Kickstart and Champion category. But these Keds high-tops differ from Vans Ski-8. Vans Ski-8 have a thick padded collar with a soft interior lining wrapping around the calf muscles, while Keds high-tops have a sleek design like their low-top.
Can Guys Wear Keds Shoes?
Yes, it is acceptable for men and boys to wear Keds shoes. If you're seeing guys wearing Vans Authentics, having the nearly identical design as that of Keds shoes, it's socially acceptable for men to buy Keds shoes if they're looking for some cheaper alternative of Vans Authentics.
However, please keep in mind that there's a separate site, named prokeds.com, to buy Keds shoes for men.  Pro-Keds are classic-style basketball sneakers, from classic canvas low tops to high-tops with rubber soles, in colors ranging from black and white to orange and red. Nowadays, people wear them as casual sneakers like Converse.
Keds vs Vans Durability
There's a significant difference between the durability of Keds and Vans shoes. Vans shoes are made through a vulcanization process in which they use a gum rubber sole with a waffled texture. This sole is glued with the upper and vulcanized (cured) to a higher temperature to make it a bit stiffer and properly glued with the upper.
Furthermore, in Vans shoes construction, a foxing tape is used, which acts as a strong bond between the canvas upper and Vans sole boundary. It makes the robust structure and makes the shoes lasting for a longer time.
In contrast, Keds shoes don't have a robust construction as their gum rubber sole is simply glued to the upper. I also confirmed this from Keds support team. There is no vulcanization process involved in making Keds shoes.
That's why, when I checked the related discussions of Keds vs Vans durability on Reddit, I found that Vans shoes usually last for more than a year for most of the customers. But, since Keds shoes are specifically intended for casual wear, they also hold up for a longer time. Keds didn't bother to invest more money in vulcanization since these shoes are nothing to do with Skateboarding.
This is what users say about the durability of Keds shoes on amazon.

Keds vs Vans Sole Design
Since Vans shoes are passed through the vulcanization process, their soft gum-rubber sole becomes a bit stiffer so that it can bear abrupt stops or kicking offs while skateboarding.  These steps can cause the sole to wear down quickly. That's why Vans shoes are a bit expensive as an extra process of vulcanization has been done for curing the sole material of the shoes. Furthermore, the soles of Vans shoes have a waffled pattern for a stable grip on the skateboard.
On the other hand, Keds soles are also made of soft gum rubber. But it is not cured through the vulcanization process. Keds shoes often suffer from abrasive wear and tear due to soft sole material.
Also, the texture of bottom of Keds shoes is different from Vans. In the Champions and Kickstars categories of Keds, the sole has a flat "pebble" appearance, due to which it doesn't provide a nice grip on if you wear Keds shoes on the smooth tile floors.
This is how the appearance of Keds shoes looks as compared to that of Vans shoes.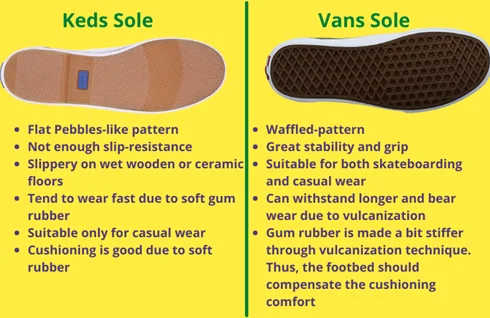 Pro-Keds shoes have distinct texture on their soles because they were intended to play light sports activities like basketball in older times. However, it is not advisable to play basketball in Pro-Keds as game and its rules have become advanced now to protect players.
This is how the sole of Pro-Keds shoes looks.

Vans vs Keds Comfort
If I compare Keds shoes with classic Vans, I'd say Keds are super comfy because of their soft gum rubber sole. Gum rubber is different from standard rubber. It is made from the extract of a tree, named "Para Rubber". Gum rubber acts as a shock-absorbent and delivers cushioning underneath your feet.
This is what customers say about Keds shoes comfort due to their soft sole.

One thing I'd like to highlight that the insole of Keds shoes is not removable. Furthermore, Keds don't feature arch support as they have a flat bottom. However, customers didn't seem too concerned because the cushioning and flexibility of the soft gum rubber make up for the lack of arch support.
If you have flat feet, Keds shoes are good for you as you can walk with them or stand for long hours on your feet.
This is what customers say about arch support of Keds shoes on amazon.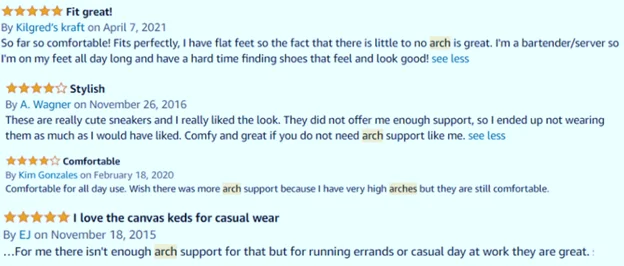 Classic Vans shoes also don't have a removable insole. Moreover, their sole is a bit harder as compared to the Keds shoes due to vulcanization. So, comfort-wise, Keds shoes have the edge over those Vans.
Vans realized this problem faced by the customers, and the brand always tried to cope with the latest trends in shoes technologies. So, Vans introduced shoes with comfycush technology that provides a removable memory foam cushioned insole and offers a moderate arch support for your feet. You can check them here.
Vans vs Keds Sizing and Fit
All Keds shoes, except Pro-Keds, are available in a wide range of widths i.e.
But, I'd like to highlight that Keds champions and Kickstarts are based on women's sizing chart. Men's wide width is the same as women's extra-wide width. So, if you're a man and have 2E width, you should buy Keds Champions or Kickstarts in an extra-wide width.
Similarly, for sizing, men's size in Keds Champions and Kickstars is 1.5 less than women's size. That is, if you wear US 5, then you should order 7.5 size in those Keds as they are based on women's sizing.
For Pro-Keds, the case is the opposite. They are available in unisex sizing, which is based on the men's foot. So, if you wear 7.5 size, you should order 7.5 size in Pro-Keds. If you're a woman and wear 7.5 size, this is equivalent to unisex 5 size in Pro-Keds.
Unlike Keds Champions and Kickstarts, Pro-Keds are only available in a standard width which is usually equal to E, as Pro-Keds are based on men's sizing.
Vans shoes are only available in standard widths. For men, standard width is labeled as D, and for women, standard width is labeled as B. You can see in the picture below.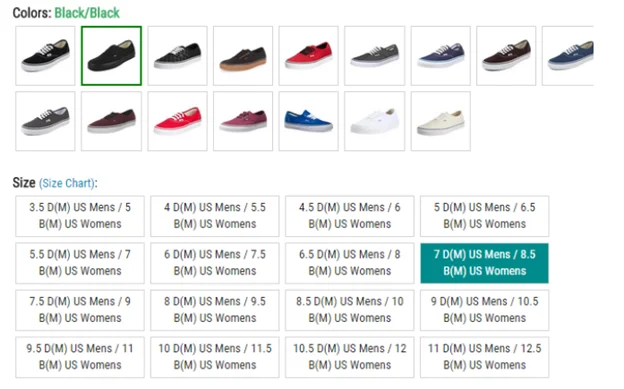 Although Vans are only available in standard widths, they run true to size for most of the customers. In fact, after searching on different forums, I found that some people had to size down. I think the possible reason is they might have narrow feet, due to which Vans ran large for them.
But if your feet width is greater than B, I'd suggest you buy two sizes in Vans. One is true to size, and the other is a half size bigger. In this way, you could return the one that would not fit your feet.