Hey Dude vs Sanuk Shoes (What's the Difference?)
While Hey Dude are one of the best shoes that look similar to Sanuk, there're still some differences between the styles of HeyDude and Sanuk. Hey Dude are slip-on type shoes with elastic lacing option, while Sanuk slip-on shoes don't have laces. Furthermore, Hey Dude shoes offer more cushioning and moderate arch support, while Sanuk shoes' soles are pretty flat and are perfect to wear as house shoes.
So, if you want to learn more about Hey Dude vs Sanuk shoes features, read this guide till the end.
Bonus Read: Do Hey Dudes run big
What are Sanuk Shoes?
Sanuk, based in USA (Southern California), is a brand of casual footwear and sandals. Sanuk brand was founded in 1997 by Jeff Kelley. Sanuk is a high-end, casual footwear brand that prides itself on FUN, comfort, and style.  The brand's mission is to spread happiness and create smiles through the comfort of their footwear.
The brand started its journey by making Furreal Flip-Flops out of the indoor-outdoor carpet material. After their flip-flops got hit into the market, Sanuk brand, which believes in happiness, extended footwear by introducing sandals and surf shoes, featuring a hybrid of sandal and shoe. That means the inspiration of the sole design of Sanuk shoes comes from their Sandals, while a closed canvas upper is responsible for protecting your feet and deliver reasonable comfort.
Here's the infographic that the Sanuk brand has embedded on their site to guide their customers about their footwear revolution.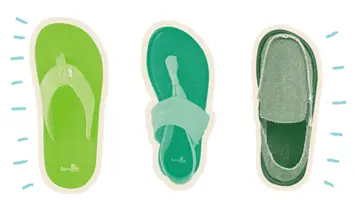 What are Hey Dude Shoes?
Hey Dude is an Italian footwear brand that was founded in 2007. After Hey Dude shoes hit the market, the brand jumped up to the USA and opened a branch. From an active day to a casual meet-up with your friends, you will find exactly what you need in Hey Dude's line of shoes. Due to their cushy sole, once you pull them on, you'll discover an amazing feeling that will comfort every step of your day, while injecting personality into your outfit.  
Hey Dude vs Sanuk Shoes Difference
Heydude and Sanuk Shoes are both surf-inspired slip-on shoes in many of the several colors and styles. However, the design of the Hey Dude shoes is more detailed as compared to the Sanuk shoes.
Before going further in this guide, let me tell you that if you have weak ankles, please don't buy Sanuk or Hey Dude shoes. The shoes from both brands are not suitable for weak ankles. Sanuk shoes scrap the ankles, and Hey Dude shoes dig into the ankles.
Inspired by the comfort and lightweight Canvas of the Sanuk shoes, several people have faced some issues of rubbing the Sanuk shoes on the back of the ankle. This is the major problem that is observed in slip-on shoes with no lacing closure.
For instance, if you look at these Sanuk Vagabond shoes on Amazon, several customers have complained about the scraping of their ankles against the Sanuk shoes. Sanuk shoes have unstructured heel collars i.e., without any lasting or a strong material, due to which they tend to scrap the heels.
Here's what a customer says about them.

On the other hand, Hey Dude shoe also has some issue related to the ankle support. Unlike Sanuk shoes, there is a thick lasting in the heel collar that digs into the ankles when you wear them for the first time. Hey Dude shoes don't rub on the ankles like Sanuk shoes, but their digging or cutting into the ankles is often painful for their several wearers.
For instance, Hey Dude Men's Wally Sox are the bestselling shoes on Amazon. When I went through the customers' reviews, I found that most of them have issues with their ankle support.
Here's what customers say about them.

However, there's a solution for Hey Dude shoes to prevent them from digging into the ankles. When you wear Hey Dude shoes first time, they are a bit tighter at the heel area as they require break in. So, if you feel that your new Hey Dude shoes cut into your ankles, you can go for a size up. Hey Dude shoes feature bungee laces through which you can easily tighten them up and customize your fitting.
Here's what a customer says about the customized fit of Hey Dude shoes.

Canvas Material of Hey Dude and Sanuk Shoes
There is not a slight difference between the canvas of Hey Dude and Sanuk shoes. The canvas upper of Hey Dude shoes is made of eco-friendly products i.e., 100% recycled fiber from PET bottles.
On the other hand, the canvas of Sanuk shoes is same as the material of yoga mats, i.e.; the material includes recycled fiber from PET, recycled rubber, cotton, and other forms.
Is Sanuk a Good Brand?
Sanuk is a good brand for making stylish hybrid shoes with a touch of fun.The upper of Sanuk shoes is a lightweight style canvas that has dual elastic styled notches for a comfy fit. Furthermore, there is also a double reinforced top stitching in a mock-toe style design.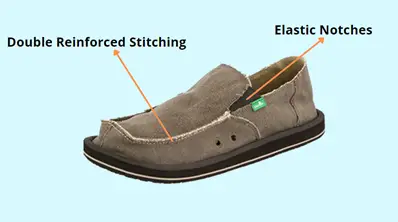 Moreover, Sanuk shoes are great to wear in warm weather anyone as they have perforations along the lateral sides to allow airflow. Also, due to a slim and soft Canvas upper made from yoga mat, you can fold the heel counter to wear them as slippers.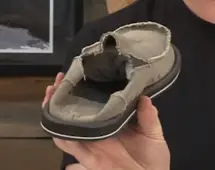 You can check out detailed review of Sanuk shoes in this video.
Are Sanuk Shoes Good for Your Feet?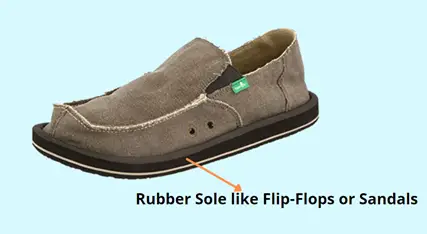 It depends on whether you've flat feet or high arches. The bottom of Sanuk shoes is similar to the flip-flops as they feature a patented sandal construction that allows your feet to bend naturally. However, this feature of Sanuk shoes is only suitable for you if your feet are flexible and have fallen arches.
I'd not recommend you to buy Sanuk shoes if you have high arches. The reason is that the insole of Sanuk shoes is not removable, due to which you cannot replace it with your custom orthotic inserts if you try to add your inserts in your Sanuk shoes. However, the default EVA footbed of Sanuk shoes is quite soft like a sponge. So, if you've flat feet, these Sanuks are ideal shoes for you.
Here's what users say about the arch support of different Sanuk shoes on amazon.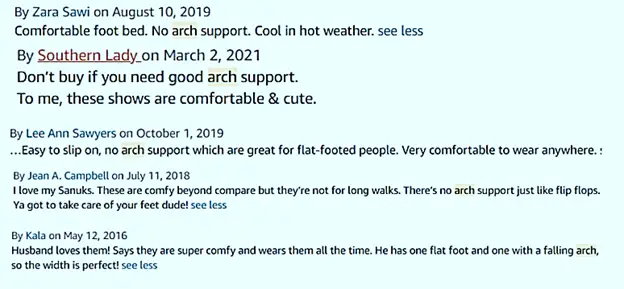 Although their EVA footbed offers a gel-like cushioning, you can't wear Sanuk shoes for walking on hard surfaces or roads due to their thin sole and absence of support underneath your feet. Sanuk shoes are only good for wearing them in the house, and surfing or walking on the beaches.
Here's what customers say about the walking experience with the Sanuk shoes.

I also contacted the Sanuk brand's customer support and asked them whether I should wear Sanuk shoes for long hours standing or not. Here was their response.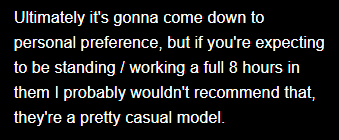 So, it depends on your feet' muscles strength that is a deciding factor for you to wear Sanuk shoes for long walks or standing for long hours. My feet muscles are not so stronger, so I found them a bit painful after standing for more than 4 hours, wearing the Sanuk shoes.
I can give you an idea. If you've flip-flops and can do longer walks in them, it means you'll get excellent comfort in Sanuk shoes, and they will feel like you are walking on a pillow.
What is Special about Hey Dude Shoes?
The special thing about Hey Dude shoes is their comfort, distinct styling and several color patterns. Unlike Sanuk shoes, Hey Dude shoes feature a business-casual design. So, if you're looking for comfortable shoes with a professional touch to wear in office or business meetings, you can consider buying Hey Dude shoes.
The other unique thing about Hey Dude shoes is their Flex and Fold technology, so you can toss them in a bag when you're on the go.
Moreover, Hey Dude shoes are available in several patterns and two-tone colors. On the other hand, Sanuk shoes are available in plain dull colors.
Furthermore, if you head over to Hey Dude shoes website, you'll see that they are classified in terms of their several features like airflow, cork, slip-resistant, etc.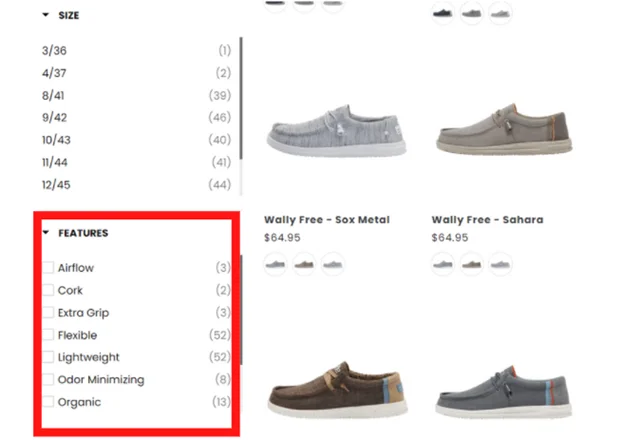 Do Hey Dude Shoes have Arch Support?
Hey Dude shoes feature a memory foam insole that conforms to your foot's arch as you step into your shoes. Furthermore, in Hey Dude shoes, you've the ability to easily remove their memory foam insole if you're not comfortable with it. While in Sanuk shoes, you don't have the option of removing their EVA footbed.
Memory foam properties lie halfway between EVA and Polyurethane foam. That is, memory foam has sufficient compression resistance to provide support underneath your foot, and elastic enough to change its shape according to your foot's arch when you step on it.
In addition, the sole of Hey Dude shoes isn't completely flat and thin like Sanuk shoes.
This is what customers say about the arch support of Hey Dude shoes on Amazon.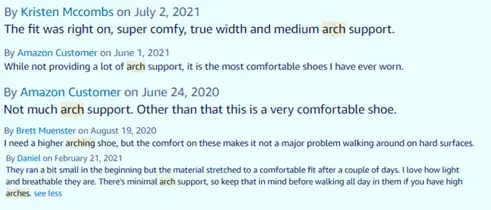 Furthermore, if you observe the construction midsole of Hey Dude shoes, it looks more like a sneaker.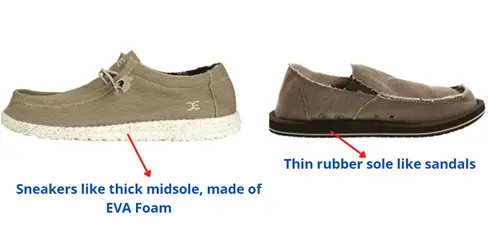 The sole of Hey Dude is ultralightweight as it is made of a soft and flexible EVA foam. So, for higher comfort and support underneath your feet, Hey Dude shoes win the spot over Sanuk shoes.
Hey Dude vs Sanuk Shoes Durability
As the sole of Sanuk shoes is made of rubber, Sanuk shoes are more durable as compared to the Hey Dude shoes. The difference between EVA and rubber sole is that rubber sole is a bit hard, but it is resistant to wear as rubber is more durable. On the other hand, EVA material is soft as it is foam. Thar's why Hey Dude shoes are known for comfort, while Sanuk shoes are known for their durability.
I also searched on different forums regarding the durability of Hey Dude and Sanuk shoes. Here's what a user says about it.

I also found this review by a user of Hey Dude shoes on Amazon.

However, that doesn't mean that Sanuk shoes are super durable due to their rubber sole. I have just compared the durability of soles of Hey Dude and Sanuk shoes due to their different materials. I mean to say that Sanuk shoes will last a bit longer than Hey Dude shoes. The rubber material of Sanuk shoes is not strong enough as compared to the shoes from different brands, having rubber sole.
Here's what users comment on the durability of Sanuk shoes on Amazon.

Hey Dude vs Sanuk Shoes Fit
According to the customers of Sanuk and Hey Dude shoes, both fit snug at the start. There's very little space between the feet and the upper of the shoes. Thus, both Hey Dude and Sanuk shoes need a little break-in period to stretch out as the upper material is almost the same in both shoes.
I also asked a person on Facebook regarding the fit of Hey Dude and Sanuk shoes. This was his response.

However, the fit of Hey Dude shoes is more customizable as they feature elastic laces. So, if you don't want to bear the pain of the break-in period of Hey Dude shoes, you can buy a bigger size and tighten your fit.