Vans Authentic vs Era Shoes (Difference with Examples)
Vans Authentics and Eras are both categorized as classic skate shoes but subtle differences set them apart. Let's compare the Vans Authentic vs Era. Is one of them worth getting over the other?
Vans Era have a bit chunkier style due to padded collar and sturdier construction. On the other hand, Vans Authentic have a classic sleek look, which looks good with shorts and jeans. Vans Era are also available in two-tone colors.
Also Read: Vans Shoes Guide
What is the Difference between Vans Authentic and Vans Era Shoes?
The Authentic and Era are both Vans sneakers that provide comfort, style, and simplicity. These two shoes are very similar in design but have slight variations in comfort, material, and color.
The main difference between Vans Authentic and Era is that Vans Eras have a padded heel collar and sturdy construction as compared to Vans Authentics.
Vans authentic shoes have been popular since their first release in 1966.  It is a low-top lace-up featuring sturdy canvas uppers with the iconic Vans waffle rubber outsoles. Other features include metal eyelets and signature striped detailing.
Over a period of time, when the Vans brand started becoming more popular among skateboarders and people who used to wear them casually, the Vans brand brainstormed different ideas to embed more features in their shoes.
So, in 1976, Vans made modifications to the existing design of Authentics with the help of two famous Skateboarders at that time. Vans named them "Era." The Era's design features wrap entirely around your foot, guaranteeing a secure fit due to a padded heel collar and more durable construction that won't let you down.
Read this guide until the end to know more about the prominent differences between Vans Era and Authentics regarding their fit and comfort.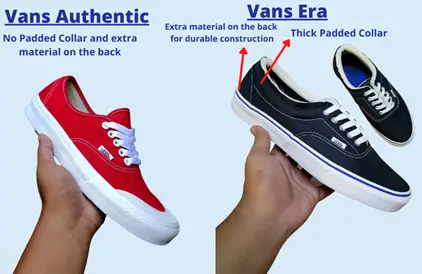 Material of Vans Authentic
Almost all the styles of Vans Authentic are made with canvas, suede, and leather. Currently, there is the only style of Vans authentic that is made from denim, which is the most strong cotton fabric.
Vans Authentic with suede leather is also available in three different solid colors. But, I'd not suggest you buy them, even though you like their color as these are not so much comfortable and your feet will rub with the shoes.
Currently, there are two styles of Vans Authentic that are made with a black synthetic leather upper. One of them is made as a work shoe. It's a slip-resistant Vans Authentic with a lugged vulcanized outsole for enhancing the traction of the shoes.
The current Vans Authentic Made for Makers is $90, which is the highest compared to the other styles of Vans Authentic. These Vans Authentics are specifically made for the tougher jobs, so durability and slip-resistance are highly considered while designing these shoes.
Although these Vans Authentics are highly durable, I'd not recommend you buying them if your work requires standing for long hours as they lack collar padding. However, the leather upper is water and stain-resistant. So, that's the only advantage of buying these Vans Authentics with a leather upper.
Style of Vans Authentic
The stitching of Vans Authentics is quite simple and gives a clean look. Vans Authentics feature a sleek construction that offers a perfect look when you put them on your feet. Most people like to wear Vans Authentics in summer with shorts due to their classic design.
According to their website, currently, Vans Authentic shoes are available in 52 different styles and colors. They have a wide range of patterns like Solid color, checkboard, rainbow, skull, etc.
There is a style of Vans Authentic named ANAHEIM FACTORY AUTHENTIC 44 DX. The construction of this style is the same as Classic Vans Authentics. The only difference is the upgraded ortholite sockliner for modernizing comfort.
The insole of the original Vans Authentics is pretty uncomfortable, and you can't remove it since it is glued to the base. Thus, the ANAHEIM Factory Authentics have ortholite sockliner that gives moderate arch support to your feet.
Material and Style of Vans Era
The majority of Vans Eras are made with a canvas upper. Currently, there is only one color available for the Vans Era with suede material upper. Vans also have a comfy cush technology introduced explicitly for the enhanced comfort as it is soft and flexible that adds cushioning underneath your feet.
Moreover, the footbed is a one-piece interior, so you can also remove it easily and place your custom inserts. Luckily, the style of Vans Era in suede upper features this technology. So, if you like the available suede color, you can consider buying these Vans Era shoes.
The construction of Vans Eras is sturdy as compared to Vans Authentics. Vans Eras feature double stitching of their upper, which makes them strong and durable.
Vans Era is not as sleek as Vans Authentic as it features a thick padded collar that surrounds your ankles. Due to thick padding, people with shorter legs don't like Vans Eras on their feet. Instead, they prefer sleek design shoes like Vans Authentic. Moreover, in contrast to shorts or boxers, Vans Eras look better with jeans or pants.
Also, due to double stitching, some styles of Vans Eras feature unique mixed-material design with an eye-catching two-tone scheme which set them apart from Vans Authentics.
For instance, you can observe the canvas uppers of two different colors in this style of Vans Eras. You will not observe this feature in any style of Vans Authentics.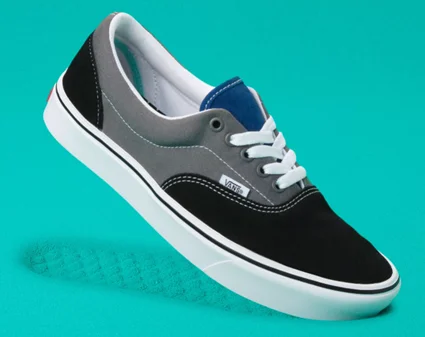 Furthermore, there are some styles of Canvas Eras in which the whole upper is made of Canvas. But on the top of the heel collar, a layer of leather provides a firm backing against your heels and helps support your ankles. For instance, if you look at C&L ERA 59 in the picture, you can see the leather backing in brown color.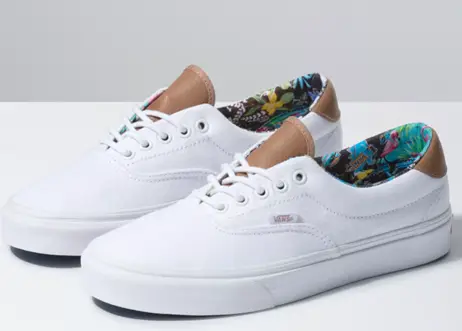 So, this is a unique feature in Vans Eras which you will not observe in Vans Authentics.
Vans Authentic vs Era Sizing
The significant difference of thick padded collars in Vans Era can make the Vans Authentic and Era fit differently for the people.
Vans Authentics fit like a glove around the ankle as they're slim and don't have a padded collar. On the other hand, Vans Era was majorly designed by keeping skateboarding in mind. That's why they fit snugly around the ankles to support them.
If you want to wear Eras for skateboarding, select the exact size you wear in Vans Authentics. If you want to wear Vans Eras for walking around and street-styling, order your Eras half a size up.
This is what a user comments in a forum.

Vans Authentic vs Era Arch Support
In terms of arch support, there is no as such difference between Vans Authentic and Era shoes. Vans are generally not suitable for providing good arch support due to their flat bottom. However, both Vans Eras and Authentics have styles that fall in the Comfycush category.
These styles feature a foam rubber sole with the same grip as the standard rubber waffle sole of the original Vans. Due to this Comfycush sole, these styles of Vans Eras and Authentics have an added arch support that delivers a foam-like feel underneath your feet.
As soon as you step into the Vans comfycush Eras or Authentics, the base of the shoes molds to your feet's arch due to its softness.
Vans Authentic vs Era (Summary)
Here's a quick summary of the difference between features of Vans Authentics and Vans Era.
| Vans Authentic | Vans Era |
| --- | --- |
| Made in 1966 | Made in 1976 |
| Do not have padded collar | Have padded heel collar |
| Sleek design | Sturdier design due to extra stitching |
| Look good with shorts | Don't look good with shorts |
| Fit like a glove | Feel tight in ankle part for some people |
| Not available in multi-tone color | Available in two-tone color |
| Available in single material | Some styles are available in a combination of materials |