Is Running in Converse Comfortable? (Let's Find Out! )
Running in converse shoes is not possible for professional long-distance running. It would be suitable if you just want to practice to improve your running gait and strengthen your feet' muscles.
Converse is a shoe company that specializes in rubber-sole shoes such as canvas sneakers, having high-top and low-top designs.
The design of Converse shoes is the same as Vans i.e. they have a flat sole, and are made to complement your outfit so that you can walk with them around the streets.
So, what about running in Converse? A long-distance professional running in Converse shoes can be painful to your feet as they are not made for a natural heel-to-toe motion, which is essential when running. Furthermore, the flat rubber sole of Converse shoes provides lesser cushioning, and the lack of arch support would cause stability issues in your running gait.
What happens if you run in Converse Shoes?
Running in Converse shoes is good at the very initial stage when you're just practicing out for running. Running in low-top Converse shoes is just as if you were running barefoot. People like to run barefoot to make their feet muscles stronger as they can feel the surface while running. Moreover, running barefoot can help them to achieve better form, improves their balance and proprioception, and ultimately leads to improved performance.
But barefoot running isn't suitable on every surface. For instance, if you want to make your feet stronger for running on a concrete surface, you need shoes that aren't so much cushioned and have a flat sole that can help you feel the ground during the landing phase of running.
Converse All-Star Chuck Taylors are pretty much famous among people. The rubberized sole of Chuck Taylors has a moderate thickness, which is a plus point for beginner runners as it will help them strengthening their feet muscles as well as providing moderate cushioning so that impact of the running track does not exert excessive strain on your knees and lower back.
But, you should keep in mind that, Converse shoes are not as flexible as proper running shoes. If you're a heel striker, your toes might get hurt during a transition from heel to toe while running. Furthermore, the toe box of Converse is quite slim and they don't have a padded collar.
So, keep in mind that while performing a running practice, don't take a step of fast runs. Otherwise, your toes will start hitting the toe-box and your shin splints may start to burn badly.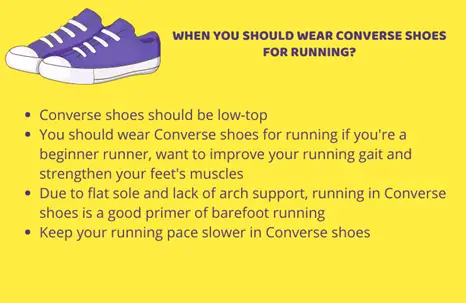 Are Converse Comfortable for Walking all day?
Converse shoes are not so comfortable for walking around or standing all day. Converse shoes are suitable as street-style shoes, or you can wear them in the house due to their casual and lightweight design.
Converse shoes lack arch support due to their flat sole. Moreover, the sole is too stiff and there isn't a proper cushioning system like PU or EVA midsole that can provide support as well as cushioning underneath your feet.
Converse can help to make your feet stronger by bearing the pressure of the surface, but you shouldn't stand or walk in them for long hours as it could lead to sciatica problems.
However, there's one pair of Converse shoes that I found relatively comfortable as compared to their conventional styles. The model name is "Chuck II". I advised one of my friends to try out these Converse shoes, and they worked great for him. He could walk comfortably for a longer time in Chuck II pair without the fear of getting his feet damaged.
You can check out a review of Converse Chuck 2 shoes in the video below.
The feature that differentiates Chuck II pair from other Converse styles is they have a full-length lunarlon insole that has relatively nice padding due to which your feet can bear the hardness of the surface for a longer time. Lunarlon is a soft and bouncy foam that is introduced by Nike. Due to this insole, the second version of Chuck Taylors is far comfortable than their original one.
I found this comment by a person on Reddit, discussing the comfort of Converse shoes.

Are Converse Shoes Comfortable for Work?
If your work requires long hours standing as in the case of nursing or cashier job, I'd not recommend Converse shoes for this type of work. Even with Chuck II's lunarlon insole, the comfort and support are not enough to deliver a plush feeling underneath your feet due to a lack of cushioning and stiffer soles.
However, if your work requires mostly sitting at a desk, you can wear Converse shoes at work. Converse shoes are business casual. Some people like wearing their Converse sneakers with jeans and t-shirts while some people like wearing them with suits and nicer business casual clothing. Since Converse is a very casual shoe, you can get away with wearing them more casually at work.
Are Converse Comfortable for Wide Feet?
Converse shoes are not comfortable for wide feet if you go for your original foot size. They have a pretty slim toe box that does not allow you to spread out your toes evenly. A long time ago, I tried several styles of Converse shoes, including their Chuck Taylors, my toes got cramped after walking in them for some time.
Around a year ago, Converse also started making their shoes in wide widths as you can see on their website.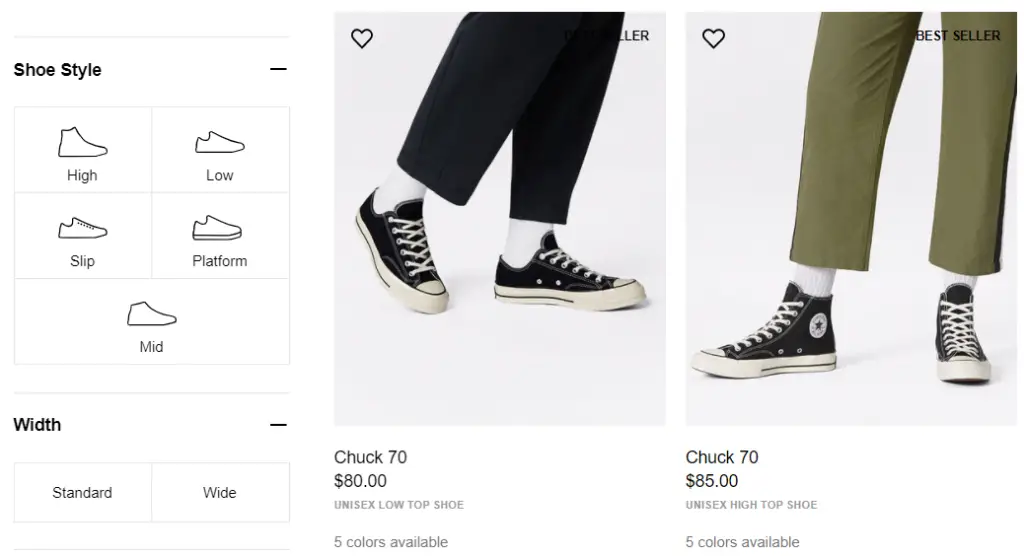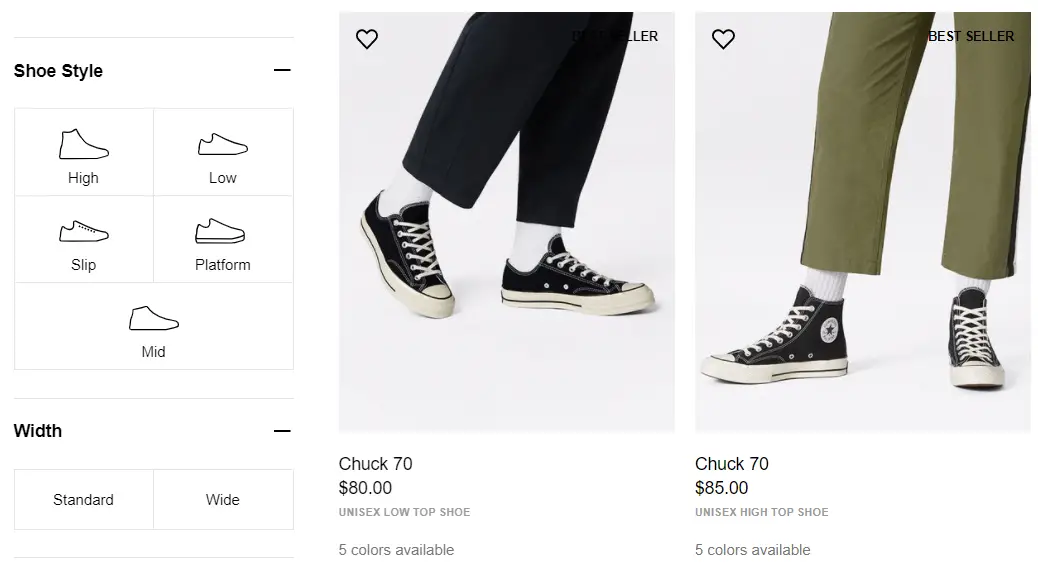 They have not exactly mentioned the measurement of their wide widths i.e. whether they are EE, 4E or something else. I searched for the width of Converse wide-width shoes on different forums, including Reddit, and I found that their wide fit is closer to EE.
Here's what users say on Reddit.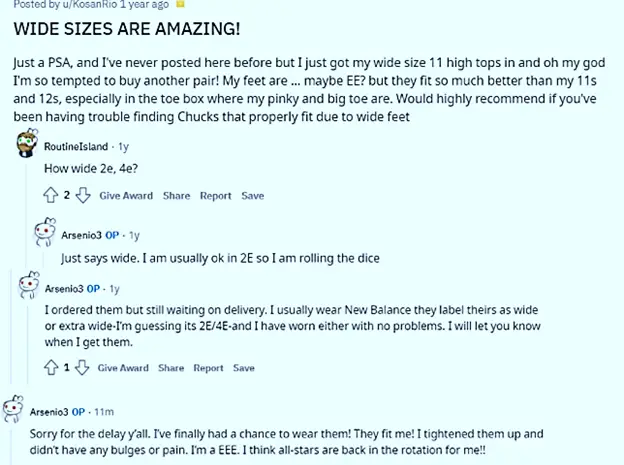 How to Stretch Converse Shoes to Make Them Wider?
The maximum width of Converse shoes is around EE. So, what would you do if your feet' width is 4E or 6E, neglect your Converse shoes?
Well, you won't have to do that.
Stretching of Converse shoes is difficult since they are made of Canvas upper. Except for Chucks 70s, you can stretch out other styles of Converse shoes. Chuck 70s are made of a very thick Canvas upper, due to which it's difficult to stretch them.
To stretch the other styles of Converse shoes, you just need to wear thick athletic socks with your Converse shoes and walk in them around the house. Eventually, they will start stretching out after some days.
The other method is the DIY technique, it works well. To stretch Converse shoes, follow these steps:
Take a zip-lock bag and fill it with water.
Tightly place the bag in your Converse shoes.
Put the shoes in the freezer overnight.
Water expands when it freezes. So, when you take out the shoes in the morning, you'll observe that your Comverse shoes have been stretched in a toe area.
Can you Squat in Chuck Taylors?
Squatting in Chucks is a great way to save time and money – as opposed to going out and buying your dedicated lifting shoes. The flat, hard sole of Chuck Taylors gives you added stability and support when lifting.
Your body also aligns differently when you squat in a shoe. Consider that most shoes will have a raised heel, which will cause your ankle to turn in, making your body slightly askew – one side lower than the other – which not only makes everything more difficult to balance but also increases your risk of injury.
That's why a pair of shoes with a stiff and flat sole like Chuck Taylors is a perfect choice to perform lifting and squatting.