How to Prevent Toe Holes in Shoes – 7 Tempting Tips to Fix Them
Finding a pair of shoes with a perfect toe box according to your feet shape is a highly tedious task. A perfect toe box that matches the geometry of your front foot makes sure to put the same pressure across all toes of your feet so that your gait cycle remains stable and aligned while you are walking or running.
Shoes with toe holes, whether they are running, walking or work shoes, are very frustrating and embarrassing to have when you spend hundreds of dollars and your precious time buying your favorite shoes. In this guide, I will reveal tempting hacks that will provide a step by step guide on how to prevent toe holes in shoes that are irritating your feet, disrupting your gait cycle, and making you feel uncomfortable in public.
Why I Get Toe Holes in my Shoes?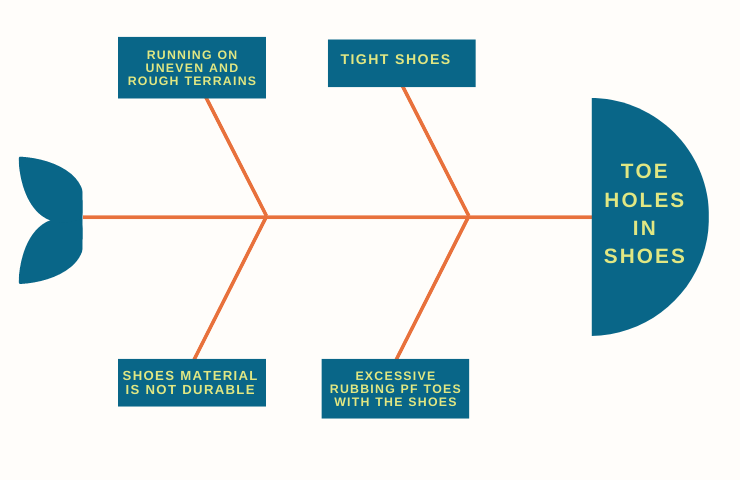 Toe area of the shoes is the most likely to wear when your feet are not properly adjusting due to tight toe boxes. This usually happens when you slide your feet in the shoes, and your toes repeatedly impact the forefoot of the shoes.
Having a tight toe box can cause swelling and tailors bunion when your toes constantly rub against the toe area. This repeated rubbing damages the material seam in the forefoot and results in the hole digging in your shoe toe box.
You have mostly seen holes in shoe toe box in the runners' shoes. This is because, while running, the bigger toe constantly rubs with the mesh underneath.
Most of the athletic shoes feature a thin breathable mesh lining to provide comfort and breathability to the runner's or walker's foot. Due to this reason, after few runs, you start observing the toe holes in your running shoes. As a result, the material in the forefoot starts wearing off.
Moreover, if you are a heel striker, there is highly likely that toe holes start forming in your shoes due to your running gait. This happens because when you strike against your heels, your toes move upwards and start knocking into the toe area. This results in the digging of the hole in your shoe toe box.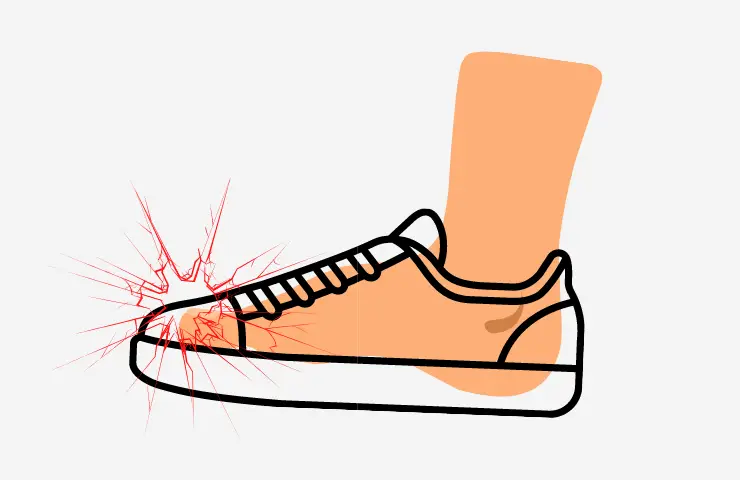 So, in essence, I have concluded the following causes that contribute to developing toe holes in shoes.
Toe box is tight.
Your toes excessively rub with the forefoot.
Shoes upper material is not durable enough.
Your running or walking gait is absurd, i.e. toes pointing upwards.
When you are running on rocky and rough terrains, the pebbles and pointed objects can break in the front of your shoes.
Shoes with toe holes can also create an unpleasant situation for you. For example, dirt, water, or other hazardous chemicals can swift in your shoes if you are working in an industrial area.
So, hang on and let's dive in to discover the most effective techniques that can fix and prevent holes in your shoes.
How to Prevent Holes in Shoes
Here are the techniques to prevent toe holes in shoes.
1. Wear Good Quality Socks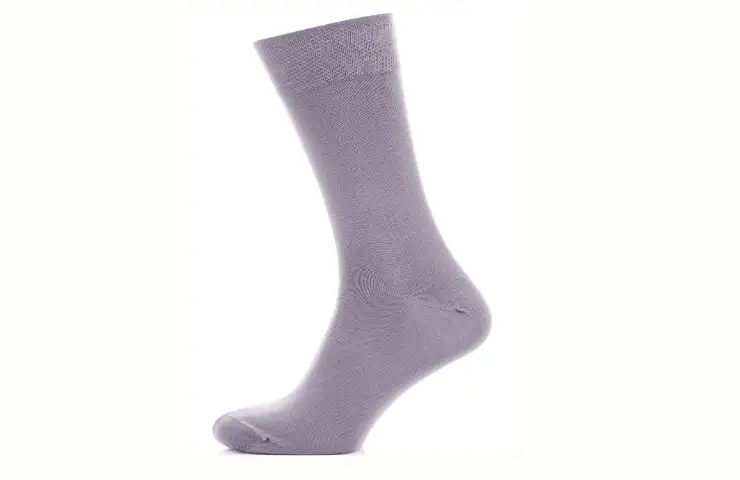 As I explained above, one of the factors that contribute to the formation of holes in the toe box of your shoes is the digging of your big toe in the forefoot area of your shoes. Wearing quality and padded socks can help redistribute the pressure around your toes so that all the force that your toes exert is not focused on the spot of the toe box.
Moreover, socks with smooth lining and seamless toe closure also help diminish the effect of friction between your toes and the lining of the front foot of the shoes. A well-padded pair of socks acts as a shield between your toes and shoe front that can help to prevent seams in the toe region of the shoes from tearing apart.
Buying the right pair of socks is quite an important as well as hectic task. You don't have to worry about it as I have already researched some good pairs of socks.
These socks are made of durable material with sufficient padding. They will prevent your toes from pointing in the shoe toe box by ensuring even distribution of pressure across toes. ln addition, they will also protect your feet from excessive rubbing against the shoes lining and prevent them from being sweaty.
Dickies Men's Dri-tech – These are some of the best socks to prevent toe holes in your shoes. There is 78% cotton in socks material composition that prevents the excessive rubbing of the socks against the shoes lining. The toe area is reinforced that improves durability, and provides a great fit.
Under Armour Adult Performance Socks – These socks have seamless toe area and provides with great flexibility and cushioning
Balega Hidden Comfort No-Show Running Socks – This pair of socks is for both men and women. You can wear them as casual or dress socks. The socks are made of polyester material that is synthetic and less expensive than cotton socks. These are also properly cushioned at heel and toe, which is great for running.
2. Buy Shoes with a Deeper Toe Box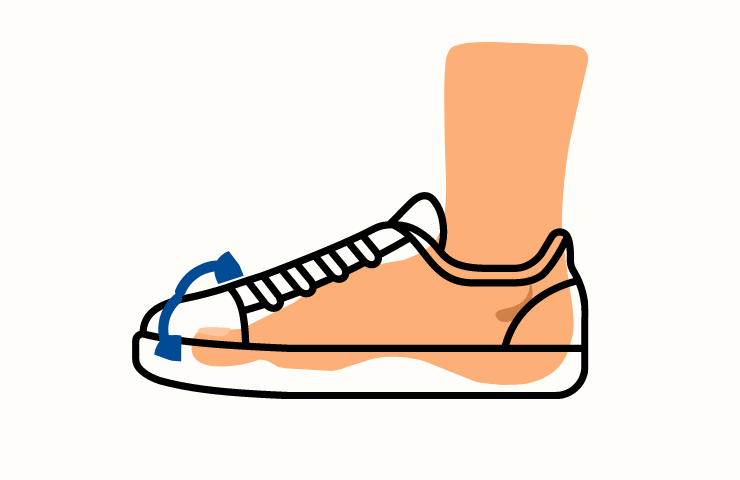 Some people suffer from feet problems like hammertoes and bunions. Such people have swollen and raised areas on their foot front that require shoes with a wide toe box. Due to this reason, your toes persistently hit the lining of the toe box of your shoes and damage the seam due to friction.
Therefore, it is essential that if you have any of the feet problems mentioned above, I will suggest you buy shoes that provide plenty of room in the forefoot area. This allows you to easily wiggle your toes without being squeezed and pressed into the toe region.
You can check out my article on the best shoes with wide and deep toe box in which I have reviewed the shoes of different categories, including walking, running, slip-on sneakers and work shoes.  You can buy any of them based on your needs to prevent toe holes in the shoes due to your feet problems.
3. Use a Toe Spacer
You can also use accessories like a toe spacer if you have bunions problems. Due to such problems, the raised portion of your toe is digging in the toe region, thus causing holes in the shoe toe box. Toe spacer is stretchy enough that it can help to keep your toe bones in natural alignment by placing it between your big toe and second toe. It can also prevent overlapping the toe by keeping the big toe straight and providing extra padding.
You can buy your favorite toe spacers from here.
Note: I would advise you to wear toe spacer with the shoes if they have a deep and wide toe box. Otherwise, you might find it challenging to fit your feet with toe spacer properly in the shoes.
4. Stretch the Tight Toe Box by Applying a Quality Shoes Conditioner/Stretcher Spray
Many people assume that the purpose of the shoes conditioner is to enhance the appearance of leather or suede material of the shoes upper. Are you also among those people who has the same assumption about shoe conditioner?
Well, you will surprise if I would tell you that you can prevent the toe holes on the top of your leather shoes by applying a good quality shoe conditioner on them. A good shoe conditioner can penetrate through the roots of the leather, making it strong and durable.
Moreover, the shoe conditioner also gives a soft and flexible texture to your shoes. This ensures that there is no excessive rubbing of your toes with the shoes upper. Additionally, if your leather shoes are a bit tighter at the forefoot region, a shoe stretching spray can help to increase the shoe's size by one number.
Here are my favorite and most recommended shoe conditioners that you can use to prevent toe holes in leather shoes.
PS: There are also other methods for stretching a tight toe box to prevent the digging of your toes into the toe box. You can also use a peeling potato to provide a modest stretch to the forefoot of the shoes.
5. Use Toe Hole Prevention Inserts
It is one of the finest methods to prevent toe holes in shoes. These inserts serve the purpose to eliminate the shoes' premature failure due to developing holes in them.
These toe hole prevention inserts are placed inside the shoes that act as a protective shield between your toes and shoes lining due to their ballistic material. It is made of high strength fibre such as polyethylene that offers maximum durability and has great abrasion and tear resistance. It serves as a guard to protect the toe area from tearing off.
This method has proved to be the most effective for running shoes as they are made of soft mesh fabric. So, these strong toe guards can help in preventing toe holes in shoes.
 A specific region of these toe inserts is adhesive that sticks to the bottom of the insole so that it can be placed upright inside the shoes.
Here is a detailed video that you can follow to use these shoe armours for protecting the toe box of the shoes from your toes.
You can buy these toe inserts from here.
6. Use Duct Tape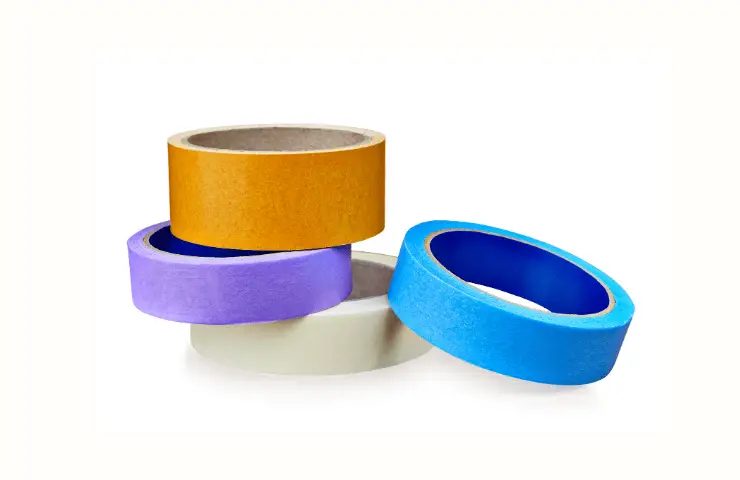 Duct tape is also of the finest and cost-effective solutions to fix the toe holes in shoes and prevent your toes from tearing through your shoes. It is a wide cloth adhesive tape that is made of strong coarse fabric, sandwiched between the adhesive rubber layer and a silver backing called pressure liner. It is made of a light and soft resin i.e. polyethylene.
The strong coarse fabric is made from cotton that is responsible for the high tensile strength of the tape. Due to this high strength property, duct tape can be used to fix the toe hole in shoes and as a preventive measure to cover the weaker seams of the shoe toe box.
Duct tapes are available in a wide range of colors. You can easily find the duct tape whose color matches the color of your shoes so that they do not look odd after being covered with the duct tape.
So, all you need to cut a duct piece of 2 inches square and place it inside the shoes where your big toe will rub against the toe box lining. In this way, it will prevent your toes from digging into the shoes toe area.
7. Use Shoes Patches to Fix Toe Holes in Shoes
If you have shoes with holes on top, this technique works well to fix them. I have personally tried it on one of my running shoes that were worn out on the toe region due to their extended usage.
Here are the steps that you can follow to fix shoes with toe holes.
First stuff your shoes with the newspaper to hold their shape.
Take a fabric patch such as nylon suture and cut out a piece of the size slightly larger than the toe hole.
Before stitching, put a damp piece of cloth over the patch and press the steam iron on it for a few seconds.
Pierce the sewing needle through the patch until it is secured to the material of the shoes.
This method will help reinforce the toe region of your shoes by sewing the fabric patch on the shoes with holes on top.
Final Verdict
So, whether you currently have shoes with holes on top and trying to fix them, or finding out different ways on how to prevent toe holes in shoes. I hope this article would have helped in bringing the answers on the table. Still, I would suggest you look for the best pair of shoes with a deep toe box if you have wide feet and excellent durability.
I have tried my best to figure out the leading causes that majorly contribute to holes in shoes. I would suggest advice you if you are not an expert and feel reluctant to apply the above methods, it would be better to get a professional repair from a cobbler.
Just don't lose hope. You will be able to revive your favorite shoes by applying these hacks one day.
Good Luck!