Sneakers vs Running Shoes (What's the Difference?)
Are you confused between Sneakers vs Running shoes? This article dissects the difference between sneakers and running shoes to give you the proper understanding of when to wear sneakers rather than running shoes.
Sneakers are typically categorized between casual and athletic sneakers. People usually use casual sneakers as a street-style wear or as business-casual shoes. Athletic sneakers show some similarity with running shoes. Both provide necessary cushioning, arch support, heel and collar padding. Athletic sneakers' upper majorly consists of a leather for a supportive fit, as they provide support for sideways movements. On the other hand, running shoes upper majorly comprises of an engineered mesh for better breathability.
Also Read: Are indoor soccer shoes good for running
Are Sneakers and Running Shoes the Same?
While some overlap between sneakers and running shoes, their functions and designs are not always identical. Both sneakers and running shoes may be lightweight and comfortable to wear; there are key factors that distinguish them from one another.
SNEAKER is a generic term that is used for trainers, sports shoes, and other CASUAL shoes. In addition to sporting events and training activities, many people wear sneakers for everyday use, usually because they're more comfortable walking in these types of shoes, as opposed to heels or boots.
Whether you call them kicks or trainers, tennis or athletic shoes, you're still talking about a shoe that's pretty basic—just a rubber sole and a lightweight upper.
Sneakers are very comfortable. They are so popular because they can be used for any fashion statement. And, as long as the sneakers match the outfit you wear, they will make your outfit look better and more fashionable.
Sneakers and running shoes are different because sneakers are generally associated with fashion, and several celebrities wear them at different events and occasions. You can check out this article to get an idea of the famous fashion sneakers that Celebrities like to wear at different places.
People have different tastes in fashion, so it is entirely up to you to choose what type of sneakers you wear. Sometimes it might be awkward to go out wearing sneakers, but if you just relax and have a sense of humor about it, you will enjoy seeing the different types and styles of sneakers that people wear.
For instance, if I talk about some Basketball shoes like Jordans and Adidas Harden Vol, several people like to wear these basketball shoes casually due to their style and casual touch. You can wear these low-tech kicks on the street just as easily as on a basketball court.
Furthermore, many different types include low-tops and high-tops. The difference between the two is that high-tops have a higher ankle. So they provide more cover than low-tops do. But they may make your feet look chubbier. Low-top sneakers are good for people who like to show off their ankles or want to look thinner than they actually are.
The following simple infographic will help you better understand the design of shoes that fall in the "sneakers" category.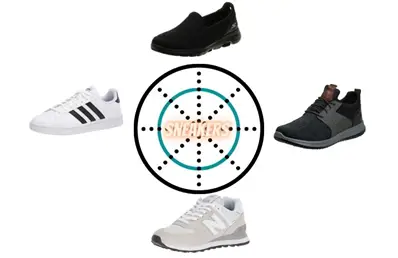 Also, if you type the term "sneakers" in the search bar on Amazon, you'll find a majority of shoes that are being sold under "Fashion Sneakers" on Amazon. According to my detailed research, except for stylish dress shoes, most of the following shoes fall in the sneakers (Fashion sneakers) category.
Cross-trainers
Slip-on shoes
Iconic shoes with a flat bottom like Adidas Superstar
All slip-on shoes don't lie under the umbrella of sneakers. For instance, Dansko Professionals are formal slip-on work shoes with a leather upper. They don't lie in the casual shoes (sneakers) category.
Therefore, the condition of slip-on shoes to be classified as "sneakers" is their upper should be engineered with a flexible and lightweight BREATHABLE MESH as in the case of these Skechers.
Are Sneakers Business Casual?
A lot of trade publications and online magazines like Businessinsider cover the sneaker industry regularly since it has an important place in the fashion industry.
As I mentioned above, when we use the term "sneakers," some people assume them as minimalist-style casual shoes like Adidas Stansmith. In contrast, others consider them as athletic or sport shoes.
Casual sneakers have flat or low-profile rubber soles with a leather upper. Casual and athletic sneakers heels are also lower than formal shoe heels. The difference between these two types of casual and athletic sneakers is mainly in appearance; casual shoes tend to be slightly more "classic" looking than athletic ones. Furthermore, athletic sneakers have a sporty look, breathable mesh upper, thick midsole with a negligible heel-to-toe drop, and a stability system to support directional movements.
It is important to note that some people wear sneakers as their "go-to pair of dressy shoes." These people wear sneakers just as much or even more than a suit or tie to work.
Therefore, if you mean casual sneakers from brands like Vans, Converse, they are treated as business casual sneakers.
Here are some sneakers that you can wear with business casual attire. I found this list in a comment by an expert on the Reddit sneakers community.

What makes Running Shoes Different from Sneakers?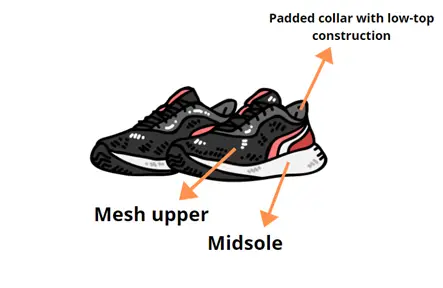 The significant difference between running shoes and training or sports sneakers is because of their midsole and design. All running shoes have a low-top design, while sneakers can be both high-top and low-top, depending on the style the people like. Furthermore, all running shoes have a breathable mesh upper for a flexible fit and smoother forward movement while running.
Running shoes are designed to increase the efficiency of your running gait. They are supposed to provide proper support and cushioning for certain parts of your feet and make the process easier on your body. There is a lot that goes into shoe design and many different types of running shoes.
Midsole Material in Running Shoes
The midsole of running shoes must be strong enough to protect from heel-striking during running but tough enough not to be too heavy on the foot when a runner is sprinting at high speeds. And it has to be lightweight enough to allow for quick action while being sufficiently supportive and comfortable not to cause injury.
As far as the material of midsole of running shoes is concerned, several famous brands like Brooks, Nike, Adidas and New Balance. But according to these brands, EVA foam contributes to the significant composition in the midsole construction of these running shoes.
The EVA foam is used in combination with some other materials like carbon fiber for extra shock absorption. Some shoes will also have additional innovative features such as wave plate technology which utilizes the specific movements of your feet to control certain aspects of your gait like pronation or supination.
Here are some examples of midsole technologies that famous running shoes brands exclusively introduce.
DNA Loft by Brooks uses a combination of EVA foam with rubber and air.
Nike Zoom midsole consists of its responsive proprietary foam with a combination of carbon plate to achieve strength with a lightweight design.
Adidas Boost midsole completely excludes EVA foam in its material composition. It is made from the expanded pellets of Thermoplastic urethane foam.
Running Shoes for Overpronation issues
These are also called motion control running shoes. Running shoes are designed based on the gait of a runner.
Some runners have overpronation shoes due to which their feet roll inward while running. For such people, running shoes have stability features and dual-density midsoles to support their lateral movement and help runners in forward movement. Moreover, in a study, it has been concluded that, runners with overpronation issues and wearing motion control running shoes are associated with lower injury risk compared to standard running shoes.
An example of such running shoes is Brooks Beast 20. These shoes feature a Guiderails support system placed in the midsole's rearfoot region to prevent your ankles from rolling inward while running.
You can check out this video to learn more about this system.
Running Shoes for Neutral Arch
Similarly, most neutral runners are heel strikers. They have neutral arches, and they don't need lateral support. They need more cushioning in the heel region so that less impact is exerted on the runners' heels during the landing phase while running.
Examples of such shoes are ASICS Gel Contend 5. They have Gel cushioning the heel region to absorb the impact of the running track and protect your feet.
Running Shoes for High Arches
The arch of a human's foot helps distribute the human body's weight evenly across the entire foot. People with very high foot arch tend to have rigid feet. Due to this, those people need running shoes that feature a full-length cushioning system in a midsole.
An example of such running shoes is Saucony Cohesion 12. Such running shoes don't have any structural system to provide stability as they're specifically made for people with very high arches as they only need cushioning underneath their feet.
Can Sneakers be used for Running?
No, you shouldn't wear any sneakers for long-distance running. You can wear running shoes casually at different events or walking on the streets, but sneakers are not suitable for running.
Athletic sneakers are a bit heavy compared to running shoes because the proportion of leather material on the upper of sneakers is higher to provide a more supportive fit for sideways movements.
Furthermore, the cushioning of midsole or sneakers is not designed to bear a strong impact while running. Therefore, I'd advise you to limit the sneakers for sports, athletic activities like Gym, and fashion.