Are Indoor Soccer Shoes Good for Running?
Running and soccer are two of the most popular physical activities in the world. They require similar skills, but they also have some important differences. For example, soccer requires a lot more lateral movement than running does. But there is one question that often comes up: should I wear indoor soccer shoes when I run? While it may seem like an unusual choice, there are many reasons why runners might try indoor soccer shoes for running. Read this guide till the end as I've covered everything in detail.
So, are indoor shoes good for running? Yes, indoor soccer shoes are good and can be used for running as soccer players tend to run a lot. They also protect your feet to avoid injuries like sprains and fractures due to lateral stability. However, since indoor soccer shoes are designed to play and run on indoor smooth surfaces, they tend to quickly wear out on hard outdoor concrete or asphalt surfaces. More, indoor soccer shoes have thinner soles, due to which they can't provide the necessary shock absorption for high-impact running activity. So, indoor soccer shoes are good for only slow-distance running.
Must Read: Running in Tennis Shoes
Indoor Soccer Shoes vs Running Shoes Difference
Each sport activity has its own kinematics based on which the structure of the shoe is designed. Due to this reason, there are some noticeable differences between the design and material of running shoes and indoor soccer shoes, which I've discussed below.
Upper
Running shoes are made of a stretchy mesh upper for comfort during the heel-to-toe transition phase in running. When you strike your foot against the ground, it will bend with each step and allow freedom to move about without any restriction.
The best indoor soccer shoes, such as Adidas Sambas, feature a blend of kangaroo leather and suede upper which performs best when put under pressure such as pushing off with your toes or sprinting.
Since indoor soccer shoes are entirely made of leather, they offer two disadvantages for runners who are thinking to run in them for a full marathon.
One disadvantage is that the leather is not breathable. This will cause blisters on your foot due to friction force generated by your feet sweat during running. In the research of the most-demanded running shoes features, 97% of the participants considered the breathability feature while buying the running shoes.
The other disadvantage of entire leather on soccer shoes, to be used for running, is the wasted weight. In indoor soccer shoes, the profile of upper and strong leather allows controlling the ball when a soccer player is passing the ball to the competitor by pushing it from the lateral side of his soccer shoes. This also increases the weight of indoor soccer shoes which is considered as a wasted weight of running shoe. This in turn affects your running economy as you try to run fast in soccer shoes.
You can also check out my article on how heavy running shoes are bad for the running economy.
Midsole and Cushioning
Indoor soccer shoes have a thin and firm rubber midsole that provides the players with sure footing, which allows them to make quick cuts or sprints. The lower profile of indoor soccer shoes keeps the foot closer to the ground, and stiffer sole allows soccer players to execute abrupt lateral movements without rolling or spraining their ankles.
Moreover, the footing style of soccer shoes mimics the barefoot to allow a stronger coupling between the foot and ball. Due to this reason, soccer players can kick the ball with higher velocity as they have a higher degree of plantar flexion in soccer shoes.
Running shoes have more responsive, cushioned, and thicker midsoles as compared to soccer shoes so that they can absorb the impact and allow more shock absorption.
Also, running shoes have usually more than 4mm of heel drop, while indoor soccer shoes have flat soles to allow more stability for quick cuts. The heel drop in running shoes propels your body forward with ease and lifts the pressure off the Achilles Tendons. Moreover, if you're a heel striker, the heel drop in running shoes matters a lot as they offer more cushioning in the heel area to absorb the impact.
If you want a barefoot running experience to strengthen your muscles, the flat sole of soccer shoes (without cleats) can provide you with a great barefoot feeling. I'd advise you to not run in your soccer shoes for more than 15kms as the flat sole with minimal cushioning could cause lower back pain.
Padding
Soccer shoes have minimal padding as it is great for soccer players when they want to feel the ball. This allows for a more natural feel and makes their touch on the ball better. Furthermore, the lesser padding in soccer shoes offers a more barefoot experience to kick the ball with higher velocity.
Running shoes tend to have more padding so they can protect your feet from blisters and high impact. Moreover, the padding in the heel collar of running shoes acts as a buffer for Achilles Tendons as they prevent heel slippage and repetitive collision of shoes with the back of the foot.
Outsole Traction and Durability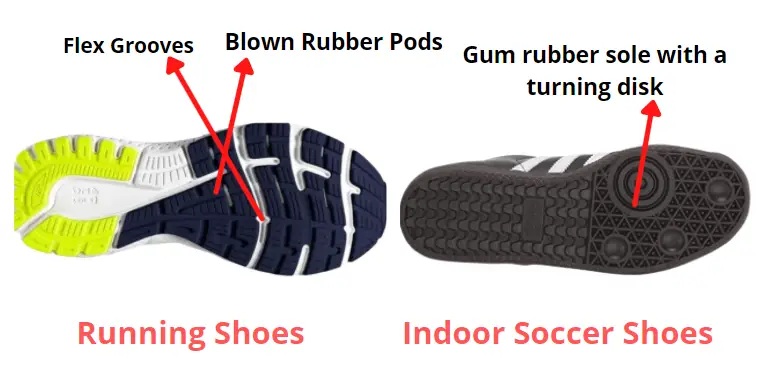 Indoor soccer shoes non-marking gum rubber outsoles, which are made to offer a strong grip on the slick and smooth wooden floors. The interlocking triangular or herringbone pattern and a turning disk under the metatarsal are the key features of the grip of indoor soccer shoes for quick sideways movements.
The turning disk under the metatarsal allows for better mobility around the court or field when changing direction as you picot on your forefoot.
The outsole of running shoes features blown rubber pods, which are strategically placed to maximize comfort and flexibility as well as for grip on various surfaces. Furthermore, there are flex grooves on the outsole of running shoes for improving flexibility and a smoother transition from heel to toe.
Running in indoor soccer shoes on hard and rough asphalt surfaces will cause the treads on the gum rubber outsole to wear out faster. Since the treads of indoor soccer shoes are designed for all kinds of turns and quick movements, the worn grip on the indoor soccer shoes can lead to slipping or turning your ankle.
Stability and Arch Support
There is a difference between the stability provided by the running shoes and indoor soccer shoes. Indoor shoes have a thin profile, which keeps your body stable while doing quick cuts or lateral shuffle by providing a solid foundation.
The stability of running shoes tends to balance the running stride by preventing inward moving of the ankles due to overpronation. In running shoes, a stiffer medial post is embedded in the midsole to control the lateral movement and guide your stride towards the forward motion. This is quite important when running for miles and miles in a repetitive motion without pause stuff like cadence.
If you're suffering from overpronation issues, I'd strictly advise you to buy a dedicated pair of stability running shoes, such as ASICS Gel Kayano or Brooks Adrenaline.
The Tightness
Indoor soccer shoes are supposed to be tighter as compared to running shoes. Indoor soccer shoes should be fit such that they are locked to your feet, which is essential for quick turns and kicking the ball with a higher velocity without losing your balance.
Running shoes are also tighter enough to avoid heel slippage, but they are not as tight as soccer shoes. It is necessary for your toes in the running shoes to splay out comfortably and avoid rubbing with the upper.
Since, running is majorly a fast-paced forward motion activity, running in too tight indoor soccer shoes would force your toes to collide with the front of the shoes, which in turn would cause black toenails. Furthermore, running in tight shoes can also cause numbness in the toes. For a reasonable fit, you can adjust the lacing technique of your indoor soccer shoes in which you want to run.
For more details, you can check my guide on the lacing of running shoes for numb toes.
Final Verdict about Running in Indoor Soccer Shoes
So, are indoor soccer shoes really worth it for running? Well, I'd say you can perform the running practice in your soccer shoes by only running up to a few kilometers at a slow pace. Make sure that, soccer shoes are not too tight as you want them in your soccer game.
Moreover, you should not be suffering from overpronation issues if you want to run in your soccer shoes as they would have a significant negative impact on your knees and lower back.