Brooks Glycerin 19 vs Adrenaline GTS 21: 2023 Comparison
The Brooks Glycerin 19 and the Adrenaline GTS 21 are two of the most popular running shoes on the market. They both offer a great deal for their price, but it is difficult to determine which one is better suited for your needs. Let's dive in deeper for Brooks Glycerin 19 vs Adrenaline GTS 21 comparison in this guide.
The Adrenaline GTS 21 and the Glycerin 19 are both great running shoes.  The Brooks Glycerin is a neutral running shoe with a high level of cushioning, while the Adrenaline is a stability shoe that is designed for runners suffering from overpronation. Which one you choose will depend on your foot type and what kind of run you are looking for.
Also Read: Brooks Ghost 14 vs Glycerin 19
Brooks Glycerin 19 vs Adrenaline GTS 21 Comparison
Brooks Glycerin 19 and Adrenaline GTS 21, both are great running shoes that have their pros, cons, and specialties. To help you understand the differences between these two shoes, we compare each aspect below.
Before going further, you can read a summarized review by a person, who owns both Brooks Adrenaline and Glycerin, in the picture below. I took this snapshot from Reddit. I'd suggest reading the comparison guide between Brooks Adrenaline and Glycerin till the end as I've covered every detail with the labeled images.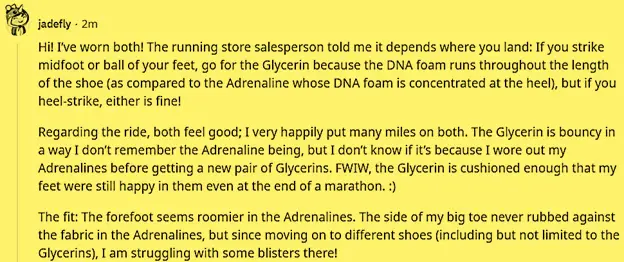 Upper Material and Fit
Both Adrenaline GTS 21 and Glycerin 19 are made of an engineered 3D Fit Print mesh upper that has no seams and provides comfy snug fit for the foot.
While the upper material is the same, you will find a pattern difference on the sides of both shoes. On Brooks Adrenaline GTS 21, you can see a broken-up 3D print wrapped all over the lateral and medial side to enhance the support.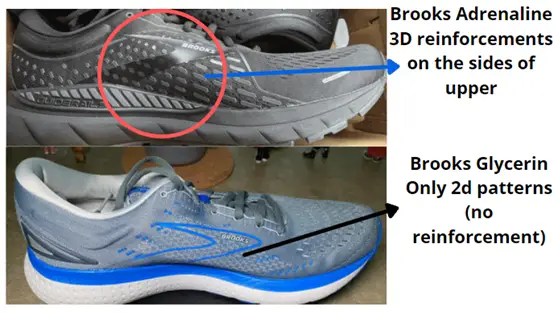 that make the upper more robust. So, whenever your foot tries to under pronate or supinate, these 3D small 3D chunks would provide lateral support. Also, this added 3D print helps to secure the fit across the midfoot. On the other hand, in Brooks Glycerin 19, these are just 2D textures for the design purpose. They don't serve any lateral support. That's why Glycerin shoes are suitable for slow-speed runs.
Lacing System
Brooks Glycerin 19 features oval laces to provide a balance of compression and tightness across the foot. On the other hand, Brooks Adrenaline GTS 21 features flat laces. Flat laces have a more surface area for the same length, due to which they distribute the pressure more evenly across the foot. With flat laces, it will not feel too tight over the top of the foot.
Heel Collar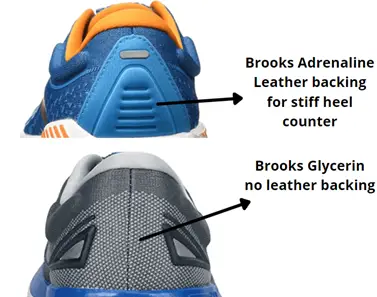 Brooks Adrenaline 21 has a firm heel counter with a leather patch on the back to lock your heels and avoid ankles rolling inward. There won't be any heel slip issues due to the stiff heel counter.
On the other hand, the heel counter of Brooks Glycerin is not so stiff. There are some reinforcements on the sides. But, they don't hold up and secure your foot for fast-paced running activity. If you go for fast pacing with longer strides, your heel may rub vigorously against the counter.
Toe Box Design
The shape of the toe box of Brooks Adrenaline is the same as the toe box of Brooks Ghost. It is deeper and wider as compared to the Brooks Glycerin. The toe box of Brooks Glycerin is not as roomy as that of Adrenaline. It is shallower and can cause bruising of your big toe.
Also, if you look at the below, you'll observe that the toe box of Brooks Adrenaline GTS 21 is more reinforced across the area of the shoes where your foot tries to hit the lining. This is done to prevent toe holes as the feet try to hit hard against the shoes when they overpronate or supinate.
For Brooks Glycerin 19, there is no such reinforcement over the toe area as these shoes are mainly used for slow-speed or casual running activity.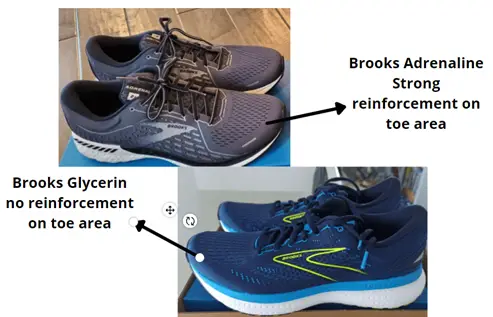 Tongue Design
Both Adrenaline 21 and Glycerin 19 shoes feature a gusseted tongue, which is fixed to the shoes for an improved fit. However, since people with high arches and instep prefer Brooks Adrenaline GTS 21, they find some problems in the shoes fitting as the tongue awfully rubs on their feet. There is very little space left between the tongue and shoe footbed, due to which the tongue might rub on your feet.
For a better fit, you can check my guide on the lacing technique of running shoes to improve the fit.
Cushioning
I found a significant difference between the cushioning of Brooks Adrenaline GTS 21 and Glycerin 19. The Glycerin has a full-length DNA loft cushioning on both the lateral and medial sides. DNA Loft is a combination of EVA foam, rubber, and air. It is too soft and provides maximum cushioning under the complete length of the foot.
The Adrenaline 21 has multi-density foam i.e. BioMoGo DNA on the medial side and DNA Loft cushioning on the lateral side. The combination feels firmer than Glycerin 19 but still provides decent comfort without feeling too soft or spongy. BioMoGo DNA is a gel-like material that is firm, responsive, and offers a great energy rebound during rigorous running activity.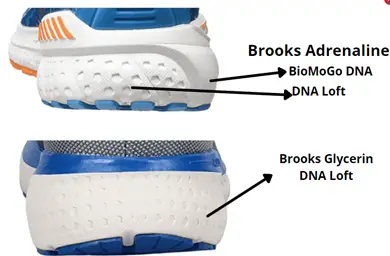 The heel-to-toe drop of Brooks Adrenaline 21 is 12mm. For Brooks Glycerin, the heel-to-toe drop is 10mm. The higher heel drop of Adrenaline shoes is great for heel strikers as they need more cushioning and shock absorption. If you strike with your ball of foot or land on your toes, Adrenaline GTS 21 might not be suitable for you as the high height of the heel could feel bulky for you. Furthermore, cushioning is lesser than the forefoot region of the shoes, having high heel drop. So, Glycerin 19 shoes are suitable for forefoot strikers.
It has been shown that the majority of long-distance (marathon) runners are heel strikers. Heel strikers need shoes with a high heel drop. In that case, Brooks Adrenaline GTS 21 are great shoes for you.
Stability
Brooks Glycerin shoes are solely made for slow-paced running activities. These are specially made for neutral runners for slow-paced running activity. On the other hand, Brooks Adrenaline GTS 21 is embedded with a Guiderail Stability system to overcome overpronation issues.
This video is great in which the guy is explaining how Adrenaline 21 can prevent knee pain due to overpronation.
Guiderail is a non-traditional stability system, which has a lighter weight as compared to the traditional medial post system in the shoes. A medial post is a plastic foam placed in the arch region of the shoes for lateral stability. Guiderail basically consists of rails running along both sides of the shoes to provide stability.
You can check out this video to understand how the Guiderail system works in running shoes.
However, if you're suffering from too much overpronation, I'll suggest you ask a podiatrist before buying Adrenaline GTS 21. Stability shoes like Adrenaline can either improve your running gait or make it worsen.
I found this review on Amazon by a person in which he mentions that his doctor suggested him these shoes to avoid twisting of ankles, which usually happens became of overpronation.

I found another comment on Reddit related to Adrenaline GTS and Brooks Glycerin in which the person is saying that Brooks Glycerin are for low or medium-paced runs.

If you want to check out other comments on a subreddit regarding Adrenaline 21 and Glycerin 19, you can check them here. The discussion on this subreddit would be useful for you to make the right decision.
Outsole Design
For Adrenaline 21 and Glycerin 19, the rubber material on the outsole is the same. The outsole is full of blown rubber for grip and flexed grooves for stability.
Although the rubber material is the same, Adrenaline 21 shoes feature more rubber on the outsole like Ghost 14.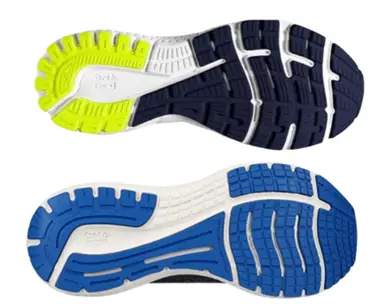 In the picture above, the upper one is the outsole of Brooks Adrenaline GTS 21. You can see that there is more quantity of rubber extending from the forefoot to the half of the midfoot region. For Brooks Glycerin 21, the rubber is limited to only the forefoot region on the lateral side.
Furthermore, if you look at the medial side, the rubber pattern of Brooks Glycerin 21, extending from the midfoot to the heel region, is pretty smooth. On the other hand, the rubber pattern of Brooks Adrenaline 21 on the same region of the outsole looks aggressive to ensure more grip at the high speed. That's another reason that people recommend Brooks Glycerin for slow-paced running.
However, as the blown rubber is soft, it would tend to wear faster due to the aggressive pattern as more friction will be generated.
Arch Support
The arch support of Brooks Adrenaline GTS 21 is more pronounced as compared to Glycerin 21. For the first time, this may bother you. Initially, you might feel pain under your arch or you may have blisters on your arch if it doesn't sit perfectly on it. But, according to some people, it becomes comfortable with time. If the issue persists, you can minimize this issue by wearing thick compression socks and replace the existing insole with your orthotic insert.
The arch of Glycerin 21 is pretty flat. So, the chances are that you might have to use orthotic insoles in them.
Brooks Glycerin 19 vs Adrenaline GTS 21: Bottom Line
Both shoes i.e. Adrenaline and glycerin can be worn by people with moderate arches and neutral biomechanics. If you require additional arch support or prefer firmer cushioning, then we recommend going with the Adrenaline GTS 21. However, if you're a neutral runner and your running stride is well-maintained, we recommend Glycerin 21 for slow-paced racing.