Are Doc Martens Non Slip? : A Detailed Review with Examples
If you work in a warehouse or restaurant and stand on your feet for hours at a time, then you know the importance of footwear that is slip-resistant.
You might have heard that Doc Martens are considered to be "the shoe of choice" for service industry workers. This blog post will explore whether Doc Martens are non-slip for the restaurant or other service organizations, and what other considerations to take into account when selecting shoes for work.
Doc Martens do have a certain amount of slip resistance but, compared to other shoes like Redback Alpines, they're only average when it comes to anti-slip technology. However, they do their job much better than other stylish shoes/boots with standard soles. Also, there are only a few Doc Marten Boots that are embedded with a specific anti-slip GripTrax technology to offer a certain level of slip-resistance to work in restaurants.
This is how the treads pattern of non-slip Doc Martens looks.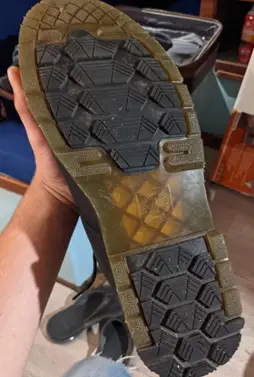 Also Read: Are Vans Non-Slip
My Way of Judging the Non-Slip Boots
To determine whether boots or shoes are non-slip or not, I always check for the following points.
Shoes are considered to be slip-resistant if they have textured soles. , try using shoes with better soles, such as those with a diamond-patterned tread.
The outsole must be made of rubber as it is more durable and offers better traction.
Slip-resistant boots have softer soles to grab the surface more firmly. Non-skid shoe soles are even softer for too oily surfaces. If the material is too stiff, it doesn't bend enough with your body weight to firmly grip the floor.
How Much Are Doc Martens Non-Slip?
Doc Martens 1460 boots are non-slip because the slip-resistant line of Doc Martens 1460 Boots is made of GripTrax outsole technology that has air cushions and provides protection against slips and falls on kitchen floors to keep you stable when things get messy. You can find GripTrax technology in 1460, 1461, and 2976 models. Furthermore, the AirWair design of Doc Martens outsole consists of air bubbles to make it flexible and cushion each step.
Logically, if you compare the sole of a Doc Martens to that of most regular shoes, it is easy to see why they're better at gripping surfaces.
The tread pattern on any good pair of boots with grip is designed to give the person wearing them as much traction and stability as possible and Doc Martens are no different.
Here's what a user of Non-Slip Doc Martens comments about them on Reddit.

Here's the text if you can't read it in the above picture.
I wear a pair of docs, I think they're the industrial version (non-slip/made for kitchens). They're really comfortable and have held up nicely to sous chef hours (70-80 a week). Had an issue where the insole would slip a little when I'd pivot, but I readjusted it with some super glue and it's great now. Been in them for 6 months now, holding up nicely, and a very little break-in is needed.
In the picture below, you can see the difference in the soles of the non-slip line and the original line of Doc Martens. The upper one is the non-slip line of Doc Marten Boots.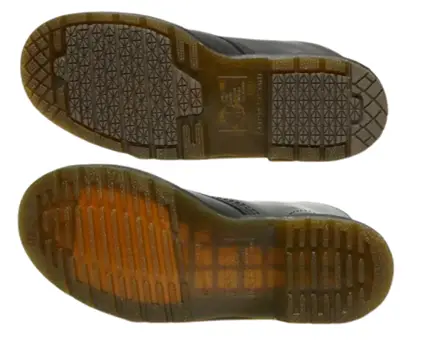 Here's what a user of non-slip Doc Marten Boots says about them.
I just got a pair of nonslip 1460s for my food service job and they're great! I wouldn't wear my original ones to work because I don't want to get them dirty from all the grease and what not and also the soles on my original docs are pretty worn down. The non-slip line was made specifically for people working 8+ hour shifts and so far my feet hurt a million times less after work. I would definitely recommend investing in their nonslip line it's worth it.

Reddit
Also, if you look at the side view of both 1460 style of Doc Martens boots in the below picture, you'll observe that the slip-resistant line 1460's have a more streamlined outsole so that it grips the surface firmly. The more streamlined sole will help to provide better contact of its aggressive treads with the ground and generate more friction for enhanced slip resistance.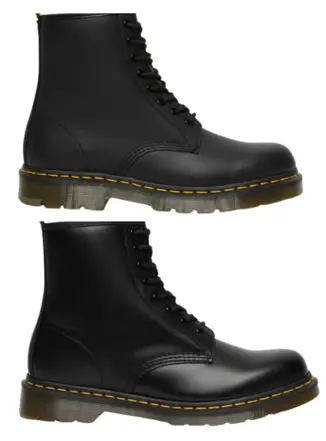 In the picture above, the upper one is a non-slip line of Doc Martens. Apart from a more streamline sole in the front area, non-slip Doc Martens have a thicker sole to make them more durable and comfortable for long hours standing.
Also, if you look at the wedge design of both shoes, it is a kind of flat shape for non-slip Doc Martens. In other words, the heel lies exactly parallel to the surface i.e. they have a 90-degree non-slip heel. This is the same heel shape that you normally find in work boots. For Doc Martens Originals line, the heel is a bit shifted to an angle. This reduces the friction force between heel and ground, which results in a lesser grip.
Is There Any Downside of Non-Slip Doc Martens?
Although non-slip Doc Martens have great slip resistance due to the aggressive tread pattern built up on the heel and forefoot region, you have to be careful while standing on too greasy or oily surfaces. Some oil stains are fine, which are always there in the kitchen while cooking. But, if there are too many spills, they would pile up in the spaces between the treads. Moreover, Non-Slip Doc Martens leave some footprints if the floor is too wet.
Moreover, non-slip Doc Martens may not help with syrup spills, milk cap, ice cubes (if you are working in a Barista Cafe). Such types of fluids pile up on the bottom of the sole and make it lose its traction.
In short, avoid wearing non-slip Docs on surfaces spilled with thick or dense fluids.
I would suggest you go through these comments on Reddit for further clarification.
Are Non Slip Doc Martens Durable?
Non-slip Doc Martens are durable enough to withstand your body weight while standing all day long. The leather is easier to clean with a wet towel to make them brand new.
However, the leather is a bit hard and can take some time to break in. So, before wearing them to work, walk in them for few days in your house.
Must Read: Doc Martens Sizing
To make Doc Martens break in faster, wear thicker socks so that you can avoid blisters and foot pain. Also, if you are looking to keep Doc Martens pretty new, purchasing wax is always a good idea. You can check out this thread on Reddit for more details.
Moreover, some users have reported that the sole of Doc Martens may start splitting before the leather falls apart. So, shoe glue is your best friend in that case. You can also check out this video if your Doc Martens soles start splitting.
You can simply use the hot knife. By inserting it in the crack, it melts the rubber to fill the gap.
Are Originals Doc Martens Non-Slip?
Doc Martens Originals line of shoes is not enough non-slip to wear on wet surfaces. The rubber material of Regular Doc Martens is the same, but they don't have GripTrax treads pattern on the outsole, due to which they don't provide slip resistance like Non-Slip Doc Martens.
Moreover, Regular Doc Martens can't withstand the abuse of the kitchen. Their leather quality is different from the Slip-Resistant Dr Martens, due to which it doesn't hold up well against the floor cleaners.
Once a guy also slipped in regular Doc Martens in a coffee bar. I have attached the snapshot of his comment below.

How Do You Keep Doc Martens from Slipping?
There are different ways to keep Doc Martens from slipping. These include:
Scuffing the sole with sandpaper
Using traction pad and sprays
Wearing thick socks
Using double-sided tape on the bottom of your soles to keep them from slipping
You can also check out my article on how to make shoes non-slip for work to learn about all the methods of making shoes slip-resistant in detail.