Get These Shoes for Your Knock Knees
Knock knees are a condition that is caused by the leg bones being too close together. It's not something you're born with but can happen as you age or if there were issues in utero. Knock knee problems are more common among athletes, runners, and people who spend most of their time on their feet. This blog post will discuss the best shoes for knock knees for people so they can still be active without pain.
For knock knees, shoes with proper fitting, sturdy heel collar, and stability are your best bet. You can also use custom orthotics for a stable and corrective stride.
What Causes Knock Knees?
Knock knees, also called genu valgum, is a condition marked by bowed legs or knock-knees. Knock knees usually develop before age 5 and become more noticeable during the toddler years.  They are usually straightened by the time a child is between 5 and 7 years old.
Knock knees can be caused by any of these things:
Genetic factors
Low birth weight or prematurity
Limb deformities, including bowed legs or other leg abnormalities
Physical injury to the knee cap (patella)
Neuromuscular problems such as cerebral palsy
Obesity can also lead to knock knees or gait deformities. This usually happens in people with flat feet
If your child has knock knees, you should have them checked by a doctor so that they can be examined. Your doctor will usually diagnose this condition when they are between 3 and 6 years old.
If your doctor suspects that there is another reason for your child's knock knees, they will send you to an orthopedic surgeon. An orthopedic surgeon is a doctor who specializes in treating problems with bones and muscles.
Surgery may be necessary, especially if other conditions are present. A child's legs should be straightened to the extent possible before growth begins (at about age 3 years). This process is often done gradually over time with serial casting.
Growth modification procedures such as an Ilizarov apparatus might also be used during this period of growth. If surgery is not done, the deformity will worsen until adulthood.
Other treatments that can help treat knock knees include shoe inserts, stability shoes, and physical therapy.
Can Adults Have Knock Knees?
Yes. Adults can also be affected by a slight knock knee condition. In adults, knock knee, developed in childhood, tend to worsen typically due to underlying arthritis (osteoarthritis or rheumatoid arthritis) rather than developmental abnormalities.
The main complaint that brings adult patients to their doctor is typically pain or swelling at either the front of the knee (the patella) or just underneath it. This is due to cartilage breakdown in these areas.
As people age, most will develop arthritis of the knee which results in pain, swelling, and loss of range of motion. This is especially true with obesity, previous injury, or previous surgery at the knee.
Rickets problems can also lead to knock knees in adults. There is a deficiency of vitamin D as we become old. The bones of the legs are weak and malformed causing them to bow out.
Can Flat Feet Cause Knock Knees?
The pronation (posture misalignment) due to flat feet causes the legs to bend inward. This causes a forward tilt in the hips and an outward twist of the knees. It is not normally a self-correcting condition, so can lead to a knock knee deformity.
Also Read: Dress Shoes for Overpronation
Best Shoes for Knock Knees Reviews
After tons of research, here are the best walking and running shoes for people with knock knees.
Brooks Addiction 14 – Best Running and Walking Shoes for Knock Knees
The Brooks Addiction 14 is a motion control shoe for heavy runners and individuals with flat feet. The Brooks Addiction is fine-tuned to offer overpronators the perfect blend of cushioning and stability while delivering superior comfort and protection from impact on long training runs or marathons.
Just like its predecessor, Addiction 14 has enough support and stability to protect your feet even if you're a supinator. Yet, this model features an improved upper that's lighter in weight but more stable at the same time.
Brooks Addiction shoes are known for providing the maximum support to maintain your gait. They feature a diagonal rollbar support system that consists of a BioMoGo DNA extended from heel to forefoot region to maintain your running or walking gait.
Furthermore, as compared to other Brooks shoes, Addiction 14 has a lesser stack height, which is good for runners who need an extreme level of stability. The closer the sole to the ground, the more stability shoes can provide.
Here's what customers are saying about Brooks Addiction 14 shoes on amazon.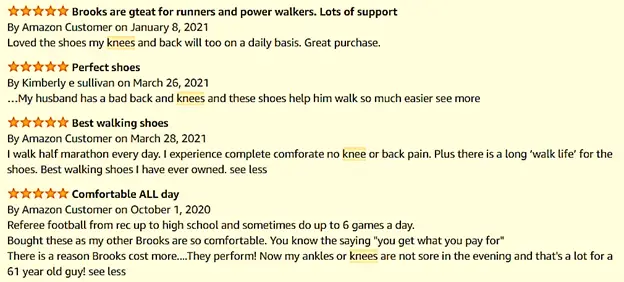 Brooks Addiction 14 shoes feature synthetic overlays on the upper to provide midfoot support and stability. You can lace them up using the traditional lacing system.
The midsole has a full-length DNA Loft Cushion System that delivers maximum energy return and durability. DNA Loft is a very soft foam developed by Brooks. It is made of rubber, EVA foam, and air to make a blend of soft cushioning, energy return, and bouncy stride.
So, if you need an all-rounder shoe that you can wear in running and day-to-day activities, you should not ignore Brooks Addiction 14 shoe pair. I'm sure, you will love its stability.
Saucony Omni 19 – Lightweight Supportive Shoes for Knock Knees
The Omni lineup of Saucony comprises shoes for every type of runner: overpronators, mid-foot strikers, and underpronators. The thing I like about Saucony Omni shoes is that they have only 8mm of a heel-to-toe drop to achieve a more natural stride.  
If your calves are stretchy, you can easily go with Saucony Omni shoes. High-heel drop shoes are suitable for those who have too tight calves and can't push their body weight forward.
Like Brooks Addiction, Saucony Omni shoes also feature a medial post system for motion control.
According to my research, the Saucony Omni 19 is designed with many features that make it perfect for both everyday training and the long run. For example, it incorporates FORMFIT technology which provides a dynamic fit by adapting to the shape of your foot. This allows runners and walkers a more natural toe-off and improved alignment.
You can check out this video to understand how FORMFIT of Saucony shoes actually works.
Also, the full-length EVERUN TOPSOLE offers the same level of comfort and responsiveness as Saucony's premium EVA foam, but with increased durability. Also, EVERUN is lighter in weight than normal rubber but still supplies optimal energy return.
Lastly, the Triflex outsole gives you excellent ground contact and stability. This increases the force dispersion over a greater surface area while allowing more flexibility.
Vionic Walker – Best Corrective Walking Shoes for Knock Knees
Vionic by Orthaheel shoes are orthotic-style shoes that provide specialized foot care engineering, subtle styling, and exceptional durability to create comfortable and supportive footwear that is also ultra-stylish.
They are well-known for their corrective and orthotic soles that provide support, stability, and motion control; exactly what you need to prevent pain in the knees, feet, or hips caused by knock-knee syndrome.
Vionic Walker shoes are specifically designed for the workers with stability shoes while standing all day during their job.
The anatomically designed insoles feature a deep heel cup that stabilizes the heel into its natural position during weight-bearing activity. The 0.5 inches of the wedged heel is clinically proven to encourage a more optimal weight distribution, help control medial and lateral overpronation, reduces knee pain associated with knock-knee gait, and may reduce lower back pain.
Orthotic innersoles can reduce, and even eliminate problems caused by bad posture, overpronation, and supination – reducing lower back pain and leg ache.
You can check out this video to analyze how deep the heel cup of EVA sockliner in Vionic Walkers is.
Vionic shoes are unique because they use an Active Motion Technology (AMT) that mimics your body's natural biomechanics to improve comfort and encourage a healthier gait.
Here's what customers on amazon say about their relief from knees issues by wearing Vionic walker shoes.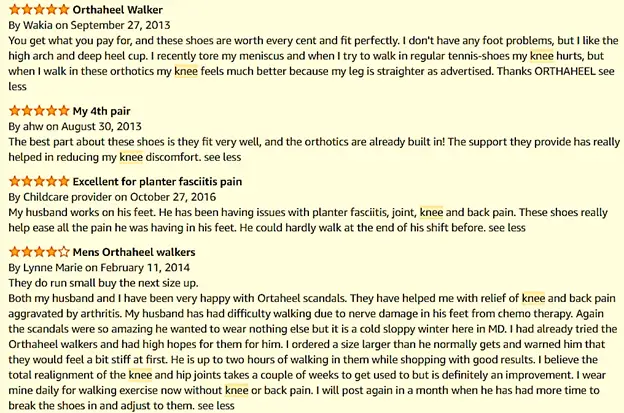 Vionic shoes are also certified under APMA that attests to the footwear for its podiatry features to take care of foot health. The dual-density EVA midsole technology improves balance and stability.
Vionic shoes also feature a synthetic leather upper with breathable mesh lining that allows feet to ventilate naturally while absorbing moisture inside your shoe slowly evaporating it which prevents your socks from getting wet.
ASICS GTS 2000 – Best Affordable Shoes for Knock Knees
If you want the most affordable stability shoes to prevent strain on your knees and keep them from rubbing together, ASICS GTS 2000 is the best option for you. The shoes have a 10mm heel drop, which is great for heel strikers.
This shoe features the latest technology such as Dynamic Duomax Support System (DDS), FlyteFoam™, GEL™ technology cushioning system, external heel counter, and Guidance Trusstic System which all work together to provide you with a comfortable, lightweight, and high-performance shoe. All of these traits in one shoe are vital for runners who suffer from knock knees.
The Dynamic Duomax Support System effectively stabilizes the feet while running by giving more support in the midfoot area. The Guidance Trusstic System design makes the outsole more durable while simultaneously allowing for reduced weight.
Furthermore, the narrow midfoot and broad forefoot of the two-layer mesh upper allows your toes to spread out while keeping your arch in place.
The ASICS GT 2000 also features an Impact Guidance System which is meant to make your gait cycle smooth throughout your run. Lastly, the FlyteFoam technology used in this shoe takes much less time to return to its original shape when compared to traditional foam materials due to its quick response to stress absorption.
You can also check out this video to understand the DuoMax and Trusstic System technology, and how they can avoid knocking knees.
What Shoes Do You Need for Knock Knees
The overpronation when running leads to different kinds of injuries such as shin splints and joint pain. However, there is another problem caused by overpronation: knock knees.
This occurs when your ankles invert and collapse inward causing your lower legs to rotate toward one another during the gait cycle that makes your toes point inward or outward too much which can cause knee pains and other problems in the legs such as chondromalacia patella (knee cap pain).
The best shoes for knock knees are those with proper support and stability features. It's important because they reduce the tendency of ankle inversion resulting from excessive foot pronation during the gait cycle. Also, make sure the shoes are breathable because this reduces moisture buildup which causes the unpleasant odor.
You should also remember that knock knees don't just result from shoes that have poor support and stability features. Your gait cycle is another factor that can contribute to the condition. If you intend to buy new shoes, please make sure they are suitable for your running style.
If you're a heel striker, choose shoes with a higher heel drop. Running shoes with greater than 10 mm heel drop are the best to absorb the heel impact. However, in the long run, this could put a strain on the spine.
Also Read: Shoes for Scoliosis
Final Verdict about Knock Knees
Shoes can help, but the best solution is to correct your form as it can only help to prevent future injuries.
It is possible to do it at home because all you need are some exercises that improve muscle strength in feet, legs, hips. People with knock knees have super tight hip flexors that cause the knees to collapse inwards.
Stretching the hip flexors often will help you build a strong and flexible lower body, which will help compensate for some of the problems related to your feet. I would advise you to work out your glutes, outer hips, and posterior chain. Also, do the MYRTL technique often, banded walks, hip thrusts, etc.