7 Best Tennis Shoes for Bunions in 2023
As my top choice for the best tennis shoes for bunions, if you don't have time to read this whole guide, I recommend ASICS Gel-Dedicate 6 shoes. The shoes have a wide toe box and a flexible synthetic upper. Moreover, the stability structure in these ASICS shoes will prevent rolling of your feet during lateral movements.
Tennis is an amazing sport that you can enjoy with your friends and family. It is a great way to stay active and socialize, but it also becomes a painful sport for many people suffering from foot problems like bunions. Bunion can make you clumsy and can cause damage to the toes and joints. Furthermore, it can limit your ability to play sports like tennis.
Best tennis shoes for bunions should provide you with enough stability and cushioning to avoid painful impacts on the joints. Tennis shoes that fit well, do not have a pointy toe, and provide moderate support are the best shoe for bunions sufferers. They should be soft and flexible to avoid rubbing and irritating the sensitive skin around the bunion. They should also be designed to provide maximum support and protection.
So, after tons of research and asking several tennis players with bunions problems, I've put together a list of the 7 most comfortable tennis shoes for bunions. These tennis shoes for bunions are embedded with the latest stability and cushioning features to boost your performance on the court.
Some of those tennis shoes are specifically made for the tennis game, while other tennis shoes are made for running purposes. But I have selected those options because they have wider and deeper toe boxes to accommodate the feet suffering from bunions.
Moreover, these shoes are stable enough to allow you to take quick directional movements. These shoes will be completely comfortable on your bunion while also providing shock absorption, fitting comfort, excellent grip, proper arch support, and optimum cushioning.
So, without any further delay, let's dive in and discover detailed and unbiased reviews of our top picks. If you have a flat foot problem and don't want to leave your favorite tennis sport, you can read my guide on the best tennis shoes for flat feet.
How Do Bunions Affect the Performance of a Tennis Player?
Bunion is the inflammation of the joint at the big toe. It creates a bump on the side of your big toe joint.
The main symptom of bunions is pain or discomfort in the joint, redness, swelling, and also numbness that could be caused by corns on the top of your toes. This can make it difficult to walk for long distances, and stand for extended periods in a pair of tight-fitting shoes.
A bunion forms when the bone at the big toe joint and the nearby joints for other toes shift to the side, causing a painful and inflamed bump on your great toe.
Bunions are a deformity to the bone at the ball of a foot's base, and they cause pain when pressure is applied during everyday activities. Bunions may also lead to plantar fasciitis, which is an inflammation of the ligament on the bottom of your foot. This often makes it difficult for players to turn over their feet or push off during tennis.
Pain in your foot can be tough when you're playing sports like tennis that require quick reflexes and varied movements such as turning around quickly. Bunions can create discomfort throughout a match because athletes often have trouble turning over their feet without feeling pain in their affected area.
Bunions problem can be prevented by wearing a suitable pair of shoes with the right kind of support and stability and having a wide toe box. Furthermore, you can also use a toe protector to protect your toes from rubbing against the shoe lining.
How to Take Care of Bunion Feet?
Bunions aren't just a cosmetic problem. They might seem like a small issue at first sight but they can actually cause quite some discomfort if not taken care of in time. If you have bunions you probably have noticed that your big toe turns at an angle, bulging out on its side.
The pressure on the other toes can cause them to be squeezed into a cramped position, which is not at all pleasant or comfortable. Wearing tight shoes may exacerbate this condition even more by pushing the big toe against the ball of your foot.
Some people think that once they're born with a bunion there's no way they'll ever be able to stop it from worsening. However, although genetics might play a huge role in triggering the bunion, it's not something you should just sit back and wait for to get worse. Several simple measures are known to help reduce the discomfort caused by bunions.
One thing that can help is using special footwear which supports your feet properly. Wearing shoes with good arch support helps take pressure off the big toe joint while ensuring that you don't strain other parts of your feet either. This includes avoiding high-heeled shoes unless they have a wide enough sole to prevent squeezing your toes together.
You can also try out orthotic inserts. These are created specifically to make sure that all areas of the foot receive adequate support regardless of what shoes you wear.
Another thing that can help is to use a bunion splint which realigns your toe. A lot of people have said that these are really good at relieving the pain caused by bunions, sometimes even preventing further worsening of the condition. It's definitely worth looking into if you think it might help you out.
How I Selected the Best Tennis Shoes for Bunions – Top Features
Here is the list of the most essential features that I have checked while picking the best tennis shoes for bunions.
Roomy Toe Box – Comfortable tennis shoes for bunion pain should give your toes plenty of room to wiggle without having to jam them against one another. It should provide excellent protection against bruising, abrasion, pain, and pressure.
Wide Enough Instep – The instep should be broad and give your foot plenty of wiggle room – if not, then you'll probably need heel inserts or orthotics.
Arch Support – This means that your arch can be supported in a way where it is not pressing on the ball of the foot in any sort of way – this helps to relieve the pressure on the joint and bone of the foot where it attaches to the toe.
Stiff Enough Outsole – The sole should be rigid enough to withstand the usual wear and tear but soft enough that your toes are not squashed against the rest of the shoe.
Shock Absorption – You can also look for shock-absorbing materials like gel or foam pads in tennis shoes to help with easing aches and pains. The pressure-absorbing layer across the entire length of the tennis shoes helps eliminate pain and reduce pressure on bunions
Upper Material – The upper material of tennis shoes for bunions is made of two layers, a top leather layer, and an inner textile layer. The breathable textile mesh prevents your feet from moisture, and the leather layer provides lateral support and a secure fit. Here, my New Balance shoe choice is the exception as it is engineered from a special 3D mesh upper that also offers excellent support without any synthetic leather layer.
Best Tennis Shoes for Bunions Reviews
Here are my recommendations for the best tennis shoes for bunions.
1. ASICS Gel-Dedicate 6 – Good Tennis Shoes for Bunions and Hammertoes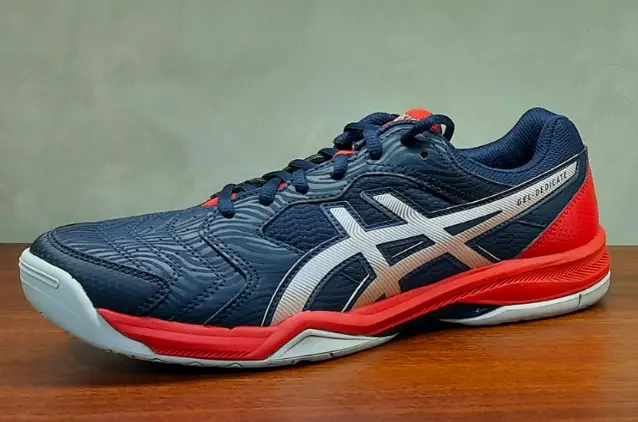 Special Features of ASICS Gel-Dedicate 6:
Gel-cushioning system for support and impact protection
Padded tongue and collar
Trusstic System technology for a better stability
ASICS Gel-Dedicate 6 are some of the best tennis shoes for people with bunions who want to play tennis on hard concrete surfaces due to their extra cushioning and tough lasting in the upper for stability. The shoes are designed to fit the foot as close as possible to promote healthy foot function and comfort.  They possess some great features that make them suitable for casual to an intermediate tennis player.
Upper
The shoes are made of a mesh fabric having nice synthetic leather overlays with perforations to keep your feet breathable. As compared to other ASICS models, these shoes heavily rely on synthetics. These synthetic leather overlays provide additional support, stability, durability, and protection in the critical areas of the foot. Moreover, there is a special lasting at the upper sides that offers excellent lateral support for side-to-side movements.
Also, the toe box is designed to fit your toes so that it will not cause them to be smashed or hang over the edge. The roomy toe box of the shoes reduces friction against sensitive areas due to toes rubbing together.
Midsole
The shoes have a midsole made from a dual-density EVA foam that is lightweight, flexible, and durable. EVA foam has excellent shock absorption capacity that attenuates impact from hard concrete surfaces of tennis courts and protects your foot. Furthermore, the rearfoot and forefoot gel cushioning system provides shock absorption, comfort, and support. This adds a layer of protection under your foot, aligning pressure in the midsole and providing shock absorption.  It delivers great agility on the court, stability on cuts, and optimal comfort.
Outsole
The shoes have a durable hard rubber outsole to provide excellent traction on hard concrete floors of tennis concrete. Furthermore, the shoes feature the innovative Trusstic System Technology in the midfoot of the outsole, which is designed to reduce the weight and increase flexibility in support areas. It provides a soft feel yet excellent stability, protection, and cushioning for runners looking for a high-performance ride.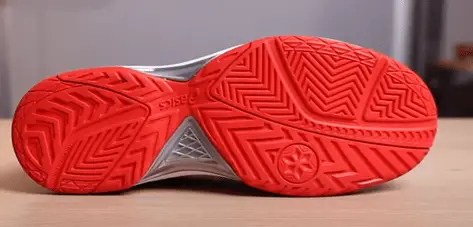 One downside of ASICS Gel-Dedicate 6 tennis shoes is that they need to breathe more as many customers have complained that their feet get a little warmer inside the shoes.
What I Liked
Durable and tough synthetic upper to provide stability and support
EVA cushioned midsole
Gel cushioning in rearfoot and forefoot for further shock absorption and smooth transition of weight
Wide padded toe box
Good ankle support
What I didn't Like
Suitable for low to medium arches
Breathability is not so good
Requires break-in period to fit perfectly around the ankles
2. Adidas Adizero Ubersonic 3 – Breathable Tennis Shoes With Wide Toe Box for Bunions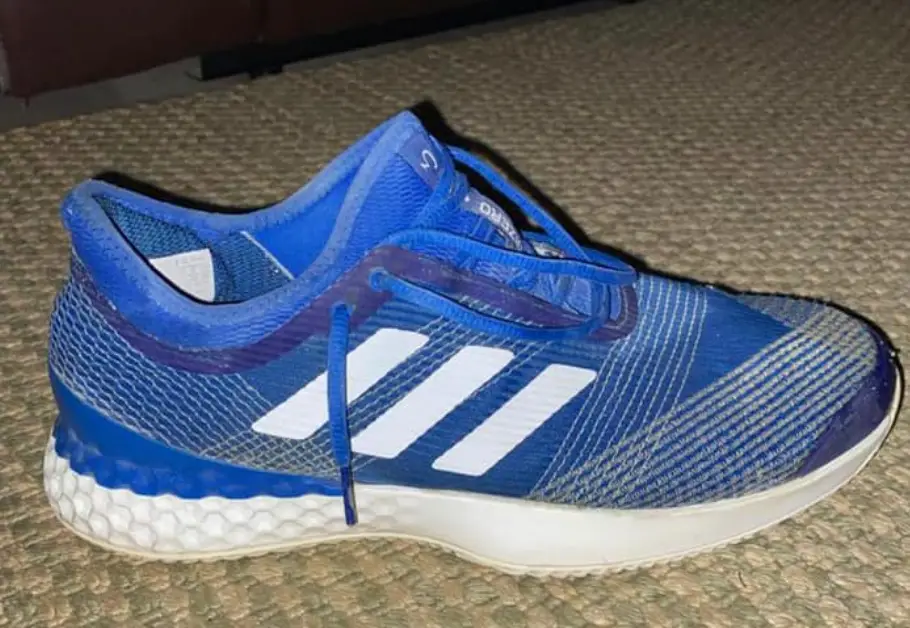 Special Features of Adidas Adizero Ubersonic 3:
A blend of adiPrene+ special foam and PU foam in the midsole
Textile upper
Sock-like fit
Adidas Adizero Ubersonic 3 is a comfortable pair of tennis shoes are made specifically for tennis players with bunions to play on clay courts. The shoes have a slightly flatter base as compared to the previous version for increased stability to play tennis on soft clay surfaces.
Upper
The lightweight mesh upper of the shoes is like a treat and really contributed to the on-court performance and breathability of the shoes. The Upper is in the knit structure of yarn fabric for the ultimate fit for the tennis player. It also draws moisture away from the foot, making them cool and dry on the inside. Furthermore, the wide toe box of shoes is spacious enough to offer plenty of room for your toes to wiggle easily without being crunched.
The flexion fit upper offers a snug fit allowing you to move freely in it. Moreover, its breathability improves air circulation around your feet and keeps them aerated. The bootie construction and padded collar give a glove-like fit and feel highly supportive around the ankles when taking quick turns.
The SprintFrame construction of the shoes combines the lightweight feel of a mesh upper with support and stability by keeping the wearer's foot closer to the ground and allowing quick directional changes on clay surfaces.
Cushioning and Midsole
Furthermore, the ultrastable, lightweight polyurethane frame surrounds the foot for an extremely snug and secure fit. It has an excellent compression-resistant property to provide support to the foot for quick side-to-side movement. In addition to that, the shoes have a new adiPRENE+ (elastic cushioning) in the forefoot for maximum impact protection, superior cushioning, and durability.
Outsole
Lastly, the shoes feature a rubber outsole with a zigzag herringbone pattern to prevent the clay from getting lodged in the outsole and offer better traction when you change direction rapidly as the clay shifts. This traction will ensure that you'll have a firm grip and stability as you run around the court.

The downside of Adidas Adizero Ubersonic 3 is that the outsole durability is not so good. After some time, it starts getting separated from the upper.
What I Liked
Excellent breathability
Extremely Lightweight
Bootie construction to support ankles
Great support and cushioning due to PU midsole and adiprene+
Excellent traction and grip of the outsole due to zig-zag herringbone treads pattern
What I didn't Like
Very low arch support
The shoes fit slightly longer
Durability of the outsole and toe guard is not so good
3. New Balance 608 V5 – Cross Training and Tennis Shoes for Bunions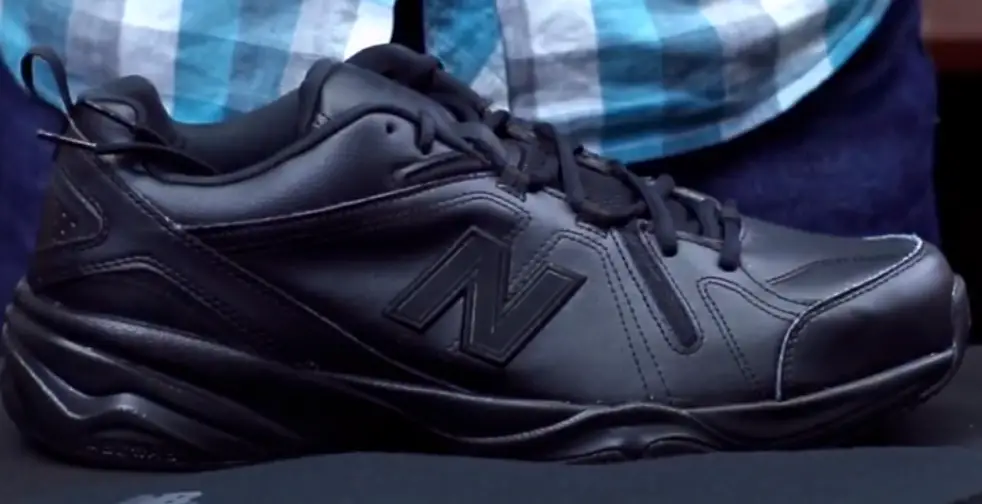 Special Features of New Balance 608 V5:
Dual-density collar for ankle support
ABZRORB cushioning, that is similar to EVA foam but with better support
New Balance has designed shoes that are explicitly designed to play tennis. You can have a look at them from here. After extensive research, I found that those exclusive tennis shoes by New Balance are not for tennis players like you who are suffering from bunions as they'd crunch your toes due to their tight toe box. Otherwise, those shoes have excellent cushioning and stability and perfect for people with narrow feet and free from bunions.
So, after searching for different alternatives, I have found New Balance 608V5 a perfect pair for people with bunions. Although these shoes are designed for cross-training activities like jumping, weight lifting and running, etc. But, as a tennis player with a bunion problem, you can also wear them to play tennis on a hard concrete court due to their excellent stability, durability, cushioning, traction and grip.
Upper
These shoes possess exceptional flexibility without compromising support. The upper of the shoes is made of 100% durable leather with a breathable mesh tongue to offer a glove-like secure fit and comfort to your feet without causing aching them. Moreover, there are multiple tiny holes on the upper to allow airflow and keep your feet breathable. Furthermore, the deeply padded heel collar cradles your foot while taking quick turns on a hard concrete tennis court.
Furthermore, to prevent bunions, the shoes have a wider and deep toe box that allows your toes to spread out naturally while you play tennis. You can stay on your toes longer and get more power from the ball of your foot towards the net.
Midsole
To provide cushioning so that you can play tennis on hard concrete without feeling impact, the shoes feature an injection-molded lightweight EVA midsole that has an excellent shock-absorbing tendency to offer a nice feeling underneath your feet.
In addition to that, there is added cushioning in the form of ABZORB crash pads in the heel region. ABZORB pad will give your feet more support on each step and less pressure on the heel with each impact, so it gives a more soothing feeling when walking or running.
Outsole
Lastly, the shoes feature a durable rubber outsole with flexed grooves in the forefoot region to improve grip, traction, and stability for quick mobility while playing tennis. The comfort and flexibility of the outsole will enable you to move with less limitation. You will be able to cut faster and increase your velocity.
Also Read: How New Balance Shoes Fit
What I Liked
Great durability
Lightweight
Great cushioning
Great comfort and support underneath the heel due to ABZORB crash pad
Nice stability due to PU shank in midfoot
What I didn't Like
Moderate arch support
Breathability is normal
4. Under Armour Charged Assert 8 – Stable Running and Tennis Shoes for Bunions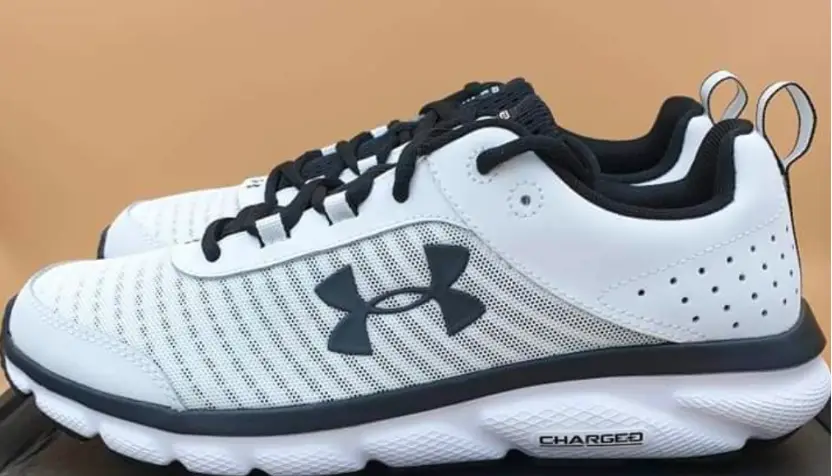 Special Features of Under Armour Charged Assert 8:
Dual leather overlays for a supportive fit
Durable outsole with flexed grooves
Under Armour's premium charge cushioning technology
Under Armour Charged Assert 8 shoes are specially recommended by one of my friends who tried these shoes to play tennis in addition to running. After testing them for tennis for some days, he was amazed by their stability as he felt his trunk much more balanced due to lower ground contact. These shoes are great to play on grass tennis courts due to their flat bottom and excellent grip.
Upper
The breathable textile mesh upper of the shoes lets your feet breathe as your rock out through your match. This stretchy sock-fit upper locks onto your foot while providing ultimate comfort. Moreover, synthetic leather overlays are placed in the key areas of the forefoot region to provide structural support, durability, and protection of the foot while taking quick directional changes. In addition to this, the shoes feature a rigid heel counter to offer a secure fit and support to your foot and avoid uncontrolled movements.
Furthermore, the shoes possess a wide forefoot that encourages your toes and feet to move naturally without constriction or pinching. The front part of the shoe is stabilized to ensure that your toes don't feel as though they will go through the material during sudden forward stops.
Midsole
The shoes feature a CHARGED cushioned midsole that provides shock absorption and responsive cushioning. This allows you to move swiftly while playing your game like a pro. Charged cushioning technology is made of compression-molded foam that gives you each step the responsiveness, comfort, and stability you need.
Outsole
Lastly, these shoes have a solid rubber outsole that delivers improved durability on hard courts. The rubber is placed strategically on the high-impact areas to provide more durability with lesser weight. With this outsole, tennis players like you will enjoy improved, more powerful shots while also enjoying excellent comfort and stability throughout the game.
The downside of Under Armour Assert shoes is that the heel collar is not padded, due to which it frequently rubs with the back of the ankle. furthermore, it has a pretty flat bottom, due to which it is not suitable for high arches.
What I Liked
Lightweight design
Great stability and support due to lower bottom and synthetic leather overlays
Wider forefoot
Excellent grip
5. Nike Men's Air Monarch Iv (4e) – Durable Cross Trainer and Tennis Shoes for Bunions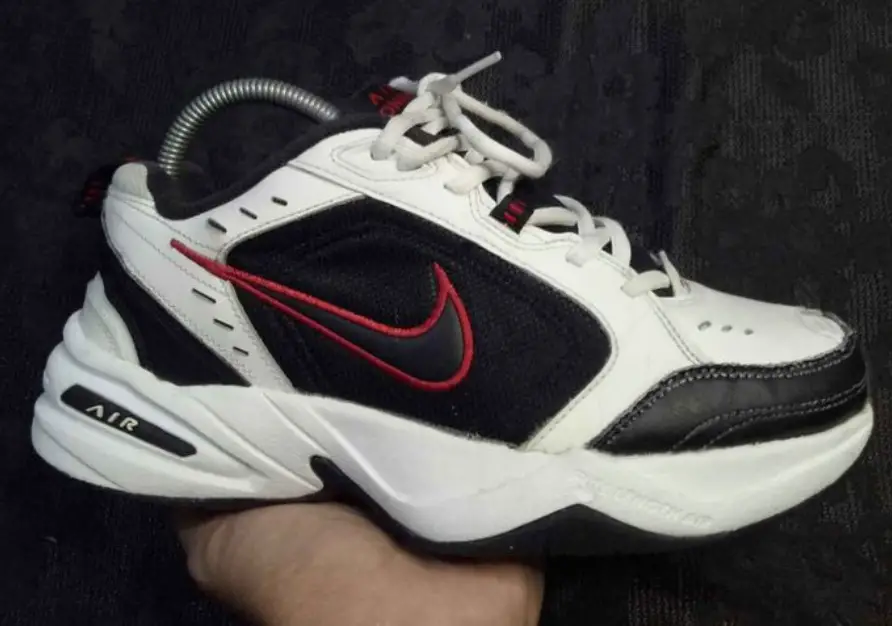 Special Features of Nike Men's Air Monarch:
Strong leather upper
Air-sole unit to keep them lightweightm while ensuring a sufficient support
I have included Nike Men's Air Monarch shoes in my list of the best tennis shoes for bunions because they offer good stability and support to play tennis on clay courts. These are built for stability and comfort with a wide, contoured forefoot and soft ankle collar. Originally, these shoes are designed for cross-training activities; but you also wear them to play tennis on softer surfaces like clay due to their wider bottom and stiffer upper to take quick side-to-side turns.
Upper
The shoe's upper is made of stiffer synthetic leather, having perforations on the toe box to allow airflow and prevent your feet from stinky moisture. A major portion of the shoes is covered with leather that provides lateral support to your feet and keeps them secure as you move around the court. Furthermore, the shoes' low-cut design allows freedom of movement for taking quick side-to-side turns. Also, the shoes are heavily padded inside to provide superior ankle support and comfort.
In addition to that, the shoes have a deep and wide rounded toe to relieve pinching on your toes and allow you to spread out your toes freely. The extra space in the toe box means you'll have more room for your bunions.
Midsole and Cushioning
As far as cushioning is concerned, the midsole of these shoes is made from Phylon foam material that offers long-lasting cushioning while keeping you stable on your feet. Phylon is made by the heating and compressing of EVA foam pallets, resulting in excellent compression-set properties with great shock absorption capacity to provide support underneath your feet. Furthermore, the midsole is pressurized with the air across the entire length responsible for absorbing shock and distributing it to the rest of your foot.
Outsole
Lastly, the shoes feature a non-marking rubber outsole with deep flex grooves for traction control and enhanced movement. There is a pivot point at the ball of the foot that allows smooth and quick transitions and uncontrolled movement of your foot. Also, the shoes do have an odd sort of extension to the outer profile of the tread/foot area that also helps with the stability for taking quick directional movements.
The downside of Nike Air Monarch shoes is that excessive stitching has been done on the upper for better durability. But, this sometimes irritates the feet. So, you would have to look for thick socks to save your feet from that kind of irritation.
What I Liked
Great ankle support due to thickly padded collar
Lightweight
Nice stability and supportive structure
Great cushioning
Grippy outsole
What I didn't Like
Excessive stitching is done on the upper
Not so breathable
6. Brooks Ghost 13 – Lightweight Running and Tennis Shoes for Bunions and Arch Support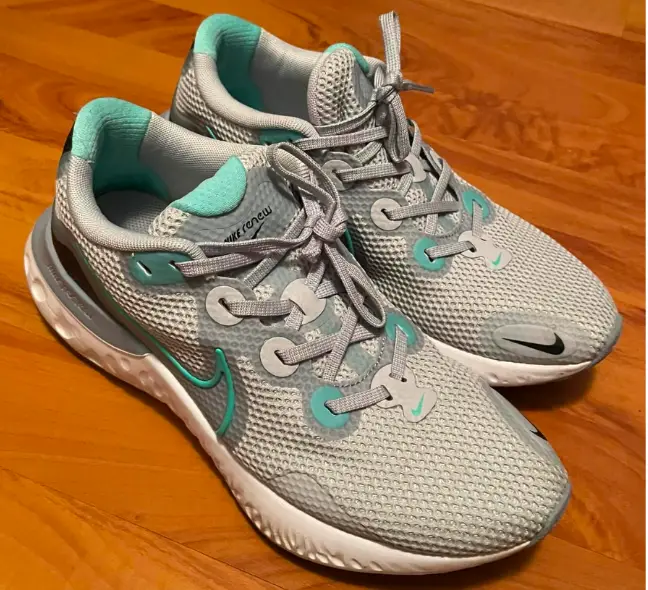 Special Features of Brooks Ghost 13
3D Print upper technology
Brooks exclusive DNA loft Pad technology for cushioning and support, while keeping them lightweight
Brooks brand has always amazed me by making shoes that possess an extremely lightweight design, supreme comfort, massive support, wider toe box, and superior cushioning. Keeping this way, I've found Brooks 13 shoes perfect for tennis players who need a lot of support and cushioning for their feet. Originally, they are running shoes, but they offer all support, stability, fit, and grip you need to play your best tennis game.
Upper
The unique 3D stretchy upper of the shoes flexes in all directions to offer a customized and comfortable fit without rubbing on your feet. Moreover, the breathability of shoes is excellent as they keep your feet cool and fully aerated. Furthermore, the shoes are designed to flex and bend in critical areas to prevent common injuries caused by overstriding. Also, the shoes have a roomy toe box that creates space for your toes to not only breathe comfortably but wiggle and move around more when wearing your shoes.
Cushioning and Midsole
To provide sufficient cushioning, the midsole of shoes is made from a blend of BioMoGo DNA and DNA LOFT PAD that delivers a great deal of cushioning and support. The midsole is dynamic enough to adapt with your foot helping to keep joints from stiffening up.
BioMoGo material brings a balance of flexibility, cushion, and springiness in one performance-engineered package as it provides your feet with a soft, springy cushioning and can boost your gaming performance. On the other hand, DNA Loft technology delivers protection and comfort using EVA foam, rubber, and air and provides you with more powerful strides.
Outsole
Lastly, the segmented rubber crash pads of the outsole can lift your game with integrated support and provide excellent grip and extra cushioning for high-impact zones. These rubber pads are less prone to wear and tear in high-impact zones, which can help extend the shoe's life.
Also Read: Brooks shoes sizing and fit
What I Liked
Extremely lightweight
Excellent cushioning and springy feature
Great stability due to extended DNA loft pads
Excellent grip
High arch support
What I didn't Like
Do not provide sufficient ankle support; heel padding is thin
7. Altra Intuition 1.5 – Women's Flat Bottom Running and Tennis Shoes for Bunions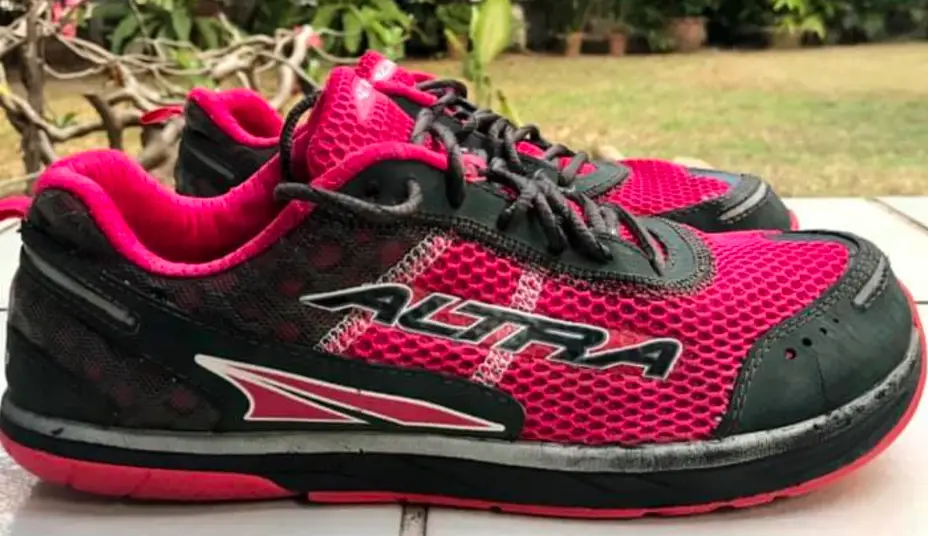 These Altra Intuition 1.5 shoes are specifically designed for women runners and tennis players. They have an anatomical, wide and comfortable forefoot region due to which I'm recommending these shoes if you are suffering from bunions, and don't want to leave your favorite tennis game due to this issue. Furthermore, the shoes keep your foot closer to the ground, which is a good sign regarding stability. The flat bottom makes them suitable to play tennis on the grass courts.
Upper
These are the bestselling fully-cushioned, zero-drop shoes with extra room for bunions, over-pronation, and hammertoes. They feature a breathable mesh upper with a synthetic overlay that molds your foot's shape to support a secure fit. A leather stitching wraps the heel counter and extends to the midfoot, covering the lateral side. This offers support and lateral stability that prevents your ankles from rolling and allows you to take quick side-to-side movements.
Also, the shoe's toe box is wide enough to accommodate your swollen toes perfectly and allows for better distribution of weight which wards off common bunions.
Midsole
The shoes' midsole consists of a double layer of EVA foam that offers cushioning and protects your foot from strong impact. The low-drop design of the midsole will give you an ultimate balance of lightweight, cushioning, and stability. Moreover, with the lesser stack height of the midsole, you can feel the ground and naturally roll through each stride to find your balance.
Outsole
Lastly, the foot-shaped outsole of these shoes is engineered to maximize flexibility while minimizing weight.
What I Liked
Great stability
Flexible and breathable mesh upper
Nice structural support due to synthetic overlay
Anatomical shaped outsole to offer comfort and allow to take quick directional movements
Nice grip due to rubber footpods at the bottom
What I didn't Like
Only suitable for people with flat feet
You'd have to buy one size up than your normal size
Best Tennis Shoes for Bunions (Value Verdict)
I hope you have found this guide on the best tennis shoes for bunions quite helpful. I've presented several options, each with unique features so that you can easily decide which shoes you should wear to play tennis with your bunions feet.
Some specific tennis shoes possess many great features to play tennis, but they don't have a wide-toe boxes due to which they are not suitable for tennis players with bunions. Due to this reason, I've included some choices of running shoes that also have durable outsoles and possess some great support and stability features to allow quick directional movements. I hope you'd love to buy them.
In my opinion, the best tennis shoes for bunions are the ones that allow your toes to be spread out as much as possible while simultaneously keeping pressure off of them – thus allowing you to function without any pain coming from your bunion or joint.