Best Tennis Shoes for Flat Feet in 2023
Flat feet, also called pes planus, is a condition where the arches of the feet are flattened. When the arches of the feet are flattened, the body is prone to falling due to a lack of balance. It is not surprising that people often suffer from flat feet. It is a condition that can affect millions of people. You shouldn't allow this problem to prevent you from enjoying the exciting tennis match on the court. So, getting the best tennis shoes for flat feet has become mandatory for this purpose.
People with flat feet need shoes that can help to improve the posture of the foot and the arch of the foot. The best tennis shoes for flat feet have firm support in the heel and provide comfort and stability for the feet. They should be wide enough to allow the foot to move freely and should have a deep toe box to provide comfort and stability.
Also Read: Best tennis shoes for bunions
How Does Having Flat Feet Affect Tennis Players?
Tennis is a sport that requires balance, agility, and quick reflexes. People with flat feet usually suffer from overpronation which causes the ankles to roll inward, resulting in pain and discomfort. This can cause the legs to feel unstable while walking or standing. This can make it harder to maintain a good balance while playing tennis. The result is that players may lose their form and have trouble with their movement.
In the below video, the guy has explained how a tennis player can lose his balance if his feet are flat.
When you play tennis, you must keep your knees slightly bent, your toes pointed forward and your feet parallel to the ground. This helps to keep your lower leg stable and prevent injuries. To improve your tennis game, you need to make sure that your shoes are comfortable and supportive. In addition, you need to wear the right size tennis shoes.
The arch of the foot plays a vital role in maintaining the stability of your entire body. It is a cushion that helps the feet to absorb the impact of the ground. Your arch supports your entire body while your legs are in motion. If you have flat feet, the arch of your foot becomes weak and unstable. This can cause knee, ankle, hip, back, and other joint pain.
How Can I Know That If I Have Flat Feet?
It's quite easy to know whether or not you have flat feet. Simply stand on a piece of paper and look at the shape of your footprint. The heel of your foot should make a straight line with the back of the other foot.
Another easy way to identify flat feet is by standing on your tiptoes. Have someone examine the backs of your feet while in this position. If the arch forms i.e. a slight lift in the middle of your feet, there are the chances that you have false flat feet. It means that your feet are flexible as the arch disappears when you stand. When you press the feet against the ground, the arch flattens, and when you lift your feet off the ground, the arch again starts forming.
Flexible flat feet can also cause overpronation (inward rolling of ankles). Flat feet can make walking, running, and even standing difficult. If you suspect that you have flat feet, take a look at your feet with the aid of a mirror. You should see your feet at a slight angle. When you look at your feet, they should be perpendicular to the ground. If they are angled, it means that you have a problem with your feet.
If you have flat feet, you can experience pain in your back and legs. The muscles and ligaments in the lower body will get strained, and the feet will start rolling inward. Your ankles will lose their ability to support your body weight, and you may develop an ankle sprain or muscle strain.
So, in the case of flexible flat feet, all you need is custom orthotics and supportive shoes to avoid pain and imbalance of your body during the abrupt side-side-side movements while playing tennis.
Best Tennis Shoes for Flat Feet
Here are the best tennis shoes for flat feet.
1. Wilson Rush Pro 3.0
Wilson Rush Pro 3.0 are some of the best tennis shoes for flat feet. Wilson tennis shoes are designed to provide excellent lateral support so that you can maintain good posture and increase your performance. You may be surprised I didn't put on ASICS Resolution tennis shoes for flat feet. Well, they are also good. You can buy them from here. But, after asking several tennis players, I concluded that Wilson Rush Pro 3.0 is as comfortable and supportive as ASICS GEL-Resolution shoes. But Wilson Rudh Pro 3.0 shoes are pretty lightweight, which is a plus point if you're a beginner and looking for lightweight tennis shoes for your flat feet.
The feature that makes Wilson Rush Pro 3.0 shoes stand out from the other tennis shoes is that they are noticeably lightweight. While decreasing the weight of these tennis shoes, it has been ensured that the durability and performance of the Wilson Rush Pro 3.0 are not compromised.
This is what Troy, a team member of tennis-warehouse, says about Wilson tennis shoes:
"I would have assumed that these Rush Pro 3.0s, which are lighter than any of the previous versions, would have sacrificed support and stability, but I was very pleased to find that these shoes locked my feet in place and supported my movement under maximum force."
My close friend has tried the Wilson Rush Pro 3.0s two different times, and both times, they were the most comfortable shoes. It's like the feet were surrounded by pillows. The upper of the shoes is optimally cushioned, and fluffy and locks your foot in place. The minimally-layered upper of Wilson tennis shoes on the first impression looks a bit flimsy. But, users say that the upper properly flexes and forms around the contours of the feet. This is really important for competitive tennis players as the flexibility of the upper enables it to easily adjusts to the movement of the feet without rubbing against them. Moreover, the upper of Wilson shoes ensures that the toes of feet are properly aligned.
Talking about the cushioning, the sole of Wilson Rush Pro is very squishy yet supportive, so there's barely any impact when playing. Wilson has named this cushioning as "DF2 type". DF2 cushioning has a heel drop of 9mm, which is good for flat-footed tennis players as having a higher drop relieves the Achilles tendon and the calf muscle.
One tennis player says, "I recently playtested the Wilson Rush Pro 3.0 and they are extremely comfortable, stable and relatively lightweight, and durable."
According to the users, the cushioning of Wilson tennis shoes lies towards the responsive end. Moreover, they have made a perfect trade-off between the cushioning of the shoes and their closeness to the ground for a stable side-to-side movement in a tennis game.
Talking about stability, Wilson Rush Pro 3.0 tennis shoes are embedded with TPU (Thermoplastic urethane) lateral support. This is highly important for flat-foot tennis players to prevent inward rolling of the ankles. 
Here's what a tennis player says about the lateral support of Wilson tennis shoes:
"I overpronate so I needed extra support. Good lateral support, not too heavy, not too light."
The combination of the very low-to-the-ground ride in the forefoot and the 4D Support Chassis of these Wilson Rush Pro 3.0 tennis shoes helps achieve a high level of stability. 4D chassis is a specialized arch technology that provides tennis players with greater overall stability and enables more explosive acceleration. I have shown the 4D chassis of the Wilson shoes in the image below: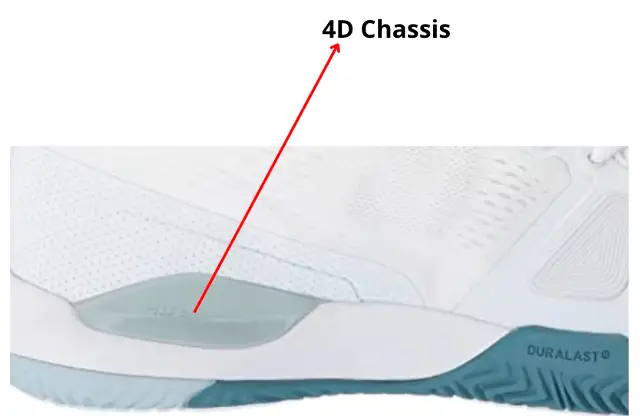 Lastly, talking about the durability of Wilson Rush Pro shoes, the rubber of the outsole has an excellent abrasion resistance that provides exceptional durability and traction on all surfaces, irrespective of your tennis game style. The traction of the outsole is a little sticky at first but maintains its grip on the court perfectly due to its gummy nature.
Now coming to the downsides of Wilson Pro 3.0 shoes, the heel might slip a bit for some users as there is no extra eyelet for lacing a heel lock. Moreover, if you have too wide a forefoot, you might face a toe-jamming issue in these Wilson Rush Pro 3.0 shoes.
This is what a user didn't like about Wilson 3.0 shoes:
"I've had the shoes for a few weeks now and they're killing my toes whenever I stop after a full sprint. Would not recommend it for this reason alone."
2. Adidas Solecourt Boost
Adidas Solecourt Boost can be another option for the best tennis shoes for flat and wide feet. Adidas tennis shoes have always won the top spot because of their durability. If you want tennis shoes for flat feet that can last longer, you can buy these Adidas Solecourt Boost tennis shoes. According to the users, Adidas Solecourt shoes are a great blend of Adidas Barricade and Adidas Ubersonic. Adidas discontinued the line of its legendary tennis shoes i.e. Barricade in 2019 and introduced these Adidas Solecourt. Fans of the Barricade line notice a familiar chassis and locked-in feel in these Adidas Solecourt shoes.
Adidas Solecourt Boost shoes are not a high top but have excellent ankle support due to a thick supportive material on the sides of the ankle area of the shoe.
Taking about the cushioning, the Adidas Solecourt tennis shoe features a boost midsole, which is the proprietary material of Adidas. This is a white bubble-like textured material that is made up of thousands of small pieces of TPU particles which are expanded into tiny pockets of air to offer excellent cushioning and a smooth ride.
If you closely look at the heel cup in the below image, you will notice that a thick, little plastic insert has been used to reinforce the heel cup of this shoe. A good firm heel counter helps lock the foot into the shoe and anchors it to the mid-sole. This is quite important as flat-footed people tend to overpronate and are more prone to ankle sprains during abrupt sideways movements in the tennis game. Also, a TPU chassis (black colored material right above boost midsole) is wrapped around the midfoot of these Adidas Solecourt shoes to offer the stability for quick changes in the direction of the player.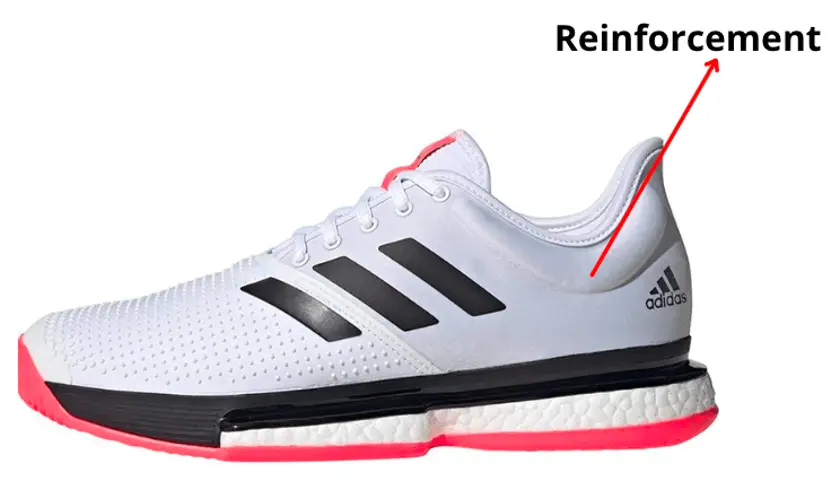 Lastly, the Adiwear 6 material has been used on the outsoles of these Adidas shoes that balance the qualities of the grip by finding sweet a spot that translates into confident movement on the court. 
Now, I will discuss the things I didn't like about Adidas Supercourt tennis shoes. First, they have a wide forefoot compared to the Wilson shoes. It is a positive point for those tennis players who have a wide forefoot. But, the players like me who have tiny feet will not feel comfortable in these shoes. Moreover, these Adidas shoes are a bit heavy compared to the Wilson shoes. For beginner tennis players, the above-reviewed Wilson shoes are fine. If can easily stabilize your posture in these heavy Adidas Supercourt shoes, I would definitely recommend them to you.
The next downside is the forefoot of Adidas Supercourt shoes is minimally cushioned which can cause pain in the ball of the foot. Well, according to medical professionals, people with high arches are more prone to pain in the ball of the foot. So, flat-footed people will be luckily safe from this issue.
You can watch a full review of Adidas Supercourt shoes in the video below:
3. ASICS Speed Solution Flytefoam 2
Whenever someone talks about the best tennis shoes for flat feet, ASICS tennis shoes always have a sweet spot. ASICS Speed Solution FF2 tennis shoes are almost similar to the Wilson Rush Pro 3.0 in terms of performance and stability. I'm including it in my list of tennis shoes for flat feet because Wilson Rush Pro 3.0 is sometimes not available in all sizes. So, I have given you the best alternative so that you do not have to drop your tennis game because of the shoe's unavailability. Asics Speed Solution has a very niche polyurethane upper with a lot of cross weaves and mesh compared to the previous version to ensure stability and high breathability respectively. Toe-guard of these ASICS Speed Solution shoes is quite sturdy compared to that of Wilson 3.0 shoes. Toe-draggers appreciate it a lot.
Like Wilson Pro 3.0, ASICS Speed Solution FF2 shoes are also pretty lightweight. The midsole of ASICS Speed Solution tennis shoes is made of flytefoam material. The flytefoam material is similar to the EVA foam. Flytefoam is very light and boasts both high stretch and high compression resistance, giving major durability under subjective wear testing.
The ASICS Solution Speed shoes are really fast and slick as they slide a bit more readily. You will feel completely in control of your movements at all times. The forefoot of these shoes has enough spring and softness that you will get a little bit of bounce coming out of hard changes of direction and not so much that it feels mushy or bulky.
Talking about the lateral support, the Speed Solution shoes feature TWISTRUSS Technology in the midfoot that, when combines with the glove-like fit of the upper, forms a perfect blend of flex and support. Arch in the foot adds stiffness and prevents them from twisting. But, when feet are flat, they become soft and are not able to prevent bending and twisting during sideways movements in a tennis game. In such cases, the stability structures like Twistruss technology in the midfoot of the shoes resist torsion with rigid integrity and return energy for faster side-to-side motion. In this way, tennis players with flat feet will be able to maneuver very well.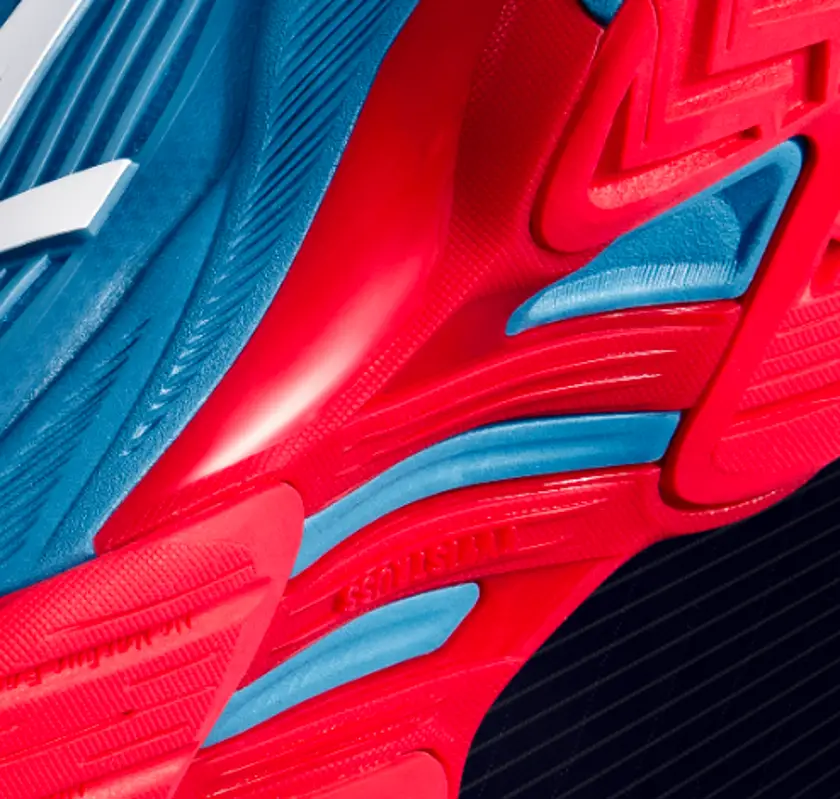 Another special technology embedded in these ASICS Speed Solution shoes is the Dynawrap technology similar to the ASICS Gel-Resolution 8. The lacing system now has what Asics call Dynawrap. This is the introduction of supportive panels that run from the base of the laces of the shoes and over the forefoot to improve support and to help keep the foot centered.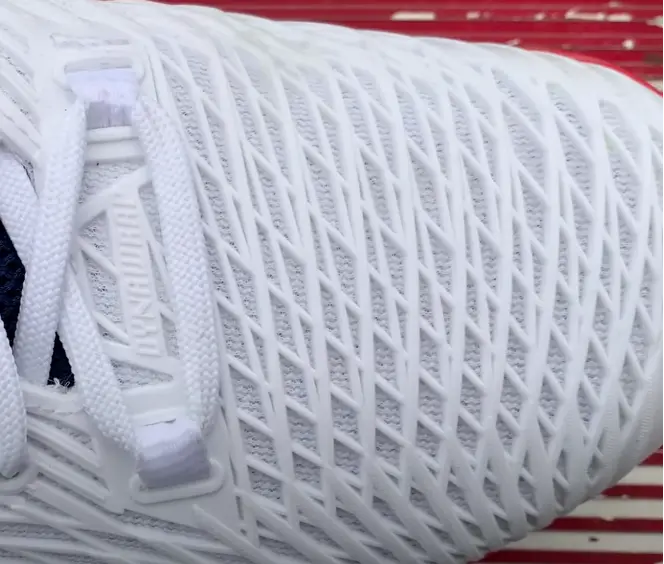 Lastly, the ASICS shoes feature a high-abrasion rubber outsole that has great traction and grip on all tennis courts. These tennis shoes transition between being both stick and slick depending on the moment-to-moment needs in a tennis game. A lot of people claim that these ASICS shoes give them better control and traction on the court. Due to their forgiving sole, the tennis players do not feel restricted and feel like they are hung up on the court.
The downsides of ASICS Speed Solution shoes is that the upper fit through the medial midfoot of the shoes feels a little sloppy on the skinny and narrow feet. Other than it, I didn't notice a considerable downside in these shoes.