Best Dress Shoes for Overpronation and Flat Feet in 2023
Searching for the dress shoes for overpronation? Read this guide till the end as I've listed down some durable and comfortable dress shoes for flat feet pronation for both men and women.
When it comes to dress shoes, having a pair that fits properly and maintains your gait is just as important as having the right dress. Thankfully, dress shoes for overpronation are great for helping keep your feet and joints comfortable while you look your best.
Overpronation occurs when your body rolls inward at the ankle, causing your feet to roll when they hit the floor. Footwear for overpronation helps reduce the stress and strain placed on the feet, ankles, and knees.
It can be hard to find the best dress shoes for overpronation because there are so many shoes out there. Well, I have made this tedious task easy for you.
After spending 36+ hours searching for the best dress shoes for overpronation for both men and women and analyzing the hundreds of customers' reviews on several platforms, I have put together a list of the 5 best dress shoes for you that control the rolling of ankles as well as enhance the stability of your feet.
As every person's need is different, I have reviewed different shoes styles from top brands, so you will be able to find the best motion control dress shoes for your needs.
So, without any further delay, let's dive in and discover the best dress shoes for flat feet and overpronation.
Also Read: Dress Shoes vs Sneakers Size
How Does Overpronation Affect Your Feet?
Pronation is the natural movement of the foot, in which it rolls inward toward its arch. This motion is necessary to absorb shock during physical activities. Overpronation occurs when excessive pronation takes place so that too much internal foot rotation occurs. Consequently, this excessive motion can cause pain or discomfort in your feet, legs, and back.
Common symptoms of overpronation include heel, arch, shin, and knee pain. While some foot types are naturally more prone to excessive pronation, anyone's feet can develop this condition. Pronation which is extreme or that occurs in conjunction with other problems can cause bunions, hammertoes, and other painful problems.
Furthermore, much of the pressure exerted by the arch of your foot is transferred to the heel due to overpronation. This is because the heel is the largest area of your foot, which contains more tissue and connective tissue, both important structures for absorbing shock. As a result, many people with flat feet have excessive pronation in their heels, resulting in pain.
As overpronation causes excessive pressure in the heel area or fallen arches, this could also lead to plantar fasciitis. If overpronation exists, the shock force is not adequately absorbed by the foot, due to which it causes inflammation in the foot muscles.
Features of the Dress Shoes for Overpronation
Here are the top features that you should check while buying the best dress shoes for overpronation.
Firm and Rigid Heel Counter
Rigid heel counter plays an important role in providing the necessary support and stability to avoid overpronation issues. A rigid heel counter helps to hold your heel place by ensuring that the shoe fits snugly and avoids the inward rolling motion.
A rigid heel counter creates a more stable rearfoot and helps provide intrinsic rearfoot stability. Moreover, a rigid heel counter also increases comfort by providing greater protection from plantar pressure and shear forces. Moreover, it also reduces the overpronation motion by adding stiffness in the arch area. It can also aid in stability when it extends across the lateral side of the shoe.
Shock Absorbing Rubber Outsole
A flexible rubber outsole absorbs impact from the surface and facilitates a stable foot motion by alleviating the pressure on the joints. Therefore, shoes made from rubber outsoles serve to absorb the shock and stabilize your walking gait by enhancing mobility.
Orthotic Insoles
The foot bones are held together by the ligaments. When the arch of the foot collapses, it is referred to as overpronation. Over time this can lead to discomfort and pain as well as stress on the ligaments. Orthotic insoles help correct or reduce overpronation by providing arch support and stability while walking or running.
Also Read: Can a Cobbler Makes Shoes Smaller
5 Best Women's Dress Shoes for Overpronation
Here is the list of the best women's dress shoes for overpronation.
Vionic Women's Spark Minna Ballet Flat – Comfortable Stability Dress Shoes
Women who overpronate need an adaptive shoe with a flexible outsole to help promote stability and protect their feet during the healing process. The Vionic Spark is recommended as a great addition to your summer wardrobe.
The Vionic Spark is designed with a flexible and wide toe box to accommodate the needs of women with overpronation. These cute flats are powered by Vionic's Orthaheel Technology, which supports and stabilizes feet while providing all-day comfort for activities such as walking, running, or dancing.
This ultra-lightweight sneaker features an ivory and grey ballet-inspired print with a leather upper, a soft elastic goring at the instep for easy on and off. The shoes have a dual-layer sock upper design that raises the heel mid-foot to help align the gait.
Moreover, these dress shoes have a padded heel cradle for added comfort and shock absorption, an anatomical and removable odor-fighting EVA footbed that gives you flexibility to adjust its support to keep your feet balanced as you progress through your day.
Additionally, the shoes have a lightweight and durable outsole that provides enough balance and shock absorption to your feet. Also, the rigid heel stabilizer of the outsole helps correct overpronation and supination to reduce pain and prevent injuries.
What I Liked
Removable orthotic insole to provide stability and support
Durable and soft leather upper
Available in a wide range of colors
What I Didn't Like
Have some issues with heel grip (they slip too much)
Quality and durability of the material is not up to the mark
Rockport Women's Total Motion Pump – High-heeled Dress Shoes for Flat Feet Pronation
These are some of the high-heeled dress shoes that feature a mid-level wedge heel and an exclusive Total Motion technology that helps reduce pronation while walking.
 Whether you work in a formal environment or somewhere that requires you to attend meetings, social events, and important dinners, the Rockport's Total Motion pump dress shoe is your go-to pair. The shoes feature an Orthotic-Friendly Insole with a classic look, the built-in Rockport motion™ technology in the heel and forefoot cushions, supports and stabilizes your pronation for all-day comfort.
Built from an anatomically correct mold, this Rockport Women's Total Motion pump dress shoes are ideal for supporting overpronators so they can spend less time worrying about their feet, and more time looking stylish. The breathable leather lining is fully-cushioned with foam padding to reduce shock absorption in heel strike, and has been designed specifically to fit women's feet.
The shoes have a dual-density polyurethane midsole that provides arch support for high arches and stability for neutral arches, offering cushioning without excessive bulkiness.
Moreover, the shoes have a removable, dual-density polyurethane innersole that is designed to accommodate custom orthotics. This cushioned innersole and heel cradle will support your foot and help stabilize your feet, while the rocker bottom sole will help correct your overpronation and keep your feet from rolling.
Lastly, the flexible rubber outsole of these high-heeled dress shoes adapts to any movement, reducing the foot's strain and providing a stable, efficient stride with every step.
What I Liked
Available in a wide range of colors
Good arch support
Nice cushioning underneath the feet
Quality of the material is good
What I Didn't Like
Ankle support is not good; the material should be a half-inch more on the back
Some customers have found them tight at the toe area
Vionic Women's Honor Virginia – Dress Shoes for Flat Feet Pronation
This pair by Vionic is perfect for the modern chic woman on the go. From meetings to dinners, your feet will move smoothly through your day as you walk off in comfort and style.
It has a biomechanically engineered design that is specifically targeted for the needs of women who overpronate. These women's dress shoes feature an exclusive Orthaheel technology with a biomechanical platform that helps realign your feet back to your natural position.
Moreover, these chic leather dress shoes with accented metal eyelets have a low wedge heel that provides extra shock absorption, letting you lead an active life. They have a deep heel cup to help stabilize the heel and provide support for the ankle and the foot.
Made from a lightweight, flexible and removable footbed to support your arches and provide stability, the shoes are delicately crafted in an easy slip-on style with a padded collar for extra comfort.
Lastly, these dress shoes have a super flexible rubber outsole with thick circular pods that increase their slip-resistance, absorbs impact, and keeps you stable and cushioned for all-day comfort.
What I Liked
Lightweight
Great stability and arch support due to Orthaheel technology
Cushioned and breathable footbed
Slip-resistant
What I Didn't Like
Do not perfectly run true to size; loose on the sides and narrow at the toe area
Dr. Scholl's Women's Astaire – Motion Control Dress Shoes for Pronation
These are the perfect shoes to suit your needs whether you are an active woman, dancer, or just want a stylish shoe.  A fashion shoe with scrumptious softness, the high heel pump of these shoes is an adorable way to make your look instantly more stylish.
Overpronators running on hard surfaces experience excessive wear-and-tear on the forefoot, as does everyone with flat feet who wears flimsy footwear that doesn't have adequate arch support. The shoes are designed to cradle your foot and provide you with the support you need to keep your foot pain-free.
They feature a pointed toe design that is typically sturdier than a rounded toe and has been known to provide more support. The pointed toe is also sometimes associated with elegance and style, as it tends to be taller than the rounded tip.
These shoes relieve pain in over-used joints, and they even reduce the minimum energy you must use to take each step. They also work to prevent calluses and blisters on the heels.
The shoes are made of durable and flexible synthetic faux (polyester) leather that is easier to clean, sits well on your foot, and enhances the appearance of shoes. Additionally, there is a breathable cotton jersey lining inside that delivers moisture-wicking performance.
They also feature a unique cushioned and energized insole, exclusively designed by Dr.Scholls, which conforms to your foot shape, provides excellent cushioning underneath your foot, and gives a good energy rebound.
Lastly, the shoes feature a durable and lightweight, flexible rubber outsole that supports overpronators, keeping you comfortable and stylish all day.
What I Liked
Great for people having short feet
Grippy outsole
Cushioned footbed
Breathable and comfortable lining
What I Didn't Like
Shoes need to be break-in to fit perfectly
Not suitable for people with wider feet
Rockport Cobb Hill Women's Adele – Durable Dress Shoes for Flat Feet Pronation
Rockport Cobb Hill is a leading provider of professional footwear since 1874. They offer high-quality shoes that are fitted to your unique needs. All of Rockport Cobb Hill's products follow a protocol of progressive fit, functionality and technology, assuring the best possible fit for your flat feet suffering pronation issues.
Keeping this in view, this pair of shoes is a great choice for anyone looking for comfortable high heels perfect for work or play with vibrant colors to match any outfit.
This gorgeous pair of shoes by Rockport Cobb Hill is a hi-heel, genuine leather dress shoe that is perfect for all-day wear to work and parties. Premium leather upper is soft and breathable, so feet stay dry and comfortable. Moreover, an inner breathable textile lining provides a plush fit to your feet and makes you feel comfortable.
Also, the shoes are embedded with a steel arch shank and built-in heel stabilizer for added support. A steel arch shank in shoes is a type of orthotic device designed to provide support to the foot. Steel arch shanks are the best way to keep your feet comfortable. They provide a sturdy foundation for all foot types, and they're designed to last.
Moreover, the shoes feature EVA foam contoured footbed that easily molds to the shape of your foot as you wear them.
Lastly, the shoes are made of a lightweight TPR (thermoplastic rubber) outsole that provides the best grip over a range of surfaces and provides great shock absorption.
What I Liked
Perfect for overpronation feet
Great motion control and stability due to steel shank
Stylish and comfortable
Lightweight
Provide a nice grip on all surfaces
Great fit
What I Didn't Like
Insole is not removable
The shoes are a bit narrow for wider feet
5 Best Men's Dress Shoes for Overpronation
Here is the list of the best men's dress shoes for overpronation.
Dr. Scholl's Harrington Ii – Mens Dress Shoes for Overpronation and Flat Feet
Dr Scholl's brand has put out a new line of shoes that can help you to have better posture and comfort while still looking nice at the same time.
Dr Scholl's Harrington shoes will provide excellent support for those who have flat feet or those whose arch has fallen inwards when they stand or walk. You will get personalized and customized support, as the design of this shoe allows you to adjust to your custom fit. They have a specially designed cushioned heel portion to support your rearfoot and keep it from rolling outwards.
The shoes are handsomely styled with burnished leather uppers, have a padded collar and a padded tongue to help cushion your feet and ankles. Moreover, the moisture-wicking and smooth fabric interior lining of the shoes offers all-day breathability and comfort.
Additionally, these classic style lace-up shoes also get a comfort boost with the addition of Dr. Scholl's® air-cooled removable memory foam insole to reduce heel pain and shock. The optimal level of cushioning makes this a go-to shoe for moderate to severe overpronation.
Lastly, the lightweight molded rubber outsole provides stability, traction, and comfort in every step you take. Moreover, the outsole will provide a great shock absorption and will make you feel like you are walking on pillow.
What I Liked
100% durable leather
Grippy rubber outsole
Memory foam insole provides great support
Padded heel counter to support ankles
Fit nicely on the foot
What I Didn't Like
Toe of the shoes is very easily scuffed and requires frequent polishing
Quality of the bottom part is not so good
ECCO Men's Helsinki Bike Toe Slip-on Stability Durable Dress Shoes for Overpronation
ECCO is one of the most trusted shoe brands on the market today. It combines modern style, comfort, and functionality in a way unique to ECCO. Their Helsinki Bike shoes have the perfect blend of softness and durability.
These slip-on shoes are designed to provide powerful stability and comfort to help you avoid the problems associated with overpronation. They feature an internal heel counter that keeps your feet locked in place
The shoes feature a soft stretch leather upper which fits the shape of your foot for a custom fit. They have added comfort in the form of the padded leather heel collar for breathable all-day wearing. Moreover, the shoes consist of a breathable textile lining that can absorb moisture and keep your feet dry and cool.
Additionally, the shoes are embedded with a removable contoured leather insole that provides moderate arch support to your feet. You can also replace it with your custom orthotic insert that can perfectly match the curvature of your foot.
Finally, the shoes feature a microporous TPU (Thermoplastic) outsole that is extremely flexible and durable and provides great support to your feet while absorbing the shock. Moreover, TPU material has higher abrasion and tear resistance that improves the life of shoe bottom.
Pros
Padded heel collar
Durable leather upper
Breathable and soft lining to keep your feet dry
Fit comfortably
Great support and shock absorption due to TPU outsole
Cons
They are a bit squeaky on polished floors
Bit expensive considering the leather material quality
Vionic Men's Astor Preston Slip-on Dress Shoes for Pronation
If you're looking for a more slipper-like feel in shoes to get rid of pronation issues, consider buying these shoes that have a lower heel height and are flexible. This slip-on dress shoe is the perfect balance between classic style and modern comfort, giving you a little extra lift and support for your feet.
This particular pair of slip-on is designed to conform to your foot shape, so you will not have to worry about them being too tight or your toes being scrunched up. With Vionic men's slip-on, you can have all-day support that delivers permanent healing of key muscle groups targeted by overpronation.
The special thing about Vionic shoes is that the optimal alignment of the foot is achieved with the podiatrist-designed FMT technology. It is off-axis forefoot technology that encourages even weight distribution and natural motion, returning your flat feet to a healthy state of equilibrium.
These shoes feature a leather upper with leather lining to keep your feet breathable. These soft leather slip-on dress shoes treat feet to a little extra cushion without sacrificing style. The inner lining is finished with authentic leather detailing that is soft to touch and flexible as well. Moreover, there is a nice stretchy band underneath a tongue so you easily slide your foot in and out whenever you like.
Moreover, the shoes have removable leather-wrapped EVA footbed with a deep heel cup. The deep heel cup provides stability to your feet and align them by allowing them to sit in their place securely.
Lastly, the shoes feature a durable shock-absorbing rubber outsole for natural and smooth movement while ensuring the required slip-resistance.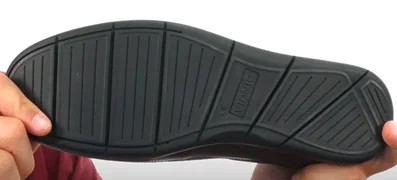 What I Liked
Padded collar
Great support to flat feet due to Vionics custom built FMT technology
Have a removable EVA foam contoured footbed
Durable leather upper with classic appearance
What I Didn't Like
Available in only black and brown colors
Requires break-in period to fit properly
Orthofeet Men's Strap Comfortable Dress Shoes for Overpronation
Orthofeet shoes are the most advanced shoes for overpronation that you can buy. These shoes provide superior shock absorption and motion control for your feet to prevent them from pronation issues.
The lightweight leather upper cradles your foot to help keep it still and reduce movement to reduce foot fatigue and pain. The 360-degree stretchable leather upper provides a glove-like fit and easily conforms to contours of your foot.
 With an extra-deep heel cup and foam padded tongue and collar, Orthofeet dress shoes are designed to provide a perfect fit for the overpronator. Whether it is for work or play, these shoes will fit all of your needs. They are lightweight, perfect with casual pants or slacks and built to make you look good.
Moreover, the removable multilayered EVA anatomical insole provides maximum individual support to help keep your feet straight when you walk. Moreover, the cushioning foam padding under the heel evenly distribute the pressure under the foot, and ease pressure points, thus offering supreme protection for people with feet stability issues.
What I Liked
Wide toe box to adjust swollen or wide feet
Padded heel and tongue collar
Contoured footbed with cushioning under the heel
What I Didn't Like
Leather is a bit stiff, and shoes feel a bit heavier
Dansko Men's Wyatt – Strong and Comfortable Dress Shoes for Overpronation
Dansko shoes are well known in the medical community for being supportive and comfortable. These lace-up dress shoes by Dansko are ideal for casual wear in the office and around town. They are ergonomically designed to provide comfort and support with every step you take.
 This pair is made from high-quality genuine full-grain leathers and microfiber materials to make the shoes durable and offer a comfy feel to your feet.  Furthermore, the padded tongue and collar of shoes are incredibly soft and cushioned which secure your feet in their place and prevent rubbing on them. Additionally, Dansko's Comfort Fibre System adds increased durability to the upper, absorbs moisture, and keeps your feet dry and cool.
The shoes come with the brand's signature removable EVA foam cushioned footbed for long-lasting wear, a double density underfoot drop that absorbs shock and a PU midsole to provide cushioning as you walk or stand. PU material has an excellent compression-resistant property that provides great arch support to your flat feet for long hours of standing.
Apart from that, the shoes feature a riveted metal shank in the midsole that is the backbone of these dress shoes as it provides extra arch support, stability, and strength. Moreover, it also adds extra stability to your walking gait.
Also a subtle rocker bottom of the shoes helps to maintain solid and stable footing while standing or walking by evenly distributing the body weight across your flat feet. Moreover, the rocker design of the heel of these dress shoes helps with the propulsive phase of your walking gait, making your posture more natural and less painful to the affected joints.
Lastly, the shoes feature a sturdy rubber outsole to provide sufficient grip as well as to provide cushioning as you walk or stand. This sole is constructed like a clog, so it gives you greater confidence to walk on wet or oily surfaces.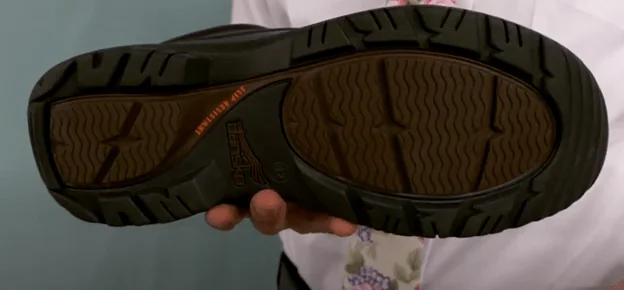 What I Liked
Durable upper with sturdy design
Slip-resistant outsole
Great stability dress shoes due to a metal shank
Nice support due to PU midsole and contoured footbed
Wide toe box
What I Didn't Like
Create a squeaky sound on polished floors
Bit heavy
Needs to break in for few days to adjust your feet
Final Thoughts about Dress Shoes for Overpronation
So, all the best dress shoes for overpronation and flat feet, which we have discussed so far, are rich with the stability and motion control features that contribute to better posture, prevent motion sickness and provide the arch and heel of your foot.
I hope you have found this guide helpful and have taken the decision to buy dress shoes for overpronation for yourself or your loved ones.