Brooks Ghost 14 vs Glycerin 19: A Definitive Comparison Guide in 2022
The Brooks Glycerin and the Brooks Ghost are both neutral running shoes that have been popular for a few years now. They're both great options to consider, but which one is better? In this blog post, I'll compare their latest models i.e. Brooks Ghost 14 vs Glycerin 19 so you can make an informed decision.
The basic difference between Brooks Ghost and Glycerin is their weight and cushioning system. If you're looking for something lightweight and less expensive, consider the Ghost – it's perfect for runners who prefer to run on harder surfaces. If you want something cushy and comfortable, go with the Glycerin – it's made specifically for people who suffer from plantar fasciitis or other foot problems like shin splints.
Also Read: New Balance 992 vs 993
Brooks Glycerin 19 vs Brooks Ghost 14 Comparison
Brooks Glycerin 19 and Ghost 14, both are great neutral running shoes that have their pros, cons, and specialties. To help you understand the differences between these two shoes, we compare each aspect below.
Upper Material and Fit
The upper of both Glycerin 19 and Ghost 14 is made of 3D Fit Print engineered mesh. It is a seamless upper that gives a sock-like fit without adding extra weight to your feet.
Apart from the same material of upper, Brooks Ghost has a more deep and wide toe box as compared to Glycerin. So, if you've too wide feet, Brooks Ghost 14 might be the best option for you.
In the picture below, you can see the differences in the toe box shape for Glycerin and Ghost.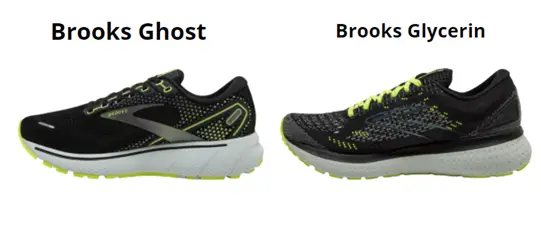 As you can see that the toe box of Glycerin is a kind of dented (a bit shallower) and more lifted for a better secure fit. But, if you have a too wide forefoot, your big toe may keep getting bruised in these shoes.
Here's what a customer describes his experience in both Brooks Glycerin and Brooks Ghost.

Also, the toe box of Brooks 14 is more refined and reinforced as compared to Brooks Glycerin. This is quite important if your big toe always try to poke out of the shoes if you underpronate. So, the reinforced toe box will prevent holes in the toe box.
You can see a side-by-side comparison of the toe box reinforcement of Brooks 14 and Glycerin in the picture below.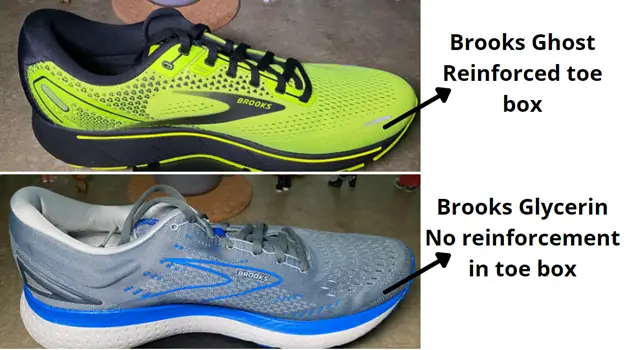 Tongue Design
Brooks Glycerin features a gusseted tongue design to provide a more custom fit and reduce lace pressure. The gusseted tongue also helps to keep the debris out of the shoes. The tongue is thick and heavily padded as compared to Brooks Ghost 14. On the other hand, Brooks Ghost 14 does not feature a gusseted tongue.
Lacing System
Brooks Glycerin features oval laces that remain tied and provide a secure fit. I didn't like the laces of Brooks Ghost 14 as they are completely flat and quite slippery. You might have difficulty of keeping them tied. You can check out my guide on different laces types to find suitable shoelaces and the recommended lacing knots to keep them tied.
Heel Collar
Both Brooks 14 and Glycerin have insanely robust heel collars. It's a very soft and comfortable material that provides a lockdown feel without being too restrictive. The ankle collar of both Brooks running shoes features a cup-like shape for a supportive fit around the ankles. However, the heel collar of Glycerin is tall enough to hug your ankles. It is like a low-bootie construction.
Furthermore, according to several wearers, the heel collar of Brooks Glycerin is more thickly padded. Its padding is smooth and gives a plush feel. However, users have found it slippery sometimes. So, avoid wearing slick socks in Brooks Adrenaline. I'd advise you to wear thick athletic socks for a better grip with the inner lining of both shoes.
Cushioning Technology
Before the release of Brooks 14, there was a significant cushioning difference between Ghost and Glycerin. Previous Brooks Ghost models like Ghost 13 feature full-length DNA Loft and BioMoGo DNA cushioning, while all Glycerin models feature only DNA cushioning.
According to Brooks, DNA loft is made of a combination of EVA foam, rubber, and air. The firmness of the rubber balances the high elasticity of EVA foam. On the other hand, BioMoGo DNA is a kind of gel-like material that has high responsiveness and adds firmness to cushioning.
If you read reviews of previous models of Brooks Ghost, many people would say their cushioning is not so soft. This is due to BioMoGo DNA. But, now, in the latest model of Brooks Ghost i.e. Ghost 14, they feature full-length DNA Loft cushioning like Brooks Glycerin 19. So, you won't find a significant difference.
The heel-to-toe drop of Brooks Ghost 14 midsole is 12mm and for Brooks Glycerin 19, the heel-to-toe drop is 10mm. Since Glycerin has lesser heel drop, it has more cushioning in the forefoot region. Due to this reason, the weight of Brooks Glycerin is about 9 grams higher than Ghost. As more cushioning comes from extra material, the price of Glycerin 19 is around 20 USD higher than the price of Brooks Ghost 14.
Due to the high heel drop in Brooks Ghost 12, if you're someone who is suffering from Achilles Tendons, you can buy Brooks Ghost 14.
This is what a user comments on Reddit.

Outsole Design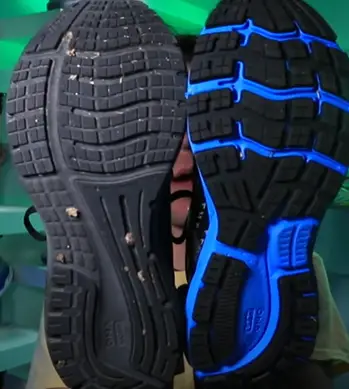 In the above image, the right one (blue color) is Ghost 14. The outsole of Glycerin 19 and ghost 14 is quite similar. Both feature rubber and flex grooves for a smooth transition from heel to toe.
However, if you carefully observe the outsole, Brooks Ghost has more rubber on the outsole as compared to the Glycerin. On the lateral side of the midfoot region, there is an area on the Glycerin outsole, where there is no rubber. So, the more rubber on the outsole of Brooks Ghost 14 protects the midsole material from wearing. Also, the rubber adds more support to the shoes. Due to this reason, Brooks Ghost 14 can be worn for marathons.
Running Experience
Well, if I compare the running experience of Brooks Ghost's previous models, such as 13 with Glycerin, there would be a huge difference due to a cushioning difference. Previous models of Brooks Ghost, specifically Ghost 13, offer a more energy return as compared to the Brooks Glycerin or Ghost 14. This is due to BioMogo DNA cushioning. People use Ghost 13 as a tempo or speed shoe for marathons due to more energy rebounds.
Brooks Ghost 14 cushioning is almost similar to Glycerin. It is soft and can make you feel sluggish. However, the higher heel drop of Brooks Ghost 14 can keep pushing your body forward and can give a huge pep to every step if you are a heel striker.
With Brooks 14, you can still go for a half a mile marathon and gym stuff. On the other hand, Glycerin 19 are more suitable for slower training runs over shorter distances i.e. 5K to 10K.
Brooks Ghost 14 vs Glycerin 19: Final Verdict
So, here's a quick summary of Brooks Ghost vs Glycerin, which I've detailed in this comparison guide.
| | |
| --- | --- |
| Brooks Ghost 14 | Brooks Glycerin 19 |
| 3D Fit Mesh Upper | 3D Fit Mesh Upper |
| Inner lining is stiffer for firm support | Inner lining is soft, due to which your slick socks can slip |
| Toe area is more reinforced to prevent toes from poking out | Toe area is not reinforced, thus not strong enough |
| Toe box is deep and wide | Toe box is shallow |
| Non-gusseted tongue | Gusseted tongue |
| Oval laces | Flat laces |
| DNA Loft cushioning | DNA Loft cushioning |
| Arch support is moderate | Arch support is poor |
| Weight is 280 g | Weight is 289 g |
| Heel to toe drop is 12mm | Heel to toe drop is 10mm |
| Outsole has more rubber material | Outsole has lesser rubber material |
| Can be suitable for half distance marathons | Suitable for slow-speed racing up to 10K distance |