New Balance 992 vs 993: What's the Difference?
There is always an ongoing discussion about what shoes are better for the feet, the stability or the pronation. New Balance shoes are best known for their supportive design and comfortable fit. For the past several years, New Balance has been upgrading its shoe models to improve support, your walking and running stride, and cushioning. A comparison of New Balance 992 vs 993 will help you know which pair of trainers is right for you.
Both New Balance 992 and 993 look similar and have the same arch support as they belong to the same 990 series. But, they somehow differ in terms of cushioning. The main feature of the New Balance 993 is its structure, which allows for excellent stability and cushioning when walking or running. New Balance 993 is a bit heavier than 992 as an advanced structural support technology is added in the heel area that offers lateral stability and a smooth transition on heel strike. The New Balance 993 men's version weighs around 14 ounces, and the weight of the New Balance 992 men's version is around 13.5 ounces.
Bonus Read: New Balance 990 vs 992
New Balance 992 vs 993 Cushioning and Support
Both New Balance 992 and 993 feature ABZROB cushioning. New Balance 992 features ABZORB SBS technology, whereas the cushioning in New Balance 993 combines with the DTS technology in the rearfoot to provide a softer heel strike and offer better flexibility from heel to toe.
ABZROB DTS (Dynamic Transition Technology) is the hybrid of previous New Balance cushioning technologies, i.e. ABZROB SBS and ABZORB foam. ABZORB foam consists of a uniform cell size cellular structure and consistent wall thickness with excellent compression set properties. On the other hand, ABZORB SBS is a deformable thermoplastic material. It does not have a compression-resistant cellular structure like ABZORB foam. It is the lowest density foam and can withstand extended impact testing.
In New Balance 993, when these two ABZORB technologies are interlocked together, it provides optimal cushioning due to ABZORB SBS and a smooth ride and forefoot flexibility due to ABZORB foam. The DTS crash pad is biomechanically designed to minimize the pronation and inward rolling of your ankles.
You can check out the video below to learn more about ABZORB DTS technology.
Due to this reason, New Balance 993 shoes are suitable for people with flat feet as they minimize overpronation, alleviate any discomfort, and allow you to walk confidently. These New Balance 993 shoes are also recommended by podiatrist.
New Balance 992 vs 993 Comfort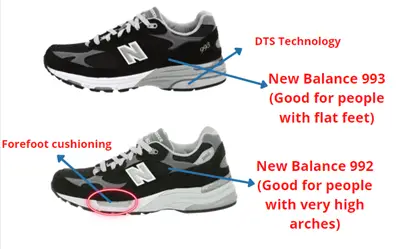 Few customers have complained that New Balance 993 are not as comfortable along the entire length of the midsole as New Balance 993 are. The cushioning of New Balance 993 shoes is a bit stiffer, which is not suitable for people with high arches.
Also, as you can see in the picture above, there is no forefoot cushioning in New Balance 993. People with very high arches tend to receive higher impact in the ball of foot region, as demonstrated in the image below. So, if they opt for New Balance 993, there are chances that they end up damaging their feet as such people need a softer cushioning in the forefoot which New Balance 992 shoes possess.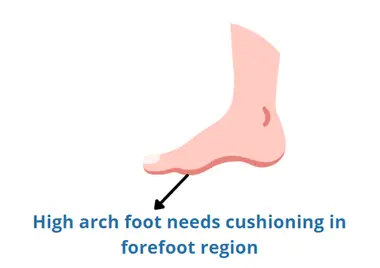 New Balance 992 vs 993 Durability
New Balance 993 shoes are supposed to be better in terms of durability. The panelling is slightly different on the upper for both models. New Balance 993 shoes have relatively sturdier construction. If you look at the tongue area of 992 and 993 models, you'll see that 993's double suede leather strips reinforce the laces area. One strip is in black, and the other is the white leather strip behind it.
On the other hand, in New Balance 992's, there is not a continuous layer of suede reinforced on the lacing area boundary. Also, New Balance 993 shoes have a small 3M strip on the vamp, while New Balance 992 shoes don't feature any such strip. 3N is a durable, weather-resistant and retroreflective material.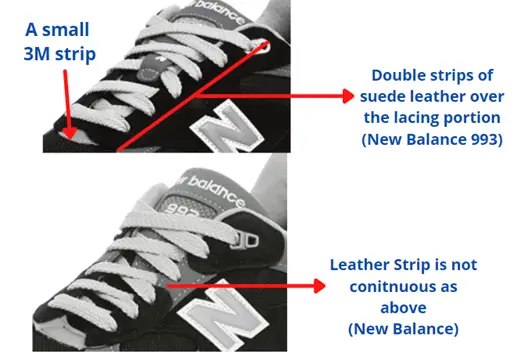 New Balance 992 vs 993 Sizing
Both New Balance 992 and 993 have the same thickness of internal padding. With regards to new Balance 993 sizing, users say that New Balance 993 shoes are slightly narrower in the toe area as compared to 992's. But that doesn't mean you should order a bigger size. Go with true to size in 993's if you have flat and standard width feet.
You'll get a great snug fit in New Balance 993 if you would go true to size. Furthermore, New on Balance official site, currently 993 shoes are available in standard, wide and extra-wide width. So, you can get true to size and change the width if your feet are too wide.
Also Read: New Balance Shoes Fit and Sizing
In the case of New Balance 992 sizing, if you get true to size in New Balance 992 shoes, you will still have room in a toe area. So, if you want to wear 992 shoes and need a snug fit, you can try half a size down from your true size. On the New Balance site, currently, 992's are available in only standard width. So, if you've extra-wide feet, you might get a snug fit if you go for true to size.
New Balance 992 vs 993 (Side By Side Comparison)
| | | |
| --- | --- | --- |
| Features | New Balance 992 | New Balance 993 |
| Cushioning | AZBORB SBS – Soft cushioning in rearfoot and forefoot. Good for people with too high arches. | ABZORB DTS – Stiffer support to minimize overpronation. It is only present in rearfoot |
| Construction | Less sturdy | More sturdy due to double reinforcement over the lacing area |
| Sizing | Currently, available in only standard width | Currently, available in standard, wide and extra-wide widths |
| Available colors | Grey with white | Grey with white, Green with grey, Blue with grey, Black with grey |