New Balance 990 vs 992: What's the Difference?
New Balance has been upgrading its shoe models to improve support and cushioning. With a comparison of the New Balance 990 vs 992, you'll know which pair of trainers is right for you.
Both the 990v5 and 992 are great trainers. New Balance 992 is a multicolor shoe, while New Balance 990v5 shoes pair is known for its comfort as you can feel supported in 990v5 with fairly loose lacing. New Balance 990 is only available in two dull colors. So, if fashion is not important for you, you can go with New Balance 990v5 shoes pair.
Also Read: New Balance 992 vs 993
New Balance 990 vs 992 Insole
New Balance 990 tends to be a sturdier and more supportive shoe compared to the New Balance 992 due to its ortholite insole. Ortholite insole feels like memory foam.
Memory foam is a supportive material that molds its shape in response to the heat of a body. So, when you put a step on the ortholite insole, it will offer a supportive base underneath your feet. On the other hand, New Balance 992 shoes is a simple liner insole that flexes like a flimsy rubber. It does not offer support like the insole in New Balance 990 shoes.
New Balance 990 vs 992 Midsole Cushioning
New Balance 992 shoes midsole is made of ABZORB cushioning with ABZORN SBS technology, while New Balance 990 shoes midsole features Encap technology.
SBS is a deformable thermoplastic material. It is a low-density foam placed in the heel and ball of foot region of New Balance 992 to withstand extended impact testing. ABZROB foam is proprietary material of New Balance that offers shock absorption like EVA foam but lasts longer.
Encap has soft EVA foam in its core with a tough polyurethane shell for increased support and durability. Polyurethane is compression resistant as compared to the EVA foam, which makes New Balance 990 shoes more supportive. This polyurethane shell helps in fighting arch fatigue during long hours of standing.
Here's what a real user says about cushioning and support of New Balance 990v5:
After the first day of use the 990v5 started feeling better, not as soft, I can feel the sole more and over all feel more supported with fairly loose lacing.
Keeping in view the more technical midsole of New Balance 992, you can also run in these shoes. New Balance 990v5 are suitable for long hours standing.
New Balance 990v5 vs 992 Style and Material
Both New Balance 990v5 and 992 shoes are made of the same material. On both 992 and 990v5, you will find accents of a shiny 3M material. I also had a closer look at the inner lining of 992 and 990v5. Also, the inner lining of New Balance 992 shoes is made of microsuede, which is a microfiber to keep your feet dry. On the other hand, New Balance 990v5 shoes feature mesh lining inside.
In addition, 990v5 tends to have a sleeker silhouette compared to the New Balance 992. I found the midsole of 992 bulkier as compared to that of 990v5. Moreover, 990v5 has a sleek mesh tongue, having a 'Made in USA' tag in the center. Moreover, behind the tag is a high-quality synthetic leather patch to prevent tongue slippage. The tongue of New Balance 992 is a bit bulky as it is fully made of synthetic leather instead of mesh as in the case of the 990v5 tongue.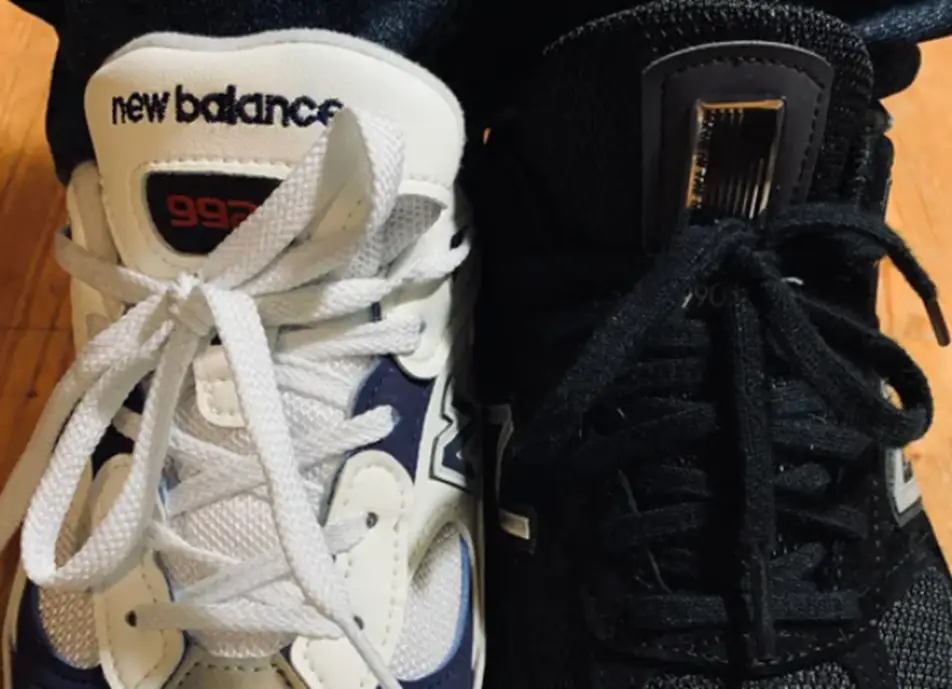 Moreover, if you look at the image below, you will see that there are power straps on the side of heel collar of New Balance 990v5.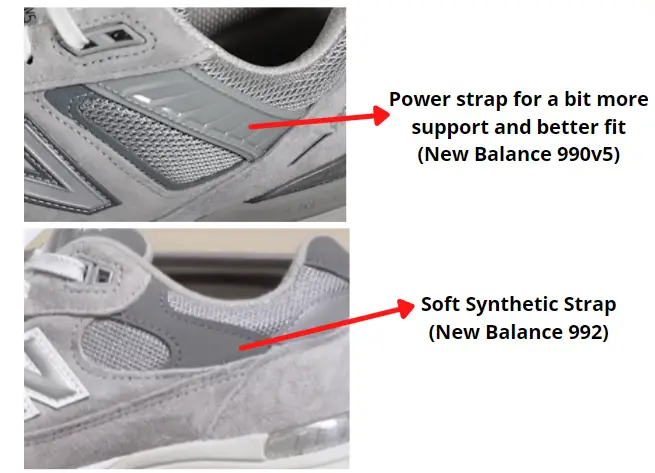 New Balance 990 vs 992 Sizing
The sizing of New Balance 990 and 992 is pretty much the same. However, 992 are a bit roomier compared to 990v5. If you want a real nice snug fit, you can for a half a size down in New Balance 992 shoes. However, if you get true to size in 992, the fit should be fine with a bit more room. There won't be any heel slippage.
Final Verdict
If you have flat feet, and looking for shoes for long hours standing, I would recommend New Balance 990v5. Both New Balance 992 and 990v5 have the same price. 990v5 have an edge due to extra support. If your foot has a decent arch, you can go with New Balance 992 shoes as they have a nice resilient cushioning for long-distance walking. On the other hand, if you like the bulkier and vintage look of shoes, you turn your eyes towards New Balance 992