Memory Foam Shoes Review: Are They Good or Bad?
Whether you are an athlete or a casual walker, you are probably aware that the right shoes are important. Memory foam shoes are all the rage now. But do memory foam shoes deserve all the hype? We'll look at the pros and cons of these memory foam sneakers to help you determine if they are right for you.
So, are memory foam shoes good? Memory foam shoes are good as they readily conform yo your feet. designed to relieve plantar fasciitis, heel pain, or pain caused by flat feet by providing necessary support in the job requiring long hours standing. I'd recommend you consider a memory foam shoe only as a walking shoe. Please don't wear memory foam shoes for running. The downside to the memory foam is that once it memorizes your feet, it can gradually flatten under your weight or pressure causing your shoe to lose its cushioning capabilities over time. Furthermore, memory foam makes your feet sweat and becomes lumpy by absorbing moisture. So, I'd advise you wear breathable socks in memory foam shoes.
My Key Takeaways Regarding Memory Foam Shoes
When I decided to test out the effectiveness of memory foam insoles, I ordered the Skechers Classic-Fit Delson shoes, as Skechers is known for their memory foam technology. I was pleasantly surprised by the high level of cushioning and support provided by the memory foam insole. Walking in these shoes felt like I was walking on clouds, even when I wore them without socks. The insole was incredibly soft and prevented any discomfort in my feet.
However, my experience with the Skechers shoes paled in comparison to my later purchase of the Hoka Clifton shoes for my daily walking activities.
The cushioning of the Skechers shoes could not compare to the bouncy and lightweight ride of the Hoka Clifton shoes. This difference in cushioning can be attributed to two important factors: price point and midsole technology.
The midsole cushioning of the Hoka Clifton shoes played a major role in providing superior comfort and support. The proprietary technology of the midsole in Hoka shoes also makes them more expensive compared to Skechers.
While the midsole of Skechers shoes may not be as effective as that of Hoka shoes, the memory foam insole of Skechers is still able to provide sufficient support and cushioning at a lower price point.
In fact, I even pinched the heel area of the insoles of both Hoka and Skechers shoes and found that the cushioning of the Skechers memory foam insole was effective in preventing heel pain during long-distance walks.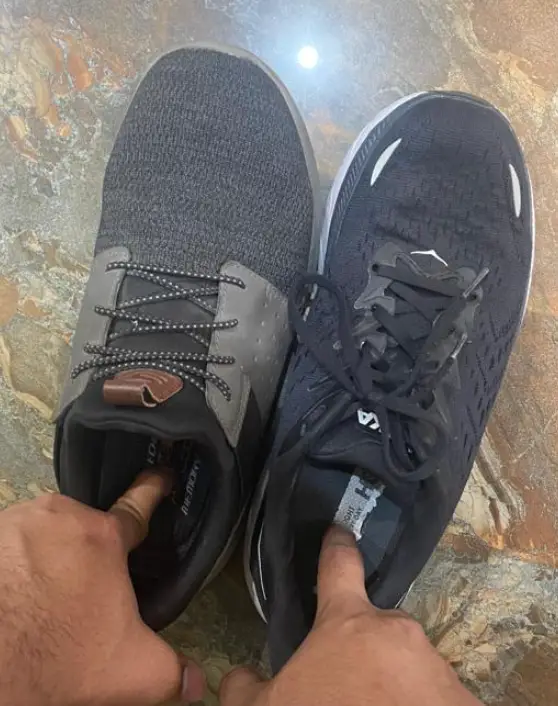 The main advantage of Hoka shoes lies in the material and design of the midsole, which make them more expensive. Overall, both Skechers and Hoka shoes offer great cushioning and support, but the choice between them ultimately depends on individual preference and budget.
What is Memory Foam in Shoes?
Memory foam, also known as viscoelastic, is a material that possesses both elasticity and viscous properties.
Memory foam is an engineered material built up over time through a process known as a phase change. The material can be created by adding additional compounds in polyurethane foam that change the way it feels. This process creates recognizable patterns of bubbling in the memory foam's lattice structure.
The science behind memory foam shoes is that the material can be compressed, but it will return to its default shape. When you put your foot on a memory foam insole in your shoes, memory foam forms a chemical reaction with your body heat that allows the memory foam to take the shape of your foot. That's why memory foam is too hard in cold and too soft when warm. In memory foam insoles, the main goal is to provide support.
In shoes, the memory foam material is used in the insole as well as in the midsole. Cushioning is the least concern for memory foam. Memory foam insoles are designed to provide support for people experiencing joint pain, arthritis, and other problems associated with the spine and joints. You can wear Skechers memory foam shoes for casual walking or during your long hours standing jobs as a cashier, chef or nurse.
Why Do Memory Foam Shoes Smell?
Memory foam shoes smell because they absorb sweat from your feet. Since memory foam forms a reaction with your body heat, it is the ability of material to retain the heat to conform to your foot's contour. As a result, it leads to sweat, which in turn leads to smelly shoes.
To alleviate this issue, several foot brands are incorporating moisture-wicking linings inside their shoes so that they can keep your feet breathable and dry. Due to this reason, walking shoes like Skechers, Reebok work shoes have a breathable mesh upper which permits air to flow more freely through the shoe and reduce sweat and moisture content.
Are Memory Foam Shoes Good for Running?
Memory foam shoes are not good for an intense running activity. Use memory foam shoes only for walking or standing activity. In running or athletic activities, the higher impact forces cause memory foam to lose its viscoelastic property quite rapidly, due to which it will lose its performance. Initially, you would love their cushioning, but they will go flat due to the high jumping impact.
To learn how memory foam insoles react to impact, you can check out this video from 4:45 part.
As you can see that when he threw a pen on memory foam insole, it didn't bounce back. Running shoes should feature insole and midsole with high energy rebound to offer a bouncy stride.
You can check out my guide on running shoes for ball of foot pain to learn about suitable shoes for running activities.
Are memory foam shoes good for flat feet?
Yes, memory foam shoes are good for flat feet, provided that they have a deep heel cup to avoid overpronation. Memory foam responds to your body heat. The part of your foot, which is in more contact with memory foam, gives off more heat that forces memory foam to react and change its shape based on your foot's shape. I would recommend these memory foam insoles, which flat-footed people suggest for arch support.
Research was carried out to study the biomechanical effect of a memory foam insole on the human foot with varying thickness. It was found that an increase in memory foam thickness would cause an increased support area and equalization of pressure points maximized comfort needs for every foot shape and size. So, every time a user takes a step while walking, more arch, heel and toe support will be achieved.
Furthermore, in an article on shoes for flat feet, Dr. Langer advises wearing shoes with a flexible rocker-bottom and memory foam cushioned insole for better arch support.
However, as mentioned above, don't wear memory foam shoes for running, especially if you've flat feet.
Are Memory Foam Shoes Good for Plantar Fasciitis?
It depends on the condition of memory foam. Memory foam shoes, in the first few months, work great to alleviate plantar fasciitis issue. However, if you wear them every day for long hours, memory foam will become soft, lose its memory and become flat over time. That's the reason Skechers memory foam shoes are pretty affordable, as you can't use them for the long term. Plantar Fasciitis issue requires soft cushioning that sustains for a longer time. So, if you've a severe problem of plantar fasciitis, wear EVA foam shoes instead.
Are Memory Foam Shoes Good or Bad?
I hope you've got all your concerned answers in this memory shoes review guide. So, if you're thinking that are memory foam shoes good or bad, here is a quick summary: