Best Hoka Shoes for Walking or Standing All Day in 2023
In this guide, I'll review some of the best Hoka shoes for walking with their pros and cons. I'll review their comfort, fit, durability and arch support features in this guide.
Walking is one of the simplest and most economical ways to get the body in shape. Economical in the sense that you don't have to run at a faster pace and bear the high impact of running activity on your foot's joints.
If you're concerned about the best Hoka shoes for walking, I'd say that Hoka ONE ONE shoes are great lightweight shoes with a thicker full-length EVA foam cushioning, breathable upper, and a meta-rocker mechanism in the outsole for better propulsion without feeling the bodyweight on the lower legs. A part of shock-absorbing and propulsion features, Hoka shoes are known to be stylish with a variety of colors to show off when strolling around the town.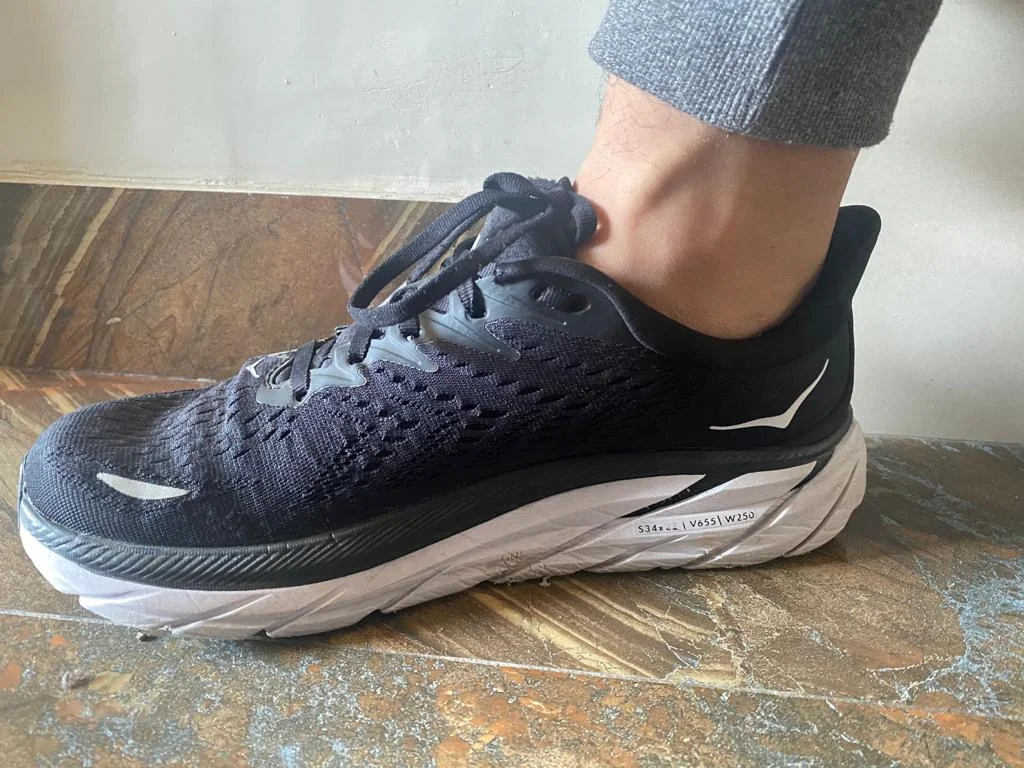 Here is what a real user says about the lightweight of Hoka One One shoes.
The HOKA are extremely light which blows your mind when you first put them on. Your eyes have prepared you for them to be heavy given the shape and size, but they're not at all.

Real user
Hoka shoes were introduced as road running shoes for runners with slower paces. But, due to their lightweight, availability in a variety of colors, and soft cushioning, everyday walkers and people who have to stand for long hours are also interested in Hoka One One shoes. That's the reason a majority of the running shoes are also suitable for walking. But, not all walking shoes are suitable for running.
So, read this guide till the end as I'll be covering everything you need to know about the best Hoka ONE ONE shoes for walking, and relieving leg and foot pain.
Bonus Read: Walking Shoes to Relief Lower Back Pain
A Brief Overview about Hoka Shoes
The Hoka One One brand has been around since 2009, and they've been making innovative footwear since then. They make different types of footwear in addition to their running shoes, stability shoes, and trail runners.
Hoka brand is originated in France. Hoka brand is known for its maximalist running shoes by incorporating oversize outsoles in its shoes for the extra cushion, stability, high cushion-to-weight ratio, and efficient walking and running stride.
The extra cushioning technology of Hoka shoes was first embraced by ultramarathon runners, and then, Hoka ONE ONE shoes started gaining popularity among other runners for their extra lightweight feature.
Are Hoka ONE ONE Shoes Good for Walking?
Hoka One One shoes are good for both short-distance and long-distance walking activities. Their soft cushioning is designed in a way that if you pick up a small pace while walking, the squishy midsole and rocker bottom will allow you to propel yourself forward without feeling the impact on your lower back or sciatica muscles.
Let's discuss some major features you would find in all Hoka walking shoes that make them suitable for walking.
Thick and Cushioned Midsole
Hoka shoes are made of a compression-molded EVA (ethyl vinyl acetate) foam midsole. Midsoles of the shoes are either made by compression molding or injection molding process. In compression molding, a block of EVA foam is compressed in a mold by applying heat and pressure.
The compression molding process is mostly preferred as it imparts a quality of design detail to the midsole. So, this makes the Hoka shoes cool for street-walking. Due to this reason, you can see a stylish design on the midsole of Hoka shoes, as shown in the picture below.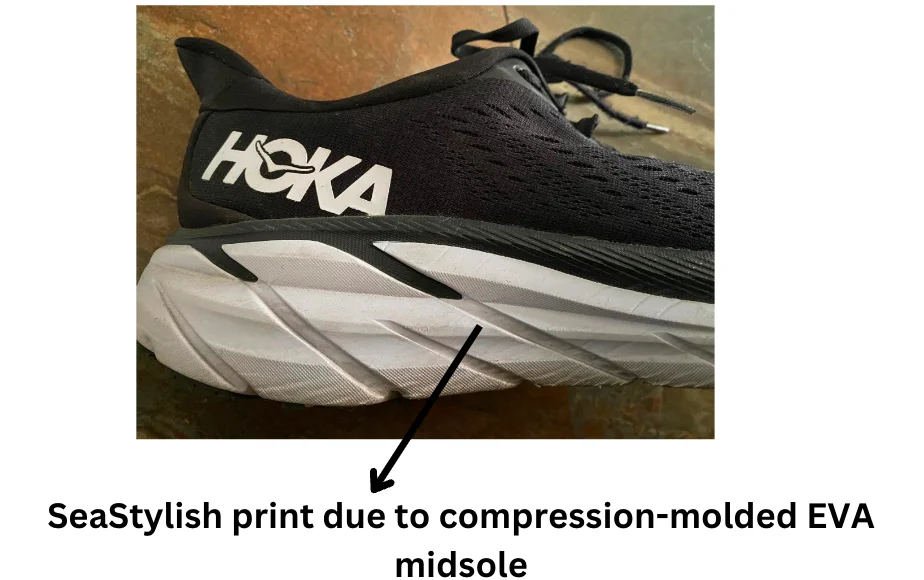 EVA foam is lightweight compared to other foam materials, such as Polyurethane. Moreover, EVA foam offers a bouncy feel and can make you feel as if you were walking on the surface of pillows. The oversize EVA foam is likely to absorb impact at each step that you are gonna take on a hard concrete surface while walking.
Meta-Rocker Technology
The meta-rocker technology embedded in the bottom of Hoka shoes is great for any type of forefoot pressure. In a meta-rocker technology, a low heel-to-toe drop is combined with a rounded sole shape of the sole to complement your natural walking stride and easy propulsion for taking the next step.
Another bright side of a meta-rocker technology in Hoka shoes is that it is not just about forward motion, but it should also minimize medial and lateral movement to drive the gait cycle through to efficient toe-off. Hoka shoes with rocker bottom tend you have such a curve that you are rolling, almost falling, into your next step.
Hoka One One shoes come into two types of meta-rocker technologies:
Early-stage meta-rocker
Late-stage meta-rocker
In early-stage meta-rocker technology, the transition zone of the rocker sole is placed behind the metatarsals and closer to the heel. In a late-stage meta-rocker technology, the transition zone of the rocker sole is placed above the metatarsal joints.
Most of the designs of Hoka One One shoes feature early-stage meta-rocker technology. I couldn't find any Hoka shoe model, featuring late-stage meta-rocker technology, at the time of writing this post.
Active Foot Frame Design
The active foot frame in Hoka shoes offers a secure seat in the midsole to fit your feet. It acts as a guide rail to prevent sideways motion or inward rolling of the foot during walking. This is especially important for people suffering from mild overpronation.
J-frame
J-frame is found in Hoka shoes that fall in the stability category. It is similar to Brooks Guiderails technology. There is extended support with a firmer foam on the medial side to combat overpronation. During normal street walks, I have not suffered from extra overpronation issues.
So, I don't think J-frame Hoka shoes would be needed during a normal walking stride. As we start picking up pace, our feet tend to roll inward. In that cases, such kind of medial support is needed.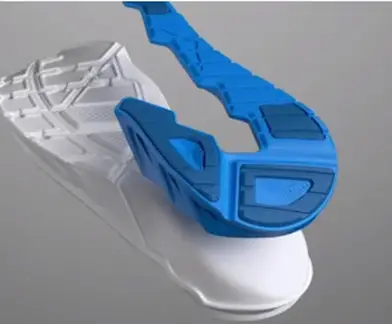 Low Heel-to-toe Drop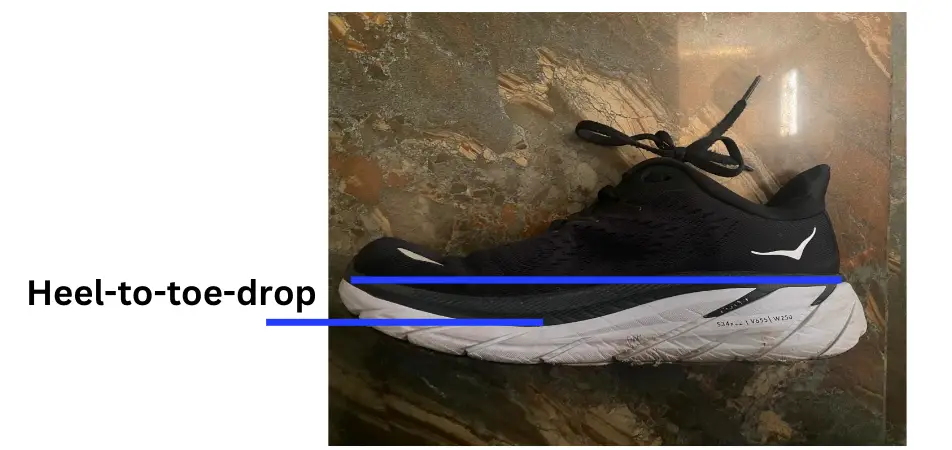 Heel drop is an important feature in running shoes that is embedded for heel strikers to absorb the high impact of running activity and protect the lower back. Fitness walkers also land heel-to-toe, but walking shoes don't need a very high heel drop like that in running shoes.
For walking shoes, heel drop should be less than 8 millimeters (less than 4mm heel-to-toe drop in shoes is ideal for walking). Luckily, Hoka One One shoes have a maximum of 6mm heel-to-toe drop. The least heel-to-toe drop of Hoka shoes is 4mm.
Less Heel-Flare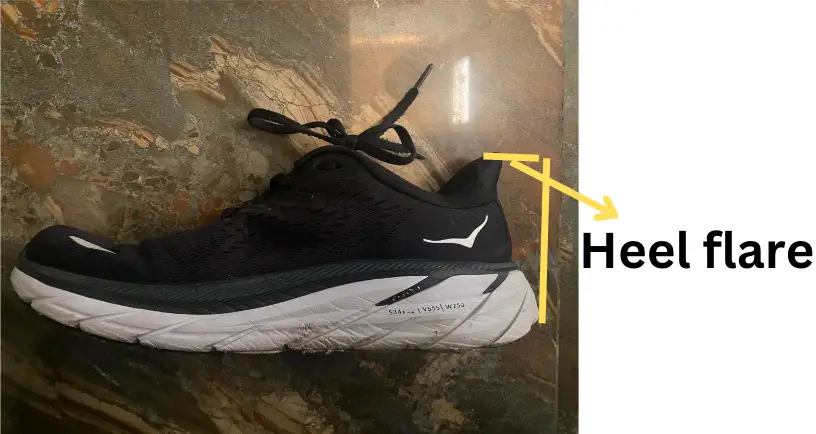 The flared heel is the thick, curved design of the heel that extends beyond the heel collar. You can check out this detailed guide on the heel flare to understand its concept in shoes. Heel flare does not have any impact on the maximum impact your foot receive while walking on running. Running shoes have heel flare to provide additional stability and support for midfoot strikers.
Heel flares also impede inward motion and prevent initial pronation. However, since walking is a slow-paced activity, walking shoes are not supposed to have high heel flares as it would affect the natural walking stride.
Luckily, Hoka shoes have a quite moderate heel flare. They already feature an active foot frame design for a supportive fit. So, choosing the Hoka One One shoes for walking will not have a significant effect on your walking stride.
Sizing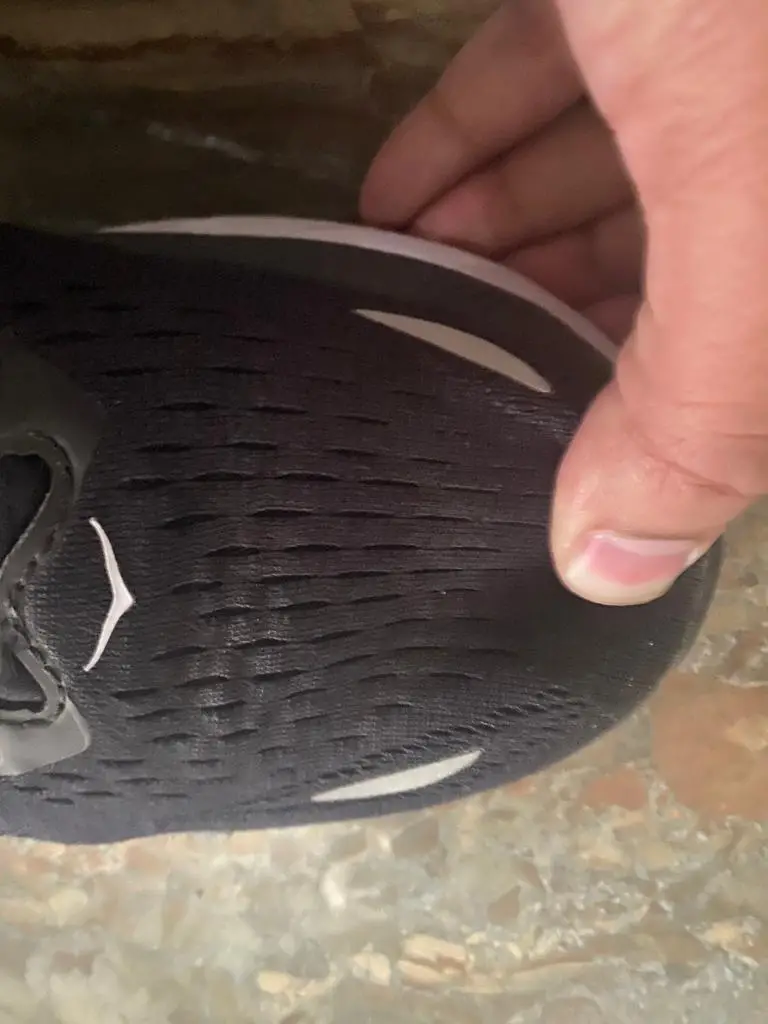 As far as the sizing of Hoka Clifton shoes is concerned, I found them true-to-size. I usually wear the US 10 size in all of my footwear. So, I also ordered US 10 size in HOKA shoes, and they perfectly fit to my feet.
I also pressed the front of the Hoka shoes to see if hurt or not. Surprisingly, the upper was so smooth and slick that it didn't hurt my toenails. In fact, there was a small gap between by foot thumb and the Hoka shoe front so that toes do not strike against the shoes front.
Are Hoka Shoes Good for Plantar Fasciitis?
Yes, Hoka One One shoes have a design feature i.e. meta-rocker technology for a smooth heel-to-toe transition and limiting too much flex on the forefoot. When there is very high flexibility in the forefoot region, it will cause very high bending stress in the foot, which is not good for people suffering from plantar fasciitis. A rocker bottom shoe like Hoka One One helps to alleviate the pressure from the foot.
Here are three comments I found in a subreddit where people complained that they got relief from the plantar fasciitis issue after switching to Hoka One One shoes.
I got plantar fasciitis. I didn't want to blame the shoes I was wearing at the time (I'll leave it nameless, but it was definitely in line with all the other minimal cushioned shoes I'd been wearing for years), but after a month where my heel didn't get better, even after icing/stretching/taping, I decided to look into shoes that helped with plantar fasciitis. The first shoe that came up was the Hoka One. So I gave it a try.

Customer 1
I also got plantar fasciitis recently and changed to Hoka (challenger atr 5s) and did my first run in them yesterday in the snow and omg they are incredible. I didn't go long cause the weather got worse and worse but wow I felt like I was flying the whole time, in love!!!

Customer 2
Best Hoka Shoes for Walking Reviews
After carrying a lot of research, and asking everyday walkers, here are the best Hoka shoes for walking.
1. Hoka One One Clifton (Best Overall)
Hoka One One Clifton is the best Hoka shoes for walking that I have found after comparing them with other models. The heel-to-toe drop of Hoka Clifton shoes is 5mm, which is ideal for walking.
As someone who has worn the Hoka Clifton shoes for walking, I can confidently say that they are a great choice for this activity. The ample cushioning and responsive design make for a comfortable and smooth walking experience, even on longer walks. The shoes provide excellent support and stability, helping to keep your feet and joints feeling fresh and energized.
Hoka Clifton has neutral cushioning i.e. they are the best walking shoes for people with neutral walking strides. In the below picture, you can see that midsole frame of Hoka Clifton shoes is the same throughout. So, the rigidness of midsole material is entirely same throughout its length and width.

So, even if you are suffering from mild pronation, you can go for Hoka Clifton shoes as the active foot frame design will take care of those mild lateral or medial movements. On the other hand, in stability shoes like Hoka Arahi, you'll see that some part of the midsole has different color, which indicates that it has a bit more rigidness to add stability to the shoes.
The reason why I'm preferring Hoka Clifton shoes over Hoka Bondi is that Bondi shoes feature quite a thick midsole compared to Clifton.
Moreover, Bondi shoes are a bit heavy, clunky, and sturdier. Since walking is a low-impact activity I don't think you need to spend extra money to buy highly cushioned Bondi shoes. Buying Hoka Clifton shoes is fine as they would also do well in a medium-paced activity. In short, Hoka Clifton is more versatile compared to Hoka Bondi.
The ankle collar of Hoka Clifton shoes is also different from Hoka Bondi shoes. Hoka Clifton shoes have a low-bootie construction i.e. they feature a high tab ankle collar, due to which they hug nicely around the feet.
The heel collar of Hoka Clifton shoes looks similar to that of New Balance 1080. You can check my guide on New Balance 1080 vs Hoka Clifton for more details.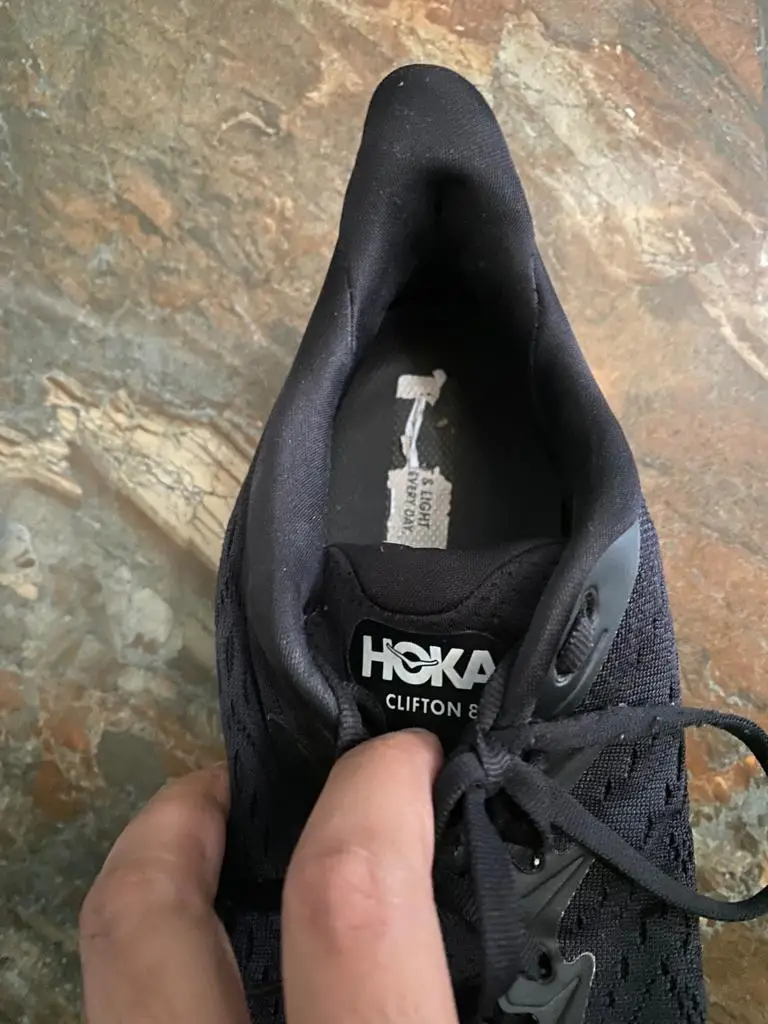 There is thick padding in Hoka Bondi shoes, which makes them clunky and adds weight to the shoes like Saucony Triumph. Hoka Clifton shoes at least look minimal if I compare them to Bondi shoes.
Some downsides are common in each model of Hoka One One shoes. The ball of the foot/forefoot region is too tight for people with wide feet. Moreover, people have also complained about blisters formation around the arch of their feet while wearing Hoka shoes. I'd suggest you take out Hoka insoles and place other shoes' inserts in which you feel comfortable. Moreover, you can also adjust the lacing to prevent bruising on the arch. You can check my guide on the lacing technique of shoes for better understanding.
The latest version of Hoka Clifton shoes is Clifton 8. I didn't observe a significant difference between Clifton 8 and 7. The major difference is that the tongue padding has been improved in the Clifton 8. Moreover, the pull-tab of heel collar of Clifton 8 shoes is slightly more padded compared to the Clifton 7.
Also, Clifton 8 shoes are slightly roomier compared to the Clifton 7 shoes. They both have a price difference of only 10 dollars. So, I think you should pay extra 10 bucks and get a modern padded Clifton 8 version.
2. Hoka Bondi Shoes (Best for Standing All Day)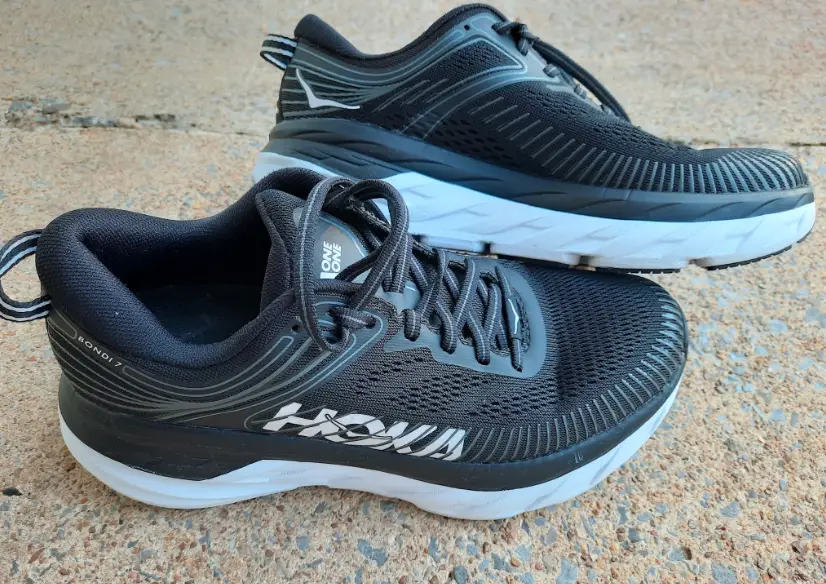 As mentioned above, Hoka Bondi shoes have a clunky look. They are neutral shoes like Hoka Clifton. The heel-toe-drop of Hoka Bondi shoes is also 5mm. Bondi shoes are also suitable for walking. But, if you try to increase your pace, Bondi shoe cushioning might be too thick for you. Initially, the midsole of Bondi shoes may feel hard as a brick. However, it will break after around one week of walking in them.
People have mixed reviews related to Hoka Bondi shoes. Some feel that the cushioning of Hoka Bondi shoes is felt like a rock for the first time. On the other hand, some shoes find Bondi shoes comfortable. Ideally, people prefer Hoka Bondi shoes if they have to stand for long hours on their feet.
Hoka shoes have memory foam padding in the ankle collar for providing a plush feel to your feet. This is an important feature people usually want in the shoes for standing all day.
Moreover, for additional midfoot support, there is a thermoplastic urethane overlay wrapped around the midfoot region for additional support and improved durability. On the other hand, Clifton shoes feature a mesh upper everywhere. They don't have TPU overlays. This is also the reason for the additional weight of Hoka Bondi shoes.
3. Hoka One One Arahi (Best Hoka Stability Walking Shoes)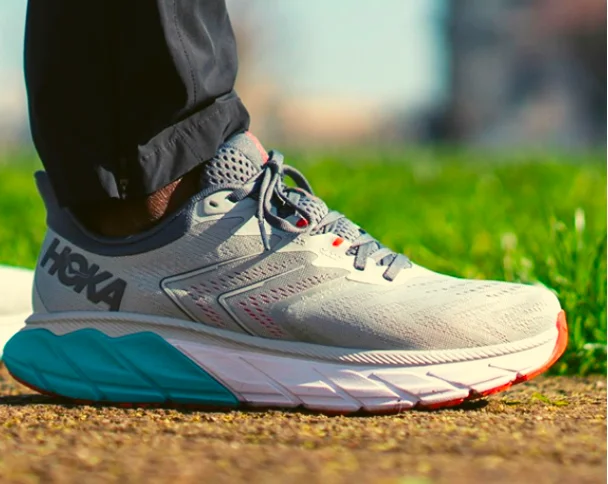 Hoka One One Arahi shoes have similar features that Clifton shoes possess except the stability. Arahi shoes are designed for flat-footed people suffering from overpronation issues while walking. Arahi shoes feature J-frame, having a firm material on the medial side to avoid foot rolling while walking.