New Balance 1080v11 vs Hoka ONE ONE Clifton 7: Definitive Comparison
The New Balance 1080v11 and the Hoka ONE ONE Clifton 7 have been two of the most popular running shoes to hit the market recently. Each shoe has a unique design that offers runners both comfort and support while they're on their feet, but which one is better? Let's compare these two popular running shoes to determine which one will be best for you.
So, New Balance 1080v11 vs Hoka ONE ONE Clifton 7, what's the difference? Both New Balance 1080v11 and Hoka Clifton 7 are lightweight neutral running shoes. New Balance 1080v11 shoes are too cushioned, yet more responsive as compared to Hoka ONE ONE Clifton 7 shoes. Due to more energy return, 1080v11 shoes tend to push you forward when needed in a race. Hoka Clifton 7 shoes are less versatile. They are good at absorbing shock but do not give it back for a responsive ride. That's why Hoka Clifton 7 can be used as a nice slow-day shoe that is easy on feet and joints.
Also Read: Saucony Triumph 18 vs New Balance 1080v11
New Balance 1080v11 vs Hoka ONE ONE Clifton 7 Comparison
No doubt, New Balance 1080 are more responsive and firmer, while Hoka Clifton tends to be a bit mushy for racing, there are other features such as upper design, ankle collar, arch support, and fit, which also set some differences between New Balance 1080v11 and Hoka Clifton 7.
Here's a concise answer I found in a subreddit regarding the basic difference between New Balance 1080v11 and Clifton 7 when you run in them.

Let's compare each aspect of New Balance 1080v11 and Hoka One One Clifton 7 shoes in detail.
Upper Design
With hypoknit upper construction, the 1080 v11 sneakers are stiff on the sides and sick around the tongue area.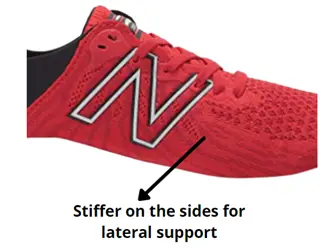 In addition, the upper is more breathable, which makes the shoe lighter while still providing some structure and protection. Aside from that, the mesh right above the toes is very flexible and stretchy so it will mold nicely to the top of your foot.
In the picture below, you can see that the mesh on the top is soft and an open-air mesh, which allows air to flow through the uppers more easily than traditional mesh. This design choice will result in an overall cooler feel when wearing these shoes during a run or workout session.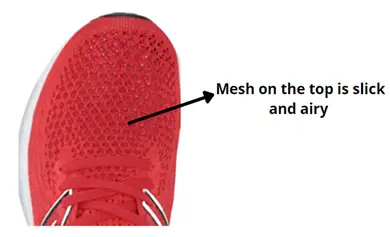 Hoka Clifton 7 shoes feature lightweight open-engineered mesh. The embroidery pattern of mesh is designed to make them breathable, strong, and lightweight. The breathability of Hoka Clifton 7 shoes is the same as New Balance 1080v11 shoes. I didn't notice any significant difference. According to the users, the upper of Hoka Clifton 7 is pliable and conforms to the foot. When you hug the foot, the upper of Clifton 7 gives a semi-elastic feel.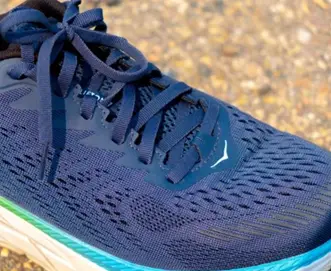 However, due to a change in the embroidery design of the upper, some users complain that Hoka Clifton 7 shoes run a bit tighter across the midfoot region. Your toes will find enough room to spread out, but the midfoot region might feel some pressure.
Regarding the comfort, I found Hoka Clifton 7 shoes upper a bit comfy. From the tongue to the back of the shoe, there is the discomfort caused by the upper of the New Balance 1080v11. The dense upper of 1080v11 shoes in the midfoot region with seamed ridges can dig into your foot and cause discomfort.
Heel Collar Design
In terms of supporting Achillies Tendons, both Hoka Clifton and New Balance 1080 shoes are suitable due to their flared heel collar design. Despite this, there is a slight difference in the heel collar of the Clifton 7 and 1080v11 shoes, which you can observe in the picture below.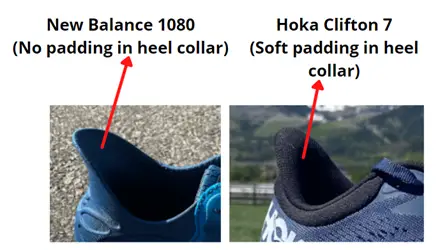 With New Balance 1080v11 shoes, the bootie collar hugs your ankles to keep you comfortable. However, some reviewers say that the heel lock of New Balance 1080v11 shoes is not good. Moreover, some runners have reported that there is a slight regression in the heel area that can cause heel slippage issues. With time, you get used to it. As the material stretches and becomes softer, the slippage issue will disappear. In the meantime, wear thick and long socks to prevent blisters.
This is what the customer on Amazon says about the heel support of New Balance 1080 shoes.

Unlike the heel collar of New Balance 1080v11, Hoka Clifton 8 shoes feature spongy padding to avoid blisters on the back of your foot. Moreover, the padding in the heel collar also allows more lockdown fit as it supports ankles.
This is what the customer says about the heel support of Hoka Clifton 7 shoes on Amazon.

Tongue Design
As the tongue on New Balance 1080 v11 is lightly padded, it is suitable for daily use on trainers while still providing comfort in hot weather conditions. With its partially gusseted design, you can keep moisture or excessive heat out of your footwear as you sweat profusely at workouts in warmer months without feeling uncomfortable.
There is one downside of the tongue of 1080v11 shoes. The stitching has some quality issues, which could cause blisters on your feet. It might also be challenging for you to put on the shoes because the tongue of 1080 shoes has pretty much gone down below the upper.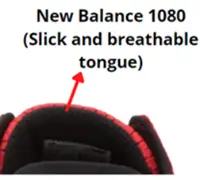 Hoka Clifton 7 shoes feature a full gusseted and breathable tongue. So, it will not rub over your feet and cause irritation.
Lacing Design
The lacing system on the New Balance 1080v11 shoes didn't appeal to me. The shoes are equipped with oval holes. The flat laces fail to fit well enough in oval holes for a secure fit. So, you might need to buy oval laces for them. Also, the front eyelets have fixed laces. You cannot loosen them up if your foot has a high instep.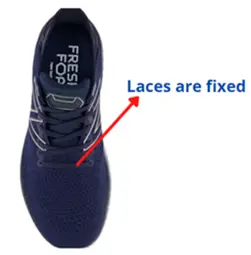 In Hoka Clifton 7 shoes, the flat laces offer a very secure foothold. But, the laces of Clifton 7 shoes are pretty hard to loosen out.
This is a comment I found in a subreddit regarding the lacing of Hoka Clifton 7 shoes.

Cushioning Technology
New Balance 1080v11 has a thick, mushy cushioning which provides a really smooth ride. Even though the shoe is bulky, it feels relatively responsive. These shoes will propel you forward if you put enough force into your legs while running.
The New Balance 1080 shoes are built with FreshFoam Technology in the midsole. It is made from 3D-printed EVA foam that has been altered structurally for a springy, cushioned ride. 
The midsole of 1080 shoes feels really plush after breaking them in, and they are very light on your feet. In addition, the rocker profile of the midsole with a large stack height allows for a firmer ride as well as a smooth and quick transition from heel to toe.
Although New Balance 1080 are considered versatile shoes due to responsive cushioning, some runners have complained that if you wear them for longer runs, the cushioning starts compressing and losing its resilience if you've heavyweight.
The midsole of Hoka ONE ONE Clifton 7 shoes is made of EVA foam, which is the softest and pillow-like cushioning. Several runners claim that the cushioning of Hoka Clifton 7 shoes is too cushioned for racing. You can only wear them as a recovery shoe or for slow-paced long-distance runs. In short, Clifton 7 shoes are for slogging through miles.
Moreover, the 8mm heel-to-toe drop of New Balance 1080 shoes offers a more exciting ride as compared to the 5mm heel-to-toe drop of Hoka One One Clifton 7 shoes.
Arch Support
The arch support of New Balance 1080 shoes is moderate. It doesn't bother runners. However, some runners have faced blisters issues along their arch due to the pronounced arch of Hoka One One Clifton 7 shoes. When you wear Clifton 7 shoes for the first time, you will feel the arch digging into your feet.
Here's what a user says about Hoka Clifton 7 shoes:
I have a normal arch and the Clifton 8 dig into the mid-arch, quite significantly feel to it.
However, it is still a matter of preference. Each person has unique feet. Although a majority of runners get blisters on their arch when they run in Hoka Clifton 7 shoes, I would still advise you to try them on and perform a treadmill running test to analyze how well they conform to your feet.
Here's what a person says in a subreddit:
I have flat feet, and when I first started wearing Cliftons they just felt odd, like a huge arch or something was pushing my feet in weird directions. After about 5-10 miles though that feeling seems to have gone away and I really enjoy them.

https://www.reddit.com/r/RunningShoeGeeks/comments/nxjwca/hoka_clifton_7/
Outsole Design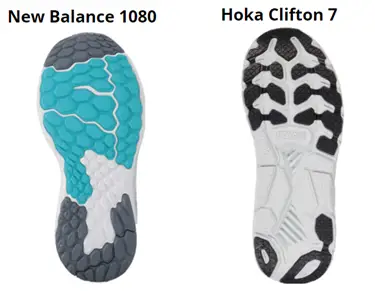 Hoka Clifton 7 shoes feature high abrasion carbon rubber on the outsole, while New Balance 1080v11 shoes feature blown rubber on the outsole. However, after testing for the same miles, I found that the rubber on the outsole of Hoka Clifton 7 shoes held up well.
The design of rubber treads and their strategic placement on the outsole of Clifton 7 shoes is more suitable for a dry asphalt surface. The grip of rubber in Clifton 7 shoes remains consistent. But in NB 1080 shoes, the rubber close to the toe area and rearfoot region starts wearing out.