Saucony Triumph 18 vs New Balance 1080v11: A Definitive Comparison
The New Balance 1080v10 and Saucony Triumph 18 are two of the most popular running shoes on the market. Which one is right for you?  This blog post compares these two running shoes to help you decide which is best for your needs.  Find out more about them below, or scroll down to see a comparison chart with the key features of each shoe.
So, comparing Saucony Triumph 18 vs New Balance 1080v11, Both Saucony Triumph 18 and New Balance 1080 are neutral running shoes. Saucony Triumph 18 shoes have a really soft and plush upper as compared to New Balance 1080. However, the plush upper adds bulkiness and weight to the Saucony Triumph 18 shoes. New Balance 1080 shoes upper is more breathable and lightweight. The upper of Saucony Triumph 18 may feel warm.
Also Read: New Balance 992 vs 993
Saucony Triumph 18 vs New Balance 1080v11 Comparison
No doubt Saucony Triumph 18 shoes provide an excellent energy return due to their springier midsole, but these shoes are suitable for easy day and slow-paced runs. On the other hand, people consider New Balance 1080 shoes more versatile and consider them as daily trainer shoes.
Before detailing the comparison of both shoes, here is a concise answer I found on Reddit regarding the basic difference between Saucony Triumph 18 and New Balance 1080.

In case, you can't read the text, here is the exact quote of the user.
I own both. Don't feel Triumph as any kind of tempo shoe. Long and easy runs are comfortable, but wouldn't recommend any type of speed work. 1080 is a better all arounder, made some 20 milers, MP runs, strides no issues with it. Upper is less luxury and the ride is stiffer but still a comfortable one.
Let's discuss each factor of both Saucony Triumph 18 and New Balance 1080v11 shoes in detail so that you can understand how these shoes differ from each other.
Upper Design
New Balance 1080 v11 shoes feature Hypoknit upper construction, which is stiffer on the sides and slick around the tongue area. The upper is also more breathable which makes the shoe lighter, while still providing some structure and protection. Also, the mesh right above the toe is so much flexible and stretchy that it will mold to the top of your foot really well.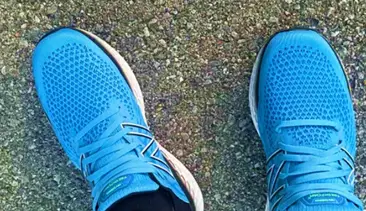 However, the downside of too much flexibility of New Balance 1080 shoes is that they don't provide a complete lockdown fit, especially if your feet have a low instep height. So, you need to adjust the lacing for a more secure fit.
However, if you look at the area of the upper around the toe, which connects with the midsole, it is not stretchy at all. It is made stiffer to provide support and avoid toe holes. However, some people have reported that they got blisters on their toes due to the stiffness of the upper in that region. You can wear thicker socks to avoid rubbing.
Now, coming to the upper of Saucony Triumph 18 shoes, it is quite thick as compared to the New Balance 1080. There are no hotspots or synthetic overlays on Triumph 18 like New Balance 1080. Due to the overly padded mesh upper, people like its plush feel.
But due to thick material, the breathability and weight of Saucony Triumph 18 shoes are badly affected. Due to this reason, the majority of runners do not wear Saucony Triumph 18 as everyday shoes. The thick upper makes them too heavy.

Tongue Design
The tongue of New Balance 1080 v11 is lightly padded, making it suitable for wear on the daily trainer while still providing comfort during hot weather conditions. Its partially gusseted design allows moisture buildup or excessive heat transfer out from inside your footwear as you sweat profusely at workouts in warmer months without feeling uncomfortable.
There is one downside of the tongue of 1080v11 shoes. Its stitching has some quality issues, due to which it may cause blisters on your foot. Furthermore, the tongue of 1080 shoes has pretty much gone down below the upper, due to which it might be challenging for you to put on the shoes.
Compared to the New Balance 1080, Saucony Triumph 18 shoes have a thick tongue. The tongue of 1080 is covered with a slick mesh from both sides, but the tongue of Triumph 18 is covered with a thick padding that provides a superb footlock.
However, the thick padded tongue has affected the breathability of Saucony Triumph 18 shoes and has also made them heavier as compared to New Balance 1080 shoes.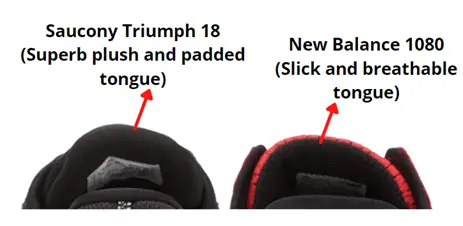 Heel Collar Design
The heel collar of New Balance 1080v11 shoes features a bootie construction to hug your ankles. However, some runners have reported that there is a slight regression in the heel area that can cause heel slippage issues. With time, you get used to it.  The slippage issue will go away as the material will stretch and become softer. Till then, you need to wear thick and long socks to prevent blisters.
Also, the heel flare does not tightly grab the back of your foot, which is good if you've Achilles Tendonitis issues.
Saucony Triumph 18 shoes feature harder heel reinforcement as compared to the New Balance 1080v11 shoes. The padding is also relatively thicker as compared to New Balance 1080 shoes. However, the plush padding also causes mild slipping, which is not a big issue as you wear Saucony Triumph 18 shoes for slow runs.
Lacing Design
I didn't like the lacing system of New Balance 1080v11 shoes. Firstly, the shoes feature oval holes with flat laces that don't fit nicely in them to provide a lockdown fit. So, you might need to buy oval laces for them. The other issue is that in the front eyelets, the laces are fixed. You can't loosen them up if you have too high foot instep.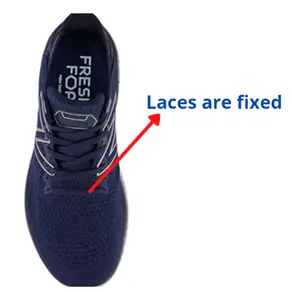 Saucony Triumph 18 shoes feature oval laces which are quite stretchy and fluffy. Unlike New Balance 1080v11 shoes, there is no fixed lacing system in the front eyelets. So, there is a positive point I observed in Triumph 18.
However, the downside of Saucony Triumph 19 laces is that the amount of stretch in the laces of Saucony Triumph 18 shoes can be sometimes frustrating, and the length of can be a bit long for you. You may have to face the hard times to find the right knot for a snug fit. Furthermore, due to their fluffiness, the laces can also show minor signs of abrasion after some miles of running.
Some runners have recommended them if you swap those laces with flat ones, the problem might be gone. The lace holes of Saucony Triumph 18 shoes are quite suitable for flat laces. You can also check out my guide on the different laces types for a better idea.
Cushioning Technology
The cushioning on New Balance 1080v11 is thick and mushy which provides a really smooth ride. Despite the bulkiness of the shoe, it also has a relatively responsive feel to it. This means that if you put enough force into your legs while running, these shoes will propel you forward with ease.
The material of midsole cushioning of New Balance 1080 shoes is built from FreshFoam Technology. It is a 3D-printed EVA Foam, structurally altered for a combination of the springy and cushioned ride. After breaking in, runners feel a really plush feel of 1080 shoes midsole, and light on the foot. Moreover, the rocker profile of the midsole with a large stack height offers a firmer ride and a smooth and quick transition from heel to toe.
The midsole of Saucony Triumph 18 shoes is made of PWRRUN+ material, which is made an expanded TPU (Thermoplastic Urethane). The purpose of TPU material is to improve responsiveness and durability. According to the research, expanded TPU achieves a rebound of 57%, while EVA has only 37% rebound.
If you're a heavy runner, Saucony Triumph 18 shoes are great for you. Here's what a user of Saucony triumph 18 shoes comments on Reddit.

Because of the TPU material, you'll feel the midsole clunky and stiffer for the first 50 to 100 miles. With time, it will break in and become more comfortable. TPU material also adds weight to the shoes as it has more density, due to which Saucony Triumph 18 shoes might not be suitable for fast-paced running.
Saucony Triumph 18 are easy long day running shoes, especially in winters. Heavy runners with slow-paced running strides are also quite happy with the cushioning of Triumph 18. Also, the springiness of Triumph 18 is not enough for fast speeds.
This is what a runner says about his running experience in Saucony Triumph 18 shoes.
Wow, same height and weight as me. I'm usually a slower pace runner, very much a midfoot striker and in peak running season I'll get up to 30 miles per week. I have the triumph 18s and love them. My 2nd favorite shoe. The midsole is responsive and forgiving even during my longest runs, super cushioned upper as well.
Outsole Design and Durability
New Balance 1080v11 shoes feature blown rubber circular pods on the outsole. The rubber is not so hard to touch. There are also grooves in the forefoot region to ensure a good balance of grip and flexibility.
The outsole of Balance 1080 shoes holds up well on concrete and asphalt surfaces. However, on grass or trails, you shouldn't expect any grip from such shoes. People have run more than 150 miles in them, and they did hold up quite well. One user says that they start looking dead after running over 450km.
Saucony triumph 18 shoes feature rubber in a zig-zag pattern for providing a perfect blend of traction and flexibility as you can see in the picture below.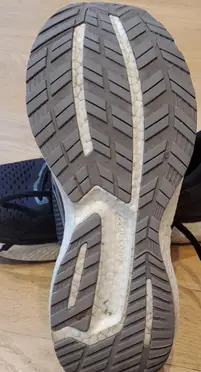 This flex pattern allows the dispersion of force over a greater surface area for delivering optimal traction and flexibility. A person has run about 350 miles in them without having any signs of wear on the outsole rubber.
Sizing Difference
Due to the superb flexibility of the upper of New Balance 1080v11 shoes, you might feel a bit of space in a toe area. But, you don't have to size down. You can easily adjust it with different lacing techniques. New Balance 1080v11 shoes are also available in narrow and extra wide widths.
For more information regarding New Balance shoes widths, you may have a look at my guide on New Balance shoe sizing. You can also check out this thread on Reddit to read the experiences of the people regarding the sizing of New Balance 1080v11.
Saucony Triumph 18 shoes are only available in standard and wide widths. Moreover, due to their thick internal padding, the shoes might run tight in the toe area. So, you may have to buy a half size bigger if you have wide feet.
Pricing Difference
The price of New Balance 1080v11 shoes is higher than Saucony Triumph 18 shoes. Durability-wise, the midsole of Saucony shoes wins the game. I think the reason for the higher price of New Balance 1080v11 is their lightweight design while ensuring a great deal of durability, grip, cushioning, and responsiveness.
Final Verdict
New Balance is a more versatile running shoe with less durability. Saucony Triumph 18 has greater responsiveness and better durability, but they are heavier. If you're not looking for shoes that can be used for fast-paced runs or long-distance races, then the 1080v11's versatility will suit your needs just fine.