Crocs Bistro Clog Review: Favorite Shoes of Chefs, Nurses and Doctors
The Crocs Bistro Clog is the latest innovation in the Crocs shoes line. These shoes are stylish, comfortable, and can be worn in almost any setting, but are they worth buying? Here is the review of the Crocs bistro clog.
Crocs Bistro Overview
The crocs bistro clogs are a comfortable and supportive footwear choice for nurses, chefs, and doctors.  Like other Crocs, Croc Bistro Clog is a lightweight and comfortable shoe that has been very popular since its invention in 2002. You can wear them for almost any occasion or activity, including wearing them on your feet to go swimming!
From its ergonomic cushioning to spill-proof construction, this clog is here for the long haul. So whether it's a quick trip to the store or marathon cooking sessions in your kitchen, bring on all of life's spills with no worries. Furthermore, these Crocs Clogs are available in several color patterns to match with your dress code.
They're made out of Croslite material, which has both open-cell and closed-cell characteristics. The open-cell feature gives it a soft foam-like feature that provides excellent cushioning underneath your feet so that you can stand all day long on your feet.
On the other hand, the closed-cell feature does not allow them to absorb water. This makes the Crocs waterproof.
Whether there are bodily fluids while working in hospital, or the stains of sauces while working as a chef in a kitchen, you can easily clean the stains from these Clogs with a damp cloth.
Also Read: Shoes to wear with scrubs
Construction of Crocs Bistro Clogs
The thing I like about all clogs is the simplicity of the design. First, they don't feature any stitching or glue, making the design more robust and durable. With clogs, you don't need to worry about separating sole from upper since there is no stitching. Furthermore, Croslite rubber is like foam and doesn't have fibers like canvas or weak grains like cheap plastic leather. Unlike leather, canvas, or mesh upper, Crocs are resistant to wear due to friction between your feet and Crocs.
 Secondly, they are so inexpensive due to their simple construction. They are not like typical shoes, consisting of different parts like midsole, insole, laces and upper. The whole design of a Bistro clog is made of a single molded piece of Croslite foam, with the hinged ankle strap so that you can adjust the fit.
Unlike Crocs Classic Clog, Crocs Bistro Clog doesn't feature holes over the toe area and heel strap. It is closed from all sides. But, still, it is breathable as the air finds its way to enter through the heel area, due to which it keeps your feet aerated. So, if you're working in a kitchen and your feet are susceptible to hot liquids, they will remain protected due to the closed design of Crocs Bistro Clogs.
Crocs Bistro Clogs Comfort Review
With the rounded design and contoured footbed, Crocs Bistro Clogs are easy to slip on and wear all day long without any heel pain. These shoes offer a moderate arch which will help relieve some pressure off your low arches while also preventing high heels from feeling too uncomfortable.
However, the cushioning of Bistro clogs is not enough for feet with high arches. The foot with a high arch becomes stiff and makes hard contact with the footbed of the shoe. So, if you've very high arches, there are the chances that you feel extreme heel pain due to the deep heel cup of Crocs Bistro Clogs. So, we recommend getting an extra insole to place on the footbed of Clogs to provide cushioning to your high arches.
Other than that, you can't wear ankle socks with Crocs Bistro Clogs as they can pull the sock down and give you blisters.
Crocs Bistro Clogs are Slip-Resistant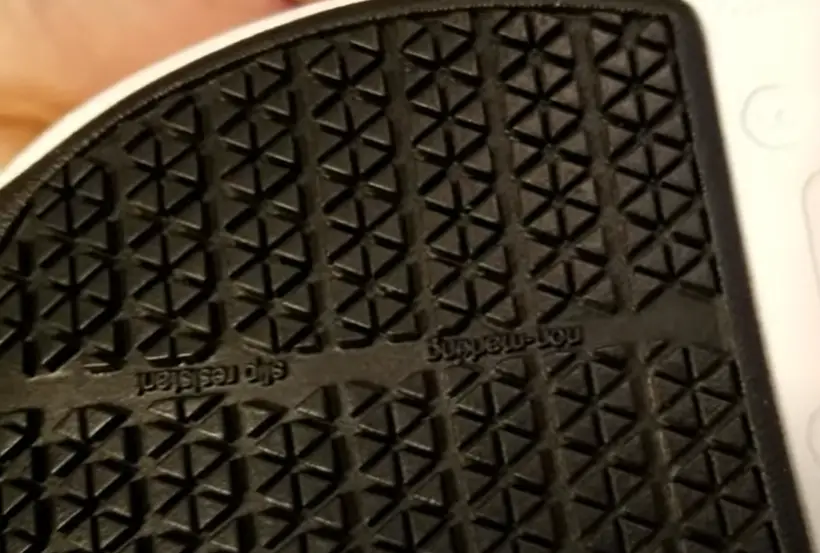 This particular model of crocs has some really great outsole treads that are the perfect size to grip a wet kitchen floor. The tread on the bottom of this shoe did exceed my expectations. I wore them down onto a commercial kitchen floor with both oil spills on it; the shoes gripped perfectly.
Crocs Bistro Clogs are recommended for both indoor and outdoor use. The outsoles, which have been designed for improved slip resistance, can actually help keep you safe if you get caught in a rainstorm or on the beach when the tide is high. They also come with a more secure fit than other Crocs models.
The only issue with Crocs Bistro Clogs is that it is very easy for garbage and debris to get caught up in the soles. So, you need to take care of it. Otherwise, the Crocs will start losing grip quickly.
Durability of Crocs Bistro Clogs
The durability of these Crocs is not so good. If you wear Crocs Bistro Clogs daily in your job, they can last up to 6 months due to slick bottom treads. Some customers complain that the non-slip grips on the bottom peeled off after one month. You can use superglue of shoe goo if this happens with you.
Crocs Bistro Clogs Sizing
The sizing of Crocs Bistro Clogs may vary, depending on your foot's shape. Crocs brand makes clogs in three different fits, which you can check in my crocs sizing guide. Crocs Bistro Clogs are available in roomy fit, which is suitable for people with wide feet. Even if you don't use a strap behind your heel, your feet will stay comfortably on the footbed.
However, some people complain that Bistro Clogs are smaller in the arch/middle of the foot, due to which they cause swelling on the feet during long hours standing. So, you need to buy a size bigger. Your feet may slip in the bigger size, but you can adjust it by rotating the heel strap or placing orthotics in the Crocs.
Crocs Bistro Clogs Review: Final Thoughts
So, here's a quick summary of the review of Crocs Bistro Clogs.