Should I size Up or Down When Buying crocs?
If you have standard width feet, Crocs clogs do not run big. They generally run true to size. Crocs clogs are fitted with adjustable straps. These action straps of Crocs clogs keep them from falling off. 
In this guide, I'm going to discuss a topic that I get asked about a lot- Crocs. Specifically, do Crocs run big or small? As someone who has been in the shoes industry for 6 years, I have had my fair share of experiences with Crocs, and I have seen many people struggle with finding the right size for them.
Here's how Crocs Classic Clogs look on my feet. My feet are wide. so, they came out to be true to size.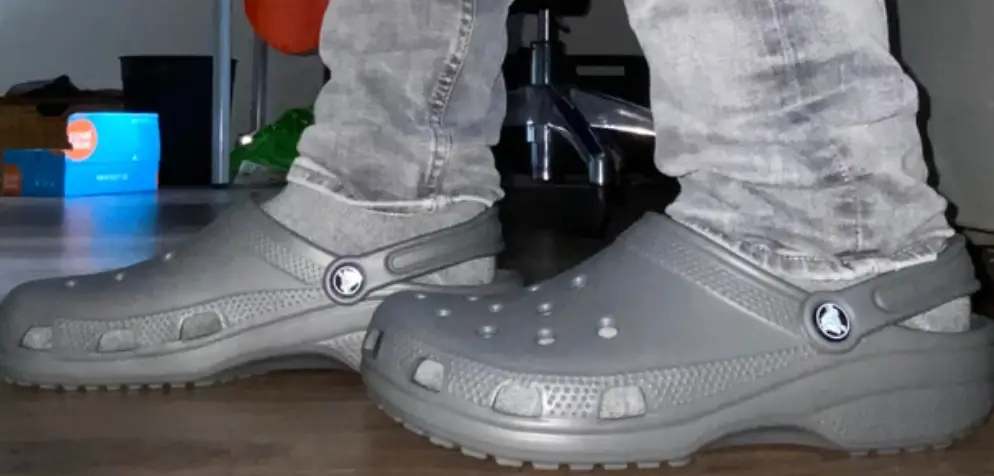 There are several variations of Crocs clogs and shoes. Whether crocs run big, small, or fit true to size will mainly depend on the Crocs model you want to buy. People who have wide feet might feel the crocs fit tight on their feet. There are certain models of crocs with a relaxed fit that are intended to accommodate wide feet.
For relaxed fit and roomy fit, Crocs unisex models are available. That is, the width and length of unisex Crocs are based on men's foot sizing. Although Crocs generally run wider. But for women, the spacing between the foot and clogs would be more as compared to the men's foot.
If your Crocs are little bigger, you can read my guide on How to Shrink Crocs.
Do Crocs Run Big?
The standard Classic Crocs generally run big if you have narrow feet as these Crocs clogs offer plenty of room in a toe box for a roomy fit so that you can wear them comfortably in your house.
Crocs has designed different shoe models for comfort. Each model provides different types of fit. Some Crocs clogs designs provide plenty of room that you will like to wear in your house for the sake of comfort.
Some Crocs are designed for professionals that have to stand for long hours on their feet. These Crocs provide a secure fit to your feet so that they do not slip inside the shoes.
So, it will be unfair to say that all crocs run big. Keep reading this guide as I will relate some examples of Crocs shoes with different types of fit that will address your concern i.e. 'do Crocs run big or small.'
Reviews Of Users On Crocs Sizing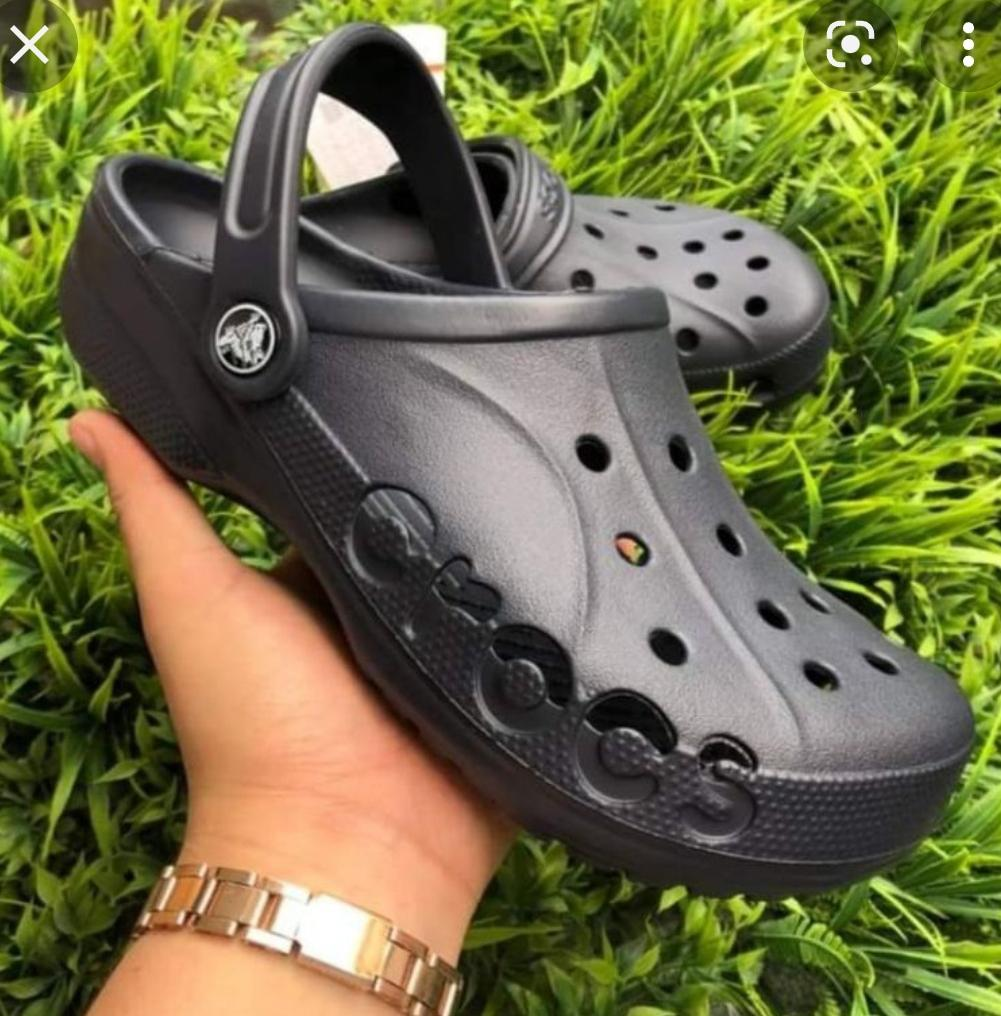 Whether Crocs run small, big or true to size, I asked several users about it. Here is what they say:
"Crocs feel very loose at first but you need to wear them for a short while and your foot embeds into them and suddenly they do not fly off etc.  I bought mine at a place that sold nothing but Crocs and I take size 3 but was told to you have to go up a size. I did try on the size 3 anyway and they fit perfectly but my toes nearly came up to the end and the guy said you need to go up to a 4." (Donna)
"Crocs run wide. I normally wear an 8 or 8.5 because my foot is on the wide side and I have a high arch, but I can wear a 7 in the croc flip flops easily." (Ashjohnson)
"My sister has Crocs bayband clogs and she wears a 7 in women's. The size 7 bayaband has a closer/close-to-your-foot fit than the size 7 Crocs classic/baya clogs. Right off the bat, the size 7 bayaband feel fits more like the size 6 classic/baya clog." (Enna)
"I'm a size 11/12 depending on the brand. I wear vans in 11. My Nikes are 11.5. I got the Baya Clog in size 10 and it's a touch roomy on me." (Saisi)
"I wear 10.5 men's in other shoes. Crocs Baya in 10 size perfectly fit on my feet."
"I wear a 9.5 for my gym sneakers and I find that the size 10 Crocs fit me the best. With being a little lose but I only wear Crocs with socks on. I do prefer my Crocs to be more loose than tight. I could definitely fit in a 9 but I like the extra space it makes. Wearing them with socks more comfortable." (Kanye)
"I go TTS or half size down in Crocs. Never had an issue in my 5 pairs." (Paul)
"Classics Crocs fit me one size down. Other Crocs shoes are true to size or need to be sized up." (Noah)
"I usually wear size 8 shoes. So I buy size 8 Crocs and they fit just fine. I also have a pair of size 7 clogs that fit ever so slightly too small but just fine if I wear them in casual mode."
Difference Between Standard Footwear Fit and Crocs Fit
Standard fit shoes offer a snug fit without feeling tight. These styles are designed to conform to your foot securely, allowing for minimal to no slipping as you walk. To determine if a standard fit shoe is right for you, follow these guidelines:
Secure Heel Placement: Your heel should rest securely within the shoe, without riding up and down as you walk. This ensures stability and prevents blisters or discomfort.
Comfortable Hug: The sides, top, and arch area of the shoe should comfortably hug your feet. A proper fit in these areas guarantees that your foot is well-supported and reduces the risk of foot fatigue.
Wiggle Room: There should be some wiggle room at the front of the shoe. Your toes shouldn't touch the front, allowing for natural movement and preventing unnecessary pressure on your toes.
Crocs shoes have their own unique fitting guidelines. Unlike other shoes, Crocs should fit very loosely for maximum comfort. Here's what you need to know about the perfect Crocs fit:
Loose Fit: Crocs should fit loosely overall and not feel constricting. The sides of your foot should not touch the sides of the shoe, allowing for ample breathability and freedom of movement.
Toe Space: Your toes should never make contact with the front of the shoe. Instead, there should be a gap of about 1/4 to 1/2 inch in front of your toes, providing room for natural foot expansion during the day.
Heel Space: Similarly, there should be about 1/4 to 1/2 inch of space behind your heel, ensuring a comfortable fit without any rubbing or discomfort.
Strap Placement: When wearing Crocs with a strap, you should be able to comfortably fit your finger between the strap and your heel. If the strap feels too tight, follow these steps for a great fit:

Rotate the strap forward to check if your foot rests comfortably in the footbed and if there is enough room all around your foot.
If the footbed feels comfortable but the strap is too short, gently stretch the strap by working your fingers around it, taking care not to put excessive pressure on the rivet hole.
Stretch the strap until it is just short of the back edge of the shoe. The resin material in Crocs has memory and will retain its length after these adjustments.
Keep in mind that the body heat from your foot will further soften the shoe, allowing it to mold perfectly to your foot for enhanced comfort.
How Do Crocs Fit?
One of the challenges you face while buying Crocs shoes is how they fit. Crocs sizes come in roomy, relaxed, and standard fit that are designed specifically to adjust your wide or narrow feet.
It is not possible that a person with narrow feet can feel the perfect fit while wearing Crocs that are made for persons with wide feet.
Some people buy professional versions of Crocs shoes that they can wear in their jobs like in the medical or food industries, while other people prefer to wear casual Crocs while walking around the house.
Let's further discuss in detail each type of fit that Crocs shoes offer.
Roomy Fit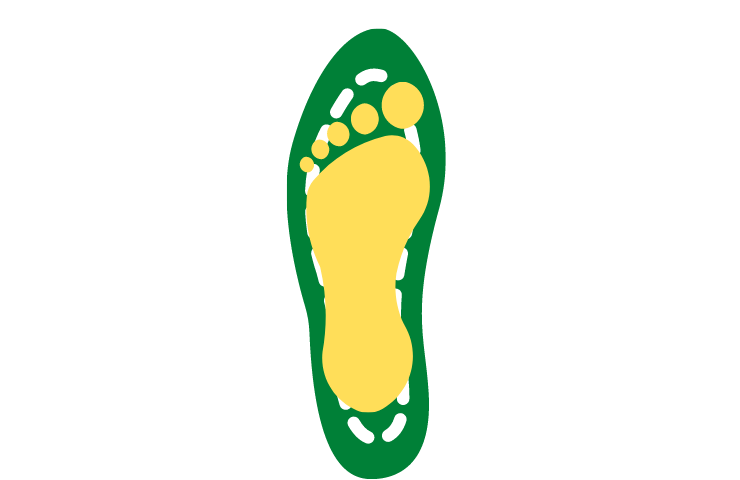 Some people want to have plenty of room in the shoes to easily wiggle their feet. Typically, shoes of this type of fit are house shoes that make you feel comfortable as you sit at the table for a while or wander from one room to another.
Models in this category often resemble clogs and have a heel-hugging back strap that offers stability to your feet by providing a comfortable backing on the back of your ankles and heels. The backing strip also ensures to keep your feet in place and avoid unstable movements.
From length to width, the fit ensures that your feet do not meet the sides of the shoes. Also, these provide a roomy toe box so that front of the shoe does not rub with your toes. This type of pair of shoes has plenty of space in between your toes and the tops of your shoes, which ensures excellent breathability.
You may want to consider buying a size down for wearing them for long walks if you are thinking of buying shoes of this type.  
Relaxed Fit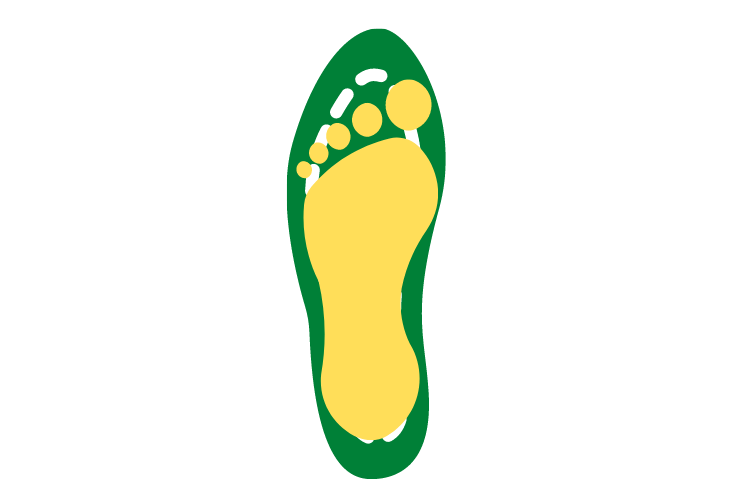 As compared to roomy fit, this type of fit does not provide plenty of room for your feet. By wearing Crocs, you can feet a relatively tighter fit. However, there is still room at the front so that your toes do not touch the shoes.
There is also a slight room around the perimeter of your feet. Sometimes, the sides of the shoes and your feet will come in contact that will help in stabilizing your walking gait while enjoying a secure and relaxed fit.
Some models, featuring a relaxed fit, also include laces or straps to provide a nice fit. In this way, Crocs shoe models with a relaxed fit are the most suitable for long-distance walkers or for professionals who have to stand for long hours on their feet.
Standard Fit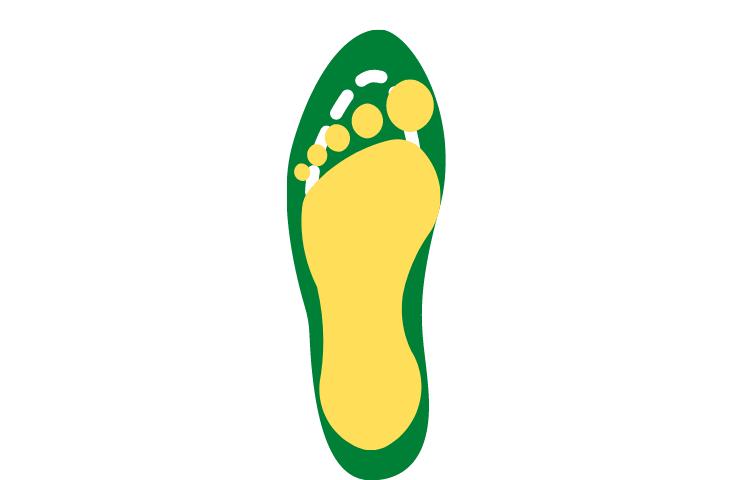 This is a kind of sung fit that completely hugs your feet from all sides without being tight and making you feel uncomfortable. Crocs shoes with standard fit provide a glove-like fit to the contour of your feet with minimal slipping as you walk around.
In addition, the heel of the shoes also provides a secure and snug fit so that it does not move up and down and rub on the back of your ankles. Lastly, this fit still provides plenty of room at the front of the shoes to wiggle your toes.
Most of the Crocs' shoes that feature standard fit usually come in a loafer style.
How Do Crocs Classic Clogs Fit?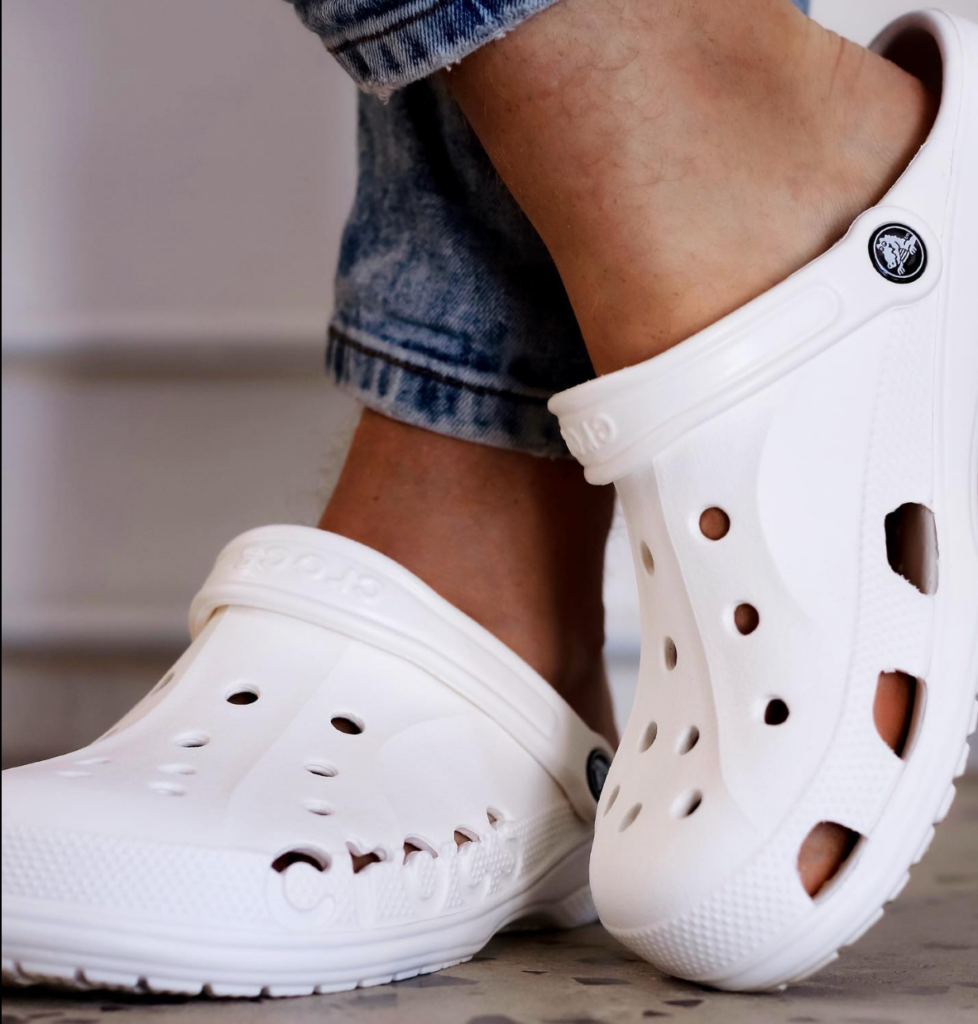 If you have a question in your mind, do Crocs run big? Then, yes. These Crocs Classic clogs are intended to offer a roomy fit with a pivoting backing strip on the back of your heel to provide stability to your feet. You might have to get one full size down for Crocs Classic clogs.
This is what a real user says about them:
I wear a 10 or 10.5 or even 11 in Nikes. I ended up buying a 9 in crocs earlier for my first pair. They fit snug, but are comfortable overall.

Real user review
Their spacious and wide toe box allows you to easily wiggle your toes without touching the front of the shoes. To provide stability, you can adjust the hinged heel ankle strap based on your ankle shape so that you can get maximum comfort. If there's a wide space in front of your toes after sizing down, you can put the strap down to push your foot forward.
Check out the below video to know about the fit of Crocs Classic Clogs.
For a perfect fit of Crocs classic clogs, make sure that there should 1/4 to 1/2 inch of space in front of your toes, and when you lift the heel strap, you should be comfortable while placing your fingers between the strap and your heel.
These crocs also have iconic Croslite technology that is a lightweight cushioning and offers comfort for short walks. These clogs have also ventilation holes on the top that keeps your feet aerated all the time.
You can buy these crocs from here.
How Do Crocs Baya Clogs Fit?
Crocs Baya Clogs have the same comfort and roomy fit as Classic Clogs. But, according to users, Crocs Baya tends to be a bit roomier on the top of the foot than Classic Clogs. However, some users complain that Crocs Baya Clogs run too small/shorter compared to Crocs Classics Clogs. One user says that Baya Crocs are definitely shorter and kind of force the toes into a curl.
Another user says this:
"Bought Crocs Baya size 10 assuming that they'd be the same as Classic size 10. Had to return and repurchase Baya size 11, which fit the same as my old ones."
How Do Crocs Bistro Clog Fit?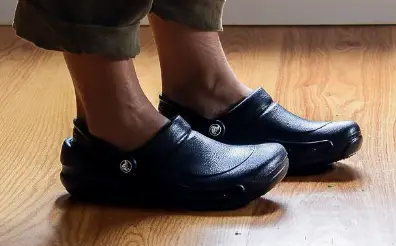 Like classic clogs, it also provides a nice roomy fit. The feature that differentiates these clogs from the previous one is that have a closed toe and top.
Furthermore, they do not have ventilation holes on the top. In this way, liquid cannot seep through the shoes into your feet. Due to this reason, their fitting is slightly narrow as compared to the Crocs Classic Clogs. However, you should consider the same fitting rules for these clogs that I have discussed for Classic clogs.
You can buy these crocs from here.
How do Crocs on the Clock Clogs Fit?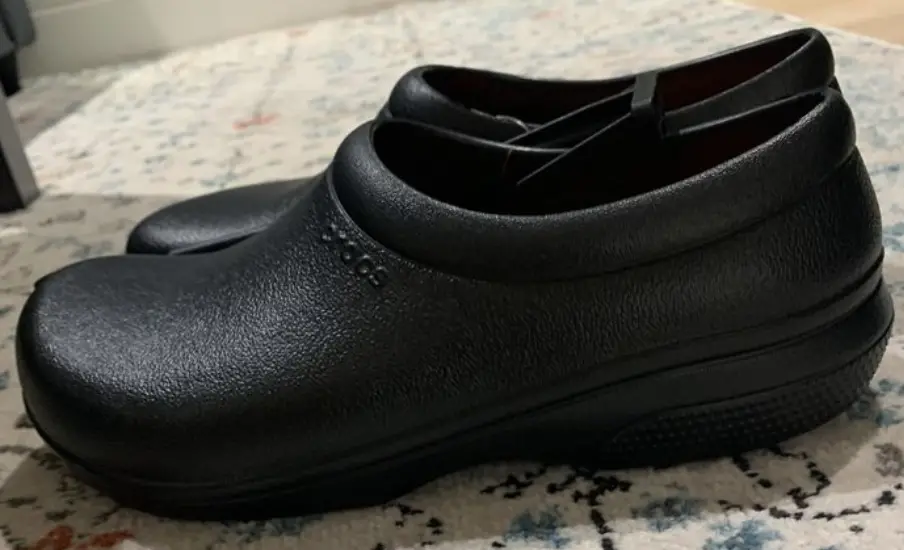 This clog by Crocs is a kind of slip-on shoe that is different from the standard classic clog by Crocs. Professionals working in restaurants, bars, the service industry, or nurses working in hospitals have to stand all day long on their feet. These slip-on shoes with a relaxed fit provide comfort to the feet of those professionals by offering a secure fit and cushioning support.
These shoes feature a relaxed fit with tapered padding on the back of the ankle for a secured fit. They have embedded with Dual Croslite Technology that has an added soft foam-cushioned footbed with a croslite foam providing extra cushioning to your feet.
According to the reviews on customers on different online platforms, around 60% claim that these crocs on the clocks are true to size. You can check the weightage of features based on the reviews here. If you have flat and wide feet, these shoes might run true to size for you. If your feet are narrow, you would want to order one size down.
You can buy these crocs from here.
Crocs Men's Walu Slip-On Loafer Sizing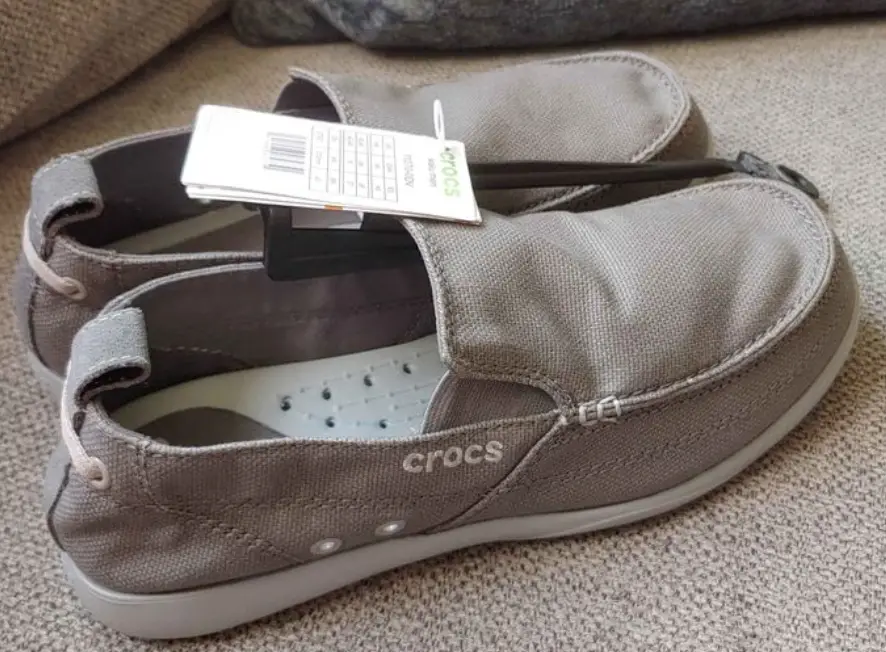 To give a glove-like feel to your feet, these loafers are a perfect example of Crocs with a standard fit. To avoid blistering on your feet, the loafers are made of soft textile that is flexible enough to securely hug your feet. The soft and flexible upper material allows you to easily wear on or take off shoes without facing any discomfort.
However, most people complain that these Crocs loafers run a bit small. Due to this, many customers get a size up.
Unlike the above three Crocs shoes, these Crocs are not unisex and are designed separately for men and women. You can buy a female version of these loafers from here and a male version from here.
Crocs Shoes Sizing Guide
Crocs shoes have been in business since 2002. Crocs have been manufacturing shoes with different variations including clogs, slippers, sneakers, boots, and sandals. As explained above, each variation of Crocs is designed based on the desired applications and the required fit type.
Crocs sizing charts are developed for men, women, and kids. Crocs have easier for you by making size conversions for the US, UK, and Europe in each chart. There are also some unisex shoe models that both men and women can wear. There is a separate size chart for those models.
Crocs' most popular models are designed in a unisex model. The size of such shoes is selected from the unisex crocs shoes sizing which I have attached below.
Crocs Men's Size Chart
| US Size | UK Size | EU Sizes | Inches | MM |
| --- | --- | --- | --- | --- |
| 4 | 3 | 36-37 | 8 5/8 | 221 |
| 5 | 4 | 37-38 | 9 | 229 |
| 6 | 5 | 38-39 | 9 3/8 | 238 |
| 7 | 6 | 39-40 | 9 5/8 | 246 |
| 8 | 7 | 41-42 | 10 | 255 |
| 9 | 8 | 42-43 | 10 3/8 | 263 |
| 10 | 9 | 43-44 | 10 5/8 | 272 |
| 11 | 10 | 45-46 | 11 | 280 |
| 12 | 11 | 46-47 | 11 3/8 | 288 |
| 13 | 12 | 48-49 | 11 5/8 | 297 |
| 14 | 13 | 49-50 | 12 | 305 |
| 15 | 14 | 50-51 | 12 3/8 | 314 |
| 16 | 15 | 51-52 | 12 5/8 | 323 |
| 17 | 16 | 52-53 | 13 | 331 |
Crocs Women's Size Chart
| US Size | UK Size | EU Sizes | Inches | MM |
| --- | --- | --- | --- | --- |
| 4 | 2 | 33-34 | 8 3/8 | 212 |
| 5 | 3 | 34-35 | 8 5/8 | 221 |
| 6 | 4 | 36-37 | 9 | 229 |
| 7 | 5 | 37-38 | 9 3/8 | 238 |
| 8 | 6 | 38-39 | 9 5/8 | 246 |
| 9 | 7 | 39-40 | 10 | 255 |
| 10 | 8 | 41-42 | 10 3/8 | 263 |
| 11 | 9 | 42-43 | 10 5/8 | 272 |
Crocs Unisex Size Chart
| US Size | UK Size | EU Sizes | Inches | MM |
| --- | --- | --- | --- | --- |
| M4 | W6 | M3 | W4 | 36-37 | 8 5/8 | 221 |
| M5 | W7 | M4 | W5 | 37-38 | 9 | 229 |
| M6 | W8 | M5 | W6 | 38-39 | 9 3/8 | 238 |
| M7 | W9 | M6 | W7 | 39-40 | 9 5/8 | 246 |
| M8 | W10 | M7 | W8 | 41-42 | 10 | 255 |
| M9 | W11 | M8 | W9 | 42-43 | 10 3/8 | 263 |
| M10 | W12 | M9 | W10 | 43-44 | 10 7/8 | 272 |
| 11 | 10 | 45-46 | 11 | 280 |
| 12 | 11 | 46-47 | 11 3/8 | 288 |
| 13 | 12 | 48-49 | 11 5/8 | 297 |
| 14 | 13 | 49-50 | 12 | 305 |
| 15 | 14 | 50-51 | 12 3/8 | 314 |
To find your shoe size, use a ruler to measure the size of your foot as I have discussed in my article sizing guide. If the measurement of your feet is in between the sizes, I would recommend ordering the next whole size.
Crocs Sizing Based on the Type of Crocs
To help you navigate Crocs sizing and fit, we have provided a list of popular Crocs models along with their corresponding fit information. This will assist you in finding the right size for your preferred style.
| Crocs Model | Fit |
| --- | --- |
| Crocs Classic Clog | True to Size |
| Crocs On-The-Clock | True to Size |
| Men's Santa Cruz Slip-On | True to Size |
| Crocband Flip | True to Size |
| Women's Crocs Tulum Toe Post Sandal | True to Size |
| Crocs Classic Slide | True to Size |
| Crocs Classic Crush Clog | True to Size |
| Crocs LiteRide | Runs Larger |
| Crocs Bistro Pro LiteRide Clog | Runs Larger |
| Baya Lined Clog | Runs Larger |
| Women's Neria Pro II Graphic Clog | Runs Larger |
| Women's Jaunty Shorty Boot | Runs Larger |
| Crocs LiteRide 360 Pacer | Runs Larger |
| Classic All-Terrain Realtree Edge Clog | Runs Larger |
| Crocband Clog | Runs Slightly Larger |
Do Crocs Stretch after Wearing?
Crocs shoes need to be break-in to stretch. As I have explained above, Crocs' fit is different for each model. After breaking in the shoe, the way it fits will largely depend on its design and fit. Since there is enough room in Croc's shoes to adjust your feet, the break-in period for crocs will not be painful as compared to shoes of other brands.
Now, some wearers might find the stretching of Crocs as a blessing if they find them tight in the beginning. In fact, many users get the perfect fit as they step into their shoes, and they might find it unpleasant after further stretching of the shoes. Again I would say it depends on the Crocs model you are aiming to buy and your feet size to decide whether you want to stretch your shoes or not.
To stretch the shoes, dip them in hot water for not more than a minute. Take out the shoes and dry them with a hairdryer. Wear the shoes with a pair of socks and walk around the house for a few minutes.
You can also check the methods of stretching the shoes section that I have detailed in another article. 
Do Crocs Come in Half Sizes?
Unfortunately, Crocs do not come in half sizes. So, if you have a size 9.5, I would recommend you to go up the half-size and buy 10. Most of the customers have faced the issue that if they buy half a size down, then shoes will be tighter on their feet which can result in blisters formation.
Final Words About Crocs Sizing
So, that's all my beloved readers. If you are still wondering whether crocs run big? You should go for the true to size option for Classic Crocs. They are not going to be too big. They slide off a bit. As I have already explained that Crocs shoes come in three different types of fit i.e. roomy, relaxed and standard. So, at the end of the day, it majorly depends on which Crocs model you're going to buy.
Each Crocs shoe model with a certain fit has been designed by keeping in view a certain range of applications. Some shoes are designed for walking around the house, while some are designed for professionals who have to stand for long hours on their feet.
Some people like comfortable and casual style shoes with enough room for breathability. Therefore, the roomy fit is designed for people that are extra wide around the perimeters of their feet. So, for this fit, if you ask do Crocs run big, then yes, they do.
However, I will always suggest you before buying Crocs, always check their sizing chart and the return policy of the store. In this way, if Crocs are big or small on their feet, you can return the shoes and exchange them for the correct size.