Ecco vs Rockport: What's the Difference?
Ecco and Rockport are two popular brands of dress shoes. There are some differences between Ecco and Rockport shoes with respect to the quality and comfort, which I'll cover in this article.
In a comparison of Ecco vs Rockport dress shoes, the pricing of Rockport dress shoes ranges from $80 to $175. On the other hand, Ecco dress shoes are pretty expensive but of higher quality. Currently, the minimum price of Ecco dress shoes is $120, and the maximum price is around $250. Rockport makes a very comfortable and fairly durable 'throwaway shoe.' The leather of Brockport shoes is quite thin and doesn't hold for a longer time. In contrast, ecco dress shoes leather holds up well. Both Rockport and Ecco dress shoes cannot be resoled. However, the reason for the lesser price of Rockport shoes is that they have a very soft rubber sole that can break down fairly quickly compared to the synthetic soles of Ecco dress shoes. That's why people don't recommend wearing Rockport dress shoes every day. They're only suitable for occasional wear.
A Brief Overview of Ecco Brand
Ecco is a Danish shoe company founded in 1963 by Karl Toosbuy in Bredbrogardens, Denmark. Although most people only know the brand for its high-end shoes, Ecco also produces leather and its accessories. In 1982, the brand opened its first retail store in Denmark. Today, Ecco is selling its products in more than 90 countries, having multiple shops and sale points.
What is Special About Ecco Shoes?
The special about Ecco shoes is that the company itself manages the entire shoe-making process. Ecco company has its own established factories in Portugal, China, Vietnam, Thailand, and other countries where it manufactures its footwear. Furthermore, the company produces 97% of the leather used to make Ecco dress shoes. So, the quality of the leather is monitored correctly in the shoe manufacturing process.
The other specialty about Ecco shoes is that Ecco deploys the direct-injection technology to inject the polyurethane sole directly on the shoes upper without the requirement of stitching or gluing. This technology makes a stronger bond between the upper and sole and makes the shoes more flexible.
A Brief Overview of Rockport Shoes Brand
The Rockport brand first started its roots as an American shoe company in 1971, and since then, it has been a favorite of millions of people worldwide for producing comfortable dress shoes. The company is currently headquartered in Newton, Massachusetts, and has over 50 years of experience designing and manufacturing footwear. Previously, the company had retail stores across 60 countries around the world.
In 1986, Rockport was sold to the famous British athletic shoe manufacturer i.e. Reebok. Twenty years later, Reebok was acquired by Adidas. As a result, Rockport shoes were also in the control of Adidas. Since, Adidas group's majorly focuses on athletic and sports shoes, it sold the company to New Balance holding in 2015, which then named a new company called Rockport Group, which consisted of Rockport shoes, Dunham shoes, Cob Hill, and Aravon. If you check out the Rockport site now, you'll find it a merge of shoes from four different brands, as I've shown in the picture.

Unfortunately, the Rockport brand doesn't have a vast retail presence like Ecco. Rockport shoes are still sold online and through departmental and general stores in the USA, such as Macy's and DSW. So, if you live outside the US, the only option for you is to buy online.
Ecco vs Rockport Leather Quality
Rockport outsources its shoes manufacturing process, so there's a lack of quality control. Rockport shoes leather quality is badly degraded over a period of time, especially after the Adidas group took over the company.
Now, the leather of Rockport shoes is relatively thin and seems like it is cheaply made. According to wearers, the price at which you're buying Rockport shoes, you'll get them with corrected-grain leather, which often feels like plastic, and tends to worsen over time.
Ecco shoes have great leather quality as the company itself controls the manufacturing process. Ecco shoes feature full-grain leather. The leather of Ecco shoes is thick compared to Rockport shoes and stands up to normal scuffing well after several years of wearing them. However, I would not recommend comparing the leather of Ecco dress shoes with some premium dress shoes like Allen Edmonds or Johnston and Murphy. Their leather is far more durable than Ecco shoes.
Here's a picture of Ecco dress shoes that a person shared on Reddit after two years of wearing them.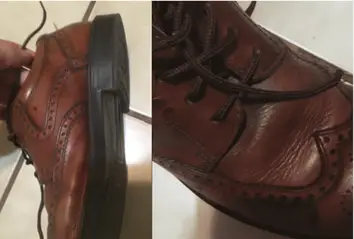 Ecco vs Rockport Features Collection
After extensive searching, I found that both Ecco and Rockport have made two different versions of shoes with the same style. One has a lesser price with a bit cheaper quality, and the other is a premium version with more comfort.
The premium line of Rockport shoes is named as Total Motion Collection. It has relatively higher prices than a conventional line of Rockport dress shoes. You've to pay around 20 to 50 dollars extra for that.
For instance, if you look at Rockport Men's Sl2 and Men's Total Motion Dressport Slip-On, both are slip-on loafers. But the pricing of Men's SL2 is around $70, and the pricing of Total Motion Dressport slip-on is around $100 at the time of writing this article.
The difference between these two is that the former is made of a rubber outsole, while the latter is made of an EVA foam. Furthermore, Rockport Total Motion slip-on loafers have a wider base and feature a TPU shank from heel to toe that provides all-day support and protects your feet from pounding when walking sideways.
Ecco also makes two variations of the same style. The higher-end variation of Ecco shoes can cost you $50 extra. For instance, ECCO New Jersey Slip-On Loafer and ECCO Helsinki Bike Toe Slip-on Loafer have exactly the same style. But the price of the New Jersey Loafer is around $89, and the price of Helsinki Loafer is about $160.
The difference between New Jersey and Helsinki loafers is that the latter one has a thicker outsole. Moreover, the insole of Ecco Helsinki loafers has more padding as compared to New Jersey loafers. Helsinki loafer offers more toe room, and it has better stitching of the upper.
Ecco vs Rockport Shoes Outsole Quality
Ecco dress shoes outsoles are made of synthetic leather. They're directed injected on the upper without a need for glue or stitching. In contrast, Rockport shoes outsoles are made of a soft and flexible grippy rubber, which is simply glued to the upper.
As discussed above, Rockport shoes have a total motion collection in which the outsole is made of a very soft EVA foam, which feels as if you were walking on a cloud.
Here is how the outsoles of Rockport Men's Sl2 Bike So Loafer and Ecco Slip-on Loafers look in the picture below.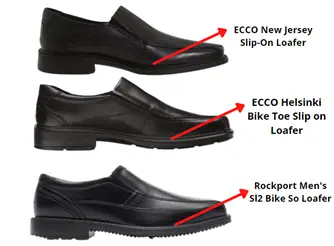 I've shown only one model of Rockport slip-on shoes in the above picture because their all slip-on loafers have the same outsole profile. On the other hand, Ecco offers variations in outsole profiles, as I explained above.
Regarding Ecco dress shoes outsoles, as they are made from Polyurethane material, they start disintegrating after a while if you do not take care of them.
Here's what a wearer of Ecco dress shoes says on the Amazon page.

On the other hand, for several customers, the sole of Ecco dress shoes has been found to be pretty durable for more than 3 years.
Here's another comment I found in a comment section of a youtube video in which a person says that his Ecco loafers soles started cracking after 4 years.
This is the con of polyurethane material that it starts cracking and leaving crumbles if shoes are not in shoes for a longer time.
You can also check out this video in which a person is discussing the soles cracking issue of Ecco dress shoes.
Thus, disintegration usually happens when you occasionally wear Ecco shoes and keep them closer under warm and damp conditions. So, it is advisable to keep your Ecco dress shoes aerated from time to time and keep them in a cool and dry place.
Regarding the durability of Rockport shoes soles, it's not so good. Since they are made of a very soft rubber outsole like foam, they can't withstand harsh conditions. That's why people label Rockport shoes as "inexpensive throwaways". The average life of the soles of Rockport dress shoes is around 6 months to one year.
Furthermore, Rockport shoes like this pair have an excellent grip of their outsoles. However, people complain that their soles are not compliant with polished or any wax floor as they leave marks on those floors and tend to wear out much faster.
Ecco vs Rockport Shoes Comfort
Both Ecco and Rockport shoes are comfortable for long hours standing. Rockport shoes are especially famous due to their extreme comfort, provided by their soft rubber soles. Furthermore, Rockport shoes contain Adidas exclusive adiPrene cushioning in the heel and forefoot, beneficial for long hours standing.
Due to direct-injection technology in Ecco shoes, it also makes PU outsole flexible, which provides excellent support and comfort during long hours standing. Also, the leather of both Ecco and Rockport dress shoes is soft enough to offer a comfy fit.
Rockport shoes are slightly more comfortable due to the EVA foam footbed. On the other hand, Ecco dress shoes have a removable leather footbed.
Also, both Ecco and Rockport shoes provide a moderate arch support. The arch of Rockport shoes is slightly pronounced as compared to the Ecco dress shoes.
Ecco vs Rockport Shoes (Which One's Better?)
So, if you still think which one is better among Ecco and Rockport dress shoes, I'd say it totally depends on your needs. Rockport shoes are extremely comfortable due to the EVA sockliner and a very soft rubber outsole. However, the sole is not durable and can start wearing out after 6 months. So, if you're on a limited budget, want to wear dress shoes occasionally, and plan to change them every year, I'd suggest going for Rockport dress shoes.