Johnston and Murphy vs Allen Edmonds (Make the Right Decision!)
So, are you confused about Johnston and Murphy vs Allen Edmonds? In comparing Johnston and Murphy, and Allen Edmons shoes, I'll try to clear all your confusion and make it easy for you to pick footwear from one brand over the other according to your needs.
Johnston and Murphy vs Allen Edmonds Shoes and Oxfords
Johnston and Murphy is a shoe company for those who don't have limitless budgets in this tough economy. They offer high-quality shoes for everyday wear, and they are sold online exclusively for both men and women.
Allen Edmonds are another option. They are are priced much higher than Johnston & Murphy's, but they claim that their quality justifies it. We'll look at each set individually, consider some customer feedback, and then make up our minds.
Recently, when I was searching out different platforms for in-depth research of this article, I came across a question on Reddit in which the person was confused between J&M's and Allen Edmonds oxfords. He mentioned that he could afford Allen Edmonds shoes. Considering his budget, 90% of people in the comments passed their vote to Allen Edmonds shoes due to their unmatchable quality.
This is what people commented there.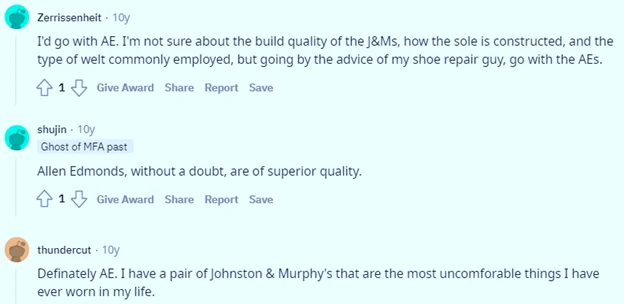 On the other hand, I found this comment by a Johnston and Murphy shoes user in a forum.

There's a lot more than these comments that I've explained in this guide below. Don't make your decision right away after reading few reviews regarding the comparison between J&Ms and Allen Edmonds.
Here are the following factors that I've taken into account to compare the oxfords of Johnston & Murphy and Allen Edmonds.
Johnston and Murphy Shoes Review: Durability and Quality
Johnston and Murphy is an American-based company that has been in business for well over a hundred years. It was found in 1820. J&M has an in-house manufacturing facility in the USA, and the quality of its shoes used to be excellent and better than Allen Edmonds at lower prices.
When Johnston and Murphy decided to outsource footwear manufacture to an outside party in another country around a decade ago to increase the number of styles at lower prices, the quality of their footwear started decreasing.
Johnston and Murphy have a range of up-to-the-minute shoes' models that can incredibly enhance your appearance with your outfit. But, due to the manufacturing of J&M shoes by third party overseas, it is difficult to tell what kind of leather they're using for their shoes.
Johny and Murphy has become a hit-and-miss brand like Cole Haan. J&M has different price points for their line of shoes. For a long time, dress shoes from their luxury and higher-end line have been competing with the quality of Allen Edmonds shoes at relatively lesser prices. Unfortunately, these shoes are difficult to find at different stores.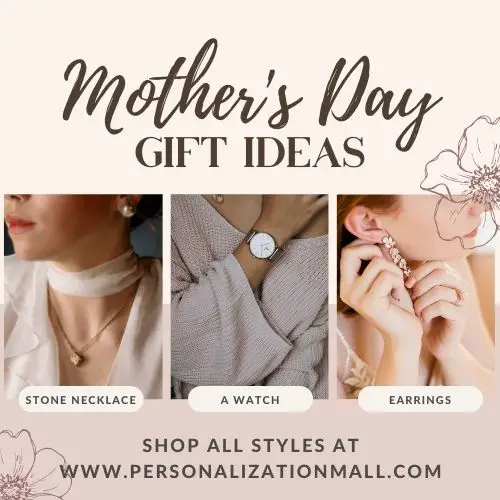 For example, the vintage J&M Crown Aristocraft dress shoes were one of the most durable shoes made of high-quality leather. You can buy them in used condition under $100 on eBay.
It's difficult to find such higher-end shoes from J&M shoes, which used to be made by the respective brand in the USA with thick calfskin, on Amazon.
However, shoes similar to Vintage Aristocraft are still available on the site of J&M's brand. These are some vintage styles that reflect the fashion of the early 2000s. They are USA-made and have high-quality leather. So, if you're not too much concerned about modern fashion, you can consider buying these J&M shoes from their site.
Among those shoes, I picked Johnston and Murphy Aldrich Toe Cap and checked the customers' review. Here' what they review about this pair.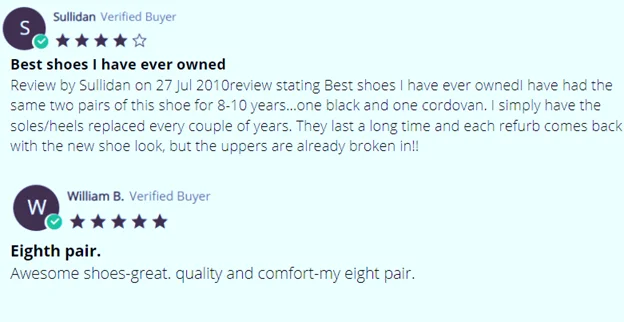 Apart from leather quality, the shoe's construction also plays a significant role in determining its durability. All those J&M shoes I discussed above feature Goodyear welt construction in which the sole is stitched to the leather upper via a piece of welt. This makes a robust and comfortable construction of the shoes, due to which they can last for more than 5 years.
Since the brand has outsourced the manufacturing of its shoes, J&M shoes are no longer Goodyear welted. Instead, Johnston and Murphy shoes are bondwelted in which the sole is glued to the leather upper instead of stitching. This is the same construction that Cole Haan shoes feature.
This method of making shoes is relatively cheaper. But, don't expect that such shoes will last for approximately more than two years as the sole starts getting separating from the upper over a period of time.
Here's what a user of Johnston and Murphy shoes says about them.

As far as the quality of sole of J&M shoes is concerned, this is also moderate. Some customers complain that they observe some marks on the soles after few days of wearing. For instance, I found this Johnston & Murphy Men's Conard Cap Toe Shoe on amazon. These shoes are made using the bondwelted technique.
Here's what a user on amazon says about the durability of these Johnston and Murphy shoes.

Allen Edmonds Durability and Quality
Allen Edmonds is a leading shoe manufacturer in America that has been continuously operational since 1922–making it one of the oldest companies still producing quality shoes. The quality of Allen Edmonds shoes is superior to Johnston and Murphy shoes. Allen Edmonds shoes are made of high-quality thick calfskin, due to which their leather upper looks new and shiny after years of wear.
Many users claim that Allen Edmonds can last for more than 10 years. So, they are worth buying if you select the style of their shoes pair that will look fashionable for ages. You should buy their shoes just for a particular event, and then you forget about them and lock them in the closet.
You can check out this analysis carried out by a person.
So, you should consider Allen Edmonds shoes as a long-term investment. Furthermore, all styles of Allen Edmonds shoes are 360 degree constructed using the Goodyear welt technique.
Johnston and Murphy Shoes Comfort
Some users claim that Johnston and Murphy shoes are difficult to break in due to their stiff leather. On the other hand, some users say their shoes comfortably fit as soon as you step in them for the first time.
For instance, if I again talk about Johnston & Murphy Men's Conard Cap Toe Shoes, wearers have to suffer from a sort of discomfort while breaking in.
Here's what a user says about them.

In addition, these J&M shoes provide good arch support due to their comfy footbed that delivers a plush feel underneath your feet.
Here are some reviews about Johnston and Murphy shoes comfort on amazon.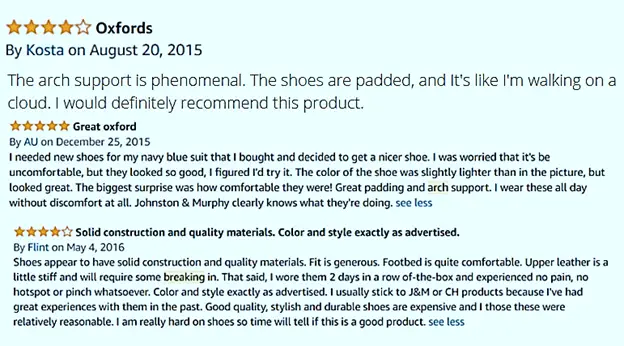 Allen Edmonds Shoes Comfort
Allen Edmonds' full-grain leather upper is exceptionally soft yet tough enough to withstand the elements. Typically, the break in period for several styles of Allen Edmonds shoes is almost negligible.
For instance, if I talk about Allen Edmonds Men's Strand, its design is similar to the J&M shoes I discussed above. According to the reviews by users on Amazon, these Allen Edmonds fit comfortably with little to no break in time.

The insole of Allen Edmonds is not removable as they are Goodyear welted. But still, users of Allen Edmonds Men's Strand shoes find them comfortable as the insole easily molds their feet.

The increasing comfort of Allen Edmonds is that they feature cork insoles that make these shoes more comfortable and ergonomic by providing great arch support.
You can also check out Allen Edmonds Men's McAllister Wing Tip Shoes. They have got some great reviews on amazon.
Johnston and Murphy vs. Allen Edmonds (Who's the Winner?)
Well, there's no doubt Allen Edmonds shoes are pretty expensive, and their prices are generally above $300. If you've got a budget and you're buying shoes for the long term, I'd suggest you go for Allen Edmonds as they're unmatchable in terms of their quality, durability, and comfort.
Although the price is relatively higher, there are also some black Friday sales. So, keep an eye on them and buy your favorite Allen Edmonds shoes at discounted prices.
On the other hand, if you want a variety of modern styles and don't care much about quality, you can surely go for Johnston and Murphy shoes. They are also embedded with a moderate amount of comfort. Although their leather quality is bad, if you're going to buy for a short-term period, like 2 to 3 years, you should give them a try.