Are Clarks Shoes Good Quality? (Full Review)
Yes, Clarks shoes are good quality and comfortable enough for everyday wear, only if you buy them at discounted prices. Mostly, there's up to 50% discount on several styles of Clark shoes. So, you can enjoy their style and comfort and cheaper prices. Clarks brand also has a store on Amazon
If you're interested in a full review of Clarks shoes, read this guide till the end.
Clarks shoes are designed to be worn for more than just a day. Their design team works hard to create styles that will work for any occasion. Each pair is fully customizable with orthotic insoles, arch supports, and custom insole patterns available to suit your specific needs.
However, wearers of Clark shoes complain that their leather gets scuffed after few weeks of wear, but the finish of leather still looks new.
Here's what a user shares his experience with his Clarks shoes on Reddit.

Furthermore, although the soles of Clarks shoes are flexible and lightweight while still being supportive, they get dirty quickly. So, you've to bear the pain to regularly clean the soles of your Clarks shoes if you wear them daily, and want to keep them for a longer period.
Why are Clarks Shoes so Expensive?
Clarks shoes are moderately expensive on the official Clarks site. Their price is a bit higher as they feature a premium quality full-grain and soft leather upper that maintains its finish for over a long time. For instance, I found a pair of Clarks Cheyn loafers on amazon. Across all reviews, Clarks loafers are highly praised for the soft, full-grain leather uppers that provide comfort, breathability, and durability.
Here's what users on amazon say about the leather quality of these Clark shoes.

Apart from Clarks full-grain leather shoes, there are several Clarks shoes with suede leather upper. Although the quality of suede leather of Clark shoes is pretty good, customers complain that the suede leather is quite stiff and causes blisters on their feet.
Here's what users say about the suede leather of the Clarks Men's Bushacre 2 Chukka Boot, the bestselling Clark suede leather shoes on Amazon.

Many of the outlets around the year offer insanely good deals on Clarks shoes, including Amazon. So, I'd advise you to regularly check Amazon to get amazing deals for your favorite Clark shoes so that you can enjoy great comfort, style, and quality at lesser prices.
At the time of writing this article, I've found some big discounts on several Clark shoes styles on Amazon, which can check in the picture below.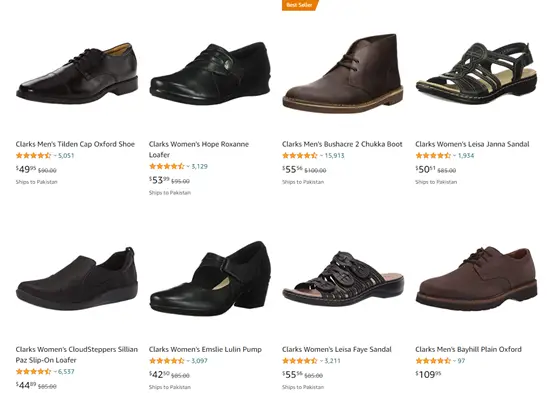 I found a comment by a user on Reddit. He got such a big discount and was able to get his favorite Clarks shoes.

Why Are Clarks Shoes So Good?
Clarks are also good because of their durability. Apart from their soft and good quality full-grain leather, Clarks shoes are well-designed so that they can last longer.
Clarks desert boots are very famous when it comes to talking about their durability. It is the stitch-down construction of the Clarks Desert Boot that provides the boot with its durability and characteristic curve.
Stitch-down construction is a type of upper that uses thread, rather than glue or other materials, to join the upper and the sole of the shoe. Unlike Goodyear welt construction, the leather upper is pulled out over the sole and is directly stitched to it without a welt. If you want to learn more about Goodyear welt and stitch-down construction, you can check this article.
You can also check out this video to visually observe the stitch-down construction in Clarks Desert boots.
Several users find Clarks desert boots highly durable due to their robust construction. Although their leather is a bit stiff as I mentioned above, you can soften it by applying suede leather softener.
You can't neglect this style just because of fear of blisters on your feet due to stiff leather. Considering they're priced under $60, their high quality and durability will definitely entice you to buy them.
Here's what users comment on the durability of Clark desert boots on Reddit.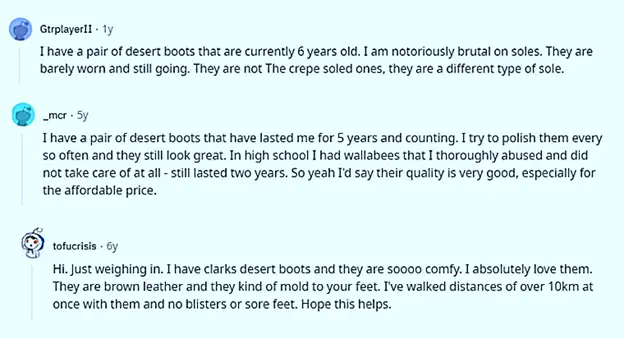 The other reason why people like Clarks Desert boots is because of their crepe soles. Crepe sole is like a gum rubber that offers suitable slip-resistance due to its sticky nature, and also holds a bit of shock absorption feature.
Are Clarks Shoes Comfortable for your Feet?
It depends on the type of Clarks shoes you like to wear. For instance, if you ask me about Clarks Desert boots, I'd not recommend wearing them while standing for long hours on your feet as they don't feature sufficient arch support. Several users agree with my stance. There is one model of Clarks Original Men's Desert Boots on amazon that has more than 1000 reviews, and the only complaint about them is their inability to support the feet for long periods of time.
Here's a review of a user about them.

However, Clarks brand has introduced a line of shoes with a comfort technology called "Cloudsteppers". Clarks shoes, falling in this category, offer great arch support and cushioning underneath your feet. You can check this video to know about Cloudsteppers technology.
After tons of research, I found Clarks shoes with Cloudsteppers technology for both men and women. Although these shoes are not fashionable, you can wear them to work.
For men and women, my choice is Clarks Cloudsteppers Slip-on Loafers.
So, it doesn't matter you're a nurse, cashier, or chef, you'll surely find great comfort if you wear these Clarks shoes during your duty.