8 Best Shoes for Cashiers
If you don't have time to read the entire guide till the end, I would rate Clarks Cloudsteppers as the best shoes for cashiers for standing long hours.
Finding the best shoes for cashiers can make all the difference when you're on your feet for hours on end.
As a retail employee who has spent over a decade working as a cashier, I know firsthand how crucial it is to have comfortable, supportive footwear that can withstand the daily grind.
The long hours of standing can take a toll on your feet, knees and back, leading to soreness, aches and pains.
A study from Brazil revealed that 38.5%, 34.6%, and 30.8% of cashiers experienced shoulder, lower back, and upper back pain, respectively.
So, keeping in view the importance if supportive and comfortable shoes for cashiers, in this article, I'll be sharing my top picks for the best shoes for cashiers based on important criteria like arch support, slip resistance, and shock absorption.
Whether you need a shoe that will get you through back-to-back shifts or something more polished to comply with a dress code, I've got you covered.
Best Shoes for Cashiers – Top Reviews
Here are our recommendations for the best shoes for cashiers.
Clarks CloudSteppers Sillian Paz Slip-On Loafer – Best Women's Shoes for Cashiers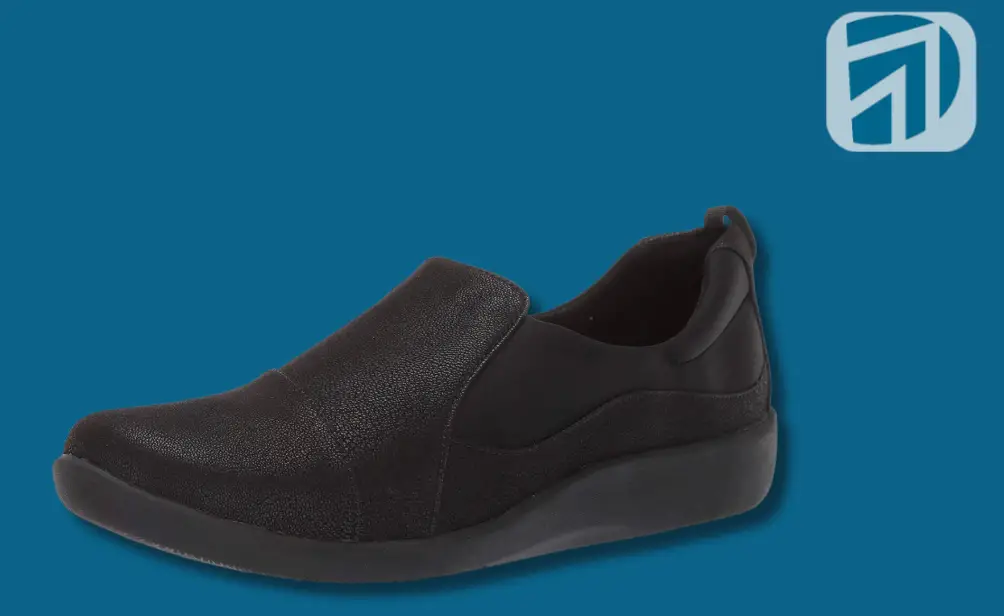 Features and Specs:
Extremely lightweight and soft foam cushioning
Soft textile upper for a plush feel to the feet and a comfy fit
Lightweight and flexible EVA outsole to protect your feet from impact of hard floor
Standing up for long hours is a very painful condition for cashiers. But don't worry, Clarks has developed a top-notch solution for you in the form of these comfortable slip-on loafers, embedded with the brand's exclusive cloud steppers technology.
To provide stability and arch support, the shoes have a slight heel that makes a rocker bottom of the shoes and helps to distribute your body weight across entire foot evenly.
They are designed to help you stay comfortable on the job and reduce back pain and other common discomforts experienced by cashiers walking on hard surfaces or standing for long periods. These shoes help to reduce fatigue, so it's easier to maintain good posture when standing for long periods.
The shoes have a minimalist and lightweight textile upper that is soft and flexible. It does not put a burden on your feet toes due to its excellent flexibility. Moreover, the Shoes are lined with soft fabric cushion to help guard against back pain caused by prolonged standing in front of a checkout counter. The soft fabric lining also helps to keep your feet dry and free from stinky moisture.
Also, the shoes feature a removable and heat-moldable OrthoLite footbed with memory foam that contours to the shape of your feet for all-day comfort. Ortholite forms a thermal barrier that elevates footwear temperature regulation to an exceptional level.
In this way, underfoot will be safe from outside extreme hot or cold temperatures. Furthermore, the footbed is lined with a soft clothing material so that your heel does not rub against the footbed and makes you feel uncomfortable.
Lastly, the midsole of shoes is blended with the outsole and made of a lightweight EVA foam material that is incredibly flexible and enhances the foot's mobility. It also offers supportive cushioning and maximum shock absorption, making these loafers one of the best shoes for cashiers who have to stand all day long at cash counters.
Personal Story
My friend Jenny worked as a cashier at a busy supermarket for years. She would complain to me about lower back pain and sore feet from being on her feet all day on the hard floors.
I suggested she try the Clarks Cloudsteppers loafers I had just purchased. She was skeptical at first, but decided to give them a try.
After just a few days of wearing the shoes, Jenny said it was life changing – her back pain was gone and her feet didn't ache nearly as much after her shifts.
She is so grateful to have found comfortable shoes that make her long days as a cashier much more bearable. The Cloudsteppers really made a difference for her.
What I Liked
Extremely lightweight
Great comfort and cushioning
Padded heel collar
Slight heel to provide stability to cashiers with flat feet
What I Didn't Like
Not suitable for people with high arches
Not enough slip-resistant due to EVA sole
The shoes can be narrow for some people
Adidas Women's Cloudfoam Pure Running Sneakers for Cashiers and Grocery Workers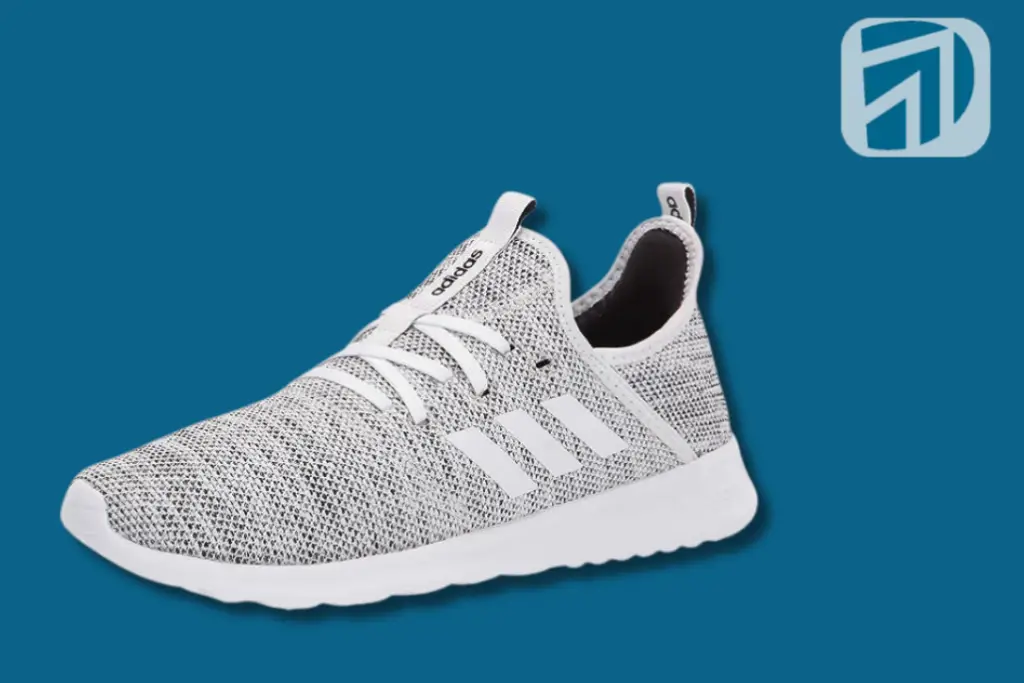 Features and Specs:
Bootie construction with a soft and flexible heel collar to hug your heel
Stretchy and flexible textile upper
Removable cloudfoam footbed for arch support and cushioning
Lightweight soft foam midsole
We know how it feels when you have to stand on your feet for hours on a cash counter. To avoid foot pain and injuries, we recommend cashiers switch to these Adidas lightweight running shoe that you can also wear as a work sneaker due to its professional and minimalist style. Wearing these sneakers, you can keep your mind on the job and enjoy soft and comfortable feet.
The optimized fit, ultra-comfortable performance, and vibrant color combinations of these lightweight sneakers complement your favorite uniforms while offering the renowned footwear support you need to keep on going at work. Due to the flexible upper, the shoes fit like a sock. However, you can tighten some more with a lacing closure.
The shoes have a padded mesh and synthetic textile upper, low-bootie design, and lightweight cushioning to make your job less stressful. The mesh upper allows airflow and keeps your feet breathable. The low-bootie construction and stretchy textile upper wraps around your foot like cashmere and provides a glove-like fit so that it does not rub against your feet' skin.
The shoes feature a cloud foam midsole that will cushion the cashier from the intense shock and stress on their feet, legs, and hips that they receive from standing on a hard surface for long periods. Cloudfoam material is a unique, springy foam that's carefully engineered to offer bouncy cushioning every step while reducing foot fatigue.
One downside of these shoes is that the insole is not removable, and its size is smaller than shoe size. Your foot can step on the edge of the insole and you might feel uncomfortable. However, there is enough room in the shoes to add your custom orthotic insert, which would make these shoes perfectly comfortable for you.
Lastly, the shoes are topped off with a non-marking rubber outsole that provides stability and traction on multiple surfaces. The outsole is flexible and offers ample support, so you'll remain comfortable on your feet all day.
Personal Story
My sister has been working as a cashier at a grocery store for the past few years. She used to come home with sore, aching feet after being on them all day.
I suggested she try these Adidas Cloudfoam shoes since I had heard they were comfortable for long periods of standing.
She decided to give them a shot and says it made a huge difference! Now she can get through her shifts with much less foot pain. She loves how lightweight yet supportive they are. The cloudfoam cushioning has been a real game changer for her comfort.
What I Liked
Extremely lightweight
Breathable mesh
Great cushioning and support due to cloud foam midsole
Low-bootie construction with padded lining to support ankles
What I Didn't Like
Extremely lightweight
Breathable mesh
Great cushioning and support due to cloud foam midsole
Low-bootie construction with padded lining to support ankles
Skechers Ghenter Bronaugh – Best lightweight Shoes for Cashiers and Grocery Store Workers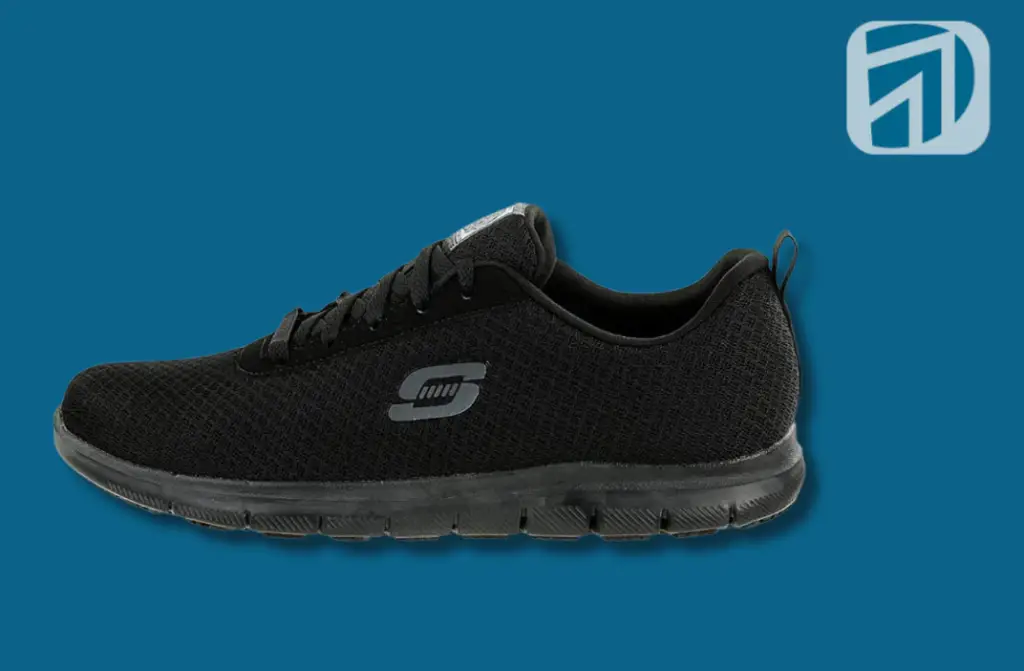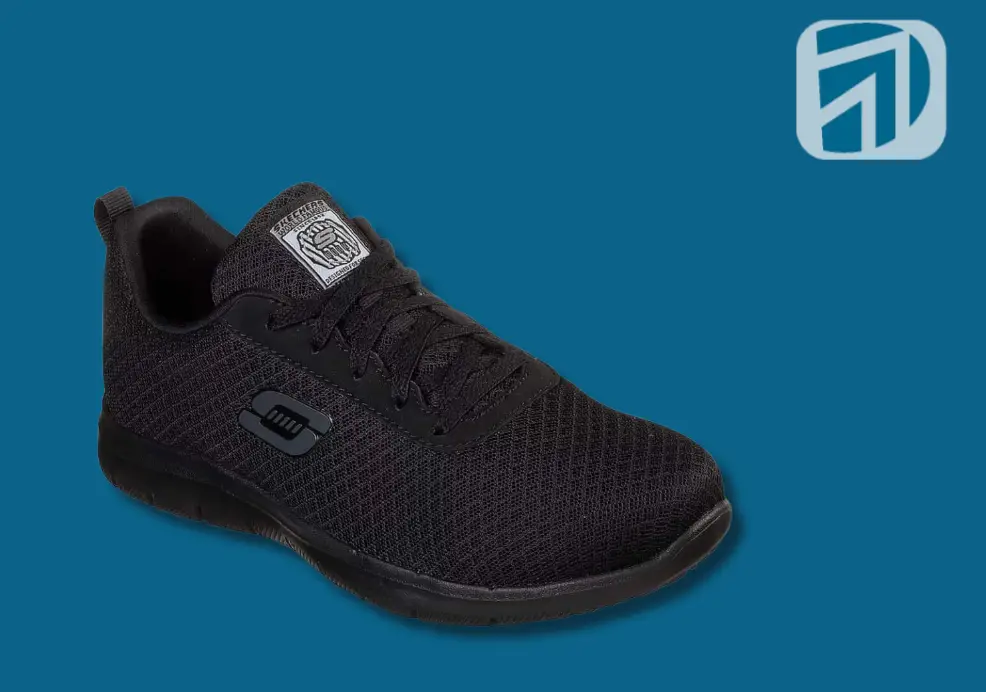 Features and Specs:
Textile mesh upper with pull-tab collar for easy on/off
Memory foam insole, providing support as well as cushioning
Best work shoes for cashiers, nurses and chefs
Cashiers are on their feet most of the time doing their jobs, and they need to wear good quality shoes that will protect their feet. For this purpose, these Skechers work shoes play an important role as they are designed to provide comfort, support, and stability for cashiers.
The shoe's ability to mold around your feet and support your legs make it ideal for cashiers. With a lightweight design and tons of arch support, it's no wonder why these shoes are so popular! The shoes feature a relaxed fit design that provides extra space in a toe area to wiggle your foot without crunching your toes.
Moreover, these work shoes feature a soft, breathable knit fabric upper that is lightweight and allows airflow to keep your feet breathable. Also, the padded tongue and collar keep your feet supported and comfortable.  They also feature an open-cell foam lining that wicks away moisture while providing long-term cushioning along with antimicrobial protection.
Additionally, the shoes have a removable memory foam insole to absorb shock and provide all-day power to your feet to stand for long hours. Memory foam material has high resilience; it easily molds your according to your foot curvature and provides extreme comfort for long hours standing.
Lastly, the flexible rubber outsole with aggressive treads pattern lets you depend on it to keep your balance on any terrain.
Personal Story
Working as a cashier, I'm on my feet up to 10 hours a day. I used to come home with sore, throbbing feet until I tried Skechers Ghenter Bronaugh shoes.
The lightweight mesh upper keeps my feet cool and the memory foam insole molds to my feet, providing excellent arch support and shock absorption.
The slip-resistant rubber outsole gives me traction on slippery floors. Now I can work my long shifts with total comfort and confidence thanks to these Skechers work shoes. They're perfect for cashiers like me!
What I Liked
Perfectly fit with plenty of room in toe box
Breathable
Lightweight
Durable
Slip-resistant
What I Didn't Like
Available in only two colors i.e., black and white
Provide moderate arch support; they are not suitable for high arches
Dr. Scholl's Women's Drive Slip-Resistant Sneakers for Cashiers and Retail Workers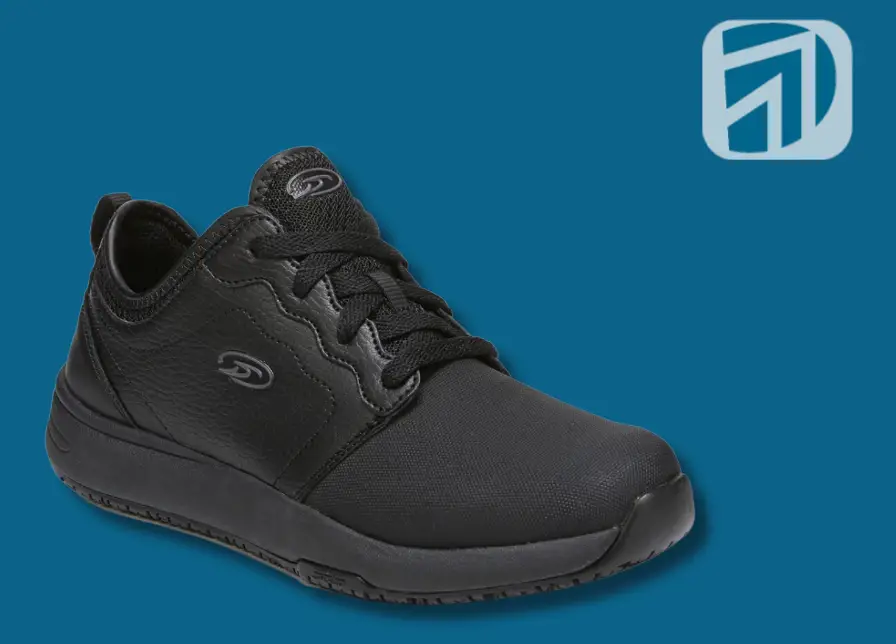 Features and Specs:
A durable synthetic leather upper with soft textile lining
Exceptional heel cushioning
Slip-resistant outsole, meeting safety standards
If you're on your feet all day, working in retail or cashiering, you need comfortable but stylish shoes to help keep you moving. These sneakers for cashiers offer fashionable style and the ultimate in comfort, so your feet don't hurt before the day is done. They will protect your feet and keep you energized. You will feel secure when you wear these shoes, as they will keep you strong and steady.
The black synthetic leather upper is durable and long-lasting with a lacing closure for a customized fit. The upper of the shoe makes sure there are no pressure points on your feet which means less aches and pains at the end of each day.
The back of the shoe is made from a mesh fabric to enhance flexibility and allow you to easily put on/off your shoes without rubbing on the back of the ankle. They are made with a low-cut design to allow for easy movement and quick removal.
As far as cushioning and comfort of these sneakers is concerned, they feature GEL in the heel area that provides excellent shock absorption and protects your heel from strong impact. The gel pad is a soft and semi-solid material like silicon, made from inert polymers to enhance the cushioning efficiency of the shoes.
Also, the shoes feature a removable memory foam insole technology for optimal shock absorption and pain relief and provide comfort at work.
Lastly, the durable and slip-resistant rubber outsole of these sneakers helps prevent slippage on slippery, hard floor surfaces to keep you safe and secure during your hours on duty.
Personal Story
My friend Jenna is a cashier who used to suffer from sore, aching feet after long shifts. She tried Dr. Scholl's slip-resistant sneakers and says they made a huge difference.
The gel cushioning and memory foam provide excellent shock absorption and arch support. Jenna feels much more comfortable and secure now thanks to the slip-resistant sole.
No more foot pain after work! She can focus on her job instead of her feet. These sneakers improved Jenna's workdays tremendously. I'm so glad she found something supportive and stylish.
What I Liked
Made from a combination of textile and leather to offer durability and flexibility
Slip-resistant outsole
Gel cushioning in heel region to provide extra protection and shock absorption
Good arch support
What I Didn't Like
Ankle support is not good
Dr. Martens Men's 8053 Oxford – Best Durable Shoes for Cashiers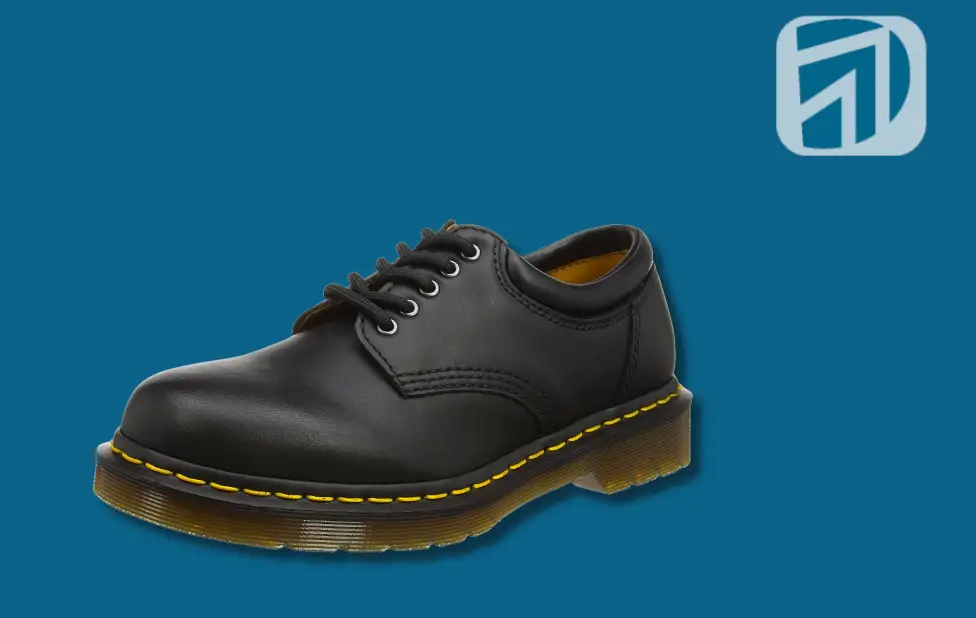 Features and Specs:
Full-grain soft leather
Formal design like dress shoes
Cushioned sole, filled with air to make it lightweight
Contrast stitching to make them stylish
This pair by Dr. Martens brand is specifically intended for people in occupations requiring standing most of the day. It will provide adequate arch support, shock absorption, and comfort as you stand for long periods.
The upper is made with soft synthetic leather, and the heel is reinforced with a durable rubber lug that enhances the stability of your foot and helps maintain your standing gait. The heel features shock-absorbing qualities that support the foot in its natural position during standing or walking periods. Moreover, the heel collar is fully padded with leather lining to support your heels and ankles.
Moreover, the shoes are finished off with a durable Goodyear welt construction in which the sole is sewn to the leather to make the shoes last longer.
Dr. Martens has used their classic AirWair™ air-cushioned outsole that is slip-resistant and has excellent shock absorption tendency. In the sole, some air pockets make these shoes so comfortable to wear and offer a bouncy feel to the user. In this way, the sole reduces foot fatigue and provides a better grip on smooth floors.
Related: Doc Martens Sizing and Fit
What I Liked
Insole is removable
Padded leather collar to support ankles
Shoes can provide great arch support if you add your custom orthotic inserts
Leather quality is good
What I Didn't Like
Toe box is a bit tighter and stiffer due to which top of the shoe can pinch the top of your foot
Needs to break in to stretch the shoes and fit around your foot
Many customers have complained that the sole would separate from the shoes after some months
Skechers for Work Men's Flex Advantage Mcallen – Comfortable Supermarket Shoes for Cashiers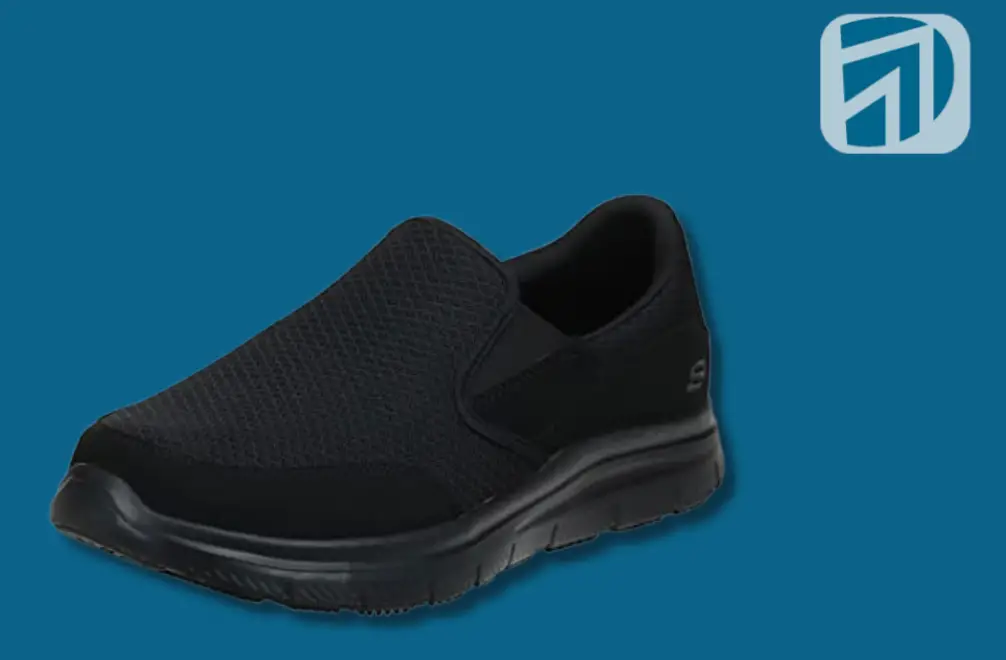 Features and Specs:
Slip-on design with textile mesh upper
Dual elastic goring for a flexible fit
Padded heel collar to support your heel
Soft interior lining
These comfortable shoes for cashiers are the ideal balance between superior comfort and on-the-job toughness. They feature a lightweight design that keeps them looking professional and sleek. The shoes are designed to produce a barefoot feel when you are walking, running, or standing.
The shoes are designed to have a dual-density midsole, which provides the amount of support you need to keep you comfortable and make you feel barefoot. Moreover, the memory foam footbed, which has an open-cell structure, absorbs shock and helps to keep you feeling comfortable all day.
The shoes are made from a lightweight and breathable mesh fabric that will keep you cool and comfortable while standing all day long at the cash counter. Moreover, the elastic goring at both sides ensures that the shoes fit comfortably and do not rub on the top of your foot. The breathable fabric lining keeps your feet breathable, offers a plush feel for long hours standing, and padded collar provides a comfortable fit around the ankles.
Lastly, the shoes feature a slip-resistant outsole and a Flex soft cushioning system in the midsole that absorbs shock and returns energy with every step. Moreover, the non-slip traction patterns on each outsole keep you firmly on your feet.
Personal Story
My co-worker James works as a cashier at our local grocery store. He's on his feet for 8 hours a day and his feet are killing him by the end of each shift.
When I came across these Skechers Flex Advantage shoes made specifically for men, I thought they'd be ideal for James. I told him about them and he decided to give them a try. Now James swears by these shoes.
He loves the lightweight mesh upper that keeps his feet cool and the slip-on design that makes them easy to take on and off.
The padded collar prevents heel rubbing and the slip-resistant sole gives him stability. James says these are the most comfortable work shoes he's worn as a cashier. His feet have never felt better!
What I Liked
Pretty lightweight
Breathable
Relaxed fit to provide plenty of room in toe area
Slip-on design with dual elastic panels for a comfortable fit
What I Didn't Like
Insole is difficult to remove as it is glued to the shoes
You can improve arch support by adding your custom inserts
Many customers have claimed that after 4 to 6 months, outsole got separated
TIOSEBON Mesh – Best Work Sneakers for Cashiers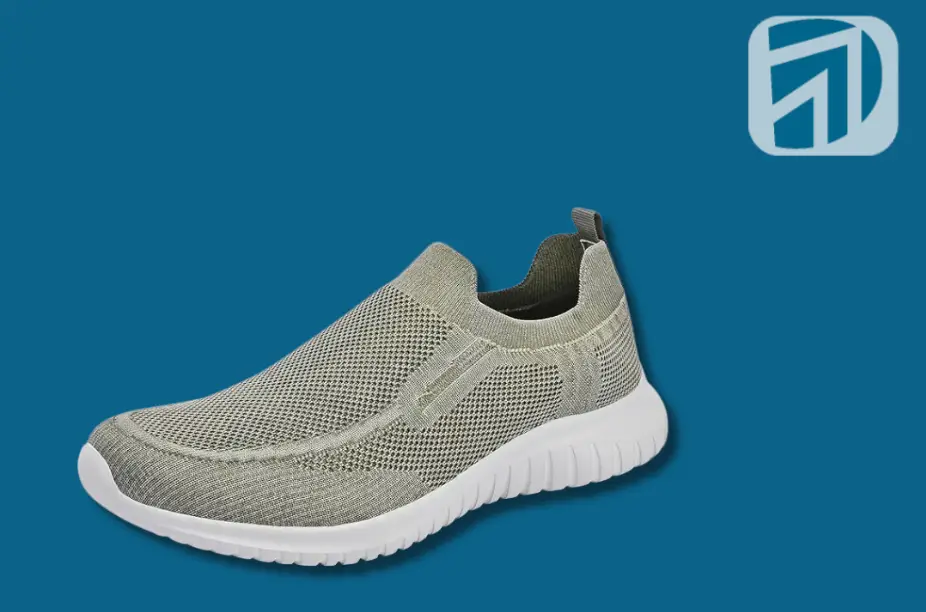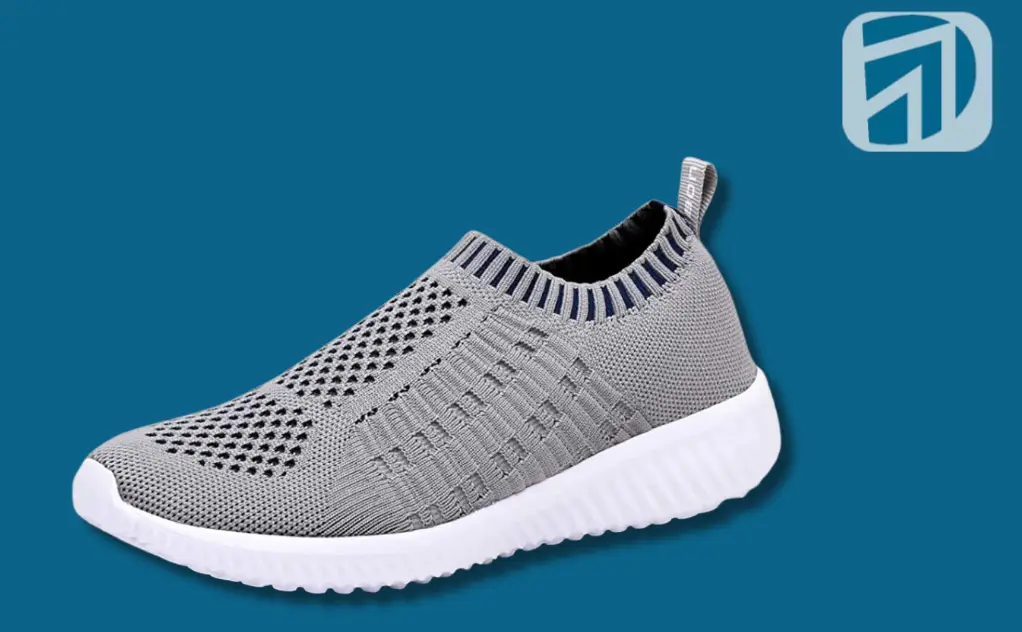 Features and Specs:
Casual design with a knit fabric for increased breathability and comfort
Phylon midsole for great cushioning and comfort
Stretchy upper to fit your feet easily
If you're a cashier, you know the importance of comfort. It might be the most important quality for any work shoe for any profession, and these TIOSEBON Mesh-Comfortable Work Sneakers have it all. These shoes provide full support for your entire foot without compromising on style.
These shoes are made with breathable mesh panels that keep air circulating your feet, which helps prevent odor and keeps your feet dry. The Ultralight, flexible and breathable air mesh fabric decreases muscle fatigue for more robust and healthy standing posture with every step you take.
The stretch mesh material fits comfortably around your feet and allows you to easily put on/off your sneakers without grinding your foot. The top line and collar of shoes is elastic that gives a sock-like fit to your feet.
To provide extreme comfort, the midsole and outsole of shoes is made of Phylon material. Phylon sole comprises compressed EVA foam pallets that are highly elastic, soft, flexible, and have a resilient cushioning tendency. This makes foot movements easier and prevents any additional stress and pressure on the body at the same time.
Lastly, the inner sole is made of shock-dampening latex material, lined with a layer of leather that offers a smooth and plush feel underneath your feet.  Latex is produced by the foaming process containing numerous pores to improve the moisture-wicking tendency.
Latex is highly breathable and retains its elastic properties that support your foot and stop the insole from pushing down due to long hours of standing. Moreover, latex's permeability and moisture absorption capacity also prevents the problem of foot odor, caused by bacterial growth due to sweating.
In this way, all these great features make these sneakers one of the best shoes for cashiers and grocery workers.
Personal Story
After Skechers, I also tried out the TIOSEBON Mesh sneakers and was amazed at the comfort.
The knit fabric and Phylon midsole provide cushioning and support. Just like with Skechers, my feet didn't ache after a long shift.
The stretchy upper and sock-like fit means they go on and off easily without rubbing my feet. Now I can focus on my customers rather than my sore feet.
What I Liked
Extremely lightweight
Excellent shock absorption tendency
Great breathability
Stylish slip-on design
Glove-like fit
What I Didn't Like
Insole is not removable
Not durable enough
Not enough padding in collar
Moderate arch support
Dansko XP 2.0 Clog – Durable and Comfortable Shoes for Cashiers and Retail Workers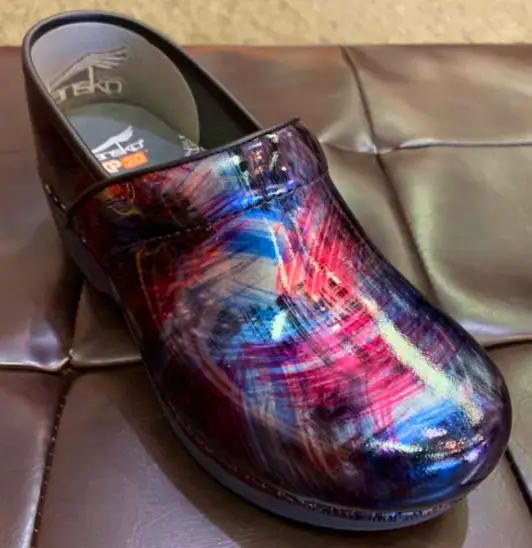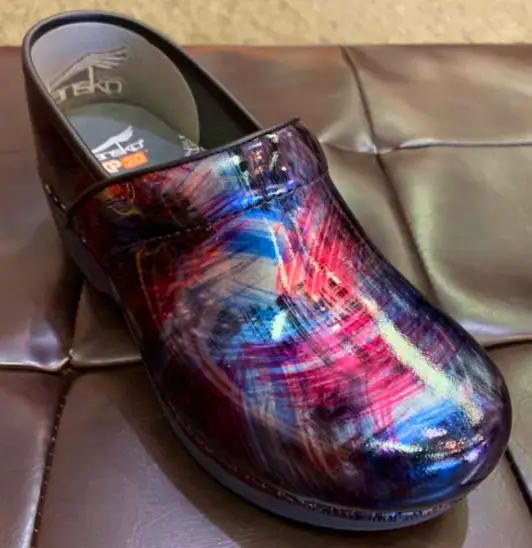 Features and Specs:
Genuine leather upper
PU midsole for good arch support
Slip-on design with a formal touch
Great slip-resistance
Working as a cashier can be a very physically demanding job. The most common complaint we hear from cashiers is that their feet hurt. The Dansko XP 2.0 Clogs for Cashiers are specially designed for cashiers to alleviate the stress put on their feet. They are specially designed to provide comfort and support to the feet, knees, and back.
This pair of Dansko clogs is a modified version of the classic Dansko Professional. In this pair, the insole of shoes is removable, while in Dansko professional, the insole is fixed. Also, this pair of clogs is lighter in weight due to EVA foam midsole. Dansko professional clogs feature PU midsole, due to which they are a bit heavy.
Although they are designed to be comfortable for standing all day, with a soft patented PU leather upper and padded collar support, they don't look like your typical clogs. Moreover, the plush microfiber lining helps reduce foot fatigue, so you're pain-free even after a long day.
Also, the removable anatomically shaped PU footbed mimics the shape of your feet to reduce shock and stress on joints while also allowing excellent freedom of movement to avoid injury.
Furthermore, the shoes feature a very lightweight cold-molded EVA foam midsole that has an excellent shock absorption capacity for long hours standing and protects your feet from impact. Additionally, a TPU arch stabilizer structural element is reinforced in the midsole to provide better all-day support and stability to your feet.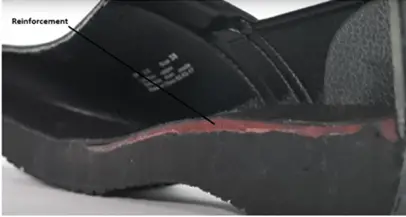 Lastly, the shoes possess a rocker bottom which is best for people with flat feet as it allows even distribution of your body weight across your entire foot. Also, the lightweight and slip-resistant rubber outsole will give you a comfortable base that lasts all day long and will also provide support on hard concrete floors.
Personal Story
My friend Jane has worked as a cashier for years and always complained of sore, aching feet after her shifts. She finally decided to invest in a pair of Dansko XP 2.0 clogs and says it's been life-changing.
The arch support and cushioned footbed provide incredible comfort even during 10+ hour days on her feet. She used to come home limping but now has much less pain and fatigue.
Jane swears by her Dansko clogs and says they were worth every penny for the support and relief they provide her hard-working feet. She can focus more on customers rather than foot pain with her new shoes.
What I Like
Lightweight
Great arch support
Good breathability
Durable leather upper
Padded heel collar
What I Didn't Like
Bit pricey
Toe box is bit narrow for some people
Leather is stiff
Although these Dansko work shoes are known for their excellent support, cushioning and premium look, if you can't afford them and are looking for similar shoes like Dansko, you can my article on Dansko alternatives and select similar shoes based on your budget.
Best Shoes of Cashiers (Features to Look for)
You should consider many features when you are looking for the best and comfortable shoes for cashiers and grocery workers. These features include the quality of the nmaterials that are used to make the shoes, the slip resistance of the sole of the shoe, and the comfort level.
So, let's discuss each aspect of the shoe and justify how this makes the shoe comfortable for the cashiers and retail workers.
Fit
Fit is the most important parameter for the comfortable shoes of cashiers. If you are wearing a smaller shoe size or has a tight toe box, it will start rubbing against your foot, and you will not be able to stand for all day long on cash counter.
A tight toe box shoe can also cause bunions due to long hours of standing. Some shoes have wide toe box, while some have narrow toe box. People having narrow feet can easily adjust their feet in the shoes.
If you have a wide foot, I would recommend you to buy a half size up of a shoe with narrow toe box. Also, check the return policy of the seller before buying your favorite shoes.
Moreover, heel part of shoe also be wide enough and fully padded so that it does not cut into the back of your ankles.
Material and Flexibility
If you want a shoe that is going to be more flexible, then you'll want something made with leather or synthetic mesh fabric material. This will give your feet the flexibility and freedom they need while giving you a comfortable, quiet environment in which to work.
Moreover, shoes should be soft and flexible enough that you can put them on/easily without crunching your feet. Regardless of the task that you are required to perform at work, these shoes are going to be able to slip easily into your daily routine with minimal effort and give you optimal support.
Low Heel and Thick Sole
A thick sole of cashiers' shoes provides support for the feet so that you don't end up with any pain or discomfort. It's also going to provide a solid base for your heels and give your ankles a nice place to be supported by.
High-heeled shoes may look good and stylish for women, but for long hours standing, I would not suggest you buy high-heel shoes as they shift your body weight forward and cause excessive pressure on your toe joints when you walk or stand.
Moreover, research shows that wearing high heels for a long time can also result in heel pain.
The soles of comfortable casual shoes should be flexible enough as they will also help alleviate foot pain caused by standing too long on hard surfaces.
Cushioning
The shock-absorbing design keeps your joints healthy and pain-free, it relieves pressure on feet and helps prevent repetitive stress injuries. So, the outsole and midsole of shoes for cashiers should be cushioned enough so that it protects your feet from impact.
In my opinion, EVA or memory foam midsoles have an excellent shock absorption capacity. EVA is a relatively lighter and softer foam to give a pillow-like feel. On the other hand, memory foam is denser and provides excellent support.
Arch Support
If you work in the customer service industry as a cashier, you know that your feet take an immense amount of abuse.
Whether it's walking miles with a heavy load from one side of the store to the other or standing in one spot all day long, your feet might not be happy at the end of your shift.
To prevent discomfort and fatigue in your feet, look for shoes with inserts like insoles that can provide arch support and cushion for those hard-to-fit areas.  
Moreover, the inserts should conform to your foot curvature to provide sufficient arch support for long hours of standing. For cushioning purposes, EVA, latex, and memory foam have proved to be suitable footbed materials for comfortable cashier shoes.
What are the Common Foot Injuries Cashiers Have to Face?
Standing all day as a cashier can be a very difficult task. There is no doubt that it is hard on your feet and legs.
When you are working at the cash register, you have to constantly bend down and pick things up off of the ground or off of shelves while scanning them, which can lead to foot injuries for people who stand most of the time. Muscle fatigue sets in easily with all of this constant movement and for people who already have foot pain, it only makes this condition worse.
Some of the most common and painful foot injuries cashiers face are metatarsal fractures, plantar fasciitis, bone spurs, and Morton's neuroma. Metatarsal fractures occur when the foot bones break. This most often happens due to weakness in the feet from being on them all day while standing at the cash counter.
Plantar fasciitis and aching feet is another common injury that causes inflammation and pain in the foot plantar fascia ligament. This ligament supports all of your weight when you walk or stand, so with constant stress to it from working on your feet all day it becomes inflamed.
All of these injuries are very painful and you must try to avoid them as much as possible by wearing the best shoes for cashiers with proper support and cushioning.
Final Thoughts
Knowing the best shoes to wear for your cashier job is a big deal, and I have made this easier for you by putting together the best shoes for you that support your feet and provide comfort during long hours of standing.
So, in essence, the best shoes for a cashier are those that offer comfort, support, balance, cushioning, and protection. Fortunately, when you buy any of the above-reviewed shoes, you will find all those great features in them.
Best Shoes for Cashiers: FAQs
Are sneakers or dress shoes better for cashiers?
Sneakers are generally better for cashiers as they provide comfort and support during long hours of standing and walking. Dress shoes tend to be more rigid and may cause discomfort.
Are slip-resistant shoes necessary for cashiers?
Slip-resistant shoes are recommended for cashiers as they can prevent slips and falls on wet or slippery surfaces commonly found in retail environments.
What are some recommended brands for cashier shoes?
Some recommended brands for cashier shoes include Nike, New Balance, Skechers, and Dansko. Look for shoes that are specifically designed for standing and walking for extended periods.
Should I prioritize style or comfort when choosing cashier shoes?
Comfort should be the top priority when choosing shoes for cashiers, as they will be standing and walking for long periods. However, there are many stylish options available that also prioritize comfort and support.
How often should I replace my cashier shoes?
It's recommended to replace your cashier shoes every 6 to 8 months or when they start to show signs of wear and tear. This will ensure that you continue to have the support and comfort you need on the job.
How important is arch support for cashier shoes?
Arch support is crucial for cashier shoes as it helps reduce foot fatigue, prevent plantar fasciitis, and provide overall comfort during long hours of standing.