What Type of Footwear that Protects your Entire Foot from Falling Objects, Chemicals and Provides Extra Traction on Slippery Floors?
What type of footwear that protects your entire foot? Well, it depends on the activity for which you're looking for an appropriate footwear.
You can wear different types of footwear to protect your entire foot. Specially, if you're working at construction sites or in factories, you need safety shoes that comply with OSHA requirements to protect your entire foot. These shoes have steel or alloy-toe to protect the feet from penetration. Moreover, they must have slip-resistant soles that offer grip on different surfaces.
It's always good to protect your feet and research the type of footwear that protects your entire foot when you are involved in different activities like running, walking, exercising, shuffling, or working in a hazardous industrial environment.
These activities can be harmful to the toes, feet' skin, and even tissues and nerves in the feet. We need to be aware of what we wear because it can bring more troubles to our sensitive feet.
So, you don't have to crush your precious time now by searching for suitable shoe models that meet your needs, as I all have got covered what you need in this ultimate guide.
Also Read: Can steel-toe safety shoes hurt your feet
How Different Type of Footwear Should Prevent your Entire Foot?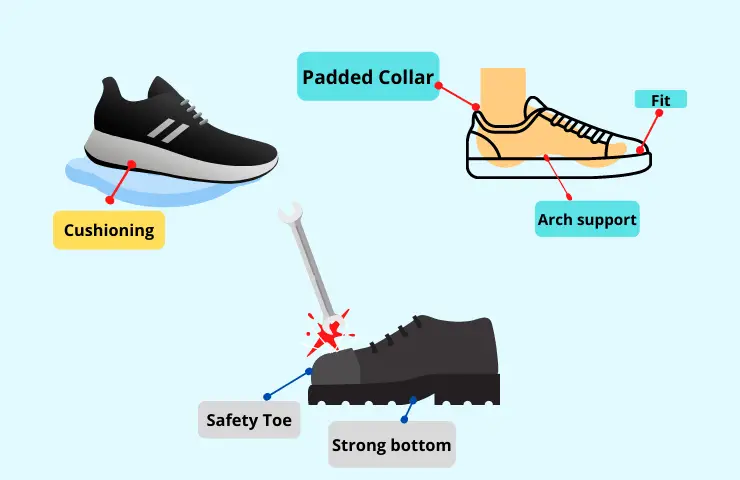 When you pick out the right type of footwear, you want to make sure that it will protect your entire foot and not have any weak spots. All of the life and energy you put into your work will be wasted if your feet are in pain due to improper shoes that don't comply with your requirements.
We all know that different types of footwear are available in the market, like the recreation, athletic, casual, work, and formal types. Each shoe brand designs different styles for particular conditions. You can't wear athletic shoes in the factory area. Similarly, steel or alloy toe shoe doesn't make any sense if you wear it while running or doing athletic activities.
You need a durable and comfortable pair of shoes that will hold up over time and allow you to stand for an extended period without feeling any discomfort in your feet. You also have to make sure that the kind of footwear that you purchase will fit well.
They should feel like an extension of your legs and not bulky at all. Based on your needs, the shoes that you select should feature technology that can prevent ball of foot pain, ankle pain, and overpronation.
Moreover, while working with heavy machinery in factories or working at construction sites are other activities that increase the risk of foot injuries, it can often be attributed to wearing the wrong shoes.
There is a high risk of falling heavy objects on your foot in such hazardous environments and slipping due to splashes of chemicals on factory floors. Also, due to hard concrete floors at construction sites, you might suffer from pain in your heel and ball of the foot due to strong impact if your shoes are not cushioned.
What Type of Footwear Has Metal Reinforcement to Protect the Bottom of Your Foot From Penetration?
The first type of footwear that comes to our mind is the steel-toed work boots, which have metal reinforcement on the bottom to prevent any injuries from penetration. These boots have flexible steel or plastic plates built into the sole of the boot that prevent penetration by sharp objects, such as nails or glass.This is useful for a wide variety of jobs, but we recommend it for the ones where you will be standing all day, like construction workers, farmers, and factory workers.
OSHA Recommended Safety Footwear to Protect the Entire Foot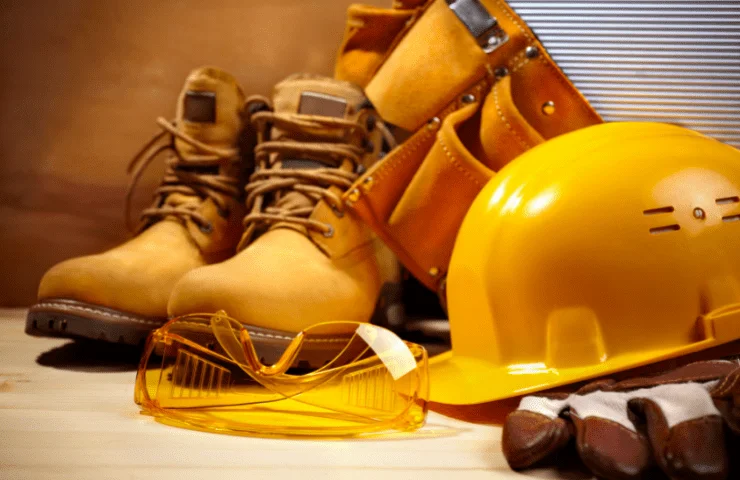 Whether you work in construction, manufacturing, or stand on your feet all day, treating your feet well is essential to staying productive and uniformed. The safety shoes are designed to protect not just the toes but also the entire foot.
Manufacturing facilities and construction sites are birthplaces of several incidents that can lead to serious injuries. If you are not aware of what kind of incidents can happen with you at those workplaces, here is a list you should have a look at.
Types of Hazards that Can Harm your Foot at Work Places
Slips and Falls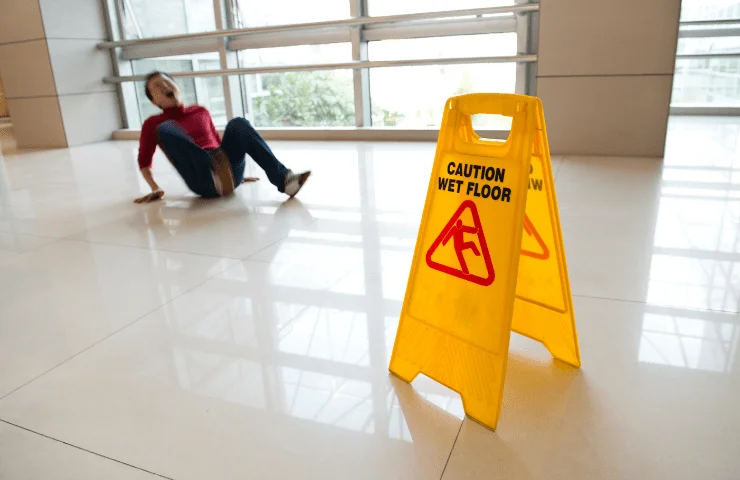 According to the research by OSHA, around 700 fatalities occur per year due to slips and falls. So, if you are working on factory floors, there are very high chances of slipping to splashes of chemicals and greases on the floor if your shoes are not slip-resistant.
Pricking of Sharp Objects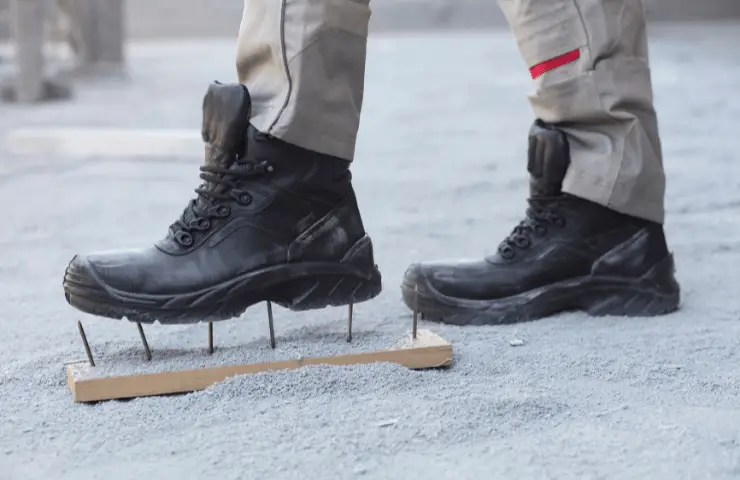 Sharp and pointed objects on the floors at hazardous places can cut through your skin (your foot is a delicate part of your body) and tear it to pieces if your safety shoes are not strong enough. These same sharp objects are responsible for problems like tendonitis, nerve damage, and even a need for surgery in some cases.
Dropping of Heavy Objects
This hazard can occur at places that cover various aspects of work activities such as loading & unloading heavy items, lifting requirements for manual handling at work, etc. So, to protect your entire foot from the huge impact of such heavy loads, you should not ignore the importance of safety footwear.
Electricity Hazards
This is one of the most serious hazards at workplaces that affects your foot and your whole body. Electric hazards can harm your feet if you are doing jobs that involve electric discharge, such as welding, or you step on the exposed cable and have an electric shock. So, in that case, safety shoes play a crucial role in protecting your foot from such hazards.
Types of Safety Footwear That Protect your Entire Foot
The best safety shoes for construction sites or factory work are those that do a lot more than providing toe protection – they also help protect ankle, heel, and instep with their unique reinforced design.
So, based on the hazards at manufacturing and construction sites, as mentioned earlier, here are different types of safety shoes that you should buy to protect your feet, according to OSHA.
Steel Toe Shoes
A steel toe shoe has many benefits as it protects the feet from various hazards. It protects against all kinds of accidents, such as falling, tripping over something, or getting hit by heavy objects. This type of shoe is typically constructed out of a metal plate, which surrounds the entire foot and provides protection from fraying, and fracturing.
Moreover, it gives extra support and anti-rotation when walking or standing near doors or ladders. The soles also offer unique features that make them appropriate for walking on slippery surfaces like wet tile.
In this type of footwear, toughened leather and heavy-duty rubber materials are used in such footwear to offer protection against heavyweights, impacts, vibrations, and other hazardous workplace conditions that can damage the feet and cause severe injury.
According to my research after interviewing industrial and construction workers, I have found that New Balance Men's Steel Toe 627 V2 are one of the most reliable safety shoes with steel toe cap. These shoes have a durable leather upper with a robust steel toe cap that protects your feet from toe from impact.  The leather is waterproof, and it does not allow hazardous chemicals to penetrate the shoes. In this way, your feet will be safe. They also feature a cushioned ABZORB midsole that helps you to stand on hard concrete floors all day long.
Alloy Toe and Composite Toe Shoes
The shoes provide the same protection to your entire foot, like steel toe shoes. The only difference is that the toe cap is reinforced by aluminum, alloy, or composite like fiberglass. The benefit of such shoes is that they are lighter in weight than steel-toe shoes so that you can efficiently perform your job in factories that involve excessive movements.
Here is the list of such shoes that I have researched to save your time.
Metatarsal Footwear
Metatarsals are the bones that connect your toes with the ankles. They are responsible for stabilizing the structure of your foot. If these bones damage due to the dropping of heavy objects, your life can become hell!
So, for this purpose, metatarsal shoes are perfectly designed to distribute and cushion all this impact, relieving stress on your joints, muscles, tendons, and bones. They come with a metatarsal pad, arch support, and extra cushioning at the ball of the foot to tackle any discomfort or an unpleasant feeling in this area of your foot. So, construction workers can take the best advantage of these shoes while lifting heavy objects.
If you want to understand the difference between metatarsal and safety toe shoes, you can watch this video to make your confusion clear.
To save your time, I have found KEEN Utility Metatarsal Guard Work Boot as one of the best metatarsal shoes to protect your foot entirely.
Metal Instep Shoes
The metal instep provides support and protection for four of the most vulnerable areas on your foot. These shoes are mainly designed to protect your feet from sharp pointed objects such as nails and glass pieces. These shoes also have steel or alloy toe cap to protect your toes from substantial impact.
Work Shoes for Indoor Office Jobs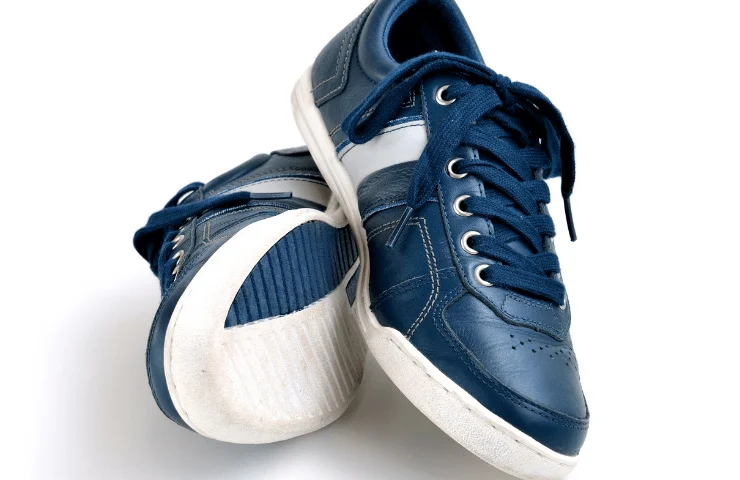 This type of footwear is specially designed for people working in clinics, hospitals, restaurants, offices, or malls. Such jobs require standing for long hours and involve crouching or kneeling on the ground all day. And if you're not careful, your shoes can silently do more damage than everything else combined.
Casual work shoes offer a combination of comfort and support that look good and can be worn to the office, clinics, hospitals, or restaurants.
Casual work shoes are typically made of durable materials like synthetic or full-grain leather upper with a slip-resistant outsole. These types of shoes look stylish and formal and feature enough cushioning to protect your feet' metatarsals from strong impact while standing all day long.
Moreover, these shoes provide the necessary support to withstand your day-to-day activities. They're designed to protect against several foot injuries like ankle sprains, ball of foot pain, and back.
Additionally, such shoes have good arch support that connects the heel to the forefoot. This reduces stress on your feet and legs. Also, a well-supported arch of work shoes molds your natural foot structure. You can do a longer walk or run over several miles without the pain from high arches and bunions.
A well-supported arch molds to your natural foot structure. You can be a longer walk without the pain from high arches and bunions. The best comfort shoes for work are eco-friendly such as earth-friendly work shoes.
It would be best to get the work shoes that get the right fit so your feet can move freely and comfortably. Moreover, make sure the shoes fit well near your toes, heels, and arches. Your feet should be able to move around inside the shoes without touching them at all.
The casual work shoes for indoor that I like the most are:
You can check my article on the best dress shoes for overpronation for both men and women, in which I have reviewed different styles of formal work shoes that protect your feet from overpronation, support your arch, ankles and provide enough cushioning and breathability.
Work Shoes for Outdoor Jobs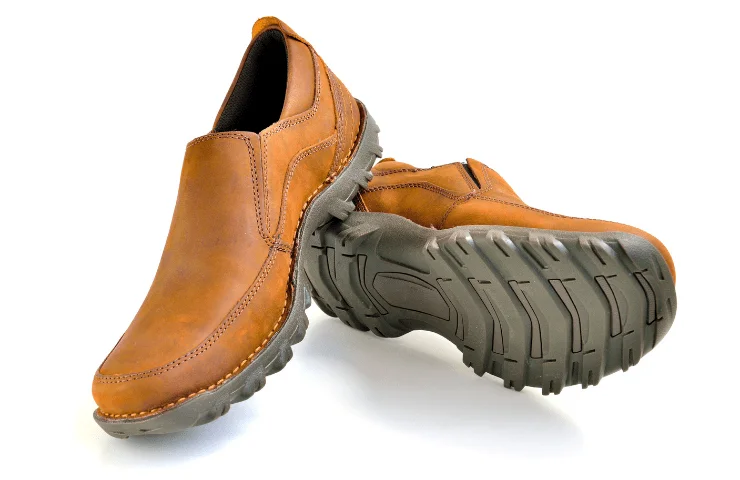 Outdoor jobs are like yard work, veterinary work, hiking, etc. These shoes are great for people who are on their feet all day. They're also a good choice for jobs that require you to work with your hands in mud or standing water or in jobs that require you to be on your feet most of the day, such as security guard work.
The shoes should fit snugly, so your foot doesn't move inside them and cause discomfort or wear holes in the soles.
If we compare to the above-mentioned indoor work shoes, these types of footwear also serve the same purpose like cushioning and comfort, breathability, and padded interior. In addition, these shoes have sturdier soles and excellent slip-resistant. Moreover, they are waterproof and very easy to clean.
These shoes provide comfort and durability while preventing fungus and bacterial infections from building up around your toes. They also protect your feet from spills and splashes better than the casual work shoe. The shoes are specially designed to entirely prevent dirt, dust, and liquid from entering the shoes and react with your foot.
For instance, if you are hiking or working on rough terrains, you need shoes with a strong outsole with a protective toe so that your feet can be prevented from the strong impact of rocky surfaces on your toe metatarsals.
Still Confused?
Don't worry; I have compiled some footwear examples that protect your entire foot in your outdoor jobs and adventures.
To get more varieties of such type of footwear, you can check my guide on the best shoes for veterinary work in which I have reviewed such type of footwear for both men and women that protect your entire feet and keep them secure.
Running and Athletic Footwear to Protect the Foot While Running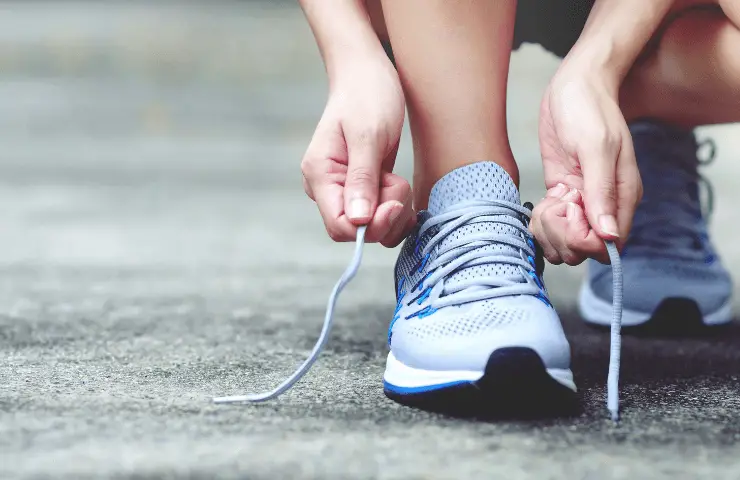 The right pair of running shoes can reduce impact forces to a larger extent. This essentially means that a lot of pressure is taken off from your legs and joints when you step into the running shoes. The cushioning beneath our feet acts as a shock absorber, reducing the amount of force that travels up through our knees and hips during impact.
Running shoes are engineered with soft cushioning on the heel that helps absorb the impact of a landing. The midsole is designed to be slightly harder than your biomechanical foot strike. It distributes force across your entire foot. And, the outsole features plastic pods that slide across pavement so you can adapt to changing terrain during a run.
Moreover, the feature which differentiates running shoes from work shoes is that they are made of a breathable upper mesh that keeps your feet breathable and aerated while running, jogging, or exercising.
Most runners run long distances multiple times per week. To ensure your running shoes keep up with your workouts and prevent injury, it's important to find a balance between protection and comfort.
According to the research, running shoes fall into three categories that incorporate different design features to eliminate the risk of foot injuries.
Wearing the Right Footwear to Protect your Foot is a Crucial Step!
So, as I discussed, there are different foot injuries like ankle pain, Achilles pain, ball of foot pain, bunion, etc. Several types of footwear protect your entire foot. It would be best if you analyze your needs first before buying any pair of shoes.
Suppose you are a factory or construction worker. In that case, it won't make any sense if you buy athletic or running shoes as they are made explicitly for runners as they do not possess extra protection features like safety toe caps, firm bottom, and waterproof design.
If you have found this guide helpful, please drop your opinions in the comment section below and tell us what type of footwear you bought to protect your entire foot.
Good Luck!