Best Shoes for Vet Techs [2023 Reviewed] – 7 Top Footwear for Veterinary Work
After analyzing the top picks for the best shoes for vet techs, I found the Merrell Jungle Moc Slip-On Shoes to be a versatile and comfortable option for veterinary technicians. The Merrell Jungle Moc has a durable suede and leather upper that is flexible yet supportive for long hours of standing and walking.
It has a compression-molded EVA midsole for shock absorption and cushioning on hard clinic floors. The slip-on design with a heel pull tab allows for easy on and off during busy vet shifts, while the high traction rubber outsole provides excellent grip on potentially slippery clinic surfaces.
An air cushioned heel and padded lining add comfort and prevent rubbing of the Achilles area. With their stain-resistant material and slip-resistant soles, the Merrell Jungle Moc Slip-On Shoes combine comfort, support and versatility to be a top pick for veterinary footwear.
A messy job like taking care of animals while standing all day long on feet is a daunting task. As an animal worker, you would surely need perfect shoes for your veterinary work. Furthermore, the slippery floors and muddy grounds due to animal's extracts also compel you to rush towards the market to buy the best shoes for vet techs.
The vet nurse shoes, I've reviewed in this guide have durable and slip-resistant syntheic rubber soles, exceptional cushioning and good arch support to prevent foot pains and sore feet.
I have put several options on the list as each person has his/her own choices as far as the style of shoes is concerned. Some of you'd like to wear simplistic design, while some would like to wear sturdy design shoes to work on the outdoor veterinary farm.
So, without further delay, let's dive into the world of the best vet tech shoes.
Top Vet Tech Shoes
Why It's Best
Rating
Merrell Jungle Moc Slip-On

Slip-on design for easy on/off
Durable suede & leather upper
Cushioned for comfort
Traction outsole for grip

★★★★★
Dansko XP 2.0 Clogs

Lightweight EVA midsole
Removable footbed
Waterproof leather
Slip-resistant outsole

★★★★☆
New Balance 608 V5

Leather upper is easy to clean
EVA foam midsole for cushioning
ABZORB heel pad for impact absorption

★★★★☆
Merrell Moab 2

Breathable mesh upper
Vibram outsole for traction
Nylon arch shank for support

★★★★☆
Crocs On The Clock

Croslite material is comfortable
Slip-resistant outsole
Easy to clean

★★★☆☆
Muck Boot Muckster

100% rubber upper
Cushioned and flexible
High traction outsole

★★★☆☆
Skechers Flex Appeal

Memory foam cushioning
Slip-resistant outsole
Water repellant

★★★☆☆
Best Shoes for Vet Techs – Our Top Choices
Here are my recommendations for the best shoes for vet techs.
Muck Boot Muckster Ll Rubber Garden Shoes: Best for outdoor veterinary work
Merrell Moab 2: Comfortable DVM shoes
Crocs Men's and Women's On The Clock: Best for indoor veterinary work
New Balance 608 V5: Comfortable vet tech shoes
Skechers Women's Comfort Flex Sr Hc Pro: Best for women vet techs
Merrell Jungle Moc Slip-On Shoes: Best for outdoor veterinary work
Dansko XP 2.0 Clogs: Best vet nurse shoes
Muck Boot Muckster Ll Rubber Garden Shoes for Outdoor Veterinary Work
These shoes are specially intended for veterinary tech people who take care of domestic animals veterinary farm visits. Veterinary surgeons also wear them in animal medical facilities. While wearing these shoes, you will not find any difficulty navigating the slippery ground, even in the animal pasture, while keeping your toes safe.
Upper
The shoes upper is made of 100% durable rubber that is easy to clean and provides sufficient comfort and flexibility while you are putting them on. The flexibility of shoe material enhances your feet mobility, allows a greater range of motion and places a great and plush feeling on the top of your feet.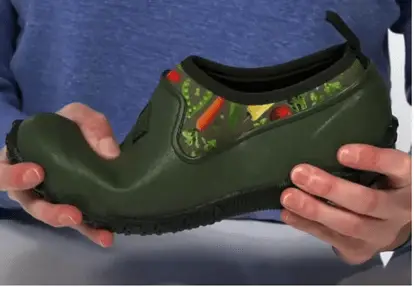 They are so comfortable and lightweight that you'd get all the protection you need from animal manure. You can easily clean the debris of animals with a warm wet cloth.
Moreover, there is a pull tab on the back of the heel counter of these shoes that allows you to easily wear or take off them without digging your fingers in and suffering from irritation. The inner neoprene bootie lining of the shoes offers some great comfort. It sits perfectly on your feet and provides a sock-like fit.
Also, the shoes have a breathable mesh lining on the inside for offering an extra comfortable foot environment.
Insole
Also, the shoes have a soft cushioned removable insole that is slightly cushioned with perforations on the top for improved breathability. The cushioning of the insole is good enough to provide comfort while working all day in taking care of the animals. If you have custom orthotic inserts for extra arch support, you can replace them with the insole.
Lastly, the shoes have a high traction rubber outsole for reliable stability that offers enough traction and allows to step onto the muddy grass embedded with animal dung comfortably.
What I Liked
Lightweight shoe
Great comfort
Flexible cushioning
Waterproof
Glove-like fit with good support
What I Didn't Like
Moderate arch support
If you have wide feet, order next size up
Good to wear only in winters
Merrell Moab 2 – Comfortable Dvm Shoes
These are some of the best shoes for vet techs, with a perfect lacing closure and breathable mesh. These shoes are specially designed to wear at a vet's office and on farms.
Comfort is one of the most prominent features of these shoes due to cushioned collar, a supportive footbed, padded tongue and enough flexibility to allow a controlled motion of your feet. The fact that the shoe is fully rugged to withstand the shocks while performing hiking on rough terrain shows that these shoes will also provide necessary support while standing for long hours on hard floors of vet clinics or taking care of animals on uneven surfaces of farming lands.
Upper
The upper of the shoes is durable suede leather and mesh with a substantial protective rubber toe cap. The breathable mesh keeps your feet aerated and free from sweat. Due to this, you can easily wear these shoes in summers without having to worry about sweaty feet.
Another important feature that you can notice in the shoes upper is that the bellow is attached to the closed-foam cell tongue that will help keep out the moisture and debris.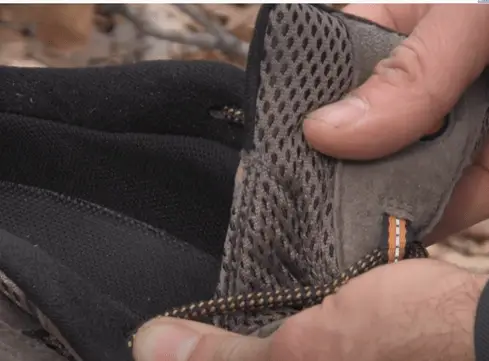 The shoes possess excellent waterproofing feature as long as the water doesn't come over the top of the ankle. After filtering down the reviews of thousands of customers, I have found that they like their waterproof feature as these shoes keep your feet dry and protect them from dirt, water, and any debris.
Outsole
The Vibram outsole feature of these shoes features a unique combination of lugs, a mix of circles, curved shapes and swooping grooves. These lugs prevent water and debris from trapping in the shoes and help them to maintain their traction and support.
Vibram is the blend of foam and rubber with the best traits of both materials, i.e. comfort and softness of the foam and durability and traction of the rubber. Due to its combination of materials, it provides excellent traction, extra comfort and support to your feet.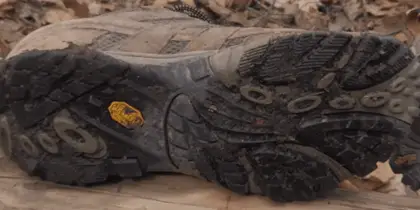 Midsole and Footbed
The midsole of the shoes features Merrel M SELECT FIT.ECO, blended with removable EVA contoured footbed. The cushioned footbed provides excellent arch and heel support. You can remove it if you have custom orthotic inserts for your arch.
The heel area of shoes is reinforced with a durable resin and air cushion that absorbs strong impact and shock. The air cushion acts as a cherry on the top that provides added cushioning and comfort when combined with EVA midsole.
Lastly, to provide additional support, the shoes are featured with a nylon arch shank that adds to the firmness of the shoes you need on each step on the farm's rough terrains and helps release the stress from the arch and improve the foot stability.
What I Liked
Extra arch support feature due to nylon arch shank
Comfort-enhancing instep padding
Great traction to walk on uneven terrains
Lightweight
Durable
Free from debris
Padded heel and tongue collar
What I Didn't Like
Requires an extended break-in period
Moderate breathability
Some wearers question about waterproofing feature of these shoes
Crocs Men's and Women's On The Clock – Best Vet Nurse Shoes
These shoes by Crocs are designed for both men and women veterinary technician. They are provided with enough comfort and support that you feel like you are standing on the clouds. They are water-resistant and easier to clean as well. You can easily wipe out animal bodily fluids from them with a damp piece of wiping cloth.
Upper
According to crocs, these shoes are designed under the 'relaxed fit Crocs sizing' category. This pair of shoes is made of stretchy and durable Croslite material that is a signature material of Crocs brand. It is a cell-foam material made by subjecting a kind of rubber material to gas under high pressure.
Due to croslite material, this pair of shoes provides a secure and snug fit to your feet while still offering plenty of room to wiggle your toes easily.
These shoes have tapered padding on the back of the ankle that provides a secure fit, stability to the feet and avoid uncontrolled feet movements.
Nurses, chefs and other professionals, who have to stand for long hours on their feet to perform their duty, love to wear these shoes. These shoes are one of the most comfortable shoes for indoor veterinary work. Their sole is not designed for working in farm visits due to their simplistic outsole design.
Therefore, I would say, if you are in a veterinary medicine clinic, you should think about buying these comfortable and slip-on dvm shoes.
Footbed
The shoes are embedded with removable deeply cushioned footbeds that offer great comfort and a plush feel underneath your feet. You can easily remove it and replace it with a custom orthotic insert to support your arches.
Outsole
Lastly, the shoes have a nice slip-resistant rubber outsole, having grooved treads that provide an excellent slip resistance over slippery floors.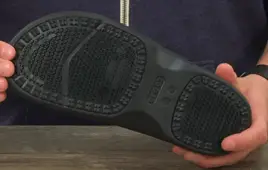 What I Liked
Lightweight
Wide toe box
Great comfort
Slip-resistant
Easy to clean
What I Didn't Like
Not breathable
For narrow feet, you have to order one size down
New Balance 608 V5 – Comfortable Vet Tech Shoes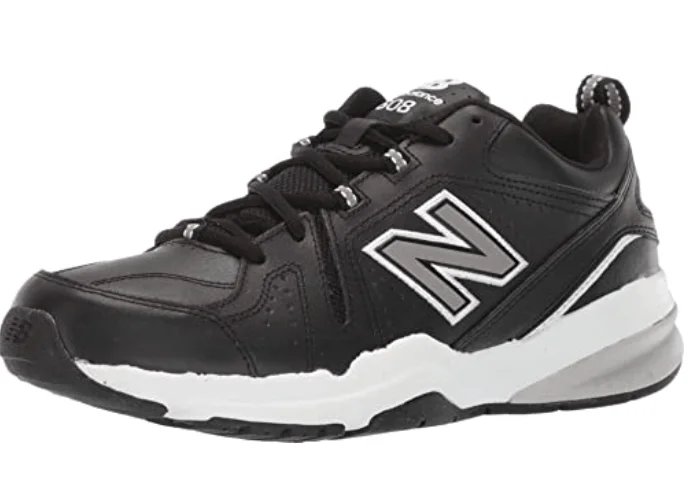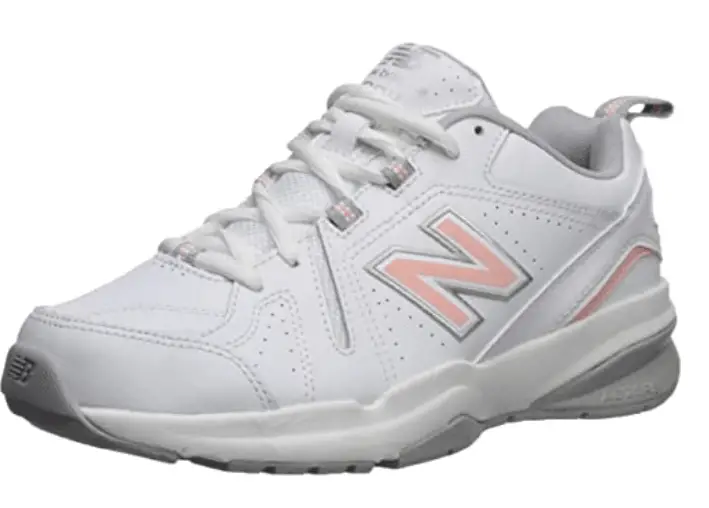 A list of the best shoes for vet techs would be incomplete without adding a pair of New Balance shoes that are most loved by those in veterinary medicine. Wearing these New Balance shoes, you can run after unsettled animals or clerical duties for the whole day without causing foot pain.
Also Read: Do New Balance Shoes Run Small
Material and Upper
The shoes are made of 100% durable leather upper that is easier to clean with a damp sponge.  There is a pull loop on the back of the heel counter, allowing you to easily wear or take off the shoes.
The downside of these shoes is that they are not waterproof, but their solid leather condition provides a far better barrier than the other non-leather shoes.
The shoes are very comfortable, have a reasonable price and stiff enough without being rigid. They have a padded heel counter with dual-density foam to prevent rubbing of the shoes on the back of your ankles and provide extra support and lightweight cushioning. Soft density foam provides great cushioning, and firmer density foam offers support to your feet.
Inside the shoes, there is a breathable textile phantom lining odour-resistant and keeps your feet free from moisture. You can wear these shoes for long hours standing on your feet while serving your duty in veterinary work.
Midsole
Also, the shoes have a full-length injection-moulded EVA foam midsole unit that makes these shoes lightweight and provides excellent cushioning due to their great shock absorbing feature.
In addition, there is an ABZORB heel crash pad that is a lightweight and responsive foam made of an isoprene rubber. It has great compression set properties capable of providing support to your rearfoot by offering a firm and shock-resistant platform.
Besides cushioning, the midsole also adds to the lateral support to your feet due to its protruding edges upward around the heel and forefoot. In this way, it creates a supportive barrier around your feet and enhances the stability of the shoes to the next level.
Insole
The shoes have removable PU inserts that offer extra cushioning underneath your feet and provide good arch support due to their dense and firm structure.
Outsole
Lastly, the outsole of shoes is made of flexible rubber with which you can enjoy walking or standing on uneven and muddy terrains. There are arrow-shaped flexed grooves in the outsole that increase the flexibility and allow a greater range of motion.
These shoes perform quite well in moderately muddy conditions, and their rubber soles help keep you on solid ground. This feature makes them the best shoes for outdoor veterinary work.
Furthermore, the outsole also adds to the lateral stability of the shoes due to its protrusion on the front foot to cover your feet' toes and protects them against knocks.
However, few customers have complained that these New Balance shoes have some quality issues as soles start to come off after few months. This would happen if you would use these shoes for everyday walking. If your job just requires standing for all day, these are one of the best shoes for vet techs to provide exceptional cushioning and support.
What I Liked
Lightweight
Great lateral support and stability
Easier to clean
Great fit
Good ankle support
What I Didn't Like
Limited color options
Not waterproof; but you can use silicone waterproofing spray
Doesn't breathe well
Skechers Women's Comfort Flex Sr Hc Pro – Best Shoes for Women Vet Techs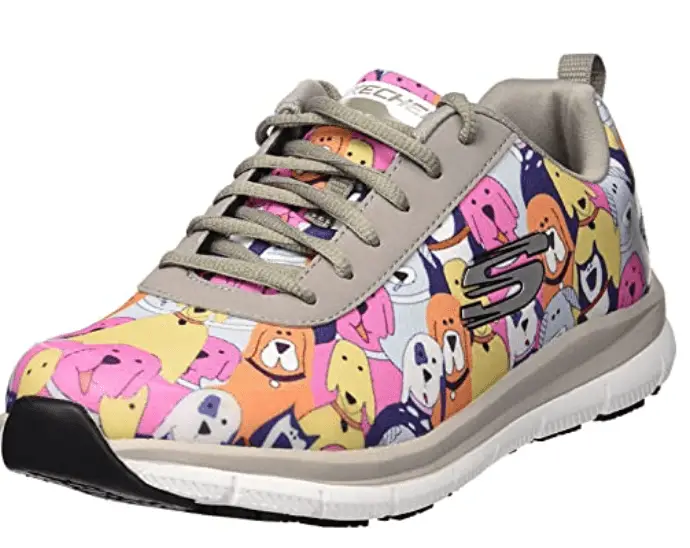 These Skechers are specially made for women nurses who work in veterinary clinics. I'm pretty much sure you will enjoy the stylish design of these Skechers flex appeal sneakers. When it comes to the creativity part, Skechers won't disappoint you. These work shoes have a nice and eye-catchy color print of cats and dogs, which appeals to you to wear these shoes in veterinary clinics.
If you like stylish vet tech shoes, and want to maintain your dress code, these Skechers shoes could be an ideal choice for you.
Midsole and Insole
To provide all day exceptional comfort and cushioning, the Skechers feature a memory foam midsole and insole that has a great shock-absorbing capacity and protects your feet from strong impact. Memory foam insole easily molds to the arch of your feet and offers them a plush feel. Moreover, the footbed is removable. If you have a custom orthotic insert, you can replace the footbed with it.
Upper
The upper of the shoes is made of 100% textile material with sporty mesh fabric with a soft polyester internal lining that provides great comfort level to your feet. The shoes have proved to be water resilient. So, you don't need to worry about animal grime on your shoes, LOLs. In addition, these shoes also allow you to walk in damp grass as they will keep your feet dry and clean.
Outsole
Lastly, the shoes have a slip-resistant rubber outsole that will protect you from slipping on the wet floors with extra dog saliva when being pulled around by big dogs.
In short, these shoes are highly recommended for veterinary nurses that have such a dirty job and have to be on their feet all day.
What I Liked
Toe area is roomy
Slip-resistant
Glamorous colors
Water repellant
Lightweight and comfortable
Merrell Jungle Moc Slip-On Shoes for Outdoor Veterinary Work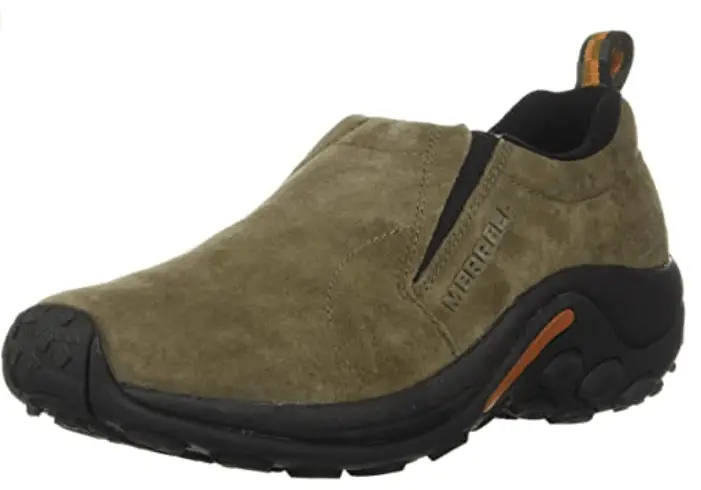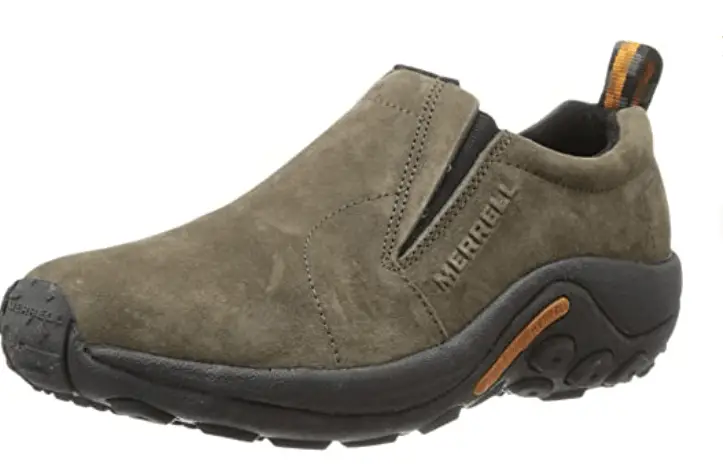 Wearing slip-on, easily cleanable, slip-resistant and cushioned shoes like Merrell Men's has gained huge popularity among people who wish to stand comfortably on hard floors while being protected from strong impacts. You don't have to bother to tie or untie lacing closure repeatedly. The slip-on feature with a pull loop on the back of the heel counter allows you to easily wear or take off the shoes.
Merrel shoes are specifically designed to engage in high-octane duties such as exercising animals, clerical tasks and kennel work.
Material and Upper
These sturdy design shoes come with durable suede and stain-resistant leather that is flexible enough to hug your feet perfectly without forming blisters and putting pressure on your toes. The shoes are comfortable and fairly waterproof. For additional waterproofing and conditioning so that splashes while helping out on a vet surgery does not sink in the shoes, you can apply any suede waterproofing solution to seal them from external fluids to sip in completely.
Midsole
To offer necessary comfort so that you can stand for long hours, the midsole of these shoes is made of a compression-molded EVA midsole that provides a good amount of shock absorption and works as a baseline that offers decent arch support to your feet, and keeps your feet safe.
Heel Padding
Around your Achilles' tendons, there is a comfortable and breathable lining that provides extra padding, and your foot settles nicely into the shoes. Also, the shoes have an air-cooled cushioned heel padding that protects your heel from rubbing against the shoes lining and prevents your heels from massive impacts. This feature makes them one of the best vet tech shoes out there.
Insole
The shoes have a nicely cushioned removable insole that provides sufficient foot support. If you have custom inserts lying around, you can replace them with Merrell insoles.
Outsole
Lastly, the shoes have a rubber outsole with excellent traction that features thick lugs around the boundary so that you can get the finest grip while running after the animals.
What I Liked
Available in wide sizes
Durable shoes for vet techs
Good for outdoor veterinary work due to high-traction outsole while running after animal
Sturdy design to protect your feet
Great arch support
Lightweight
What I Didn't Like
You may lose some traction in wet conditions
Moderately waterproof
Don't breathe well; feet may feel hot in summers
Dansko XP 2.0 Clogs – Best Vet Nurse Shoes
Over the years, the Dansko brand has cemented its place in manufacturing stylish, slip-on and comfortable shoes for nurses, vet techs, chefs and cashiers etc., who have to stand for long hours on their feet.
The term 'XP' means extra performance. This is a modified version of Dansko Professional clog. The shoes have a minimalist design that can fit with several dress codes.
Dansko clogs have a roomier toe box, which is great for people with rheumatoid toes, bunions, and other foot-related conditions.
Midsole
The shoes have cold-molded EVA midsole that is extremely lighter in weight and has a high shock-absorbing capacity to protect your feet from impact. Dansko natural arch prevents foot pains while long hours standing in veterinary work. There is also a structural element, i.e. TPU (Thermoplastic polyurethane stabilizer) reinforced in the midsole that offers great arch support while you are standing for long hours on your feet taking care of animals.
Footbed
Furthermore, the shoes have a removable dual-density PU footbed that is compression-resistant and provides great support underneath your feet while giving a plush feeling. You can also replace your custom orthotic insert recommended by your podiatrist for arch support.
The shoes are specially intended for flat feet people who feel intense pressure on their feet skin. To solve this problem, they have a rocker bottom outsole with a platform height that allows a smooth transition of your body weight from heel to toe and helps to maintain your walking gait cycle.
Also, the shoes are made of 100% durable leather with complete weather and soil proof design. The design of shoes is perfect to wear in veterinary clinics while helping out with the surgery of animals.
What I Liked
Waterproof
Durable
Lightweight
EVA cushioned midsole
Easy to clean
What I Didn't Like
Requires a break-in period to fit your feet
How I Picked the Best Shoes for Vet Techs – Ultimate Buying Guide
I hope that you might have found reviews of the best vet shoes quite helpful. After spending 48+ hours and diving into a pool of 100s of products, I have come up with the 7 best veterinary nurse shoes that provide sufficient comfort, protection and support to your feet. Some of the choices are for both men and women, while some are only dedicated to a specific gender.
As everyone has specific needs for shoe selection, if you can't still decide which pair of shoes for sciatica pain relief you should buy, I would recommend you to read our buyer's guide below.
Considering everyone has unique needs for shoe selection, here is a list of the features you should look into while buying the best vet tech shoes.
Cushioning and Comfort
Whether they are outdoor or indoor, you would never compromise the cushioning and comfort of your feet in your veterinary jobs. That's why while buying vet tech shoes, you should check features like EVA or PU midsole of the shoes with soft and padded lining that provides cushioning and comfort while you are on veterinary nursing duty.
Size
Getting the right size vet tech shoes is a challenging task for veterinary nurses. You might observe the perfection in the shoes with regards to the cushioning, durability and comfort. If they do not fit your size when you wear them, then these shoes are of no use to you.
I would advise that you should omit the option if the shoes are a bit tighter. This is because mostly leather shoes like Danskos and some Crocs models require a break-in period to hug your feet. You can check my guide on shoes stretching to apply to vet tech shoes to fit your feet.
Waterproof and Easier to Clean
While taking care of animals in farming visits or veterinary clinics, there is highly likely that animal dung splashes out on your shoes. Therefore, the best vet tech shoes should not allow such fluid to enter the shoes. They are made of such a material that animal dung can easily be wiped out using a soft damp piece of cloth.
Slip-Resistant
The outsole of the shoes should have excellent traction and slip-resistant so that on slippery floors of veterinary clinics or uneven muddy terrains of farm visits, vet tech shoes should protect your feet and prevent you from slipping.
Final Thoughts about the Best Shoes for Vet Techs
Wearing the best shoes for vet techs can make your feet comfortable and protect them afrom shock and allows you to stand or walk freely on muddy grounds or slippery floors of veterinary clinics. The features to look for in the best vet tech shoes are cushioning, waterproofing feature, padded collar, and soft cushioned footbed.
You will find all those features in the shoes that I have reviewed in this article after 48+ hours of research.
I hope after reading this guide, you will be able to decide which pair of vet nurse shoes you should buy that aligns with your needs and expectations.
Frequently Asked Questions about Vet Tech Shoes
How often should vet techs replace their shoes?
Depending on wear, vet techs should replace shoes every 6 months to 1 year. The demanding conditions of vet work can cause shoes to wear out more quickly than normal. Replace them whenever you notice declining support, traction or increased discomfort.
Is it better to have laces or slip-on shoes as a vet tech?
Slip-on shoes are convenient for quick on/off and avoid laces getting dirty. But laced shoes allow you to adjust fit for maximum comfort and support during long days. Many vet techs prefer slip-ons for their ease but choose lace-ups for foot health.
How can I find shoes with good arch support if I have high arches?
Look for shoes with built-in arch support, or those accommodate orthotics. Well-cushioned athletic shoes often provide good arch support. A removable insole is ideal so you can insert customized orthotics.
Can I just wear sneakers as a vet tech?
Sneakers work but may not provide the support, slip-resistance, and cleanability needed for vet settings.
Are fabric shoes OK or should I get leather?
Leather is more durable and easier to clean but fabric lets your feet breathe to reduce sweat.
Should vet tech shoes have a back?
Not necessarily – backless shoes like clogs allow your foot to move naturally. But shoes with a back provide more ankle support.
What features should I look for in vet tech shoes?
Cushioning, slip-resistance, waterproof materials, easy to clean uppers, and arch support.