Do Ecco Shoes Run Big or Small? [Get the Right Fit!]
Ecco brand is famous for making dress shoes, casual sneakers, golf shoes, and hiking sandals. People like you are highly concern about Ecco shoes sizing due to their confusing shoes sizing chart. So, do Ecco shoes run big or small? After tons of research on relevant platforms, asking the users, and going through the relevant comments, I found that Ecco shoes run big for most people.
It could be for several reasons that people feel Ecco shoes are bigger. One of the reasons is that the sizing chart of Ecco shoes is inconsistent compared to the other brands, due to which people end up ordering the wrong size of their Ecco shoes.
Do Ecco Shoes Come in Wide Width?
Ecco shoes have not specific width standards like standard, medium, or wide fit. Ecco shoes fitting is designed from heel to instep instead of heel to ball of the foot. They refer to this as a "freedom fit" that allows your toes to spread out when walking naturally. This is also why people with narrow feet face issues with such fit and feel that Ecco shoes run bigger for them.
I found a comment by a person on the forum who also has narrow feet and feels his Ecco shoes a bit bigger.

I found one more comment on Reddit in which the user says that Ecco shoes are wide fitting, having a wide toe-box.

Ecco Shoes Sizing Chart
Shoes from Ecco are sized according to European standards since they originate from Europe. Due to this reason, Ecco shoes are available in whole European sizes. Each European size of Ecco shoes translates to the full US size plus the next half size.
For instance, if your foot size is 7 or 7.5, it translates to the European 41 size according to the Ecco shoes sizing chart.
Here are the Ecco shoes sizing charts for men and women.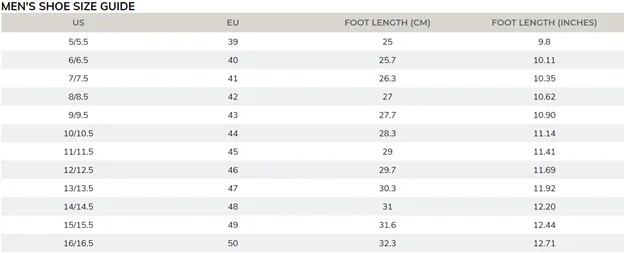 As you can see, there's not a specific trend in the foot length measurements (CM), which corresponds to each European size in the Ecco shoes size chart. This is why people end up getting the Ecco size big due to their confusing sizing chart. Also, the sizing of Ecco shoes may run inconsistent with its other competing brands.
That's why I've compared Ecco shoes size chart with other brands like Cole Haan, Rockport, Clark, etc. These all brands have several styles of dress and casual shoes in common.
In this way, this comparison will help you make your confusion clear.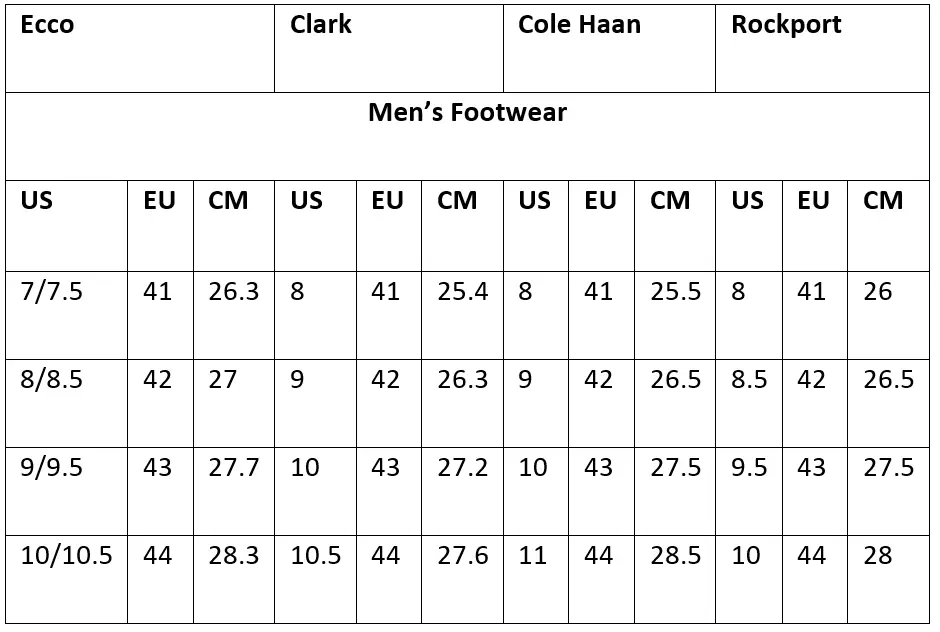 Except for Ecco, all other competing brands like Clark, Cole Haan, and Rockport also make their shoes in half sizes for a perfect fit. I've skipped those sizes so that I could make a comparison of their shoes' sizing chart with the sizing chart of Ecco shoes. Furthermore, I considered EU sizing a reference among those brands since Ecco shoes are made in European sizes.
First of all, you need to measure your foot size first to avoid getting lost in converting from European to the USA. I'd highly recommend you measure your foot's size in CM using the Brannock device.
Here, I'd suggest you consider Cole Haan and Rockport as they're based on US sizing, and the corresponding foot length in CM is more consistent.
So, from comparing Ecco shoes sizing with other brands, you see the difference between their sizing numbers based on the foot lengths. That's why it's not always accurate that the size you wear in other shoes will fit perfectly in your Ecco shoes.
For instance, if the EU42 size fits you in Rockport shoes, look at the corresponding foot length from the Rockport sizing chart, which is 26.5. According to Ecco shoes sizing chart, 26.3 is closer to 26.5. So, if you've standard width or narrow feet, you should first try US 7/7.5 size, which is corresponding to 26.3. If you buy the original US size, which you usually wear in your other shoes, the chances are that Ecco shoes will run big for you.
Ecco Golf Shoes Sizing
In the golf world, Ecco is one of the best brands regarding shoes. The innovation you can expect from Ecco golf shoes is incredible and has set them apart from other top brands in the same category. Ecco golf shoes sizing is also a bit tricky compared to the other brands like Footjoy and Adidas.
Footjoy and Adidas shoes are based on US sizing. Furthermore, they are also available in half sizes. Furthermore, Footjoy shoes are available in a range of widths from extra narrow to double-extra wide. You can check Footjoy shoes widths here.  On the other hand, Adidas golf shoes are available in standard width (D) and wide widths (E).
Ecco golf shoes are different from these two as they feature a freedom fit, as I've explained above. They don't have a category in terms of standard width or wide width. I couldn't contact Ecco customer support to get details about their freedom fit as their live chat isn't available. I messaged on their Facebook page, but they didn't reply.
Some people have felt that their Ecco golf shoes run big compared to Footjoy shoes with the same size.
Here's what a user comments in a forum.

Furthermore, I also found this review at Amazon by a person on these ECCO Men's BIOM Hybrid Golf Shoes fit.

If you ask about Adidas vs. Ecco golf shoes sizing, it depends on the model of Adidas shoes you're referring to. Generally, Adidas shoes are in standard widths, and people go for a size up for a perfect fit. But that's not the case with the Ecco golf shoes.
Here's what a user comments in a forum about the sizing of Ecco shoes with respect to Adidas shoes.

Here's another comment by a user regarding the fit of Ecco golf shoes as compared to Adidas.

So, it seems that most Adidas golf shoes run narrow as compared to the Ecco golf shoes. However, there are fee Adidas golf shoes like Men's Tech Response that also come in wide widths. So, if you've such Adidas golf shoes in wide widths, you can order the same size of Ecco golf shoes.
Final Thoughts about Ecco Shoes Fit
So, do Ecco shoes run big? Well, I'd say that if you've a narrow or standard width fit, there might be a possibility that Ecco shoes rub big for you. Furthermore, as Ecco shoes are based on Europe sizing standards, I've compared Ecco shoes sizing with other brands like Cole Haan and Rockport. I'd suggest you first look at their sizing charts by following the method I explained above.
Furthermore, if you've high arches, you might feel Ecco shoes shallow. I'd not advise you to go for a large size. Just wear your Ecco shoes for some days as they stretch out comfortably in around 1 to 2 weeks and will give a perfect fit to your feet.
---