Do Sperrys Run Big, Small or True to Size? [How Do They Fit]
There's no doubt that the Sperry brand is famous for making boat shoes. Over time, it has also started making sneakers, boots, loafers, and flip flops. So, the fit of Sperry shoes depends on the style you want to buy.
So, if you ask: do Sperrys run big? If we talk about Sperry boat shoes, they tend to be run a bit bigger length-wise for some people, due to which Sperry boat shoes run big in the heel part, but they are true to size for most wearers in the forefoot region. To prevent heels from hitting, the Sperry boat shoes also have an amazing feature that I've explained later in this article.
Telling exactly about shoe sizing is challenging as each human's feet' shape is different. It's not about only length and width. The foot is a three-dimensional structure. So there are mixed reviews about Sperry boat shoes fit.
 Some people say that the Sperry boat shoes are tight in the front, but they fit perfectly length-wise. If that's the case with you, then I'd say to wear the shoes for few days as Sperry boat shoes require to break in and stretch out quickly after 5 to 6 wearing of the shoes as they are made of flexible full-grain leather or canvas upper. So, your focus should only be on getting the correct length of the Sperry boat shoes.
Here's what a user says about the fit of Sperry boat shoes in the forefoot region.

Here's another comment by a user on the fit of Sperry boat shoes.

Due to loose fit in the rearfoot region, many people wearing Sperry boat shoes complain about the blisters on their heel due to rubbing with their boats shoes in the first few days of wearing. But in the long run, they will be comfortable for you.You can prevent the blisters on your heels in the early days by wearing thick socks with your Sperry boat shoes.
Here's what users of Sperry boat shoes comment on their fit on Reddit.

Here's another review of a user on Sperry boat shoes sizing.

Sperry Shoes Widths
Some Sperry boat shoes come in a variety of widths. For men, Sperry boat shoes widths are available in:
Slim (C width)
Medium (D width)
Wide (E width)
Extra wide (2E width)
For women, Sperry boat shoes widths are available in:
Slim (B width)
Medium (C width)
Wide (D width)
I confirmed the extent of width for men's and women's Sperry shoes from their live chat support. The widths of Sperry shoes are a bit different from other shoes brands like New Balance.
Typically brands offer extra wide shoes up to 2E widths for women and 4E width for men. But Sperry shoes have a maximum width of D for women and 2E for men. Most people buying shoes Sperry shoes online have no idea about it, due to which they complain about their Sperry shoes run small or tight in the front area.
If you head over to Sperry brand official site and search for boat shoes, you'll find the option of different widths in the left sidebar so that you can filter the Sperry boat shoes based on your feet's width.
I just did the same and found only two styles of Sperry boat shoes available with different colors in extra widths.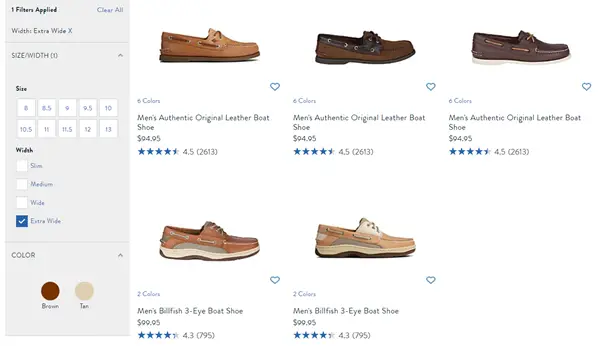 Let's take a model of Sperry Men's Authentic Original shoes pair that has reviews on Amazon. They're made of leather upper with textile lining. These shoes are available in extra wide widths for men. Most people have found these Sperry boat shoes true to size.
However, some people observed that these Sperry shoes were a bit tight in the front, as you can see in the review below.

On the other hand, some people suggest buying half a size smaller as for them Sperry boat shoes run big.
Here are some reviews that show some mixed suggestions and don't clearly justify the fit of Sperry boat shoes.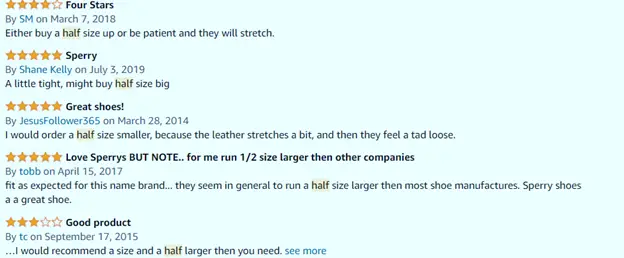 Now, I can't tell about the exact width of the feet of that customer as it was not mentioned in the review. However, I'd suggest you wear wide-width shoes in other brands and then order extra-wide Sperry shoes while keeping the same size. No doubt, Sperry shoes stretch. But who knows….they still run narrow for you even after stretching if you select the wrong width.
For these Sperry Men's Authentic Boat shoes, I didn't find any review in which the customer has complained about the longer length and striking of the heel with the shoes rear part.
However, if you find their length longer and your heels start hitting the shoes, there's a solution.
You'll observe that Sperry boat shoes have functional laces on the sides that are not for only designed purposes. Using those laces, you can easily adjust the loose fit in your Sperry shoes in the rearfoot region.
Note: Sperry Authentic Boat Shoes have half sizes available up to 11.5. After that, there are only full sizes up to 15. So, if you normally wear size 12 and feel the shoes tight, I'd recommend you go for a full size up, i.e., 13, as the Sperry shoes will become too loose for you after leather stretches out. You can go for an extra wide fit to adjust your feet comfortably in your Sperry shoes.
I've also explained this from Sperry's customer support team and found a person's comment on Reddit.

Do Sperry Boots Run Big?
Sperry makes various boots with a real soft leather upper with a cotton or nylon shaft around the calves. Sperry Saltwater Duck Boots are the most selling Sperry boots on amazon and their website.
Sperry Saltwater boots are only available in medium widths for men, and for women, Sperry saltwater boots are available in both medium and wide widths.
So, I crawled through all reviews of Sperry Women's Saltwater boots on their website to get an idea of these Sperry boots shoes fit.
According to my research, 56% of users feel that Sperry Saltwater boots run true to size, and 36% of wearers say that Sperry boots run big. Only 8% of customers felt Sperry boots a bit tight, or they just preferred to go a half size up because they wanted to wear these Sperry boots with thick socks.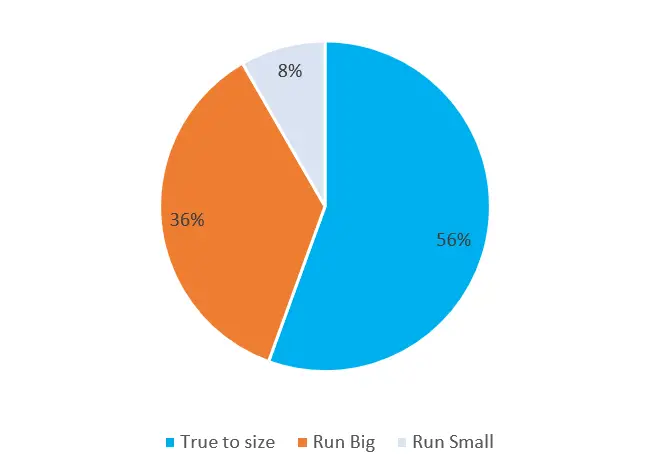 I've also taken a snapshot of some reviews regarding the sizing of Sperry Saltwater boots so that you can get a clear-cut view.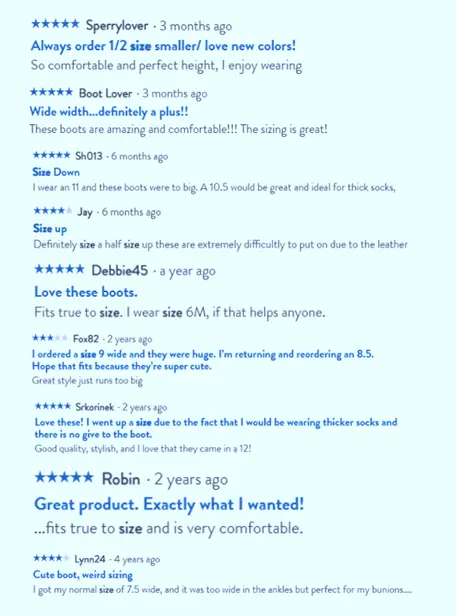 Are Sperry Sneakers True to Size?
Most Sperry sneakers are made of textile or Canvas upper, so they don't stretch like Sperry boat shoes that are made of leather. Unlike Sperry boat shoes, their sneakers are available in an only medium and wide fit for men and women. You can check the styles of Sperry sneakers, available in wide widths, here.
Let's take a model of Sperry Men's Striper II CVO Sneaker. These Sperry sneakers feature a soft cotton canvas upper for easy on/off. Customers have mixed reviews on Sperry's website regarding the fit of these Sperry sneakers.
Some users complain that Sperry sneakers run small and tight, while few customers say Sperry sneakers run big. Here're some reviews related to the Sperry sneakers fit.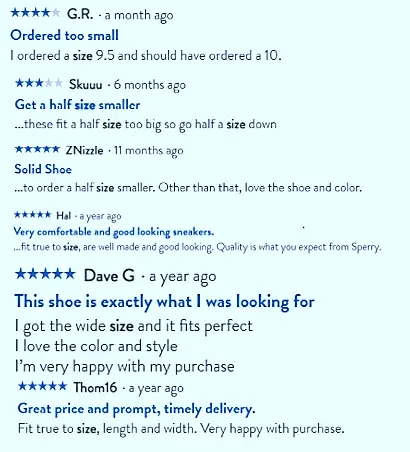 Not only that, but I also analyzed all reviews related to these Sperry sneakers on their official site, and here's a summary of comments by wearers of Sperry Men's Striper II CVO sneakers regarding their fit.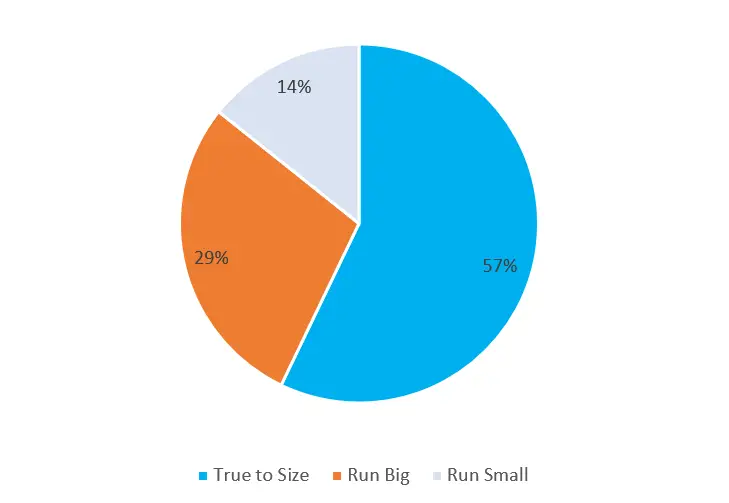 So, 57% of users claim that Sperry sneakers run true to size, while 29% feel that Sperry sneakers run big and suggest buying a half size smaller.
There's a minimal ratio of 14% of people who feel that Sperry sneakers are tight. That might be a possibility that they didn't consider the correct width for their Sperry sneakers; as I've already mentioned above, the width standard of Sperry footwear is slightly different compared to the other brands.
So, I would suggest if you've wide feet, get the Sperry sneakers in your original foot size.
If you've narrow feet, you can go for a half size down as Sperry sneakers only come in medium and wide widths. They are not available in slim widths. I think due to this reason, some people find Sperry sneakers a bit loose on their feet.
---