Do Chacos Run Big, Small or Fit True to Size?
Getting the perfect fit in Chacos can't be that difficult. If you land on this page, I guess you're asking yourself these questions: Do Chacos run big or small? Do Chacos come in half sizes? What size in Chacos do I need? What size Chacos should I get?
I'd suggest first go for a size up as arch fit is the most important aspect in the Chacos sandals sizing. If your foot's arch doesn't streamline with the base of Chacos sandals, you won't face trouble while walking or standing. Sizing up can result in heel slippage inside the Chacos. But this can be easily prevented as Chacos have adjustable straps which can be tightened to adjust the fit. You can also shorten the straps by consulting with Chacos customer support.
Being a versatile shoe, you can wear Chacos for many activities like hiking, climbing, walking, or cycling. The only pain is finding your correct size in each of the different styles. But, it may take some experimentation to find out what size will fit your feet.
This article will get you acquainted with how your Chacos fit in the first place. We'll go over the different types of Chacos, and be sure to answer your most pressing question: "are Chacos true to size?"
So, let's get started…
How Should Chacos Fit?
Chacos are a trademarked brand of casual sandals. Chaco made their first shoe in 1989, and since then, they have grown into one of the most popular footwear brands in the world.
They use the softest polyester webbings wrapped around a cork-bed mid-sole to create the most comfortable sandal. The company makes simple trendy designs for outdoor activities with the best materials to breathe comfortably as you enjoy with your friends.
So, do you get an idea of how Chacos should fit? As long as your toes don't get snagged in the front and you feel a nice stable and supportive structure around your foot while performing different outdoor activities, they should fit just fine.
When you put your Chacos on, they should be relatively snug around your heel and big toe. You should feel the straps gripping your foot snugly against the boot. The rest of your toes shouldn't flop around in the shoe.
Another important consideration for the right fit of Chacos is that the arch should hit in the right place of your foot. In this way, it'll help to provide maximum comfort and support, and protection against bumping the arch while walking.
Furthermore, if you're wearing them for the first time or have not worn Chacos in a while, you've to wear them around the house or somewhere where they won't get damaged. They do tend to be stiff, and breaking them in is essential. If you can make it through the break-in period (which should only take a few days), you shouldn't have any problem wearing them out in public.
Chacos Style Guide – Difference between Z/1 and Z/2 Style
What makes Chacos sandals unique regarding their fit is they have a loop through webbing system that's going to keep your foot nice and tight over the footbed no matter what you're doing if you're out hiking on the trail or you're kayaking, whatever it is it's going to keep your foot right in place.
Chacos sandals feature a z-shape continuous pull-through strap with a buckle instead of Velcro design. This design is named as "Z/1" due to a single long wide strap that winds around the foot. This was the first design of Chacos sandals that was released in 1991.
You can adjust the long strap that wraps your foot to adjust your fit without any extra findings. The convenience of one adjustable buckle strap makes it easy to get your foot in and out. In addition to that, Z/1 style is more suitable for people with high arches or insteps due to sufficient space between the foot and the strap.
There is another style of Chacos that is named "Z/2". The difference between Chaco Z1 and Z2 sandals is that Z/2 also features an additional strap that wraps over the foot's big toe, while Z/1 style comes with a single wide strap. 
On the other hand, the Z/2 style features narrower straps. Z/2 style offers a bit more stability for those that like to swim or play in rivers. The thinner sole allows you to feel much closer to the water as your feet are down below. Z/2 style has proved to be more suitable for people with flat feet due to its more stability as dual straps are tightly wrapped around the foot and offer a secure fit.
Chacos Wide vs. Regular or Medium – Which Size Should I get?
Choosing between Chacos wide, regular or medium all depends on your foot shape and the size. The subtle difference between the widths can make a significant difference in comfort. There are the following reasons due to which it is quite important to consider the Chacos width carefully.
Heel cup – Chacos are made with their patented LuvSeat Footbed with a deep heel cup to lock your feet and offer a stabilized fit. So, if Chacos sandals are too wide, your heel can slide around, resulting in decreased stability.
Arch Support – On the other hand, if Chacos are too narrow for your feet, the footbed will push into the arch which can be the source of extreme discomfort for you, and can disturb your walking gait. Moreover, the heel strap will also be tight on your feet, resulting in the formation of blisters on them.
Wide widths are quite tricky as some people claim that they've wide feet, but they come out to be regular width. There's another case that some people have narrow, and their toes are wide-ish. In such cases, first, you'd need a Brannock device to measure the size of your feet.
While measuring your foot's size, you've to take two measurements. One is from heel to your big toe; other is from heel to the widest part i.e., ball of the foot. This distance is called the arch length of your foot.
If your arch length is smaller than the length from heel to toe, then it might be possible that you should go for a regular width. If arch length is larger, you may have to go for medium or wide width, and select the Chacos size that is nearest to the arch length.
Example: Let's say the heel-to-toe length of your foot is 9inches and heel to the ball of foot length (Arch length) is 8 ½ inches; then you've to go for the larger of them i.e., 9 inches.
You can watch out this video to measure your foot's size so that you can understand the whole procedure in detail.
The Brannock device also has a scale to measure the width of your foot. The length from the heel to the widest part of your foot decides the correct width. So, concerning the above example in which the length from heel to ball of the foot is 8.5inches, the Brannock device would label the width of your foot as "B".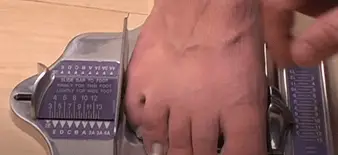 So, for width B, it is recommended to go for medium-width Chacos. If your foot measures the width C or D, Chacos regular width would be suitable for you. If your foot measures the width E or 2E, it would be best to go for Chacos wide width option.
Should I Go for Chacos Sizing Up or Down?
Footwear sizing confusion is common for average women. Sizes appear to be the same all over the place with popular brands like Nike, Adidas, and Vans, which results in a lot of hassle when trying to find the right fit. Unfortunately, Chaco brand doesn't make sandals in half sizes due to which you've to go for the nearest whole size.
Some Chacos sizing reviewers encourage sizing down for a secure fit, while some suggest sizing up for the best arch fit.
So, there's no simple formula for knowing what size to go for, and you risk disappointment if the fit is wrong. If you go for the wrong size, you could get stuck with an ill-fitting pair of Chacos that restrict movement, rub and discomfort you.
It doesn't matter whether you buy Z/1 style or Z/2; if you typically wear a half size, then Chacos sizing up or down will depend on your arch type, width, and foot size.
After interviewing Chacos customers and crawling through the hundreds of Chaco sizing reviews, I'll recommend you to first go for a size up.
For example, if you wear 9.5 sizes, then go for 10. The reason is the shoes have adjustable straps, so you can easily tighten or loosen them based on your feet' size. While selecting sizes, you must give priority to that size that fits your arch the best. Furthermore, you can also shorten your straps by contacting the service team of Chaco at Rechaco.com.
How to Adjust the Chaco Straps?
Tired of your Chacos slipping off your feet? Most people don't know how to wear Chacos or adjust the straps to walk with them comfortably. As I've discussed earlier, Chacos have two basic styles.
Based on several customers' reviews, they've found it quite difficult to adjust the straps of Z/2 style. These sandals feature two long and thin straps wrapped around the foot in a bit complicated way, due to which new Chacos users find it difficult to adjust the Chaco straps.
Here is the step-by-step procedure on how to adjust the Chaco straps to accommodate your foot.
For Z/1 Style
Loosening and Tightening of the Straps:
Here's the procedure of loosening and tightening the Z/1 style Chacos Straps.
First, open the buckle to get the straps loosened up.
Then, pull the second piece of webbing that is near to the pinky.
After that, you'll go to the pinky toe and pull the piece of webbing that wraps over it to create a nice opening.
Now, after stepping your foot into the Chacos, it's time to tighten up the webbing for a secure fit.
The tightening will start from the big toe.
When you pull the piece of webbing over a big toe, it connects to the webbing over the instep, making a secure fit.
After that, pull the piece of strap/webbing that connects to the buckle, which will nicely cover up the upper portion of your foot.
Pro tip:  Make sure the straps are not too tight over your foot. Your foot should be moving under the straps, not with or against the straps.
For Z/2 Style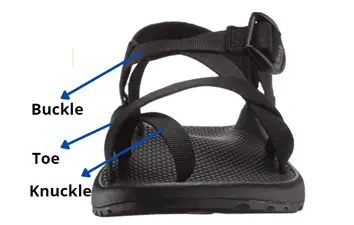 Loosening and Tightening of the Straps:
Here's the procedure of loosening and tightening the Z/2 style Chacos Straps. Z/2 style features a toe loop. So, the procedure is a bit different.
First, pull up the buckle to loosen the straps.
Then, jump on to the next piece of webbing, which just over the webbing of the pinky toe.
After that, head on to the big toe strap and pull it gently.
At last, jump onto the pinky toe strap and pull it to create a nice big opening.
Now, for tightening, we're focusing on the three straps i.e. knuckle, toe and buckle as I've shown in image above.
First, start with tightening the strap over the knuckle bone. This will tighten the piece of webbing over the instep.
Next, pull up the piece of webbing over the big toe.
Then go back to the buckle strap, and pull that piece of webbing to make a tight and secure fit.
You can also watch this video tutorial to adjust the straps of Chacos.
Final Verdict about Chaco Sizing
So, that's all about the Chaco sizing guide. I hope you've got a clear-cut view about "Do Chacos run big or fir true to size?" Chacos are designed to accommodate a wide variety of foot shapes and sizes. This allows anyone from the smallest feet to the largest they can fit in a sandal to enjoy the comfort and flexibility of a Chaco.
Chacos sandals don't come in half sizes. So, if your foot size lies between the whole numbers, then I'd recommend you first go for a size up as most customers have tried it, and they've felt the arch fit quite comfy.
While trying Chacos of different sizes, you should focus only on the best arch fit because Chacos straps are easily adjustable, and you can even shorten them by contacting their service team.
Anyhow, whichever Chacos size you'll buy, please leave your valuable thoughts in the comments section below so that other readers could benefit from your experiences.
FAQS about Chacos
Are chacos good for flat feet?
Yes, Chacos are good for flat feet. Chacos pair is a good choice for good arch support due to a deep heel cup in the footbed, which mostly flat feet people demand. At the start, you might have to face some inconvenience as they have a break-in period of around one week. After that, you'll get used to them and feel great comfort and support.
Furthermore, if you need extra cushioning underneath your feet, I'd suggest you to Z/cloud Chacos as that feature extra 5mm layer of PU cushioning in the midsole to provide additional support and shock absorption.
Are Chacos uncomfortable at first?
If you're a first-time wearer of Chacos, they might be super uncomfortable for you at the start due to stiffer footbed and webbings. They require some break-in time to perfectly adjust to your foot's shape. Once you get used to them, you'll start feeling extreme comfort and support.
What is the difference between men's and women's Chacos?
Men and women have different foot shapes and body posture that I've explained in another sizing guide. Due to this, a few women's Chacos also have an "X," like the ZX/1 and ZX/2 in their sandals. The X means that instead of a single piece of wide webbing, they feature two narrow straps. Many women prefer such models as they reflect a nice stylish look and offer a good support to their feet.