Are Vans Shoes Good Quality? (Why Are They So Popular)
Vans shoes are popular and have good quality because the brand focuses on making the shoes highly durable, stylish, and slip-resistant so that people can wear them easily on all surfaces.
Vans first started its journey by making quality skate shoes for their first customers, who were skateboarders in Southern California. Back in the day, Vans was known as a footwear brand synonymous with skating, surfers, and slackers. Now, Vans shoes have become a stylish choice for fashion and skate enthusiasts alike.
In many cases, Vans shoes also serve as a form of fashion or commercial advertising for these sports through collaborations with their respective governing bodies or marketing partners.
The uniqueness about Vans shoes is that the brand itself manufactures the shoes, and sells directly to the consumers. Vans shoes' lightweight and sticky soles consist of a waffle pattern, which offers superior traction on any surface. Furthermore, the sole of Vans shoes is flexible and flat to keep your posture stable
Here's what a person says in the comment section of a Youtube video about the popularity of Vans shoes.

Bonus Read: Are Vans shoes non slip
Vans shoes are available in different designs like low-top, mid-top, and high-top to match different outfits. They also make casual-type slip-on designs that deliver a comfy and glove-like fit to your feet. Furthermore, unlike other trainer shoes, Vans sneakers are smart enough to wear to work. All these qualities of Vans shoes justify why they are so famous.
Furthermore, apart from fashion, you'll also see aged people wearing Vans shoes because of their comfort, simple design, and affordability.
Here's what people say about Vans shoes which makes them popular.

Are Vans Shoes Good Quality?
The quality of the Canvas upper and rubber sole of Vans shoes is great as the material remains intact for a longer time. But, the appearance of your Vans shoes may deteriorate and their soles may start separating after some time if you daily wear your Vans shoes. It depends on how you take care of your Vans shoes. If you tightly lace your Vans shoes and regularly clean them after work, they might last for a longer time. You can also read a guide on whether Vans are non slip or not to get an idea about the sturdiness of their outsoles.
The manufacturing process of Vans shoes defines their durability and long-lasting ability. The uniqueness of Vans shoes is that they are made through the vulcanization process. It is the process of curing rubber through heat, which allows it to be molded into a more durable product. This helps to retain the shape of the shoes and does not harm the quality of the material.
EVA foam isn't used in Vans shoes because the heat vulcanization process can melt and damage it. Due to this reason, Vans shoes only feature high-quality stitched canvas or suede upper that can withstand the high temperature of the vulcanization shoe-making process.
To further enhance the durability and fill the gap, foxing tape is applied at the junction of upper and sole before transferring the upper and sole assembly to the oven for vulcanizing. In this way, the heat ensures a tight bond between the Vans shoes' upper, foxing tape, and outsole.
You can also check this video of the vulcanization shoe-making process of Vans for a better understanding.
One feature that makes Vans shoes famous is that you can get your favorite Vans shoes with excellent quality at fairly reasonable prices, i.e. under $100. There are several high-quality Vans shoes that you can in less than $70.
For instance, take an example of Vans Men's Authentic(tm) Core Classics Trainers on Amazon. The price of these Vans sneakers is $68. These Vans sneakers feature a high-quality textile upper to provide a comfy fit to your feet.
I crawled through reviews from different customers to get an idea about their quality. Here's what one of the users says about the Vans shoes' quality and comfort.

Vans Shoes Falling Apart
Since the sole is attached via gum and foxing tape to the upper of Canvas shoes, so it might be a possibility that Vans soles start separating from the Canvas after some time. It doesn't matter how strong the glue is, after some time, it starts separating from the upper.
Due to this reason, there are some mix opinions about the separation of Vans soles from the upper. Here's the review of the Vans shoes user on Reddit.

Similarly, Vans old skool are found to be durable and good quality for many people as they last longer for them.
Here's what people say about Vans old skool quality and durability.

Are Vans Flat Soles?
Yes, most Vans shoes have flat soles and low profile for a better feel and stability over a skateboard. There's no doubt Vans brand highly focuses on maintaining the quality and style of its shoes. But on the other hand, some people have problems with their flat soles as most popular models of Vans shoes, which people want to wear, have flat soles. Such Vans shoes lack arch support, which is a source of discomfort for some people.
Vans brand was mainly focused on making skateboarding, surfing, and weightlifting shoes. With the passage of time, those styles of Vans shoes became famous among people and they started to use them for everyday wear. Now people having flat feet complain about the comfort and support of those Vans shoes with flat soles.
In fact, flat sole is a popular feature of a prominent line of Vans shoes that has made the brand famous. So, if you have an issue with the arch support of Vans shoes, you can easily rectify the problem by placing your custom orthotic inserts in your Vans shoes to keep your feet healthy.
You can try Superfeet insoles as many people with flat feet use them in their Vans shoes to get suitable arch support.
In addition, Vans has also introduced some specific designs over time that are specifically made for people who need extra arch support.
For instance, you can consider buying Vans ComfyCush Slip-On Shoes as their sole is different from the typical line of Vans shoes. In Vans ComfyCush Slip On Shoes, there's a co-molded construction of foam midsole and rubber outsole, resulting in an added arch support for flat feet. In these shoes, a comfycush foam midsole is co-molded with the rubber outsole to deliver a combination of arch support, comfort, and sufficient grip.
 You can also check a detailed review of these Vans shoes here.
Are Vans Shoes Waterproof?
Vans shoes are not waterproof. In fact, they're water-resistant. You can only protect your Vans shoes to a certain degree if you're walking in heavy rain. But if you step into the puddle or heavy snow, your Vans shoes will start getting wet and water will start entering the shoes.
If you're wearing shoes in wet areas, I'd recommend choosing Vans shoes with mid or high-top. I also found a website through which I verified Vans shoes that you can wear in wet areas. I applied the waterproof filter, and this what the website showed the results.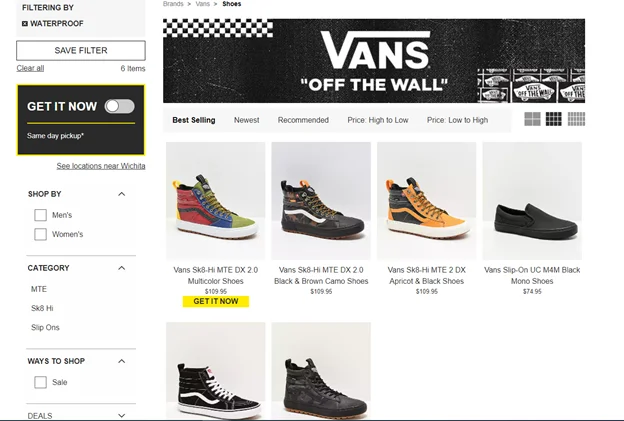 Vans MTE is one of the most recommended shoes that most people use due to their water-resistant feature as they're made of leather. Canvas material absorbs the water due to which you should avoid Vans shoes with textile upper.
Furthermore, you can enhance the water-resistance property of your Vans shoes by applying "Water & Stain Yield." I also talked with Vans customer support representative and he also recommended this product to enhance the water-resistant feature of your Vans shoes. This solution is specially designed for Vans shoes. Thus, you don't have to worry that it would affect your Vans shoes.
You can check out this video on how to apply the Water and Stain Yield solution on Vans shoes to make them water-resistant.
Are Vans Shoes Comfortable for Work
You can use most styles of Vans shoes for lounging or walking around the house. If your work requires standing all day (more than 8 hours) on your feet, such as in nursing or cashier's jobs, Vans shoes might not work for you. You can try to wear Vans shoes with ComfyCush soles, which I've mentioned above, as they have super cushioning technology in the soles that make you feel like you're standing in the cloud.
But still, I won't recommend you standing all day at work while wearing Vans shoes due to their thin sole. You can check my guide on the best shoes for cashiers as such shoes have thick midsoles with extra cushioning technology that allows you to stand for long hours on your feet. However, if you're out of budget and can't buy expensive work shoes for long hours standing, I'd suggest you only wear Vans comfycush shoes and place extra insole in your Vans shoes for additional comfort.
---
Related: Are Champion Shoes Good