Nike vs Puma Shoes: A Detailed Comparison for 2023
Over the years, runners and athletes have been searching for shoes that are comfortable, stylish durable, and offer stability and a comfy snug fit. Among several athletic shoe brands, Nike and Puma shoes are being sold like a hot cake. In this article, we will be looking at the Puma vs Nike debate. We will compare their running shoes and look at what makes each brand unique to help you decide which shoe is best for your feet.
So, what is the difference between Nike and Puma shoes? Puma brand has a smaller proportion of attractive, versatile shoes in its lineup as compared to Nike shoes. Puma has a few good shoes when they have to be worn for running, training, and streetwear. You've to search a lot on the Puma site to find a stylish pair of shoes. The selection of Nike shoes is very large and ranges from athletic, casual, and sports shoes. Moreover, the Nike brand spends a huge amount on the marketing of its fashionable sneakers for streetwear.
Also Read: Converse vs Adidas
A Brief Overview of Nike Brand
Nike is a company that designs and develops athletic shoes and other sports accessories. The company is headquartered in Beaverton, Oregon, United States. It was founded by Bill Bowerman and Phil Knight in January 1964 as Blue Ribbon Sports. In May 1972, the name of the company was changed to Nike.
The logo of Nike represents the wing of the Greek goddess of victory – Nike. The company has a tagline that says "Just do it".
The first team that endorsed Nike was the University of Oregon men's track and field team in 1978 followed by Stanford University women's track and field later during the same year. The company signed its first major agreement with an international athlete in 1979 when it signed Olympic champion Carl Lewis.
Nike has also made several endorsements over the years including celebrities like LeBron James, Maria Sharapova, etc. The company has an official website that allows customers to browse for desired items easily. Nike has also sponsored Michael Jordan, who was one of the greatest basketball players. Till 2021, the Nike brand was valued at approximately 30.44 billion USD.
A Brief Overview of Puma Brand
Puma is a German multinational company manufacturing sporting goods, which started as Gebrüder Dassler Schuhfabrik (Dassler Brothers Shoe Factory) in 1924. Rudolf and his brother Adolf Dassler together had formed the company.
Later on, the brothers split due to differences between them and Rudolf formed another company called "Ruda" which soon became Puma. The logo of Puma represents the face of a lion with its mouth open that is not roaring but 'panting'. It symbolizes power, speed, etc.
Like Nike, the Puma brand also sponsors several athletic associations, footballers, and basketball players. You can read more about the sponsorships of Puma here.
Till 2021, the estimated net worth of the Puma brand is 5 billion USD.
Why is Puma Brand Underrated?
Puma brand is underrated because the company is known to be associated with sports celebrities but not as much as Nike.
In addition, Puma's line of products is not as diverse as Nike's offering. According to PUMA CEO, the brand doesn't seem itself to be competing with the other big brands like Nike. Puma is more customer-focused and tends to offer lifestyle shoes at much affordable prices.
The Puma brand also has high-end sport shoes for those who are looking to take their game up a notch. Unlike the Nike shoe though, they don't come in as many varieties of styles or designs which can make finding that perfect fit more difficult on your end.
Here's a comment I found on Reddit in which the person is mentioning the reason why the Puma brand is underrated.

PUMA vs Nike Shoes Styles and Pricing
The prices of Nike shoes are slightly higher when compared to Puma shoes. On average, Nike shoes range from $70 to $120 whereas Puma shoes start at about $50. The thing that makes Nike shoes expensive is the variety of high-tech footwear and marketing.
Nike has more brand power, specifically because of Jordans, Lebrons, and Air-lines. Due to the aggressive marketing by Nike brand, Nike shoes are high in demand by different groups of people, which makes their prices higher.
Nike has more range of shoes when compared to the Puma shoes. Nike's website is easy to use and allows customers to find their desired items easily while Puma's site is not that great for browsing. It's so much difficult to find lifestyle shoes that are versatile and look good with the outfits. Moreover, the collection in the Puma shoe lineup includes excellent designs but some people feel they are too few in number.
If someone just has an idea in their head about how they think good sneakers could look, but haven't thought much past this point it'll be more likely for them to get stuck with something less desirable when shopping at Puma stores.
The thing I didn't like about Puma shoes is that most of the shoes in the lifestyle category look loud, buzzy, and have horrible colorways. Nike does make ugly shoes as well. But, they are few if we compare them with the Puma shoes.
I found this comment in a subreddit, in which a person is recommending to only stick with the classic styles of Puma shoes if you're aiming for streetwear.

The classic styles of Puma shoes that people like are Clydes, Liga, and Oslo. The styling of Nike Killshot is almost similar to Puma Liga sneakers. Despite the same styling, there's a significant difference between the prices. At the time of writing this article, Puma Liga sneakers' pricing starts from $40, and Nike Killshot sneakers' pricing starts from $100.
If you're thinking about Nike Killshot 2 vs Puma Super Liga Sneakers, Nike Killshot sneakers feature a black color Nike swoosh logo, which is a great iconic sign. It adds style to the shoes. Puma Liga shoes feature a big black color stripe on the sides where there is a Nike swoosh logo. Near to the eyelet area, there is a golden color Puma lion logo. According to some people, that kind of Puma logo looks out of date. People like a sleek and minimalist style logo like Nike swoosh or Adidas three stripes.
Here's how both Nike Killshot and Puma Liga shoes look side by side in the picture below.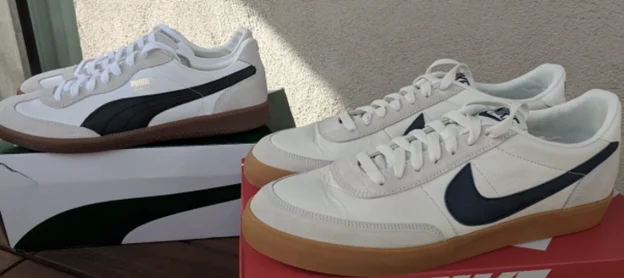 As you can see in the above picture, how the stripe style look of the Nike logo is enhancing the look of their shoes. However, the huge lettered branding on the back of Killshots is affecting their style. In this aspect, I like the lion logo of Puma on the back of Ligas.
Here's a top view of Nike Killshots and Puma Ligas.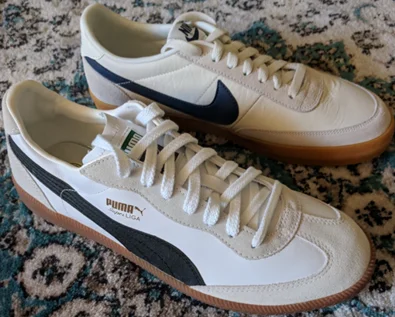 People like the GAT-inspired look of Puma Liga sneakers. Since Puma is a German company, the brand has incorporated German Army Trainers (GAT) look into their trainers. However, several people still don't like this design on the toe box and look for a cleaner look like Nike Killshots.
Moreover, the gum rubber of Puma Liga sneakers is darker and has some kind of pattern on the boundaries, which gives a more rubbery feel. This imparts a rough pattern to the sneakers. In short, Nike Killshots have a cleaner look as compared to Puma Liga sneakers. If you're looking for a cheaper alternative to Killshots, you should surely buy these Puma Super Liga sneakers.
Regarding the durability of Puma sneakers, you can find the comment of a person in the snapshot below. According to the users, Puma Liga sneakers held up well.

Puma vs Nike Running Shoes Cushioning Technologies
Nike brand is famous for introducing innovative technologies in running shoes to improve running performance. Nike running shoes are available in different cushioning technologies like zoom, free, and react.
The running footwear provided by Nike includes innovative technology that provides durability and protection against impact injuries. The zoom air-sole unit in Nike shoes provides more cushioning, durability, and protection against impact injuries.
Nike Free midsole feature minimalist cushioning for low-mileage runs, jogging, and track workouts. This cushioning gives you a barefoot-like feel.
Nike React foam is a big revolution after the Lunarlon midsole technology of the Nike brand. React foam has been created by collaborating with the athletes so that that the chemical formula can be tweaked to optimize the performance. Nike React shoes are built as regular trainers. They are not suitable for fast racing. Moreover, react foam maintains its resilience, but it gets wrinkles pretty quickly.
Puma running shoes are not versatile like Nike shoes in terms of style, cushioning, and stability. Moreover, Puma running shoes are majorly suitable for midfoot strikers. There are few models of Puma running shoes that can compete with the style and performance of the Nike running shoes. Among those models, one such model is Puma Velocity Nitro and the other is Puma Deviate Nitro.
If you're just starting and running up to 5K distances, the Puma Velocity Nitro shoe pair is a great choice. You can buy Puma Velocity Nitro shoes in place of Nike Zoom Pegasus. You can read the review of Puma Velocity Nitro shoes here. The upper of Puma Velocity Nitro is sleek and thin as compared to Nike Pegasus. Moreover, there is lesser padding on the tongue of Puma Velocity Nitro.  
If you're a fast-paced runner and looking for an alternative to Nike Zoom Next%, you can for Puma Deviate Nitro. Puma Deviate Nitro shoes contain a carbon plate between midsole layers to improve the strength and longevity of a midsole and make it suitable for long-distance marathons. According to the wearers, the carbon plate is forgiving and doesn't feel harsh like Nike Zoom Vaporflys. You can learn more about Puma Deviate Nitro here.
Puma vs Nike Running Shoes Upper
Nike running shoes have a specially designed flyknit upper, embedded with the flywire technology for additional support for runners suffering from overpronation. Puma shoes have a soft and flexible upper with no break in period. But, the upper of Puma running shoes is not specifically engineered to provide lateral support. So, Nike running shoes take an edge here.
Nike vs Puma Training Shoes
Puma shoes dominate the place for cross-training shoes. Puma cross-trainer shoes feature a string leather with a TPU heel collar to provide support. On the other hand, Nike training shoes do not feature a strong leather upper. However, for low-strength activities, you can go for these Nike Free RN shoes.
Also Read: Cross-trainer shoes for plantar fascitiis
Nike vs Puma Shoes Sizing
The sizing of Puma and Nike shoes is almost similar. Puma and Nike shoes have a narrow toe box. They are not available in extra-wide widths. So, Nike and Puma shoes are suitable for people with narrow forefoot.