Dr Martens vs Blundstone Chelsea Boots: What's the Difference?
Dr Martens has been making quality footwear since 1945 with its signature yellow stitching and air-cushioned soles. Blundstone is an Australian brand known for its comfort and leather durability in its iconic ankle boots with elastic goring.
If you're wondering: Dr Martens vs Blundstone Boots, which is better? Blundstones and Doc Martens are comfortable work boots. It's just a matter of your personal preference. I'd recommend you to try boots from both brands. However, if you're comparing Dr Martens and Blundstone boots to wear in winter, I would prefer Blundstone boots as they're super warm with great slip-resistance.
A Brief Overview of Doc Martens
The history of Doc Martens started in the late 1940s with a German airman named Klaus Maertens who had been part of a medical unit during World War II. He found that standard army boots were on his injured foot and were causing ankle injuries.
Maertens used his half-completed boots to make changes in the leather and made the soles air-padded. There was no foam used in the soles. This was a unique feature of Doc Martens. Dr Marten boots became popular among workers such as policemen due to practicality and affordability to other brands around at that time.
Maertens had trouble selling his shoes until he met up with a fellow countryman, Herbert Funck in Munich. The Luxembourger was fascinated by the new design for this product and they went into business together that same year in Seeshaupt, Germany using discarded rubber shaped through moulds.
Maertens and Funck's success in the sales of Doc Martens boots led them to open a factory in Munich in 1952. Later on, both friends started thinking to promote Dr Martens internationally. Resultantly, they handed over the rights of the patents of Doc Martens to a British shoe manufacturer to manufacture Dr Martens boots in UK.
British shoes manufacturer i.e. Griggs slightly reshaped the heel for better fit, added the trademark of yellow stitching on the boots and trademarked the air-cushioned sole as "AirWair". Griggs' footwear company was popular for manufacturing sturdy work boots in a small town of Wollaston, Northamptonshire sice 1901. Doc Martens were being produced in their Wollaston Factory in the UK.
1460 and 1461 were two iconic styles of UK manufactured Doc Martens, which are now represented as the Vintage Line of Doc Martens. You can check them here. 1460 style consists of 8 eyelets, and 1461 style consists of three eyelets.
To cut down the cost of production, the company decided to close some of its factories in the UK and move its production to Thailand and China in 2004. Today, Doc Martens are being manufactured in Vietnam, China, Thailand, and UK.
Nowadays, you'll find only 2 percent of Doc Martens Originals that are being manufactured in Cobbs Lane, UK factory. These Doc Martens boots are a bit of higher quality and a "Made-in-England" logo is imparted on their outsole, tongue, and insole.
A Brief Overview of Blundstone
The journey of Blundstone footwear started when John and Eliza Blundstone arrived in Hobart Town in Tasmania, Australia in 1855 from England. The footwear manufacturer was founded with the name of J. Blundstone and Sons in 1870. Before actually manufacturing boots in Hobart town, they were importing boots from England.
In 1892, the company started manufacturing its footwear in its two outlets on Collins Street. Blundstone boots were famous because of laceless, ankle-high boots with elastic panels. In the 1940s, during World War II, Blundstone started making boots for Australian soldiers that set the foundation for the design of its future boots.
To cut down the manufacturing costs, like Doc Martens, Blundstone also decided to move production to China, Vietnam, and India in 2007. The company still produces 300,000 pairs of gumboots in the Tasmania factory.
Doc Martens vs Blundstone Chelsea Boots Initial Look
Sine Blundstone makes laceless boots, its 550 classic series is comparable with the Doc Martens 2976 Chelsea boots.
Here are the following differences I observed at the first glance:
Both Blundstone 550 and Doc Martens have rounded toes. However, some styles of Blundstone boots have a square toe.
Blundstone boots are more anatomical shaped, while Doc Marten boots feel uncomfortable in the toe box.
Blundstone boots have thicker leather than the Smooth leather of Doc Martens.
Blundstone boots feature aniline-dyed (rustic brown) leather, while Doc Martens leather either have a smooth or textured finish.
Doc Martens have yellow-colored stitching on PVC welt, while Blundstone boot sole is glued.
Blundstone boots have double-row stitching under the elastic goring and near the heel for a pleasant appearance. Doc Martens boots also have a seam of stitching in the front area, which extends from the tongue to the sole.
Dr Martens vs Blundstone Boots Leather Quality
Since 2003, when Dr Martens stopped manufacturing boots in England, the quality of leather has been affected by Doc Martens which are being manufactured in Asia.
According to the users, there is still no difference between old Made in England Doc Martens (Before 2003) and New Made in England Doc Martens ( After 2003). The leather of MIE Docs is relatively thicker. The leather of MIE Doc Martens boots is like a good bike leather, which is tough as nails but rather supple.
This is what a person comments in a subreddit about the difference between old and new Doc Martens.

The line of Doc Martens is made of cheap Vietnam leather. The appearance of leather is good as it looks smoother, but the quality is crap. It is quite thin as compared to the MIE Doc Martens and is prone to creases quite easily.
In the picture below, the right one is the Asian line of Doc Martens and the left one is MIE.

You can see the thickness of MIE (right one) and Asian Doc Martens (left one) in the picture below.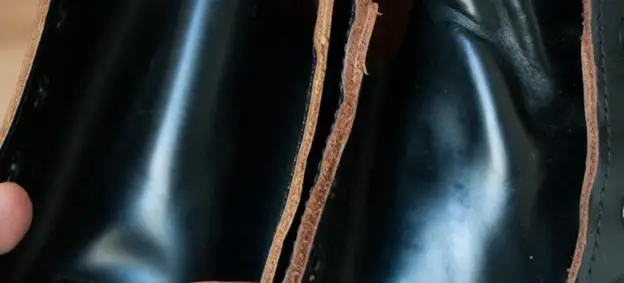 There is another leather of Doc Martens called "Pascal Leather". It has a pebbles-like texture as compared to Smooth leather. The durability of Pascal leather is the same as the Smooth leather. But, Pascal leather is pretty soft and can break in easily.
The leather quality of Blundstone Chelsea boots seems to be better than the Smooth leather of Doc Martens. However, as far as thickness is concerned, the leather of Blundstone boots is thicker, richer, and oilier. This prevents leather from being creased rapidly. However, you can have deeper scratches on the leather of Blundstone boots if they rub against the rock or any other hard surface. It is shown in the figure below.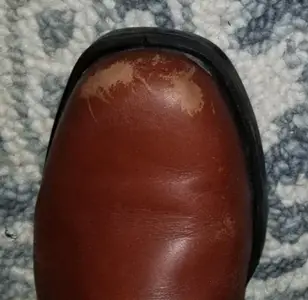 You can get rid of these scuffed marks by first cleaning the leather gently with water and then, apply colored leather cream.
This is how the leather of Blundstone and Doc Martens Chelsea boots look side by side in the picture below.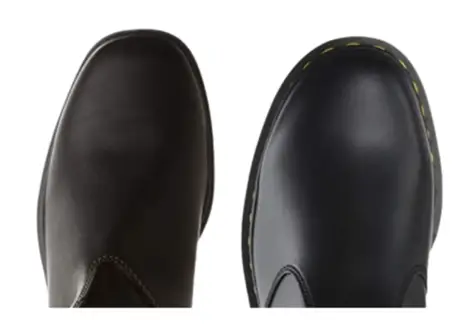 Doc Martens vs Blundstone Boots Build Quality
Doc Martens boots are Goodyear welted, while Blundstone has a sole directly glued to the upper. Goodyear welt construction also allows to easily resole the shoes if the treads on the outsole get damaged.
However, according to the staff of Doc Martens, the boots are precisely stitched to trap the air inside the air pockets of the outsole to offer a bouncy feel. It won't be possible to receive the same comfort if you replace the sole.
On the other hand, it is quite hard to resole the Blundstone boots as the outsole is glued to the upper. While the upper pretty much holds up well, the outsole of Blundstone boots starts getting separating after around 8 months, if you wear them daily.
Doc Martens vs Blundstone Chelsea Boots Outsole Quality
The outsole of Doc Martens boots is made of synthetic rubber, which is produced by a blend of dry suspension resins, plasticizers, and pigments. Some users say that after some time, the sole starts splitting and developing cracks. If you buy MIE Doc Martens, their sole can hold up for 3 to 5 years. If you go for the Asian line of Doc Martens, their outsole will develop cracks after around one year.
There was a time when the outsole of Blundstone boots was made of polyurethane foam. Polyurethane is less durable as compared to synthetic rubber. PU soles start crumbling and disintegrating after some time. Now, the company has changed the outsole material to Thermoplastic Urethane (TPU).  This has eliminated the problem of crumbling of the soles. It's because of TPU material, Blundstone boots are expensive.
You can check my guide on the reason for the crumbling of the soles to learn more.
So, if we compare the outsole of Doc Martens with Blundstone boots, Blundstone boots have a more durable outsole.
Doc Martens vs Blundstone Boots Comfort
There is no match of comfort as far as Blundstone boots are concerned. The leather of Blundstone boots is soft and easier to break in. You need to wear thick socks initially (up to two weeks) so that they won't hurt your feet.
The Smooth leather of Doc Martens boots is quite stiffer and takes a much longer time to break in. Your feet will press quite hard against the toes. Furthermore, the stitches on the instep, which start from the tongue, can cut into the top of your foot during a break in period. You need to wear thick socks, and apply wonder balsam to break them easily.
Also Read: Fit of Doc Martens
Also, wearers have complained that the heel collar of Doc Martens scraps the back of the foot they feature a sewn hem-type stitching along the top. On the other hand, Pascal Doc Martens are easier to break in as Pascal leather is pretty soft and a raw cut along the top of the ankle collar does not cut into your ankles.
As far as the cushioning is Doc Martens and Blundstone boots is concerned, I didn't find a significant difference. Although the shape of the outsole is different, Doc Martens offer cushioning due to the trapped air in the AirWax sole, and Blundstone boots offer cushioning due to a resilient and shock absorbing property of Thermoplastic Urethane. Moreover, there is extra padding in the heel area of Blundstone boots for providing additional cushioning.
This is what a person comments in the subreddit about the comfort of Blundstone boots.

Moreover, the insoles of both Doc Martens and Blundstone boots are removable so that you can insert your insoles for better arch support.