Are Demonia Shoes Good Quality? (Everything You Need to Know)
Are Demonia shoes good quality? This is a regularly asked question by many customers like you who browse to purchase Demonia shoes online. They want to know if the shoes are suitable, durable, comfortable and beautiful. Demonia Shoes offer a wide variety including, heels, creepers, flats, boots, sandals, and much more. The quality of Demonia shoes depends on their style.
Demonia brand is mainly known for its boots, creepers, and platforms. The Gothic style of Demonia shoes is still prevalent in today's fashion world. The Victorian-styled Demonia boots are not only perfect for a deep dark rainy night, but also work great with many different styles of clothing.
Demonia shoes are a hit or miss brand. One pair of boots might last for more than a year, while another pair might fall apart after only a few wears.
This is what a user says about Demonia boots in the comments section of one of their videos on youtube.

Here's another review of a specific model of Demonia boots by a user on reddit.

After rigorous research, I think there isn't any consistency with respect to the quality across the line of Demonia boots. Demonia brand majorly focuses on launching various footwear in different categories, each having unique styles. That's why Demonias aren't much focused on maintaining the quality. You'll find only a few unique Demonia pairs that last for more than a year.
I'd say, don't expect exceptional quality from Demolia shoes because you get what you pay for. You'd get most of your favorite Demolia boots styles in less than $150.
Also, you can find some exclusive discounts on different Demonia shoes and platforms. What else can you expect from such an inexpensive option with an exceptional style? If you compare Demonia boots to their competitors like New Rocks, you'll find them of better quality than Demonia boots. But if you compare the prices of boots of Demonia and New Rock, you'd find a hell of a difference. Most New Rock boots have prices above $250, due to which many people praise their quality and look down upon the Demonia shoes.
The problem is that while comparing similar style footwear from different brands, people forget about their pricing and look for the quality, comfort and durability they want to achieve. That's why on various forums, you'll find Demonia shoes users complaining about the separation of soles from the boots, and scuffs on the upper.
Upper Material of Demonia Shoes
The upper of Demonia boots, flats, and platforms is made of polyurethane leather, which they call "vegan". Due to this reason, Demonia shoes and boots are cheaper than similar shoes of other brands as the leather of Demonia shoes is artificial. Many people believe that animal products and the use of animal leather are unethical and environmentally harmful. The positive side of using artificial leather in making Demonia shoes is that it doesn't put animals' lives in danger. That's why people like to wear vegetarian shoes like Demonias.
Let me tell you one thing…
Don't expect high quality from Demonia boots, sandals, or platforms. You can get a pretty good style which is difficult to find in other brands that make shoes similar to Demonia.
But, the quality of leather would not be up to the mark. That's because synthetic leather can't beat the strength, durability, and surface texture of natural full-grain leather. That's why most Demonia shoes last for less than a year or even six months, provided that you wear them daily.
Here's what a user says about them on Reddit.

This also shows that you can get massive discounts on Demonia boots as this guy just bought them for only 20 bucks while the original price of Demonia boots is around $130. So, when you buy Demonia boots, you'll be lured by their fashionable appearance. However, you'll have to be aware of their low-quality material.
Sole of Demonia Shoes
There are many benefits associated with the soles of Demonia shoes, including style, comfort, and protection. Furthermore, you can have the appearance of increasing height and improving your standing posture when wearing Demonia boots that feature platform soles. Moreover, these platform soles act as a cherry on the top that enhance the style of your Demonia boots. You can wear them for clubbing, attending parties with friends, doing some sexy dancing and so on.
Despite the comfort and stability provided by the platform soles of Demonia shoes, the stitching of soles with Demonia boots upper is not up to the mark. In most of the styles of Demonia shoes, soles start to come off the boots after few days of wear.
Here's what a user on amazon says about the sole of Demonia boots.

So, it's clear everyone loves the style and look of Demonia boots. But when it comes to the durability of Demonia boots, it has disappointed many customers.
Some Cool and Fancy Styles of Demonia Boots and Creepers
Here's the list of some stylish designs of Demonia boots that most people like to wear today, and you surely think to buy them.
Demonia Damned-318 Boots
These Demonia boots are the perfect punk rock old school inspired and edgy combat boots. The long zipper at the back allows you to put them on and take them off. Charming buckle and strap designs make them embellish at your legs.
Here's what a user says about the comfort of these Demonia boots on youtube.

Demonia Swing 815 Boots
The style of upper of Demonia Swing 815 boots is similar to Damned-318. The price of both boots is same i.e. $135. The only difference between Demonia Swing 815 and Damned 318 is the design of platform. Demonia swing 815 boots have a wedge platform, while Damned 318 boots have just a regular flat platform. They're comfortable, but if you live in an apartment and have to walk down the stairs, wear Demonia boots with regular platforms like Damned 318.
Many users have good reviews for the durability of the swing series of Demonia boots. They usually last longer as compared to their other models.
Here's a review by the user I found a Reddit.

And here's another review that I found in a comment section of a youtube video regarding thee review of Demonia Swing 815 boots.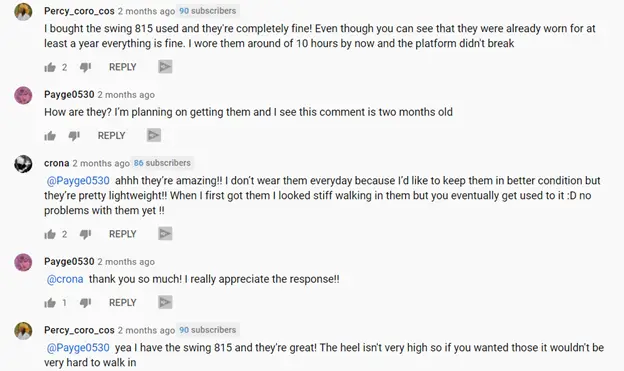 Demonia Creepers 573
The Demonia Creepers 573 is a shoe you can wear to clubs, rock concerts, or any other gothic-themed event. The reason for calling them creepers is that they are made of crepe soles that are luxurious-looking and comfortable. Crepe rubber is known for its comfort. It is made of coagulated latex that is rolled out in wrinkled sheets to make soles. The crepe sole is softer and more flexible. This results in added comfort, with an arch that is more subtle than that of a hard sole. Moreover, it gives your feet the correct support and absorbs shock for maximum comfort.
Several users have found these Demonia creepers comfortable and durable. Here's what a user says in a comment section of a youtube video.

DIY Tips to Make Demonia Boots New
As I said, after few wears, Demonia boots start losing their durability. There are some DIY tips that you can use to make Demonia shoes new.
Since Demonia shoes are made of vegan leather, it starts peeling off after some time. You can improve its appearance with a thin layer of spray paint, having the same color as that of Demonia boots.
Secondly, if soles start separating from the Demonia boots, you can use superglue to fix it with the boots' upper. Many users have tried this method, due to which Demonia boots may last longer.
Here's what a user says in the Reddit community.

Conclusion
I hope you've found some meaningful information related to Demonia shoes quality. Demonia makes a variety of styles in boots, creepers and platforms. Unfortunately, most of the Demonia boots lose their quality after few wears. That means, Demonia brand only focuses on style and comfort. There are some other big brands like New Rocks that make boots like Demonia and have excellent durability. But if we compare their prices, you've to break the bank to buy New Rock boots.
If you don't have enough money, you can enjoy the same style and comfort by wearing Demonia boots. It's true that after some time, the platforms will come off the boots. That's why many users agree that Demonia boots aren't made for everyday wear. You would only want to use them for clubbing and fun stuff.
---