Do Shoes With Ankle Straps Shorten Legs?
Shoes with ankle straps increase the hold of your foot and make your look more appealing. Ankle straps are also helpful in terms of increasing the size of the shoe. One significant benefit is that you can now use thin heels without worrying about them falling off your feet.
But when it comes to talking about your appearance with respect to your height you have long thought that shoes with ankle straps might shorten your legs and give you an unappealing appearance. Well, I can't say confidently YES. It depends on several factors like the thickness of strap, the proportion between your feet and ankles, the shape of your legs and the thickness of your calves. 
If you've some weird proportion of your body mass like muscular calves and thin ankles, you've to carefully select the right shoes with ankle straps that look fit with your legs shape. In the next section, I've given some examples of shoes with ankle straps that you can consider buying based on your ankles and leg proportions.
Furthermore, the skinny ankle straps interrupt the long line of your legs and make you feel like your ankles are strangled in them. Instead, shoes with a wider cuff style strap tend to more high up on your ankles. In addition, color also matters so that the straps don't look like interrupting the line between the legs and ankle joint. In that case, nude color heels fit perfectly to do this trick by blending the shoes with the legs, which will deliver the appearance of longer legs.
Are Ankle Strap Shoes Flattering on the Legs?
It depends on the style and color of ankle strap shoes you're going to wear. If your legs appear to be shorter due to cankles or thin ankles, you've to properly look for the shoes with ankle straps so that they don't represent you as a woman with shorter legs.
 Here are the following main styles of ankle strap shoes that you should consider depending on your ankles and feet proportion as they'll give a flattering look on your feet.
Crisscross Straps
T-straps
Slingbacks
Crisscross Straps
Crisscross straps are the latest trend of footwear. Women love to wear them with long skirts or short skirts. Due to their design, they are in no way pinching your foot anywhere.
This stylish pair of heels with cross straps at the front draws attention from people looking at you downward on your foot. Furthermore, the V-shape of this diagonal design, which is created at the foot instep, breaks up the interference of the horizontal strap with the ankle. In this way, your shorter legs, thick calves, or cankles will give a weird look in front of people if you wear this style of heels or platforms.
Here is an example of a crisscross strap sleek wedge heel that can deliver a nice look on your thick ankles.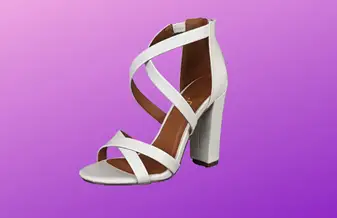 There's another example in the form of a crisscross platform with wide cuff-like straps that will be perfect for your skinny ankles and offer a bootie-like fit around the ankles.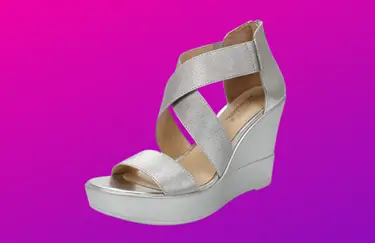 Heels with T-straps
These shoes with heels also have ankle straps, but they don't look like they're cutting into the ankles and interrupt the lime of your legs. This is because they feature T-strap details that show off the forefoot, thus giving a sleek look. In addition to their sophisticated style, they also offer better stability and heel support.
They also feature two types of styles. One style suits with fatty legs and cankles. Here's an example.
Here's another example of a wide T-strap that fits best with thin ankles.
Slingbacks
Slingback is a cute shoe with a stylish shape. It has just enough of a heel to give you that extra bit of height, but not as high as many other similar shoes. They're easy to match with any outfit you have, whether more casual or formal.
They elongate your legs and make you seem taller because the strap fastens on the back of the heel, and your leg doesn't look as if it were cut by the ankle strap. In addition, slingbacks have pointed toes that help to elongate the leg line in two ways. First, they make additional space in front of your toes as compared to a rounded toe shoe. Second, the tapered point of such shoes makes it seem as though you have slightly longer feet.
Here are some examples of Slingbacks that you can consider buying if you have shorter legs.
Here's another style of slingback with a low vamp that exposes more area of your foot and creates an illusion of the lengthening of your legs.