6 Best ECCO Golf Shoes for Men in 2023
Searching for the best ECCO golf shoes for men? After tons of research, testing and asking several golf experts, I've put together a list of the best ECCO golf shoes, so you can find the perfect pair to suit your unique style needs.
It doesn't matter if you are looking to play a round of golf or are just a casual golfer; there is one piece of equipment that you need to have. Every golfer knows that shoes are an essential part of the game. The best ECCO Golf Shoes for Men will keep your feet comfortable and protected as you swing, chip and putt your way around the green.
How I Researched the Best ECCO Golf Shoes for Men?
To find the best ECCO golf shoes for men, I asked several golf experts and did a lot of research. I wanted to find golf shoes that were stylish, comfortable, durable, and good for your feet. I talked to my friend, who is a golf pro, about what he used and the pros & cons of the different styles of ECCO golf shoes.
Furthermore, I picked up to 15 of the ECCO golf shoes, compared them side-by-side, and then narrowed my choice down to 6 best golf shoes for men out of all the shoes I picked up.
Here are the following features which I liked the most in ECCO golf shoes. Based on these features, I've made a list of the best and most durable ECCO golf shoes for men.
Materials
ECCO uses yak and Nappa leather upper for their shoes. Yak leather is extremely durable and soft that provides a comfy fit. Nappa leather is a type of full-grain leather between a mildly rough texture and a very smooth one. It delivers a soft-hand feel and also makes golf shoes suitable to wear off the golf courts.
Waterproof
ECCO golf shoes feature Gore-tex technology that protects your feet from moisture and keeps them dry and breathable while playing golf on hot summer days.
Comfort
ECCO golf shoes are known to be highly comfortable that most people also like to wear for walking due to their stylish design. Some ECCO shoes feature the brand's exclusive FluidForm technology, and some use zonal Fluidform technology. It ensures maximum comfort and performance on every shot. It does so by optimizing the cushioning of every step.
Grip
ECCO shoes feature two types of technologies in the outsole. One is Tri-Fi technology. It consists of three different regions that are responsible for durability, stability, and rotational support.
The other technology is E-DTS. It has a relatively low profile and a TPU structure with studs on the outsole to provide better traction.
Reviews of the Best ECCO Golf Shoes for Men
The ECCO Men Golf Shoes are just about as good as it gets when trying to find a nice pair of golf shoes that are pretty comfortable and functional. Typically made from a leather upper, these shoes also give you the added benefit of stability and traction, designed to help reduce the amount of movement in your feet during your swing.
Check out this video first for an overview of ECCO BIOM Golf shoes.
Here are the reviews of the best Ecco golf shoes for men.
1. ECCO Men's Biom Hybrid 3: Best Overall Golf Shoes for Men
According to several Golf experts, ECCO Biom Hybrid 3 are the best spikeless and most comfortable ECCO golf shoes. ECCO Men's Biom Hybrid 3 golf shoes are a perfect blend of aggressive grip and premium comfort. The only problem with these ECCO golf shoes is that they have plenty of room in a toe box. So, if you've tiny feet, you've to go for a full size down for them. Otherwise, the loose fit will not provide you with the desired grip and stability while shooting some fantastic golf shots.
Also, the soles of ECCO Men's Biom Hybrid 3 have a wavy cleat that does pretty well at going back and forth.
The ECCO golf shoes feature Gore-Tex technology that makes them waterproof. Wet, rainy days do not really make much difference anymore because you can still go out on the course and play your game.
Check out this video on Gore-Tex technology.
Furthermore, there's no need to sacrifice function for style with the design of these shoes, which has been created based on feedback from professional golfers and players who demand a shoe that can transition from course to clubhouse effortlessly. The four dots on the upper represent that the shoes are meant for style, quality, performance and comfort.
The prominent feature of these ECCO golf shoes is the BIOM technology. "BIOM" is a particular last from which the shape of ECCO Men's Biom Hybrid 3 is designed. This non-symmetrical shape permits natural motion in the golf shoes. The design mimics the natural rolling action while providing excellent stability without sacrificing comfort or performance by keeping your feet closer to the ground.
Check out this video to learn more about BIOM technology.
The Biom Hybrid 3 is constructed from a premium and lightweight yak leather, known for its durability and natural moisture-wicking qualities.
ECCO Men's Biom Hybrid 3 Golf shoe is designed to give you optimum stability and protection on the golf course while maintaining the soft feel found in our driving shoes. It's outfitted with a full-length, direct injection molded TPU plate that delivers lightweight stability and control for precise turf interaction on all types of shots.
The most innovative feature of ECCO Biom Hybrid is its outsole, which is a blend of stability, durability, and better rotational support. Tri-Fi grip technology offers a pretty good grip on wet conditions without collecting the dirt. However, don't use them to walk over the wood surface like a bridge or something else, as they might be slippery.
Check out this video to learn more.
2. ECCO Men's Biom Cool Pro Gore-Tex Golf Shoe
These ECCO shoes have some exact features that I've discussed above in ECCO Men's BIOM Hybrid 3. These are:
Yak leather
BIOM design for natural foot stability
Tri-Fi grip
As compared to ECCO BIOM HYBRID 3, the design of BIOM Cool pro golf shoes is more focused on lightweight, breathability, and comfort due to a mesh-like design of the upper.
The FLUIDFORM technology used by ECCO is the world leader in providing comfort, balance, and cushioning. The lightweight fluid materials are used to transform into a solid and flexible sole to create a replica of a human foot. These shoes have a fit that is virtually identical to your foot, so whether or not you will need to break them in depends on the shape of your foot and not on the shoe itself.
You can check out this video to know more about FluidForm technology.
Despite so many good features, ECCO Cool Pro shoes also have some quality shoes. Some customers have complained that after three to six months, the sole starts deteriorating. Other than that, everything is fine with respect to fit, stability and comfort.
3. ECCO Men's S-lite Golf Shoe
These ECCO golf shoes are designed with the latest S-lite technology of ECCO brand.  This technology has also won Red Dot Design Award for the innovative product design. This particular design is having a soft feel with high mobility and a lightweight. As with any ECCO shoe, it has a good traction and fits differently than your average golf shoe.
These shoes feature diamond-shaped embossments on the yak leather upper for enhanced comfort and breathability.
The outsole of these shoes also has ECCO's proprietary lugs, which are full-length and designed to provide traction and flexibility, which is an important thing for golfers who often need to play on rough and uneven grass. The material of lugs is fluidform, which is a composite of TPU.
The downside of ECCO S-lite shoes is that they feature smaller spikes on the outsole, due to which it might affect the performance of low handicappers with a long fast swing.
Although not yet proven to be true, it is highly likely that these shoes will last a very long time, so long as you are only using them on a normal course with normal weather conditions.
You can also check out this article on Ecco S-lite shoe review to get a closer look at the design of ECCO S-lite golf shoes.
4. ECCO Men's Street Retro Hydromax Golf Shoe
This ECCO shoe hoe is primarily aimed toward golfers, but it can also be used in other outdoor sports. It incorporates technologies such as the HydroMax product line into a shoe specializing in traction and water resistance for playing on wet turf surfaces.
The shoes have an internal waterproof membrane to keep the feet dry during rain or after stepping on wet turf.
The shoe's outsole features E-DTS technology consists of TPU (Thermoplastic urethane), which offers great traction and durability on almost every surface. They also feature special studs that are designed to offer better traction on grass than standard spikes found on many golf shoes today.
The shoes have Hydromax treated Nappa leather upper that is designed to withstand moisture and dry quickly.
5. ECCO Men's S-Three Gore-tex Golf Shoe
The ECCO S-Three golf shoe features a full-grain Nappa leather upper with Gore-Tex waterproofing. The lightweight TPU outsole has durable ECCO Comfort Fibre System (ECCS) footbeds for soft cushioning.
ECCO zonal FluidForm technology provides a comfortable, stable platform to ensure you have that consistent swing every shot. The three different zones of the midsole of these shoes have different densities to provide a balance of cushioning and stability to provide increased energy return and complete foot motion control.
This is what a real user says about their cushioning.
Walking comfort is the primary reason I wear these golf shoes. This is my second pair and will be my next.

Real user review
As far as the design of the outsole is concerned, it is the same as that of ECCO Men's Biom Cool Pro Gore-Tex Golf Shoe.
6. ECCO Men's Cool Pro Gore-tex Golf Shoe
Unlike ECCO Men's Biom Cool Pro, ECCO Men's Cool Pro Gore-tex Golf Shoes don't feature a BIOM (Biomechanical optimization) design, due to which their arch support is not natural like ECCO BIOM COOL Pro shoes.
However, these golf shoes pair has some unique features. These shoes are designed to provide optimal heel support and stability and are engineered to make you look good, feel great, and walk with confidence. They feature ECCO Spyder grip technology that will give you improved stability for an even better grip in all conditions.
This is how the outsole of ECCO golf shoes with spider grip technology looks.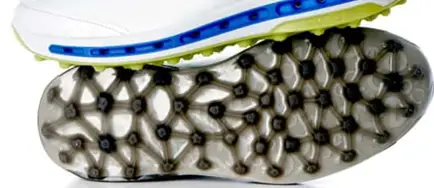 This grip arrangement on the outsole is exceptionally stable regardless of the terrain.
Furthermore, if you look at the outsole, there are holes along the perimeter of the shoes to provide 360-degree breathability.
Best ECCO Golf Shoes for Men (Quick Summary)
[wptb id=3053]
ECCO Golf Shoes (FAQs)
Do Ecco soles disintegrate?
Not all ECCO golf shoes disintegrate. Among the ECCO golf shoes I reviewed above, ECCO Men's Biom Cool Pro Gore-Tex Golf Shoes have different midsole designs, and some customers have complained that after 3 to 6 months, the sole started separating.
What is special about ECCO golf shoes?
The special about ECCO golf shoes is that they are available in various styles that offer the perfect combination of comfort and stability for players. From their shoes designed for professional golfers to those that fit the needs of recreational players, you can be sure that ECCO will have what you need. With performance and comfort combined into every design, it is no wonder they are consistently ranked amongst the best in the industry.
Furthermore, the FluidForm is injected into the anatomical design of ECCO golf shoes through a direct injection molding process. Through this process, the fluid materials follow ECCO's one-of-a-kind anatomical lasts and form the most comfortable base for your shoe.
Are ECCO golf shoes waterproof?
Only those ECCO golf shoes are waterproof that are embedded with ECCO'S exclusive Gore-tex technology, which is designed to keep the feet dry.
Where are ECCO golf shoes made?
ECCO manufactures shoes in its factories, located in Portugal, Thailand, Indonesia, Vietnam, and China.