3 Best Running Shoes for Calf Pain and Tight Calves in 2023
If you don't have time to read this guide till the end, I would recommend the Hoka Clifton 7 as the best running shoes for relieving calf pain and tightness. Over a period of 2 years, I have been running and walking in these maximalist cushioned shoes and found them to provide great relief for calf issues. For runners who overpronate, I would suggest trying the stability shoe Brooks Adrenaline GTS 22, which has guide rails to support and align the foot.
Suffering from constant calf pain and tightness during or after runs? As an avid runner and fitness coach for over 10 years, I know how frustrating and limiting this can be.
In this article, I'll share my expertise on the best running shoes for calf pain and tight calves. Specifically for runners struggling with calf tightness or injuries, I'll go over critical factors like arch support, cushioning, and heel-to-toe drop.
Through my own trial and error with different shoes, I'll provide actionable advice on choosing the right pair to free up your calves and get you back to pain-free running.
Whether you're a beginner or veteran runner, read on to discover your perfect running shoes to kiss calf pain goodbye.
Bonus Read: Can new running shoes cause calf pain
Why Do I Get Tight Calves When Running?
You get tight calves when running because they have to work harder than your hamstrings. The problem is that you have to use these muscles for long periods of time, which can cause them to become stiff and sore.
You can prevent the development of calf muscle tightness by warming up slowly before you start running. Start with a slow jog for about three minutes and gradually build up to a pace that is comfortable for you.
In addition, stretching is very important to reduce the risk of tight calves. In addition, it helps prevent muscle soreness after exercise.
Running barefoot or in minimal shoes for at least two weeks may help as well to strengthen your muscles before you start picking a pace in running.
Tightness in the calf muscle is also caused by several factors, including:
Poor circulation
Poor running posture
Improper running footwear
Muscle imbalances
Inadequate stretching
How Do I Strengthen My Calves for Running?
If you are going to start a running program, it is important that you understand the importance of strength training and stretching for the development of calf muscles.
If you are a beginner runner, you should start with walking first. The goal is to increase your pace and distance gradually so that you can build your endurance. You can do this by running on a treadmill or outside.
If you are not a beginner runner, you can simply jog on a track or the street. Your speed should be slow at first. Start with 5-10 minutes and gradually work up to 30 minutes. You can also run on a treadmill. Once you feel comfortable, you can increase the speed and distance you run. You should also avoid running on concrete or hard surfaces as they can damage your feet.
Furthermore, to build strong calf muscles, it is best to perform the exercises daily.
Calf Raises with a Step 
Calf Squats
Calf Raises with a weight
You can also check out this article on calf exercises to learn more about the ways to strengthen calf muscles.
Tired of getting pain in the plantar fascia? Check out my guide on the best walking shoes for plantar fasciitis.
Do Compression Socks Help With Calf Pain?
Compression stockings are used to treat a variety of conditions including varicose veins, swelling of the legs, and leg cramps. You can wear compression socks for post-run recovery so that blood flow is maintained throughout your body after high-speed running activity. If you are suffering from chronic leg pain and calf pain, you may want to consider wearing compression stockings. However, make sure you talk to your doctor about whether they will help you. To learn more, you can check my guide on the benefits of wearing running compression socks.
Bonus Read: Best shoes for accessory navicular syndrome
What Kind of Running Shoes Do I Need for Calf Pain?
Your calf muscles will also benefit from wearing shoes that offer good arch support. You may also want to use an orthotic to improve your foot alignment. Orthotics are inserts that are designed to help correct abnormal foot alignment. Orthotics may be used inside regular shoe soles or over existing insoles.
When choosing running shoes for tight calves, make sure to choose a shoe that is made of a flexible material. Flexible shoes will allow your feet to move freely while you run, thus reducing the chances of getting injured.
Heel drop can make a big difference in your running performance and it should be considered while selecting running shoes for sore calves. If you have been running in a low heel drop (<7mm) running shoe, and then, you transition to high heel drop running shoes (>10mm), you would end up wrecking your calves as your running strike will not conform to your running shoes.
Also, keep in mind that running shoes can temporarily alleviate calf pain. If you want to get rid of sore calves, you will have to regularly perform exercises to strengthen your calf muscles.
Best Running Shoes for Calf Pain
Here are reviews of the best running shoes for calf pain.
1. Hoka Clifton 7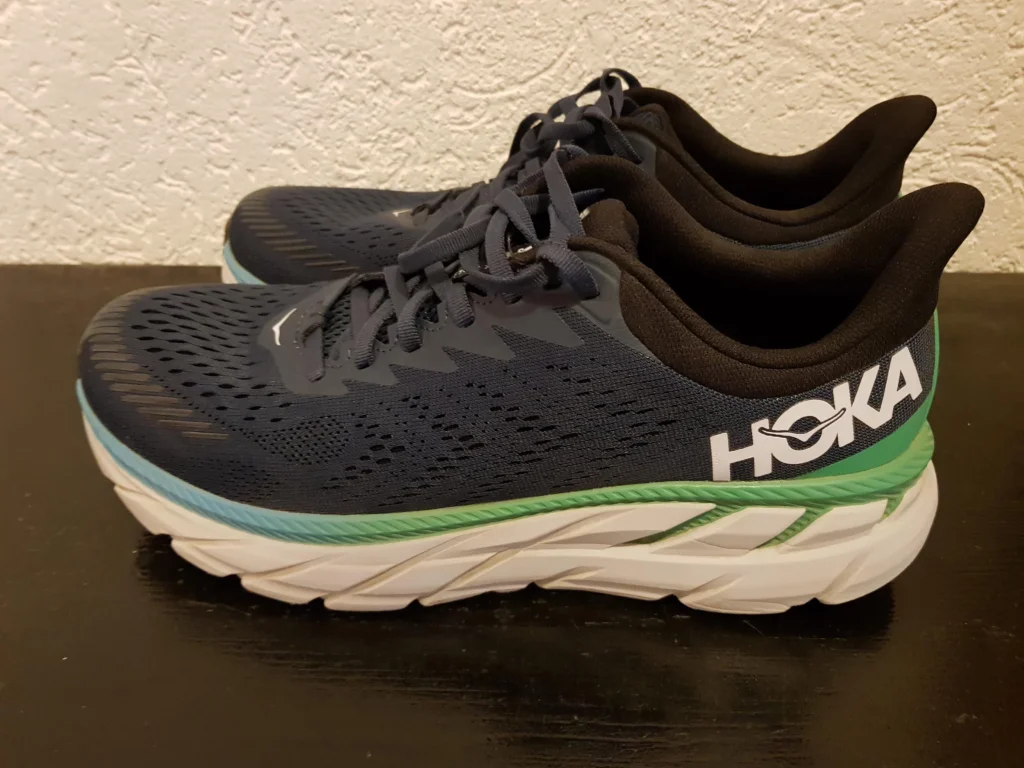 Top Features:
Best for forefoot strikers
5mm heel drop
Soft and flexible EVA midsole
Meta-rocker design
Hoka ONE ONE Clifton 7 are the best running shoes for calf pain if you're used to running in low-drop shoes. However, if you have been running in high heel drop shoes like ASICS, I would not recommend you suddenly switch to these Hoka Clifton shoes.
Now, talking about the features, Hoka Clifton 7 shoes feature a lightweight mesh upper which provides excellent breathability. The mesh upper is very durable and has a lot of stretch that allows it to conform to your foot easily. The open-engineered sandwich mesh construction that makes these shoes really light and extremely comfortable to wear.
The outsole of these shoes is made up of rubber for better traction and durability, so you can expect long-lasting use. They are available in different color options as well, so you should have no problem finding the right one for you.
Talking about cushioning, Hoka Clifton 7 shoes consist of soft EVA foam midsole that helps provide a smooth ride with added cushioning.
You might be thinking why I didn't recommend Hoka Bondi 7.
Well…
The reason is that Hoka Bondi 7 shoes are a bit clunky compared to Clifton 7. Hoka Bondi shoes are a bit firmer due to their thicker midsole, and thus, have less flexibility, which isn't suitable for runners suffering from calf pain.
The downside of Hoka Clifton shoes is that Hoka shoes don't have enough room in the ball of the foot region, meaning they won't be comfortable for runners with wide feet. Moreover, people have also complained about blisters formation around the arch of their feet while wearing Hoka shoes. I'd suggest you take out Hoka insoles and place other shoes' inserts in which you feel comfortable.
Overall Score
| Key Decision-Making Factors | Performance Score (1-5) |
| --- | --- |
| Low-Drop Design | 5 |
| Breathability | 4 |
| Durability | 5 |
| Traction | 4 |
| Cushioning | 4 |
| Comfort | 3 |
| Fit (Wide Feet) | 2 |
| Arch Support | 3 |
2. ASICS Gel Cumulus 23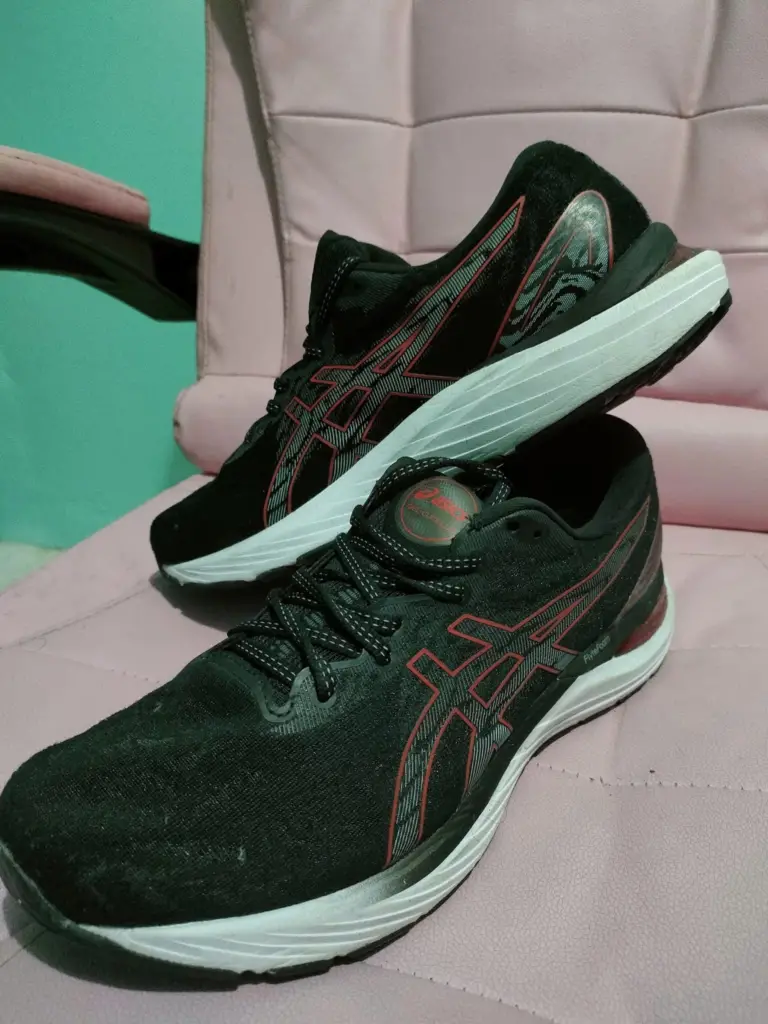 Top Features:
Best for rearfoot strikers
Suitable for low-mileage runs
Lightweight flytefoam cushioning (lighter and durable than EVA)
Low stack height compared to Hoka Clifton
10mm heel drop 
ASICS Gel Cumulus 23 shoes are some of the best running shoes for tight and sore calves. If you're used to heel striking and running over short distances, I would recommend these ASICS Culumus running shoes.
The ASICS Gel Cumulus 23 has a GEL technology that cushions the impact of the footstrike on the ground and absorbs the shock of the foot to reduce the pressure on the plantar fascia. This feature is very useful for people with calf pain.
Moreover, the GEL-Cumulus 23 also features a 3D space construction in the midsole foam that is designed for different compression rates at the footstrike so that the stress on your calf muscles can be minimized.
The upper of these running shoes is made of breathable mesh fabric that keeps your feet cool. Also, the midsole is made of FLYTEFOAM, which is a durable, soft foam that provides a comfortable feel and great cushioning.
Regarding sizing, the ASICS Gel Cumulus 23 has an extra-wide width and a wide fit. So, it is true to size for most runners.
The outsole of ASICS Cumulus has a good traction pattern that provides good traction on various surfaces.
The downside of ASICS Cumulus shoes is that they are a bit heavy compared to the other running shoes. Furthermore, they do not have enough durability due to thick padding.
Overall Score
| Key decision-making factors | Performance score (1-5) |
| --- | --- |
| Cushioning | 5 |
| Compression rate | 5 |
| Breathability | 4 |
| Comfort | 5 |
| Fit | 5 |
| Traction | 4 |
| Durability | 3 |
| Weight | 3 |
3. Brooks Adrenaline GTS 22
Top Features:
Best for high-mileage runners suffering from overpronation
Suitable for heel strikers
Soft DNA Loft midsole
12mm heel drop
Brooks Adrenaline GTS 22 are the best lightweight running shoes for leg and calf pain. Brooks Adrenaline shoes are suitable for runners who face stability issues due to overpronation.
The shoe is designed to help you reduce your risk of injury by providing a stable, shock-absorbing base. You can run in these shoes for long distances without any trouble.
Compared to its previous version i. e. Adrenaline GTS 21, these Adrenaline GTS 22 shoes feature DNA LOFT midsole while Adrenaline GTS 21 shoes feature a blend of DNA LOFT and BioMoGo DNA midsole. DNA loft has properties like EVA foam i. e. it has excellent shock absorption. On the other hand, BioMoGo DNA is resilient.
'For tight and sore calves, running shoes need to have a soft and flexible midsole. Due to this reason, I selected Brooks Adrenaline 22 shoes for calf pain.
Brooks Adrenaline GTS 22 running shoes offer a deep and wide toe box that can easily accommodate swollen feet. This means that your toes won't be cramped or pinched inside these shoes. The upper of these Brooks Adrenaline GTS 22 shoes is made from a breathable mesh fabric that doesn't pinch the top of your foot. Also, the upper is soft enough to hug your feet nicely.
The heel-to-toe drop of Brooks Adrenaline GTS 22 shoes is 12mm, which is good enough to absorb the shock and reduce the stretch in calf muscles and Achilles Tendons.
Also, there are GuideRails in Brooks Adrenaline GTS 22 shoes that provide extra stability and protection for your knees.
Lastly, the outsole of Brooks Adrenaline GTS 22 shoes is made of durable rubber that provides great traction on various surfaces.
The downside of Brooks Adrenaline shoes is that their laces are not of high quality. Due to this reason, they do not stay tight for a long time. You can check out this guide to get some good-quality shoelaces.
Overall Score
| Key Decision-Making Factors | Score (1-5) |
| --- | --- |
| Stability | 5 |
| Shock Absorption | 5 |
| Flexibility | 4 |
| Toe Box Space | 5 |
| Breathability | 4 |
| Heel-to-Toe Drop | 4 |
| GuideRails | 4 |
| Traction | 5 |
| Laces | 3 |
Final Verdict
In conclusion, there are two types of running shoes that you can use to prevent calf pain. They are the stability shoe and the neutral shoe. If you have ever suffered from calf pain, you probably know how painful it is to run. However, if you are looking to prevent calf pain, you should look into buying the right running shoes. This will prevent you from having any issues with your legs or feet.