Can You Wear Training Shoes Casually? (Do They Match your Style and Outfit)
Are you wondering if someone can wear training shoes or sneakers casually? By that, I don't mean they are specifically worn to the gym, but for everyday wear by someone who's not a professional athlete or serious runner.
Yes, you can wear your training shoes casually. Training and running shoes are now stylish, versatile, comfortable, and perfect for everyday wear outside. However, beware that using training shoes every day can lower their lifespan by accelerating outsole wear.  Other than that, many people favor wearing stylish athletic sneakers of Nike and New Balance with their casual outfits such as jeans or shorts for either street style wear or when going for lunch to a restaurant. So, do not fret if you own a pair of training kicks, as they will still be able to get away nice and easy.
Also Read: Can I Wear Basketball Shoes Casually
How are Training Shoes Suitable for Casual Wear?
Training sneakers, which are also sometimes called lifestyle training shoes, can often take on the appearance of an ordinary sneaker and have just enough styling detail to be considered smart casual wear in addition to being comfortable for all-day wear.
Training shoes are designed to offer a close-to-the-ground feel, moderate cushioning and arch support. These are ideal for casual wear, as many of the best training shoes provide a flat profile that looks good with jeans or trousers without looking bulky or interfering with the fit.
Furthermore, the soles are designed in such a way as to enhance traction and protective mechanisms which allow these shoes to be worn casually outside of your workout schedule.
How to Wear Training Shoes Casually and Match them with the Outfit?
Training shoes have set the bridge between fitness and fashion by adding an exciting element of style to your wardrobe. Wearing training shoes casually is something that needs a fair bit of knowledge before you can make them look good.
To wear training or athletic sneakers casually, you need to have vital gear, including socks, pants etc., that perfectly match them.
Wearing the Right Pair of Pants or Jeans with Training Sneakers
The popularity of jeans with sneakers has been on the rise for some time now. It is a style that works for all kinds of occasions. Whether you go running your errands or attending an event, this look is suitable for everything laid in front of you.
If you're a woman, you should first check this article on wearing pants with athletic sneakers for a clear-cut view on how to wear different types of jeans with training shoes.
Here's how women are wearing New Balance athletic sneakers with their skinny jeans.
Just like your training sneakers have a sporty look, you should expect the same with your outfit. Tapered jeans or pants are good enough to stand out the silhouette and color of your training shoes.
You can also go with slim-fit jeans with athletic sneakers if you're hanging out in the park, meeting with friends or going to a concert.
Below you can see a picture of this guy wearing jeans with training sneakers.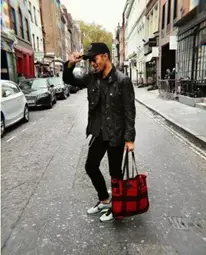 Here's another picture of a cool guy wearing his training sneakers with ripped jeans.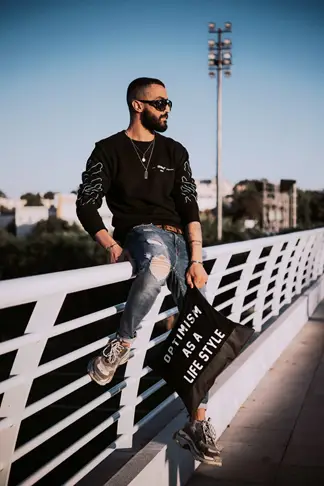 If you can also have looser fitting pants and roll them, it's going to look interesting. This is a good way to keep you looking casual, tailored and "cool".
In the image below, you can see how a guy looks like a badass in this style.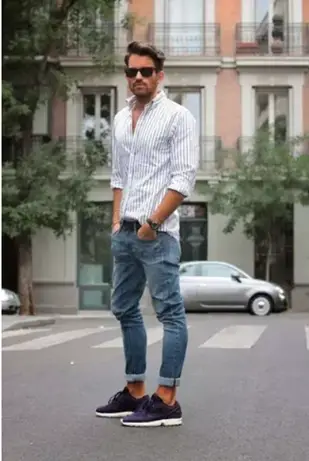 Focus on the Color
In addition, you may also want to play around with various shades of color for a more classic look. Maybe grays and tans or blacks and browns? Tan leather, grayish or even beige color with black? A dark brown or charcoal gray color of jeans would look great with black training sneakers.
Wearing Perfect Pair of Socks with Training Sneakers
No athletic shoe is complete without that vital piece of gear. Socks are also crucial when it comes to preventing your feet from getting dirty or sweaty inside the shoes.
You should be wearing crew-length or no-show socks as they look really great with training sneakers. No-show socks are great when you're wearing training shoes casually with shorts in summer for a bit of ankle exposure. Most people try to match the color of their socks with their athletic sneakers or running shoes when they wear them casually. But with no-show socks, you can show off your training sneakers without being worried about color matching.
Similarly, a pair of colorful crew socks paired with joggers or track pants would create a nice silhouette showing off your training shoes. 
Can I Wear Training Shoes for Walking?
Yes, you can wear training shoes for walking. When it comes to physical features like shock absorption and flexibility, however, there's no significant difference between training and walking shoes as they are built with similar materials to handle flat terrain consistently. Training shoes have an additional feature of stability to facilitate lateral movements like explosive sideways.
However, keep in mind that don't use your training shoes frequently for long walks. Otherwise, you'll end up prematurely wearing out your training sneakers.
Must Read: Can You Run in Crossfit Shoes