How Should Your Weightlifting Shoes Fit?
Weightlifting shoes fit slightly uncomfortable initially. But with time, they stretch and adjust to your feet. The fit of weightlifting shoes around the heel should be snug without being constricting or tight on your Achilles tendon. You also want a little wiggle room in the toe box, but not enough that your top half of the foot starts moving around while you're lifting.  Weightlifting shoes are more supportive and have a harder sole to give you better stability when lifting weights. Give these shoes a few weeks to break in before deciding whether they really suit your needs or offer the correct amount of support.
Weightlifting shoes are an essential piece of equipment for squatting or powerlifting. They're designed with a raised heel to help you get the most out of your leg muscles, but this design also means they won't fit every foot perfectly.
How should weight lifting shoes fit? How much space does your foot take up? How long is it from heel to toe? How wide is it at the ball of the foot and how wide at the heel?
How much room should there be around your toes? These are all important things to know when trying on a weight lifting shoe for fit.
You can also read my guide on Squatting Barefoot vs Lifting Shoes.
How Should Tight Weightlifting Shoes Be?
The tighter your weightlifting shoes, the better they will perform when you're in the middle of a lift or doing Olympic lifts like snatches, clean and jerks, power cleans, etc.
If your shoe is too loose, it may slip during one of these lifts, which could cause injury to yourself.
Weightlifting shoes should be tight enough that your heel should not slip when you do split jerks.
Weightlifting shoes are not like walking shoes in which you would also want to walk a 5K in them.
Weightlifting shoes should be comfortably snug for 2 hours long leg session. Of course, if you wear them for a longer time, they will start hurting your feet. So, if they don't hurt your feet up to 2 to 3 hours while squatting, the tightness of weightlifting shoes is fine.
Weightlifting shoes should fit pretty snug without feeling any pain. They are designed to provide ankle stability and offer a stable and optimal base to generate the maximum force you can in lifting.
Your toes should not be hit against the front of the Olympic lifting shoes, and they should not be scrunched together from the sides. Still, the shoe should be snug so that your foot isn't sliding around while lifting.
To get an idea of whether your weightlifting shoes are perfectly snug or not, try to put the finger behind the heel of your lifting shoes. Keep in mind that if your finger is easily inserted in the shoes, you should go for a half size down.
After inserting your finger, if it crams your toes to the end of the shoes, the snug fit of your weightlifting shoes is fine.
You can further tighten it by adjusting laces and pulling the straps of squat shoes. As a rule of thumb, there should be a maximum of ¼ inches of space between your big toe and the front of your squat shoes.
Also Read: How Should Badminton Shoes Fit
Running Shoes vs Weightlifting Shoes Fit
There is no maneuverability or comfort in squat or weightlifting that we would generally need in running or other athletic activities.  So, go for a half to full size down in your weightlifting shoes as compared to the size of running shoes.
Running shoes are made to provide support throughout the foot, whereas Olympic lifting shoes only have heels with flat soles – designed for maximum stability to allow heavier weights to be lifted safely without falling backwards during squats and other lifts. If the squat shoes offer a room like running shoes, your feet will slip while carrying heavyweights in lifting.
So, there should not be any flexibility in the upper of squat shoes as you want squat shoes to be firmly fixed with your feet and feel them as a part of your foot for Olympic lifting movements such as squats, snatches and clean & jerks.
Due to this reason, weightlifting shoes are made of leather or synthetic materials for a supportive fit, while running shoes or athletic sneakers have 50 to 70% flexible mesh upper.
Bonus Read: Are weightlifting shoes worth it
Do Weightlifting Shoes Run Big or Small?
Weightlifting shoes neither run small or big; they run true to size for a snug fit. However, you might need to buy a half size down in case of wide weightlifting shoes.
The sizing of weightlifting shoes depends on the width of your foot and the brand of weightlifting shoes you are interested in.
For instance, Nike Romaleos are suitable for people with wide feet, while Adidas Adipower is suitable for fairly narrow and tapered feet.
While buying Adidas Adipower Weightlifting shoes, you should buy true to size which you wear in street style shoes like Chucks or dress shoes.
At first, Adipowers will be uncomfortable, especially in the toes. But once they break-in, they stretch out to adjust your feet.
In essence,
Adipower US 10.5 = Romaleos US 10
I asked some relevant persons regarding the sizing of Adidas Adipower shoes compared to other brands. This is what he said:
"Here are some of my shoe sizes. As you can see, there is a lot of variation.
Chucks size – 8
Adidas sizing chart 26 cm – 8/8.5
Dress shoe size – 8/8.5
Heel-toe chart 10.4" – 8.5
Keep your Adidas size – 9.5
SIZE CHOSEN: 9.0
I did try both 8.5 and a 9. These shoes have an incredibly tight toe box. The 9s were tight. The 9.5s may have worked as well. I know this still isn't too precise, but it's what worked for me. But, I'll still stick with 9 as they stretch to adjust your feet with time."
Another person on Reddit compared the sizing of his weightlifting shoes with his trainers and dress shoes as follows:
"I usually buy my weightlifting shoes in my dress shoe size. Also, my weightlifting shoes are usually sized half down from my trainers."

Reddit
Another person on Reddit also recommends size down for weightlifting shoes if you compare the sizing with your regular trainers.
Here is what he says:
"I have always worn size 11 in lifting shoes. For trainers or golf shoes, I often go up to 11.5."

Reddit Source
Here is another helpful piece of information that I found for you on Reddit in which a person is comparing Nike and Adidas weightlifting shoes with his trainers.
"My normal shoe size is11. For Nano 3 & 4, it is 11 (a little loose). For Metcon 1, I choose 10.5. For Nike Romaleo, I wear 10M (these shoes are supposed to be wide, but they fit perfectly like the lifting shoes should do). For Adipower lifting shoes, I selected 10.5 (these shoes are supposed to be narrow, so, to compensate for the widening on the Romaleos, I bought them half number bigger, and they fitted perfectly)."

Strykero
The reason due to which that person got a size down for Adipowers is that he had too wide feet, and Adipowers are narrower as compared to Romaneos. So, buying a size bigger is better in that case.
How to Tie Weightlifting Shoes?
There is no rocket science behind the lacing of weightlifting shoes. You can tie them up just like your normal shoes. There is also a Velcro strap to tie them tightly.
However, if you still want to know the best method to lace up your squat shoes, you should try this technique, as shown in the picture below.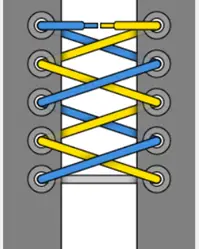 The type of this lacing method is called "Over Under Lacing Technique." This technique reduces the friction (slipping) and easier to tighten or loosen. While tightening the laces at the final step, make sure to follow a "balanced knot" instead of a granny knot. This is important as laces twist when you tie them. If you twist them twice in the same direction, there is tension in the laces, due to which the lace will want to untie itself.
You can check out this video for a better demonstration of a balanced knot and granny knot.
There is another lacing technique called "Corset Lacing" for optimal tightness of a lifting shoe. In this technique, the tightness is adjusted by the middle loops of the laces.
If you feel that your lifting shoes are too tight in the midfoot region due to the high instep of your foot, you can try this technique. This technique squeezes your foot evenly from top to bottom by spreading the stress on the top of your foot from the middle outward.
This is how the corset lacing illustration looks.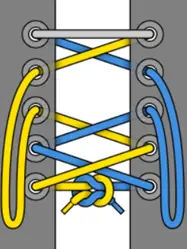 You can check out this tutorial for the corset lacing technique.
Conclusion
So, how should weightlifting shoes fit? I hope you might have got a clear answer to it. Just make sure that there should not be more than a quarter-inch of space between your big toe and the front of your squat shoe. The heel should not slip while performing clean and snatch. For a better fit, you can follow the lacing techniques I discussed above for your lifting shoes.